(1) INTRODUCING BEST EDITOR. During last night's telecast: "Harrison Ford uses Oscar soapbox to get some Blade Runner complaints off his chest".
"I'd like to share some notes, some editorial suggestions that were prepared after the screening of, uh, a movie I was in," joked Ford. "Opening too choppy. Why is this voice-over track so terrible? He sounds drugged."

"Were they all on drugs? Dekker at the piano is interminable. Flashback dialogue is confusing. Is he listening to a tape? Why do we need the third cut to the eggs? The synagogue music is awful on the street. We've got to use Vangelis. Up to Zora's death, the movie is deadly dull. This movie gets worse every screening."
(2) TRUST ME, IT DIDN'T WIN. EscYOUnited, in "Eurovision Movie's 'Húsavík' does not win 2021 Oscar for Best Original Song", admits its fans are disappointed, but notes how many other honors the movie has received – including a Hugo nomination.
…Sadly things did not go in Fire Saga's favor, as H.E.R., Dernest Emile II, and Tiara Thomas won the award for their song "Fight For You" featured in Judas and the Black Messiah. Even without tonight's Oscar, the Eurovision movie is still a two time award winning film. Prior to tonight the music editor team won the award for Outstanding Achievement in Sound Editing – Musical for Feature film and "Húsavík" won the award for Outstanding Original Song for Visual Media….
(3) REMEMBERED. The Oscars 2021 In Memoriam video included Ian Holm, Max Von Sydow, Christopher Plummer, Wilford Brimley, Ron Cobb, Hal Holbrook, Helen McCrory, Carl Reiner, Brian Dennehy, Diana Rigg, Sean Connery, Chadwick Boseman, and others with genre credits.
(4) BONUS MURDERBOT. Tom Becker pointed out Tor.com's post of "Home: Habitat, Range, Niche, Territory", by Martha Wells.
Home: Habitat, Range, Niche, Territory was originally given free to readers who pre-ordered Martha's Murderbot novel, Network Effect. The story is set just after the 4th novella,Exit Strategy.
(5) MARTHA WELLS PROFILE. The Orange County Register's Erik Pedersen tells "How 'Murderbot Diaries' author Martha Wells overcame a career in crisis to create the killer series".
There was a time before Martha Wells created Murderbot, the character that narrates her award-winning science fiction series "The Murderbot Diaries," when she thought her career might be dead.

After a successful start in the '90s, things had cooled down by the mid-2000s. When the final book in her "Fall of Ile-Rien" trilogy was published without fanfare, the soft-spoken Texan wondered if that was it for her.

"I was kind of at that point in my career where, you know, women writers my age were supposed to quietly fade away. It's like, 'Well, you had your shot, and that was it, and now go away.' So I was not real optimistic about being able to continue to be published," says the now 56-year-old novelist during a call from her College Station home, which she shares with her husband and three cats.

"I could not sell another book," says Wells. "I knew my career was in a lot of trouble."

But she refused to give up. Over the next few years, she got a new agent, started a new series, found a new publisher.

"That kind of got me back going again. I ended up also doing a Star Wars novel and did some work on some stories for Magic the Gathering," she says, describing herself as plugging away but not soaring during that period. "I thought, 'Well, this is probably about as high up as I can go,' you know? It's like, I'm not gonna win awards, and I'm not gonna be, you know, super popular or anything like that. But if I can keep going at this level, I'll be okay.

"And then Murderbot just hit big," she says….
(6) EUROCON. Eurocon 2021 in Fiuggi, Italy will be an in-person con the committee announced.
Just had green light for Eurocon in-person!

All attendees will have to be vaccinated or pre-tested for Covid 19.

If the con were to be held today, we could accommodate a little more than 200 guests. We are confident that it will be possible to increase this number in July. Hope to see you in Italy!!!
(7) B5 WAS THE PROTOTYPE. TechRadar boldly asks "Is Babylon 5 secretly the most influential TV show of the past 25 years?"
… If most TV viewers had no idea what a showrunner was back in the '90s, even fewer could name one. Only superstar producers such as Hill Street Blues and NYPD Blue creator Steven Bochco were big enough to occasionally eclipse their brands. However, the name of J Michael Straczynski was all over Babylon 5, as synonymous with the show as Minbari, Narn and Vorlons – just as much as The West Wing was Aaron Sorkin's creation or The Sopranos David Chase's, Babylon 5 was his. Arguably more so, in fact, seeing as he wrote 92 of the show's 110 episodes, including the entirety of seasons 3 and 4. 

Babylon 5 was an auteur's vision on an epic scale. On the rare occasions guest writers were brought in, they were often genre legends such as Neil Gaiman, Harlan Ellison and regular Star Trek writer DC Fontana – this show was never scared to embrace the harder edges of science fiction. And just as would later become the norm with showrunners such as Russell T Davies on Doctor Who or Dave Filoni on The Clone Wars, Straczynski was the public face of his show, becoming one of the first writers to talk directly to the fanbase via the internet.

A veteran of '80s cartoons such as She-Ra: Princess of Power, The Real Ghostbusters, and Jayce and the Wheeled Warriors, Straczynski always had big plans for Babylon 5. He set out to tell a story taking in space battles, political intrigue, epic mythology and more, and wanted to do it over the course of five years. 

That may not feel unusual now, when shows such as Breaking Bad, Lost and even comedies such as Schitt's Creek make a big thing of spreading their stories over multiple seasons. But in the mid-'90s, the Babylon 5 approach was seriously radical. Most of the TV of the era was built on standalone episodes, with serialization kept to a minimum to ensure episodes could be watched in any order once they ended up in syndication. That Babylon 5 should so brazenly break the mould was a big shock to the system for '90s viewers…

… It was 'Westeros in space' before George RR Martin had even published his first A Song of Ice and Fire novel, a show that rewarded viewers who tuned in for every installment. Babylon 5 was a show purpose-built for streaming and binge-viewing, trapped in the era of broadcast and cable….
(8) ESSENCE OF WONDER. "Strategy Strikes Back: Star Wars And Modern Military Conflict" will be the topic on Essence of Wonder with Gadi Evron on May 1 at 3 p.m. Eastern. Register for the Zoom webinar here.
Strategy Strikes Back authors Lt. Col. Matt Cavanaugh, Max Brooks, August Cole, and Steve Leonard join Gadi and Karen to discuss Star Wars and modern military conflict. In the book, they made understanding strategy fun by the use of a common global language – The love of Star Wars. We'll be happy to share that love with them.
(9) BILLIONS AND BILLIONS. What Carl Sagan used to say about the number of stars this fellow says about his bank account. SpaceX's Elon Musk will host Saturday Night Live on May 8 reports NPR.
Saturday Night Live doesn't usually have business executives host its show, but as pointed out in a story by The Associated Press, Musk is far from a stuffy corporate type. He regularly jokes around on Twitter, where he has nearly 52 million followers and has gotten into legal trouble for making disparaging remarks about critics and hinting that he might lead a buyout of Tesla that resulted him getting fined $20 million by stock market regulators.

… Not counting news interview shows and press conferences, Musk has made guest appearances on the CBS shows Young Sheldon and The Big Bang Theory. His voice has also been heard on the animated shows South Park, The Simpsons and Rick and Morty. Plus he made a cameo in the film Iron Man 2.
(10) WOLFE SPEAKS. Colombian author Triunfo Arciniegas reposted Lawrence Person's 1998 interview with Gene Wolfe yesterday: "DRAGON: Suns New, Long, and Short / An Interview with Gene Wolfe".
LP: You have literally dozens of characters in The Book of the Long Sun, yet many times you have scenes with a number of characters all speaking in turn, without being identified, and yet their speech patterns are so clearly and cleverly differentiated that we're never confused about who's talking. Just how do you do that?

GW: (Laughs) I'm certainly glad that you were never confused! There are two things. Obviously, you have the speech patterns. Spider does not talk like Maytera Mint. And if you understand speech patterns, you should be able to put in any statement Spider makes, certain characteristic phrases or mistakes, or whatever, that will identify him as the speaker. The other thing is, that if you're doing it right, the speech that, oh, let's say, Maytera Marble makes under a certain circumstance, is not the speech that Blood would make under that circumstance. When Maytera Marble talks, she is saying something that only Maytera Marble would say. When Blood speaks, he is saying something that only Blood would say. And so the reader, if the reader is intelligent, knows who said that from what was said.
(11) HWA POETRY SHOWCASE. Horror Writers Association is taking submissions from members to its 2021 Poetry Showcase.
The HWA is proud to announce that it will call for submissions from its members for the Poetry Showcase Volume VIII beginning April 1. Stephanie Wytovich will be the editor for the volume. This year's judges, along with Stephanie, will include Sara Tantlinger and Angela Yuriko Smith.

Only HWA members (of any status) may submit. The reason for this can be found in the word "Showcase." The HWA is very proud of the tradition of poetry in the horror genre and of the HWA's support for poetry. This volume is designed to showcase the talents of HWA members which is why it is now limited to members….
(12) WILLIAMS OBIT. Charlie Williams, a long-time Nashville fan, passed away April 25 reports Tom Feller. He had been residing in a nursing home/rehab facility after being hospitalized for pneumonia. He is survived by his wife Patsy and sister Jennifer. Funeral arrangements are pending.
[NOTE: He is a different Charlie Williams than the fanartist from Knoxville.]
(13) MEDIA BIRTHDAY.
April 26, 2008 — On this date in 2008, Star Wars: The Clone Wars premiered on the Cartoon Network. created by George Lucas and produced by Lucasfilm Animation, the series ran for seven seasons. It's currently airing, as is all things Star Wars, on Disney+.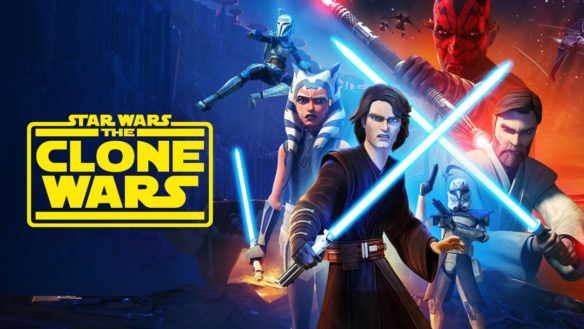 (14) TODAY'S BIRTHDAYS.
[Compiled by Cat Eldridge and John Hertz.]
Born April 26, 1914 – Horace L. Gold.  One novel (with Sprague de Camp), twoscore shorter stories.  Edited Galaxy (insistence on taking SF in a new direction resulted in "You'll never see it in Galaxy!") and If; a dozen anthologies.  A Best-Prozine Hugo for Galaxy; Life Achievement Award from Westercon 28; Forry, Milford Awards.  (Died 1996) [JH]
Born April 26, 1922 — A. E. van Vogt. I admit it's been so long since I read him that I don't clearly remember what I liked by him though I know I read Slan and The Weapon Makers.  I am fascinated by the wiki page that noted Damon Knight took a strong dislike to his writing whereas Philip K. Dick and Paul Di Filippo defended him strongly. What do y'all think of him? (Died 2000.) (CE)
Born April 26, 1925 — Richard Deming. I think that all of the Man from U.N.C.L.E. novellas, or in this case the Girl from U.N.C.L.E. novellas, were listed under the house name of Robert Hart Davis. Deming was only one of a very long list of writers (I know of Richard Curtis, Richard Deming, I. G. Edmonds, John Jakes, Frank Belknap Long, Dennis Lynds, Talmage Powell, Bill Pronzini, Charles Ventura and Harry Whittington) that were writers who penned novels in the twin U.N.C.L.E. series.(Died 1983.) (CE) 
Born April 26, 1939 — Rex Miller. Horror writer with a hand in many pies, bloody ones at that. (Sorry couldn't resist.) The Chaingang series featured Daniel Bunkowski, a half-ton killing-machine. Definitely genre. He contributed to some thirty anthologies including Hotter Blood: More Tales of Erotic Horror, Frankenstein: The Monster Wakes, Dick Tracy: The Secret Files and The Crow: Shattered Lives and Broken Dreams. (Died 2005.) (CE)
Born April 26, 1950 — Peter Jurasik, 71. Ambassador Londo Mollari on Babylon 5 who would be Emperor one day and die for his sins. (Yes, spoiler.) He has also very short genre credits other than Babylon 5— Doctor Oberon Geiger for several episodes on Sliders and Crom, the timid and pudgy compound interest program, in the Tron film. (CE)
Born April 26, 1943 – Bill Warren.  Three stories, three poems; best known as a student and critic of SF film, see his Keep Watching the Skies!  Fan Guest of Honor at Ambercon 3, VCON 11, Loscon 11, MisCon 6.  Evans-Freehafer Award (service to LASFS, Los Angeles Science Fantasy Soc.), Sampo Award (unsung-hero service).  Edited 15 posthumous issues of Bill Rotsler's Masque. Our Gracious Host's appreciation here. (Died 2016) [JH]
Born April 26 [Year unknown] – Miriam Lloyd.  Various fanzines under Goojie Publications as M. Dyches; Klein Bottle and Fanac as M. Carr with first husband Terry Carr; A Funny Thing Happened on the Way to Poughkeepsie as M. Knight with second husband Jerry Knight; see here.  (Died 2020) [JH]
Born April 26, 1948 – Marta Randall, age 73.  Eight novels, a score of shorter stories.  Fanzine, Mother Weary.  Edited Nebula Awards 19, New Dimensions 11-13.  Interviewed in Lightspeed.  Toastmaster at Norwescon VII, Baycon '87, Windycon XIII, ConFusion 14, Chicon IV & V the 40th and 49th Worldcons.  Master of Ceremonies at Con*Stellation V.  Pro Guest of Honor at ConClave VIII, WisCon 7, Lunacon 29.  First female President of SFWA (Science Fiction & Fantasy Writers of America).  [JH]
Born April 26, 1952 — Peter Lauritson, 69. Long involved with the Trek franchise starting with Star Trek II: The Wrath of Khan. He became the producer of Star Trek: The Next Generation, and supervising producer for Deep Space Nine, Voyager and Enterprise. He directed three episodes of those series, including the Hugo Award-winning "The Inner Light", as well as being second unit director for two Trek films. (CE) 
Born April 26, 1955 – Brad W. Foster, age 66.  Widely-applauded fanartist.  Eight Hugos.  Chesley.  Rebel, Neffy (Nat'l Fantasy Fan Fed'n), Rotsler Awards.  Guest of Honor at ArmadilloCon 10, Loscon 18, Westercon 49, Norwescon XX, Conestoga 9, ReConStruction the 10th NASFiC (N. Amer. SF Con, since 1975 held when Worldcon is overseas), Sasquan the 73rd Worldcon.  [JH]
Born April 26, 1967 – Nicholas Whyte, age 54.  Hugo Administrator twice and still alive; at it again this year and Worldcon Site Selection too.  Dr Who fan which is less nearly unique.  Reads 200-300 books a year ("in non-plague times, I have a long commute").  Announced as Fan Guest of Honour for Eastercon 72 (April 2022).  Helpful fan with catholic (I know I didn't capitalize that, go look it up) taste.  [JH]
Born April 26, 1969 — Gina Torres, 52.  The first thing I remember seeing her in was Cleopatra 2525 where she was Helen 'Hel' Carter. Her first genre was in the M.A.N.T.I.S. pilot as Dr. Amy Ellis, and she actually was in The Matrix Reloaded and The Matrix Revolutions as a character named Cas but I'll frankly admit I remember almost nothing of those films. She's had a number of DC voice roles including a recurring Justice League Unlimited run as Vixen / Mari McCabe. And of course Zoe in the Firefly verse. Lastly anyone remember her on the Angel series as Jasmine? (CE) 
(15) I'M JUST DREW THAT WAY. Daniel Dern found the excuse to give this item its title in io9's production news roundup "Marvel She-Hulk Filming Pictures Sees Tatiana Maslany on Set":
Tom Swift joins Nancy Drew in the synopsis for "The Celestial Visitor" airing May 12.

TIAN RICHARDS ("BURDEN," "DUMPLIN") GUEST STARS AS TOM SWIFT – As things begin to go haywire at The Claw, a striking stranger appears looking for Nancy (Kennedy McMann), and announces himself as the billionaire Tom Swift (guest star Tian Richards).
(16) BIG CHAP. Yahoo! Entertainment's Ethan Alter discusses a rare find: "'Alien' Day: The terrifying, long-lost Xenomorph prototype never before seen in public" – photos at the link.
Here's an #AlienDay reveal that'll make you happier than a long-haul space tug crew member headed back to Earth: A piece of ultra-rare Alien memorabilia that was blasted out of the airlock four decades ago has been salvaged and is now up for sale. On April 29, Julien's Auctions is unveiling a long-lost early prototype of H.R. Giger's classic Xenomorph design as the centerpiece attraction in a genre-themed "Hollywood Legends" auction. Known as "Big Chap," this version of the franchise's signature creature features a translucent design that's distinctly different than the opaque acid-spitting monster we know and love. 

It should be noted that bidding on the Big Chap starts at $40,000. But you can get a closer look at the big guy for free courtesy of our exclusive virtual experience, which allows you to zoom in on Giger's original vision for the Xenomorph, which evolved out of the Swiss artist's pioneering "biomechanoid" designs. (Giger died in 2014.)
(17) WARP FACTORY. [Item by SF Concatenation's Jonathan Cowie.] Here is a ten-minute physics briefing on some recent research of SFnal relevance from the wonderful PBS Space Time: there are "NEW Warp Drive Possibilities".
That Einstein guy was a real bummer for our hopes of a star-hopping, science-fiction-y future. His whole "nothing travels faster than light" rule seems to ensure that exploration of even the local part of our galaxy will be an excruciating slow. But Einstein also gave us a glimmer of hope. He showed us that space and time can be warped – and so the warp drive was conceived. Just recently, a couple of papers contend that these are not pure science fiction.
This briefing builds on another PBS Space Time video from five years ago that introduces the notion of an FTL warp drive asking "Is The Alcubierre Warp Drive Possible?" Since then it has racked up 2.4 million views.
Inspired by Gene Roddenberry's Star Trek, physicist Miguel Alcubierre set out to transform one of the cornerstones of science fiction iconography, the Warp Drive, into reality. But is it even possible? Can we "warp" the fabric of reality so that we can break the speed of light?
(18) THREE'S A CHARM. Ingenuity buzzes Mars again. CNN has the story — "Ingenuity Mars helicopter achieves fastest, farthest flight yet".
… Ingenuity exceeded speeds and distances beyond what it proved capable of doing during testing on Earth before launching to Mars.

The helicopter flew at 1:31 a.m. ET, or 12:33 p.m. local Mars time. Data and imagery began streaming into the control room at NASA's Jet Propulsion Laboratory in Pasadena, California, at 10:16 a.m. ET Sunday. The Perseverance rover captured an image of the helicopter in flight and shared it shortly after.
(19) AND GNAW, THE GNEWS. Another Dern special, inspired by Gizmodo's article "Beavers Take Down Canada Internet Service After Chewing Cables".
…Tumbler Ridge, a tiny municipality in northeastern British Columbia with a population of about 2,000 people, lost service for roughly 36 hours in what Telus described as a "uniquely Canadian disruption!"

"Beavers have chewed through our fibre cable at multiple points, causing extensive damage," said Telus spokesperson Liz Sauvé in an email to Gizmodo. "Our team located a nearby dam, and it appears the beavers dug underground alongside the creek to reach our cable, which is buried about three feet underground and protected by a 4.5-inch thick conduit. The beavers first chewed through the conduit before chewing through the cable in multiple locations."
(20) VIDEO OF THE DAY. In "The Falcon and the Winter Soldier Pitch Meeting" on Screen Rant, Ryan George explains that one character's gratuitous dancing was put in the series "because people enjoyed memes of Thantos twerking." This spoiler-filled video dropped today.
[Thanks to Tom Becker, Rich Lynch, John King Tarpinian, Daniel Dern, Mike Kennedy, JJ, Martin Morse Wooster, SF Concatenation's Jonathan Cowie, Andrew Porter, Cat Eldridge, John Hertz, Gadi Evron, and Michael Toman for some of these stories. Title credit goes to File 770 contributing editor of the day Jon Meltzer.]