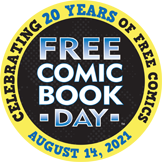 August 14 is Free Comic Book Day, when participating comic book stores across North America and the world will be giving away comic books to visitors in their shops. Use the locator on the website to search for a store near you.
Click here to see the covers of 50 comics being handed out free.
The event traditionally takes place on the first Saturday in May but will return to a single-day celebration in August for the event's milestone 20th anniversary.
The titles are shown in this promotional video.
Marvel Comics will release two Free Comic Book Day titles, each containing two separate stories that provide entry points for new readers to the ongoing sagas of the Avengers, Spider-Man, Venom, and the Hulk. Crafted by some of Marvel Universe's chief architects including Jason Aaron and Chip Zdarsky and many more surprises and featuring art by superstars like Marvel's Stormbreaker Iban Coello and Greg Smallwood, comic shop visitors will be able to pick up Free Comic Book Day 2021: Avengers/Hulk and Free Comic Book Day 2021: Spider-Man/Venom.
Here are several descriptions of the comics in the FCBD catalog:
ARCHIE: PAST, PRESENT & FUTURE FUN!
Archie Comics

It's the Crisis of Infinite Archies! Celebrate 80 years of the Riverdale Gang with this tale featuring a dimensionhopping Archie Andrews in his quest to save the multiverse! Then, witness Archie go toe-to-toe with… himself?! May the best Archie win! Plus, get a preview of the newest Archie One-Shot in shops! This title includes several versions of Archie (from classic to TV to horror) and showcases his evolution as a character over eight decades!

Rating: All Ages

LADY MECHANIKA
Image Comics

A young woman in the Victorian Era searches desperately for the secrets to her past, which resulted in her extraordinary but unnatural mechanical limbs. Lady Mechanika will include the 14-page stand-alone story "The Demon of Satan's Alley," which first introduced Lady Mechanika and her steampunk world (Lady Mechanika #0), plus 8 or more pages of excerpts from upcoming and/or existing Lady Mechanika books including "Monster at the Ministry of Health," the newest story by series creator Joe Benitez which will debut this year at Image Comics.

Rating: Teen

WHO SPARKED THE MONTGOMERY BUS BOYCOTT?
Penguin Workshop

From refusing to give up her bus seat to a white passenger to sparking civil rights protests across America, explore how Rosa Parks' powerful act earned her the title "Mother of the Civil Rights Movement." A story of resistance, strength, and unwavering spirit, this graphic novel invites readers to immerse themselves in the life of the American Civil Rights leader.

Rating: All Ages