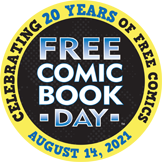 (1) FREE COMIC BOOK DAY IS 8/14. Pay no attention to the man behind the curtain. (Me.) Free Comic Book Day is August 14 — just like it says on the logo! — contrary to the typoed date in my standalone post (which has now been corrected, thanks to eagle-eyed John King Tarpinian.)
(2) MARVEL'S PLAN FOR PRIDE MONTH. This June, Marvel Comics will observe Pride Month with a celebration of LGBTQ+ characters and creators in Marvel's Voices: Pride #1.
Marvel's first-ever queer-centered special will get a special Frame Variant cover by artist Luciano Vecchio. An homage to the iconic Marvel 25th Anniversary covers released in 1985, this cover spotlights Marvel's tapestry of LGBTQ+ characters and will reveal a brand-new hero who is set to make their debut within the upcoming one-shot. Check out this incredible cover below!
(3) C'MON, YOU DROIDS, YOU WANNA POST FOREVER? Your reminder that the USPS Droid Stamps are scheduled for Star Wars Day! (May the Fourth). File 770's post about them is here. Order them from USPS here.
(4) FILER IN THE NEWS. Cora Buhlert's local paper the Kreiszeitung ran a profile of her today. The online version of the article with a photo of her standing beside a bookcase is here: "Stuhrer Autorin ist für Science-Fiction-Preis Hugo nominiert" Only in German, alas.
…Schließlich schreibt sie auf ihrem eigenen Blog über Science-Fiction, Fantasy und Artverwandtes. Seit einiger Zeit außerdem auf der Webseite galacticjourney.org. Sie rezensiert Filme, Serien und Literatur, führt Interviews mit Kollegen. Und zwar immer auf Englisch, aus Fan-Perspektive….
(5) TED TALKS. Lex Berman interviews Ted White about his early writing career contributing to Rogue Magazine in a Diamond Bay Press podcast.
…White's first sale there was Riot at Newport.

White also discusses his piece on the beatnik riot of Washington Square, Balladeers and Billy Clubs, and the general scene around Greenwich Village and what it was like trying to make a living as a jazz critic in the early 1960s.

"My eyes started to burn. We were on the fringe of a cloud of tear gas that the police had laid down in the center of Newport, where all these kids were "rioting." When we drove up to Boston, around midnight, there were roadblocks. Police were letting people out, but they weren't letting anybody in. It was like that."
(6) LET MT. TBR FLOURISH. Vulture says these 11 books are "The Best Fantasy Novels to Read After 'Shadow and Bone'".
If you're anything like us, you couldn't wait to watch Netflix's latest fantasy series, Shadow and Bone. An adaptation of Leigh Bardugo's original Grisha trilogy and the Six of Crows duology, the magical drama is filled with incredible world-building, complex heroes, rakish heists, and enticing villains. But if bingeing the eight-episode first season only left you wanting more, we have you covered…
First on the list:
Wicked Saints, by Emily A. Duncan

This dark fantasy features so much for Shadow and Bone fans to love: an intricate, Slavic-inspired world; a divine young girl tasked with saving her kingdom; an alluring boy with a terrible secret; and a weary prince unsure of his identity off the battlefield. Set amid a centuries-long war between Kalyazin, a devout polytheistic country where only a select few can access the gods' magic, and Tranavia, a country that cast out the gods and is ruled by ruthless blood mages, Wicked Saints is a seductively brutal tale about power, faith, and agency. It's also metal as hell, with creatively incorporated elements of cosmic horror. The series' extensive lore adds a wonderful sense of history to this story, and it features an epic enemies-to-lovers romance that will be sure to resonate with any Darkling fans.
(7) RASCH OBIT. [Item by Cora Buhlert.] In sad news, the Brazilian born (East) German science fiction author Carlos Rasch died on January 7, 2021, aged 88. His death only became known in the German SFF community lately, similar to what happened when Charles Saunders died.
Here is Carlos Rasch's English-language Wikipedia page updated with his death date: Carlos Rasch.
…At the age of six, he moved with his parents from Brazil to Germany. In 1951 he started working as a reporter for the GDR's Allgemeiner Deutscher Nachrichtendienst. It was during his days as a reporter that he started writing literature. In 1965 he became a full-time writer. In addition to writing novels, he penned science-fiction short stories and radio dramas as well co-authoring the unproduced thirteen-part GDR television series Raumlotsen. There followed a period in which he was out of favor with the ruling powers and earned his keep through pick-up jobs and writing under pseudonyms. By the mid-80s, he was once again able to publish. From 1990 until he retired in 1997, he worked for the Märkische Allgemeine Zeitung in Potsdam.[3]
Available only in German are the death notice from his local newspaper, "Traueranzeigen von Carlos Rasch" — | Märkische Onlinezeitung Trauerportal, and this brief tribute by Klaus Frick, who is the current editor-in-chief of Perry Rhodan: "Carlos Rasch ist tot".
I got some of Carlos Rasch's novels on packages from my East German great-aunt, because "you like space books". They were fun adventure SF about ancient astronauts and the like. After the fall of the wall, Rasch worked as a journalist, but his SF writing career never really took off again.
(8) KAHN OBIT. Bernie Kahn, who wrote more than 100 episodes of television including Bewitched, The Addams Family, Get Smart and Three's Company, died April 21 reports Deadline: "Bernie Kahn Dead: 'Get Smart', 'Addams Family' Writer Was 90". He also had a credit for writing the story of a My Favorite Martian episode.
(9) KAMINSKY OBIT. The New York Times recalls the reasons for his fame: "Daniel Kaminsky, Internet Security Savior, Dies at 42". He was also known to some readers here who personally mourn his passing.
Daniel Kaminsky, a security researcher known for his discovery of a fundamental flaw in the fabric of the internet, died on Friday at his home in San Francisco. He was 42.

His aunt, Dr. Toby Maurer, said the cause was diabetes ketoacidosis, a serious diabetic condition that led to his frequent hospitalization in recent years.

In 2008, Mr. Kaminsky was widely hailed as a latter-day, digital Paul Revere after he found a serious flaw in the internet's basic plumbing that could allow skilled coders to take over websites, siphon off bank credentials or even shut down the internet. Mr. Kaminsky alerted the Department of Homeland Security, executives at Microsoft and Cisco, and other internet security experts to the problem and helped spearhead a patch….
(10) MEDIA BIRTHDAY.
April 27, 1963 — On this day in 1963, The Day of the Triffids premiered in the USA. It was produced by George Pitcher and Philip Yordan, as directed by Steve Sekely. It's rather loosely based on the 1951 novel of the same name by John Wyndham (who was toastmaster at Loncon 1) as scripted by Bernard Gordon and Philip Yordan. It starred Howard Keel, Nicole Maurey, Janette Scott, Kieron Moore and Mervyn Johns. Critics who were familiar with the novel expressed their distaste for the film. It currently has a fifty-one percent rating among audience reviewers at Rotten Tomatoes. Yes, it's in the public domain, so you can watch it here.
(11) TODAY'S BIRTHDAYS.
[Compiled by Cat Eldridge and John Hertz.]
Born April 27, 1901 — Frank Belknap Long. John Hertz says that he should be singled out for the "To Follow Knowledge" novelette, lovingly discussed here. I only add as John didn't note it, that Long received the World Fantasy Award for Life Achievement. (Died 1994.) (CE)
Born April 27, 1920 — Doris Baumgardt. Well-known and loved fan, illustrator and writer under the name of Leslie Perri. She was a member of the Futurians, and a founding member of FAPA. She was also a member of the CPASF and the Science Fictioneers. She was one of five members of the Futurians allowed into the first World Science Fiction Convention by Sam Moskowitz with the other four were Isaac Asimov, David Kyle, Jack Robinson and Richard Wilson. She wrote three pieces of short fiction that were published in the Forties and Fifties; she contributed artwork to fanzines. (Died 1970.) (CE)
Born April 27, 1920 – Edwin Morgan. Scottish poet and translator. First Glasgow Poet Laureate. First Scottish Nat'l Poet (The Scots Makar). Two SF-chess short stories. Many poems for us. See e.g. collections The Second Life, From Glasgow to Saturn, Star Gate, Sonnets from Scotland. (Died 2010) [JH]
Born April 27, 1922 — Jack Klugman. He was in an amazing four Twilight Zone episodes ("A Passage for Trumpet ", "A Game of Pool, "Death Ship" and " In Praise of Pip" plus one-offs on Alfred Hitchcock Presents, and The Outer Limits. Does Around the World in Eighty Days count as genre adjacent? He was in the miniseries. (Died 2012.) (CE)
Born April 27, 1936 – John Burningham. Author and illustrator. Two Greenaway Medals. Boston Globe – Horn Book Award. Maschler Award. Deutscher Jugendliteraturpreis (German youth-literature prize). Five dozen books, some ours. Here is Chitty Chitty Bang Bang. Here is Come away from the water, Shirley. Here is an ed'n of The Wind in the Willows (showing different illustrations on slipcover and jacket). Here is an interior from Borka (a goose with no feathers; second from right). (Died 2019) [JH]
Born April 27, 1957 — Rachel Caine. She had two series, the Weather Warden series which is most excellent and the superb Great Library series. I can't speak to the Morganville Vampires series as I don't do vampires really. And yes, I know she's got a number of other series, far more than can be detailed here. (Died 2020.) (CE)
Born April 27, 1958 – Caroline Spector, age 63. Three novels, a dozen shorter stories; games; two years Associate Editor at Amazing. She is a Wild Card and has nine stories there. Also plays bass. [JH]
Born April 27, 1963 — Russell T. Davies, 58. Responsible for the 2005 revival on BBC One of Doctor Who. (A Whovian since the very beginning, he thinks "The Talons of Weng-Chiang" has the best dialogue in the entire series, an opinion I concur with.) Of course he's also responsible for Torchwood and The Sarah Jane Adventures as well. (Need I note that the The Five(ish) Doctors Reboot was his idea?) Oh, and a few years back, he produced A Midsummer Night's Dream. (CE)
Born April 27, 1969 – Dame Darcey Bussell, age 52. Principal dancer of the Royal Ballet at 20. Judged Strictly Come Dancing on British television. President of the Royal Academy of Dance. Two honorary doctorates. Kennedy Center Gold Medal. Arlan Award. Dame Commander of the Order of the British Empire. For us, a score of novels, half a dozen shorter stories (with, she says, ghostwriters) about magic shoes that turn girls into ballerinas. [JH]
Born April 27, 1970 – Emmanuel Gorinstein, age 51. A dozen covers. Here is The Rest of the Robots (only eight stories in this ed'n). Here is The Caves of Steel. Here is Ender's Shadow. [JH]
Born April 27, 1977 – Jedidiah Berry, age 44. One novel (The New Yorker said it was like Wes Anderson adapting Kafka), ten shorter stories. "The Family Arcana" was published as a Poker deck. Went to Bard, has taught there. Co-edited an issue of Lady Churchill's Rosebud Wristlet. Interactive fiction here. [JH]
Born April 27, 1986 — Jenna Coleman, 35. Clara Oswald, Companion to the Eleventh and Twelfth Doctors. She remains the longest serving companion since the series was revived. Genre wise, she was also Connie in Captain America: The First Avenger, and did voice work on the animated reboot of Thunderbirds Are Go. And yes, she showed up in The Five(ish) Doctors Reboot which deserves to be annotated. (CE)
(12) ALL ABOARD! They've got a full house at the International Space Station.
(13) GROOT TAKES ROOT. Disney Imagineers are developing a free-roaming robotic actor, and the prototype has been decked out as Groot.
Walt Disney Imagineering Research & Development is developing a small-scale, free-roaming robotic actor that can take on the role of our similarly-sized Disney characters. Its tightly integrated design provides over 50 degrees of freedom in a compact platform that can walk, gesture, and emote in style. Using custom authoring tools that combine whole-body motion planning and traditional character animation, artists can quickly bring robotic characters to life with expressive motions and interactive behaviors. There are no immediate plans for use in Disney theme parks; however, a prototype in the form of Groot is being used to test unique traits, gaits and capabilities.
(14) PORTRAIT WITHOUT THE ARTIST. DUST presents the sci-fi short film "Muse".
An artist turns to his android muse for help when trying to sell his newest paintings, but events take a dark and disturbing turn when the android learns what has inspired the work.
(15) STARTING OUT SUPER. Can you stand this much wholesomeness? Stan Lee's Superhero Kindergarten on Kartoon Channel.
From the genius mind of the late Stan Lee comes the exciting new animated show for preschoolers, Stan Lee's Superhero Kindergarten. The school day at Superhero Kindergarten is a lot like that at any other kindergarten…except these six extraordinary students have a secret… They are superheroes! Rather than powers derived from a radioactive spider bite or gamma rays, these special kids' powers come from common kindergarten items like white glue, putty, building blocks and yes, even farts (yuck!) And thankfully, they have Arnold Armstrong (AKA Captain Fantastic, the greatest superhero to ever live!) as their teacher (voiced by Arnold Schwarzenegger). Superhero Kindergarten brings the very best superhero storytelling to a new generation of preschoolers with action, comedy and heart. Embedded in each episode is a valuable life-lesson about health, exercise, nutrition and anti-bullying!
(16) VIDEO OF THE DAY. In "Honest Game Trailers: Outriders" on YouTube, Fandom Games says the game is a "goofy sci-fi romp" that features the four elements: "earth, fire, space-time, and guns!" (Bonus feature: Gilbert and Sullivan parodies!)
[Thanks to Rob Thornton, Michael Toman, John King Tarpinian, Mike Kennedy, JJ, Martin Morse Wooster, Andrew Porter, Cat Eldridge, Cora Buhlert, Daniel Dern, and John Hertz for some of these stories. Title credit goes to File 770 contributing editor of the day Hampus Eckerman.]