The Tomorrow Prize and The Green Feather Award: Celebrity Readings & Honors, an in-person event on May 22, will recognize outstanding new works of science fiction written by Los Angeles County high school students, as well as this year's winning ecology-themed sf story.
The 2022 finalists' stories will be read by celebrity guests on Sunday, May 22 from 4:00-6:00 p.m. Pacific at Vroman's Bookstore in Pasadena, CA. Register to attend the free event at Eventbrite.
The winners will receive cash prizes.
First, Second, and Third place Tomorrow Prize winners will receive $250, $150, and $100 USD cash prizes.
The First place Tomorrow Prize winner will be published in L.A. Parent Magazine.
The Green Feather Award is an additional special prize category for an environmentally focused sci-fi story. The winner will receive $250 and online publication by the Nature Nexus Institute.
CELEBRITY GUEST READERS:
Rico E. Anderson (The Orville)
JB Blanc (Arcane)
Shayne Eastin (The Monster Project)
Bonnie Gordon (Star Trek Prodigy)
Tamara Krinsky (Tomorrow's World Today)
Allison Scagliotti (Stitchers)
Marcelo Tubert (Star Trek: Picard)
THE TOMORROW PRIZE FINALISTS:
Angel Bran – Hollywood High School ("House on Sand")
Amy Cervantes – Port of Los Angeles High School ("They're Coming")
Tais Cortez – Port of Los Angeles High School ("Genetic Slumber")
Madison Kay – John Marshall High School ("Backstitching")
Luna Prieto – John Marshall High School ("The Mechanical Planet")
THE GREEN FEATHER AWARD WINNERS:
Jonathan Kim – Culver City High School ("The Seagulls Save Culver City")
Jennifer Wu – Downtown Magnets High School ("Eden")
THE TOMORROW PRIZE HONORABLE MENTIONS:
Nancy Duran-Lopez – Port of Los Angeles High School ("Idiosyncrasy")
Nyn Kim – Port of Los Angeles High School ("Final Breath")
Sloane Corddry – Girls Academic Leadership Academy ("Your Case is Quite Unique")
Christine Wu – Downtown Magnets High School ("Gone")
FINALIST JUDGES:
Bobak Ferdowsi – Spacecraft Engineer
Keenan Norris – Sci-Fi Novelist & L.A. History Expert
Lilliam Rivera – Award Winning Y.A. Novelist
Sherri L. Smith – Award Winning Y.A. Novelist
The event also will feature a musical guest, theremin player, Steven Collins, an actor and guidance and control engineer at NASA/JPL. Steve has degrees in Theater Arts and Physics from UC Santa Cruz and built his first theremin in 2001. A lifetime fan of theater, science, and science fiction, Steve spends his time dancing, doing Shakespeare, flying spacecraft around the solar system and recently did a bit of technical consulting for season 2 of Star Trek Picard.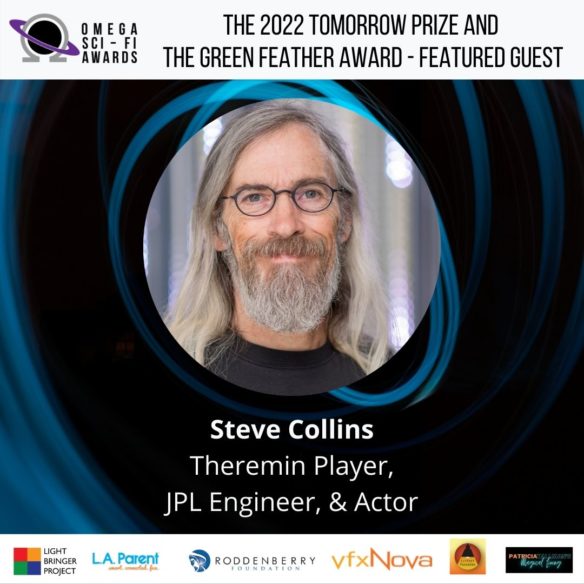 Guests are encouraged to wear a sci-fi themed outfit or accessory to get into the spirit of the readings!
[Based on a press release.]