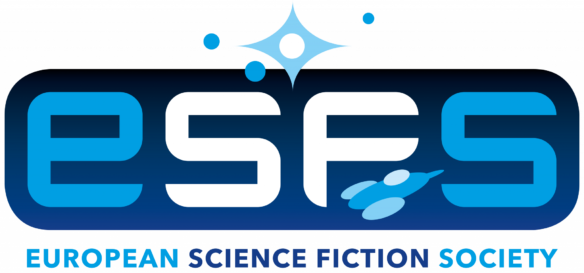 The European Science Fiction Society has published the nominees for the 2023 ESFS Achievement Awards and ESFS Hall of Fame Awards.
The winners of these awards will be selected at the next general meeting of the ESFS, which will take place at Konflikt, the 2023 Eurocon, June 8-11 in Uppsala, Sweden.
The full list of nominees follows the jump.
NOMINATIONS FOR THE ACHIEVEMENT AWARDS
2023 Achievement Awards nominations; The English-language descriptions come from the ESFS website.
BEST WORK OF ART
AUSTRIA
"Der Wassermann hat Zeit" cover by Leonie Schlager
Leonie Schlager for the illustrations of her own fantastic book "Der Wassermann hat Zeit". Though for small children as the main target group, the ununsual, colour reduced pictures also lead adults into a fantastic underwater-world, far away from our toxic "fast" everyday´s life.
CROATIA
Cover art for biopunk anthology "Bio Jednom Jedan Punk", by Katarina Šumski
Katarina created cover for yearly SFeraKons anthology of Croatian SF – 2022. biopunk themed book "Bio Jednom Jedan Punk". Her art embodies its visceral nature and invokes uneasy feelings. Orange colors that bring forward optimism about possibilities that biotech brings are splashed with liver purple, color that warns and calls for caution. Babies are image of the future, and what might be…
FINLAND
Praedor
Petri Hiltunen's Magnum Opus are his Praedor comics, that were recently collected as one gigantic hardcover collection of over 400 pages worth of fantasy comics by the master himself. Praedor has turned from simple comics into classic roleplaying game, multiple novels and anthologies by diverse hands.
GERMANY
Cover Illustration of "Phantastisch! 81" by Timo Kümmel
Timo's art explores a wide variety of topics across sf, fantasy, and horror. This can also be sensed in his cover art for Phantastisch! 81: In the dark vastness of space, we see the character of a wise man, as we could find in antique sculptures – orbiting a mysterious planet while following a ray of light. Inspiring, thought-provoking, and masterly crafted.
IRELAND
Big City Bot, Dublin – Rob Stears
Rob Stears is an artist and illustrator based in Dublin. The elements tha make up ""Big City Bot, Dublin"" are instantly recognisable as beloved Dublin landmarks. https://www.robstears.ie/
ITALY
Dayana Montesano for cover of the book "I vegumani"
Young talent from the International School of Comics.
PORTUGAL
The Many Deaths of Laila Starr – Filipe Andrade
SPAIN
HispaCón poster
BEST WRITTEN WORK OF FICTION
AUSTRIA
"Die letzten Tage von Salzburg" by C.M. Dyrnberg
CROATIA
"It Eats Us From The Inside", by Antonija Mežnarić (novella)
DENMARK
"Vølvens Vej: Snehild" by Anne-Marie Vedsø Olesen
FRANCE
Les Chants de Nüying, by Émilie Querbalec
GERMANY
Utopie27 by Aiki Mira
ITALY
I vegumani by Clelia Farris
POLAND
"Płomień" by Magdalena Salik
PORTUGAL
Unto the Godless What Little Remains – Mário Coelho
SPAIN
Carcoma, by Layla Martínez
SWEDEN
Grim by Sara Bergmark Elfgren
UKRAINE
Pavlo Derevianko "The Chronicles of the Gray Order" (Павло Дерев'янко "Litopys Siroho Ordenu")
BEST DRAMATIC PRESENTATION
AUSTRIA
"Rubikon" by Magdalena Lauritsch
FINLAND
"Hatching" directed by Hanna Bergholm and written by Ilja Rautsi
FRANCE
Parallèles
IRELAND
To The Waters and The Wild – Aduantas
ITALY
Strappare lungo i bordi by Zero Calcare
SPAIN
Noviembre Nocturno
UKRAINE
Movie "Maksym Osa"
BEST FANZINE
CROATIA
Svemirski brod, 14
Svemirski brod is printed fanzine that covers events, literature and media, with a good portion of astronomy and science. It covers events of Croatian fandom and introduces local fans to each other, both more prominent ones and the younglings. Made by fans for fans; it is true fanzinethat delivers fun, interesting articles and interesting characters, all with love and care to its roots.
DENMARK
Himmelskibet, 63 (Spring 2022)
Himmelskibet 63 is the 2022 issue of the fan magazine of the recently defunct Danish SF/F/Horror society "Fantastik". It is edited and written by dedicated members of organized Danish fandom, containing short stories, reviews, articles, and lists of the new Danish publications in the fantastic genres.
FRANCE
KWS – Keep Watching the Skies 89 – August 2022
Since 1992, this fanzine publishes reviews (more than 1560 to date) and informations about science fiction, fantasy, and horror books published different languages, French, English, Occitan, Catalan… The fanzine is published approximately three times a year. Editor: Pascal J. Thomas Older contents: http://q-d.fr/kws
GERMANY
!Time Machine by Udo Klotz, No. 5 Artifical Intelligence
!Time Machine is a yearly fanzine featuring focus topics in every issue. The 2021 edition is on "Artificial Intelligence in reality and science fiction", exploring the question if ai is "grail, fake, or vision". A characteristic of the fanzine is a fine sense of humor. In content, graphic art, and layout, !Time Machine meets the highest standard in German fandom.
IRELAND
Journey Planet 63 – Erró Errór
This issue of Journey Planet is dedicated to the Icelandic artist Erró
ITALY
Silicio, #1
Fanzine dedicated to the science fiction genre that contains reviews, stories and in-depth essays, about transhumanism, the post-humanism, possible and impossible uchronies and dystopias, theory fiction and psychedelic pseudobiblia.
PORTUGAL
UMBRA 3
SPAIN
Vientos de magia 1
BEST WORK FOR CHILDREN
AUSTRIA
Barbara Schinko
FRANCE
Le Jardin des chimères, by Johan Heliot
ITALY
Poe la nocchiera del tempo by Licia Troisi
PORTUGAL
Guia Pratico do Susto – Clara Cunha
SPAIN
La venganza del Alquimista
SWEDEN
Imperiets Arvingar: Fängelsflykten
UKRAINE
Volodymyr Arieniev "A Treasury of Stories" (Володимир Арєнєв "Скарбничка історій"
BEST INTERNET PUBLICATION
CROATIA
Mora FM
Mora FM is a Croatian podcast, hosted by the editors of Morina kutija, and dealing with the art and craft of writing, publishing, and reading SF. Started in Spring 2022, and currently nearing the end of its season 2, it gathered a loyal following over its 30ish episodes that covered topics ranging from long vs. short form, writing and publishing in a second language, social media for writers etc.
FINLAND
Geek Culture Quiz
Geek Culture Quiz is a different kind of pub quiz, last Monday of each month in Tampere, Finland. It is possible to participate in the quiz remotely via the magic of the internet as every quiz is also live-streamed on YouTube and participants can return their answers using Google Forms. Questions are from science fiction, fantasy, games etc. The quiz is bi-lingual (in English and in Finnish).
FRANCE
Quarante-Deux
By Ellen Herzfeld & Dominique Martel. Since 1994, this website provides a wealth of resources on SF, including an extensive bibliographical database, reviews, interviews, articles and fictions, convention & festival photos. It is a big part of the french SF fandom and memory. A few words for visitors who don't read French on their website : https://www.quarante-deux.org/annexes/About_This_Site
GERMANY
Rezensionsnerdista by Yvonne Tunnat

Primarily a platform for reviews on science fiction literature (special focus: short stories), Rezensionsnerdista also features essays on the sf publishing market in Germany. It has a podcast spinoff (literatunnat), where creative people from German sf are interviewed. Yvonne's in-depth knowledge of the scene – based on reading hundreds of publications each year – makes this a valuable resource.
IRELAND
cons.ie
cons.ie is a site dedicated to SF&F and Gaming conventions and event listings. If you are visiting Ireland, this is the place to find out what's on!
ITALY
Fantasy Magazine
Long time magazine of fantasy covering book, reviews, interviews and essays.
POLAND
"CzaPa Kulturalna" by Paweł Majka and Cezary Zbierzchowski
"CzaPa Kulturalna" is a podcast created by two Polish SFF writers – Paweł Majka and Cezary Zbierzchowski. Podcast concentrates on the critique of SFF literature. Creators don't release episodes very often but they are appreciated by the fandom. The token of this appreciation is the Krzysztof "Papier" Papierkowski Award for the best non-commercial activity in fandom that they received last year.
PORTUGAL
Fabrica do Terror
SPAIN
Cuentos para Argernon
UKRAINE
History of Ukrainian SF&F
The series of video lectures "History of Ukrainian SF&F" by Fantastic talk(s)
NOMINATIONS FOR THE HALL OF FAME AWARDS
2023 Hall of Fame Awards – Nominations – European Science Fiction Society (esfs.info)
BEST ARTIST
CROATIA
Korina Hunjak
DENMARK
Jesper Ejsing
FINLAND
Petri Hiltunen
FRANCE
Didier Graffet
GERMANY
Thomas Thiemeyer
IRELAND
Jog Brogzin
ITALY
Leo Ortolani
PORTUGAL
André Mata
SPAIN
Natacha Bustos
SWEDEN
Nicolas Krizan
UKRAINE
Boris Groh (Борис Грох)
BEST AUTHOR
AUSTRIA
Marc Elsberg
CROATIA
Tatjana Jambrišak
FINLAND
Emmi Itäranta
FRANCE
Philippe Curval
GERMANY
Aiki Mira
IRELAND
Eoin Colfer
ITALY
Nicoletta Vallorani
POLAND
Jacek Dukaj
PORTUGAL
Bruno Martins Soares
SPAIN
Laura Gallego
BEST PUBLISHER
AUSTRIA
Ohneohren
DENMARK
Science Fiction Cirklen
FINLAND
Kirjava
FRANCE
Éditions Mnémos
GERMANY
Hirnkost
IRELAND
Limit Break Comics
ITALY
Edizioni Hypnos
PORTUGAL
Saida de Emergência
SPAIN
Duermevela
SWEDEN
Ylva Blomqvist
BEST PROMOTER
AUSTRIA
Stefan Cernohuby
Stefan Cernohuby was editor of the anthology "Facetten der Zukunft", a book with Austrian science-fiction short stories. He promotes it by public readings along with his team and the book had also been intruduced on public TV!
FRANCE
Raymond Milési
French SF writer, anthologist (Mouvances) & active fan for almost 40 years. He went to the 2nd French SF national convention (1975) & only missed 4 since! Since 1988, he is responsible for their attribution vote and the guardian of their smooth running. He received the Cyrano special award in 2018 in Amiens for his writings and his commitment to SF fandom and genre.
GERMANY
Udo Klotz
Since 1991, Udo is trustee of Germany's most prestigious sf award, the Kurd Laßwitz Preis. He earned maximum respect from pros as well as from fans for the calm, objective, and reliable way he fulfills this key role. Moreover, Udo is a connector for the German sf scene, editing fanzines, running a monthly gathering in Munich, and actively participating in national and international sf conventions.
IRELAND
Gareth Kavanagh
Gareth Kavanagh is the former chair of the Irish National Convention, Octocon, has had key leadership roles in multiple Worldcons and the 2014 Dublin Eurocon. And oh yeah, he was the ESFS Secretary for six years. Irish and European fandom would far poorer without the years of quiet background work Gareth has dedicated to us!
ITALY
Flora Staglianò
Long time fan and excellent organizer of SF convention "DeepCon" and 2 EuroCons in Fiuggi.
PORTUGAL
Sandra Henriques
SPAIN
Ricard Ruiz Garzón
BEST MAGAZINE
CROATIA
Morina kutija
FINLAND
Tähtivaeltaja
FRANCE
Gandahar
GERMANY
Future Fiction Magazine (German Edition) by Sylvana Freyberg and Uwe Post
ITALY
Dimensione cosmic
PORTUGAL
Bang!
SPAIN
Oasis
BEST TRANSLATOR
CROATIA
Adrian Cvitanović
FRANCE
Hélène Collon
GERMANY
Bernhard Kempen
ITALY
Silvia Castoldi
POLAND
Sebastian Musielak
PORTUGAL
Luis Filipe Silva
SPAIN
David Tejera
SWEDEN
Ylva Kempe
UKRAINE
Iaroslava Strikha (Ярослава Стріха)