By James Bacon: Forty-five years ago or thereabouts, on February 26, 1977, the first 'prog' of 2000AD was released by IPC magazines. The second issue dated March 5 a week later saw the debut of Judge Dredd. Since then, Rogue Trooper, Nemesis the Warlock, Halo Jones, Sláine, Judge Anderson, Strontium Dog, Roxy and Skizz, The ABC Warriors, Bad Company and Proteus Vex are just some of the characters and stories that have emanated from the comic that was started by Pat Mills and John Wagner. Some have gone on to be in computer games, especially as the comic was purchased by Rebellion developments in 2000, and Judge Dredd has been brought to the silver screen twice.
Addictive and enjoyable stories of the fantastic, written and drawn by some of the greatest comic creators of the latter part of the 20th century, they often related to the current, utilizing Science Fiction to obscure issues about violence or subversiveness, but reflecting metaphorically about the now of the time. Judge Dredd was an extrapolation of how bad authority could become. A number of stories came too close to the bone in the 1970's including in Prog 71 and 72 which featured the Battle of the Burger Barons story with McDonald's led by Ronald McDonald and Burger King going to war. If that wasn't enough, Prog 77 and 78 featured many characters, such as the Jolly Green Giant, Col. Sanders, The Michelin Man and although most companies didn't engage, Jolly Green Giant did sue, and this story has not been reprinted.
An example of unfortunate agelessness may be the 'Invasion' story of Bill Savage that featured in 2000AD in the 1970's and 2000's. 'Invasion' themed stories were common throughout British comics, from Will O the Whistle in Victor to Holocaust Squadron in Warlord. These stories with a hard hint of Jingoism and usually with an Eastern European or Asian aggressor invading Britain, extrapolated on a Third World War scenario. The Pat Mills and Gerry Finley-Day story 'Invasion' and subsequent anti-authoritarian 'Savage' with art by Charlie Adlard had a more thoughtful approach. Although one felt that the Invasion theme was now confined to history, to be considered and analyzed, it appears that it is suddenly and dreadfully now a current situation.
In the 1980's the comic Crisis, a considered and thoughtful ongoing anthology from the 2000AD stable featured stories with a hard political view, reflecting on subjects from the Northern Ireland Troubles, Tiananmen Square to near future Third World War with multinationals exploiting poorer countries. Recently readers have been offered further stories which drive political thoughtfulness, and this has been most prominent with Dreadnoughts, which took an insightful near future look from now at the creation of the Judges, who become the police, detective, judge, jury and executioner all in one in the Judge Dredd historical timeline. Prog 2270 celebrated the anniversary with a Brian Bolland cover.
A confluence of occurrences is now about to occur, which through design or synchronicity will offer various opportunities to fans to see, engage and share appreciation for 'The Galaxy's Greatest Comic'.
A celebration of 45 years of 2000 AD will occur online and free on this weekend on March 26 and 27 on 2000 AD's social media channels and YouTube, and Rebellion's dedicated Twitch stream. This two-day event has a considerable amount of talent engaging with fans, while all panels available to watch on YouTube afterwards. The full schedule is available here: https://2000ad.com/news/the-galaxys-greatest-full-schedule-announced
Comic creatives who have been announced include John Wagner, Pat Mills, Mick McMahon, Brian Bolland, Garth Ennis, Rob Williams , Alex de Campi (Archie vs Predator), Sean Phillips, Vincent Deighan (Frank Quitely), Jock, Anna Morozova, Micheal Carroll and John McCrea amongst others. A full list of creatives is available in the Rebellion website https://2000ad.com/2000ad-45th-anniversary/
The 2000AD team have also invited a wide and varied selection of 2000AD readers from other professions, and this will see Ian Rankin, Lauren Beukes, Louie Stowell discussing their view as authors, Kelly Kanayama looking beyond borders in 2000AD with British writer currently in Seattle Arthur Wyatt, Irish writer Michael Carroll and American artist Chris Burnham and fascinatingly Ministers for Parliament Stella Creasy and Alex Sobel on a panel with political journalist Ian Dunt on a panel discussing politics in 2000AD with MIke Molcher. How often have elected politicians been on panels?
Pat Mills and John Wagner will also be interviewed and with a total of 21 programme items, it's a comprehensive weekend of online activity.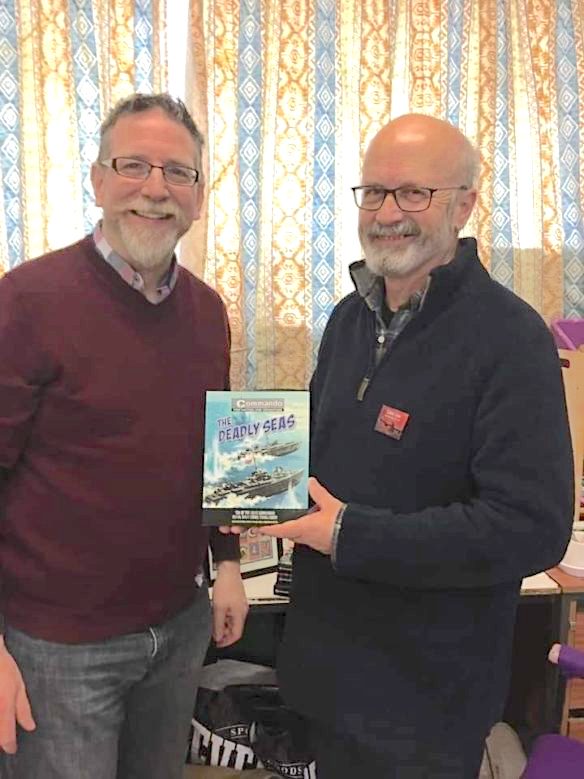 Also on March 26, the Commando and British Comic swap meet is being held at the 29th Glasgow Scout Group, Cameron Halls in Glasgow. The one-day event features a number of guests, Commando and 2000AD artist Graeme Neil Reid, 2000AD artist Colin MacNeil, Commando editor Calum Laird and Commando writer Colin Maxwell. The event will be occurring in person, and there are Covid precautions in place. The previous iteration of the Glasgow event took place on March 13, 2020 and based on the success of the Watford Swap meet and return of comic conventions and marts, a number of fans are travelling to it. The late Ian Kennedy who passed away on February 5 this year was due to be a guest, and he will be well remembered by those present, and missed.
Starting at 10:00 a.m., entry to the event is a pound for adults and kids go free. All proceeds from the door, raffle and other fund raising activities go to 29th Glasgow Scout Group. The venue is a 15-min train ride from Glasgow Central. These swap meets are great fun, low key relaxed events where there is considerable chat, and where one can find fans helping one another out.
Although there is a clash with the 2000AD online event, this writer will be joining those heading north.
Currently at the Cartoon Museum in central London to tie in with the celebration of 45 years of 2000AD with a Dredd @45 focused exhibition of eight pieces, and they span a considerable amount of time, and give a quick look at the character. There is a lot more to see at the Cartoon Museum.
Later in May on the 28th & 29th, Lawless will take place at the Doubletree in Bristol. This convention, a celebration of all things 2000AD with talks, panels, and a large number of artists and writers, will be occurring in Bristol. There's a community feel to the event, but this is fed by the professionals. At the last one in 2019, comic artist and historian David Roach kindly brought some of his art collection, to share with fans all by the late Carlos Ezquerra who was being celebrated. Lawless attracts large numbers of professionals but welcomes hundreds of fans. Cosplay is a strong component, Judges from many territories appear, and every year more ingenious characters from the world of Judge Dredd make an appearance. With 29 comic professionals announced as guests, including Brian Bolland, John Higgins, Mike Dorey, Karen Holloway, Abigail Bulmer and Sally Jane Hurst, it presents excellent coverage of the whole history of the comic, as well as the unique opportunity to meet, engage, share a pint with and chat to professionals.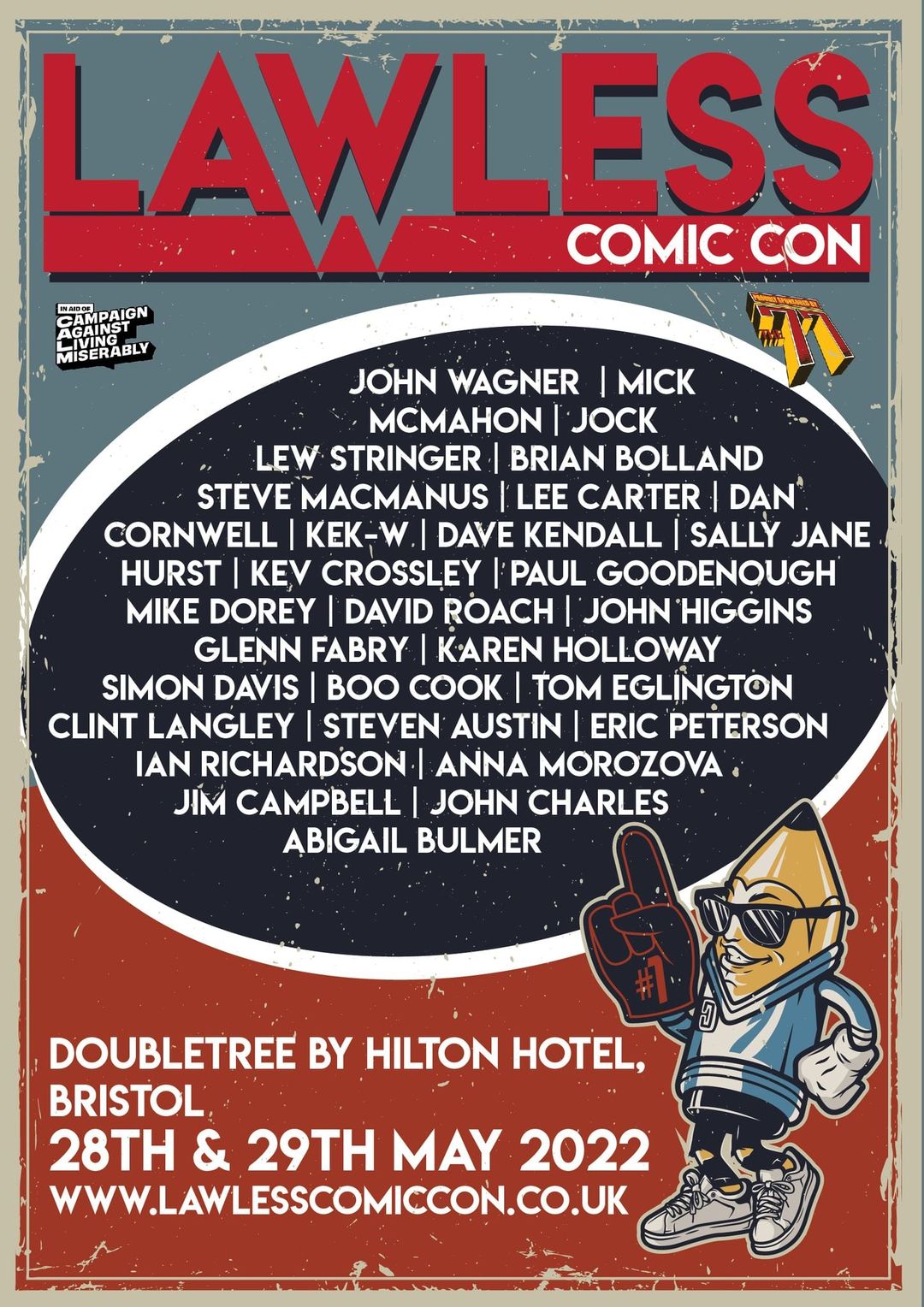 Our Irish Fan in London will hopefully report on some of these ongoings.