The winner and runners-up for the 2016 Jim Baen Memorial Short Story Award have been announced.
GRAND PRIZE
"Dear Ammi" by Aimee Ogden
SECOND PLACE
"To Lose the Stars" by Jennifer Brozek
THIRD PLACE
"Cylinders" by Ronald D. Ferguson
Aimee Ogden is from Madison, Wisconsin, Jennifer Brozek from Bothell, Washington, and Ronald D. Ferguson from San Antonio, Texas.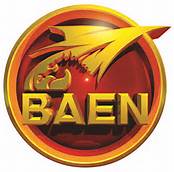 Judges for the award were the editors of Baen Books and special guest judge author David Drake. Stories were judged anonymously. The Jim Baen Memorial Award will be presented at a ceremony during the annual International Space Development Conference held May 18-22, 2016 in Puerto Rico. The winner receives a trophy and her story will be published June 2016 at the Baen.com web site, where new fiction is featured each month.
"The National Space Society and Baen Books applaud the role that science fiction plays in advancing real science and have teamed up to sponsor this short fiction contest in memory of Jim Baen, Baen Books' founder," said William Ledbetter, contest administrator. "We believe — and strive to show with these imaginative stories — that humanity has a bright and exciting future beyond the bounds of Earth. We want to see Moon bases, Mars colonies, orbital habitats, space elevators, asteroid mining, realistic spacecraft, heroics, sacrifice, and adventure. This year's winning stories deliver just that."