The American Library Association (ALA) on January 23 announced the top books, video and audio books for children and young adults – 2017 Association for Library Service to Children (ALSC) Book & Media Award Winners. The winners of genre interest follow:
John Newbery Medal
The Girl Who Drank the Moon written by Kelly Barnhill, and published by Algonquin Young Readers, an imprint of Algonquin Books of Chapel Hill, a division of Workman Publishing
Caldecott Honor Books
Leave Me Alone! illustrated by Vera Brosgol, written by Vera Brosgol, and published by Roaring Brook Press, a division of Holtzbrinck Publishing Holdings Limited Partnership
Mildred L. Batchelder Award
Enchanted Lion Books for Cry, Heart, But Never Break, written by Glenn Ringtved, illustrated by Charlotte Pardi, and translated from the Danish by Robert Moulthrop
Pura Belpre (Illustrator) Award
Lowriders to the Center of the Earth, illustrated by Raúl Gonzalez, written by Cathy Camper, and published by Chronicle Books LLC
Robert F. Sibert Medal
March: Book Three written by John Lewis and Andrew Aydin, illustrated by Nate Powell, and published by Top Shelf Productions
Note: March: Book Three is not a genre work, but previous installments of this graphic novel series have won major comics awards.
YALSA Award for Excellence in Nonfiction for Young Adults:
March: Book Three created by John Lewis, Andrew Aydin and Nate Powell, is the 2017 Excellence winner. The book is published by Top Shelf Productions, an imprint of IDW Publishing.
Alex Awards for the 10 best adult books that appeal to teen audiences:
The Queen of Blood, by Sarah Beth Durst, published by Harper Voyager, an imprint of HarperCollins Publishers.
The Regional Office is Under Attack! by Manuel Gonzales, published by Riverhead, an imprint of Penguin Random House.
In the Country We Love: My Family Divided, by Diane Guerrero with Michelle Burford, published by Henry Holt and Co.
Buffering: Unshared Tales of a Life Fully Loaded, by Hannah Hart, published by Dey Street, an imprint of William Morrow, a division of HarperCollins Publishers.
Arena, by Holly Jennings, published by Ace Books, an imprint of Penguin Random House.
Every Heart a Doorway, by Seanan McGuire, a Tor Book published by Tom Doherty Associates.
Romeo and/or Juliet: A Choosable-Path Adventure, by Ryan North, published by Riverhead Books, an imprint of Penguin Random House.
Die Young with Me: A Memoir, by Rob Rufus, published by Touchstone, an imprint of Simon & Schuster.
The Wasp that Brainwashed the Caterpillar, by Matt Simon, published by Penguin Books, an imprint of Penguin Random House.
The Invisible Life of Ivan Isaenko, by Scott Stambach, published by St. Martin's Press.
Stonewall Book Award – Mike Morgan & Larry Romans Children's & Young Adult Literature Award given annually to English-language children's and young adult books of exceptional merit relating to the gay, lesbian, bisexual and transgender experience: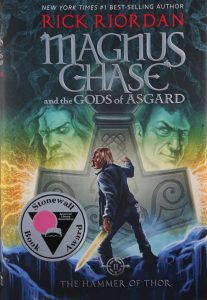 Magnus Chase and the Gods of Asgard: The Hammer of Thor, written by Rick Riordan and published by Disney Hyperion, an imprint of Disney Book Group,
If I Was Your Girl written by Meredith Russo and published by Flatiron Books [a non-genre work jointly announced as the award-winner]