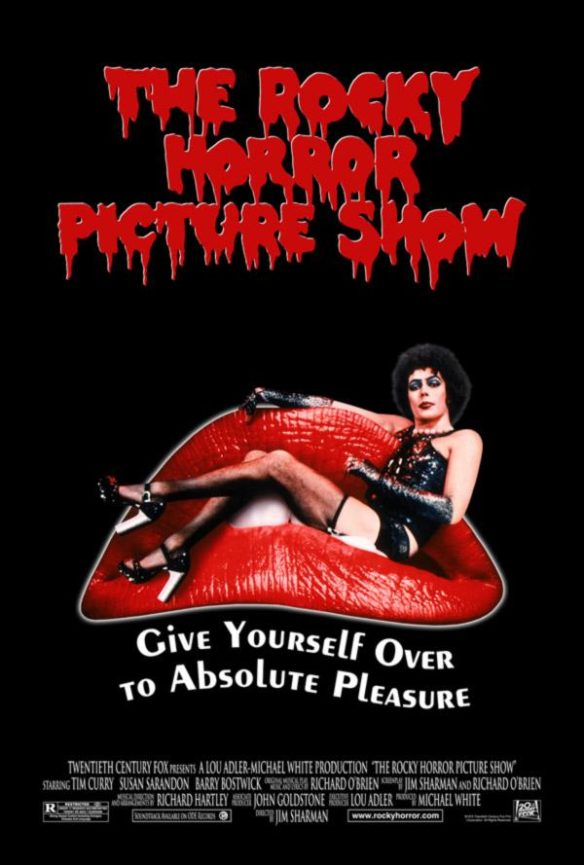 By Cat Eldridge: Forty-six years ago on this date, the Rocky Horror Picture Show film premiered. But before we get to the film, we need to go back to the London show as the film is based off the music, book, and lyrics that Richard O'Brien did for that production, which was a parody tribute to the SF and horror B-movies of the Thirties through to the early Sixties. The stage show was produced and directed by Jim Sharman. The original London production of the musical premiered at the Royal Court Theatre (Upstairs) on June 19, 1973. It would move around to several locations during its run before closing on September 13, 1980 after a total of 2,960 performances. It would go to tour the world pretty much everywhere. 
Now the film premiered just two years into the run of the London show. It was directed by Jim Sharman, and the screenplay by himself and O'Brien. (No surprise there.) it was produced by Lou Adler, co-owner of the Roxy Theatre which is where the live show had its first U.S. engagement, and Michael White who just produced Joseph and the Amazing Technicolor Dreamcoat in London's West End.
The cast is phenomenal: Tim Curry, Susan Sarandon, Barry Bostwick and Meatloaf, along with cast members from the original Royal Court Theatre, Roxy Theatre, and Belasco Theatre productions, including Nell Campbell and Patricia Quinn. It is narrated by Charles Gray who was Ernst Stavro Blofeld in Diamonds are Forever.
Some critics liked it, some thought it "tasteless, plotless and pointless." I think Time Out London summed it up best: "A string of hummable songs gives it momentum, Gray's admirably straight-faced narrator holds it together, and a run on black lingerie takes care of almost everything else." The audience reviewers at Rotten Tomatoes currently give it a rocking eighty-five percent rating. And it has earned one hundred seventy million dollars to date on a total budget of one point four million dollars.
An entire post could be written on audience participation which includes dancing the Time Warp along with the film, and throwing such things as toast, toilet paper, hot dogs, and rice at the appropriate points in the movie. And, of course, responding to dialogue in the film. Dressing up is expected for these fans and many locals approach that of professional theatre companies In their acting skills.
A sequel by O'Brien was planned but obviously never happened. The title? Rocky Horror Shows His Heels.