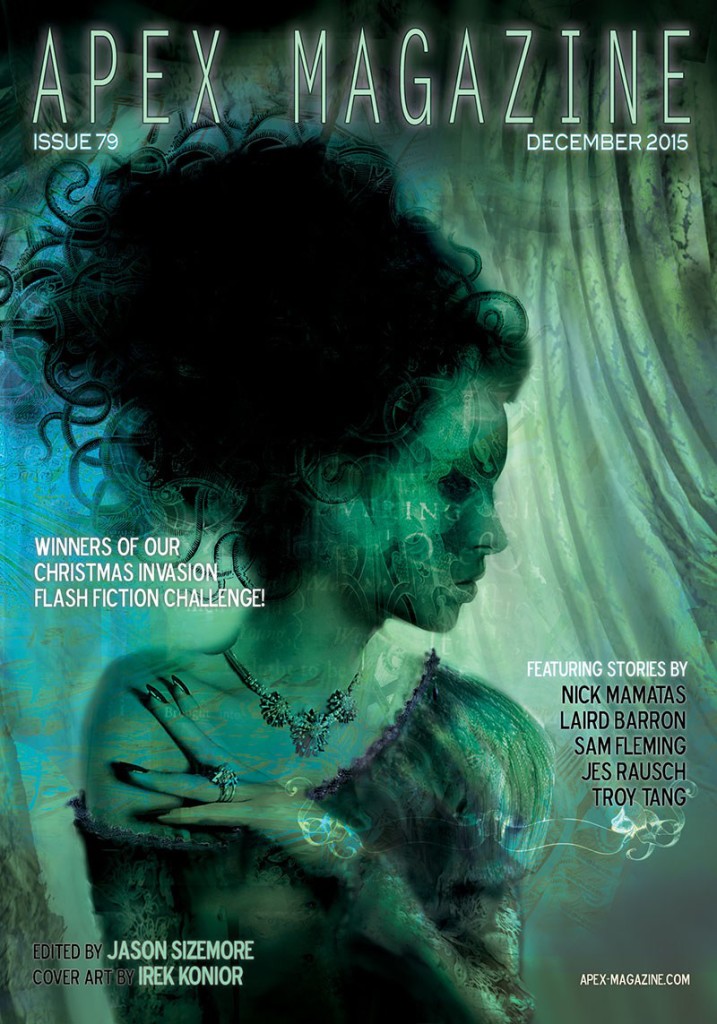 Apex Magazine #79 brings readers original fiction by Troy Tang, Nick Mamatas, Sam Fleming, and Jes Rausch, plus the winners of Apex's Christmas Invasion flash fiction contest, Melanie Rees, Gina L. Grandi, and Marlee Jane Ward.
J.J. Hunter and Lara Ek contribute poetry. This month's nonfiction includes "Shiny Boots and Corinthians: Writing Historical Fiction without Cliches" by Jennie Goloboy, and interviews with Sam Fleming, Troy Tang, and cover artist Irek Konior.
The monthly reprint is "Nemesis" by Laird Barron.
The free original fiction, poetry, and nonfiction will be released throughout the month on the Apex Magazine website. You can see the release schedule here and well as read the contributions as they are released here.
The entire issue is available for only $2.99 direct from Apex, or through Weightless Books (ePub/mobi/PDF), Amazon (Kindle), and Barnes & Noble (Nook). Subscriptions are also available on either a yearly or monthly basis.
Linked items have already been posted online.
WEEK ONE
WEEK TWO
Aishiteru Means I Love You by Troy Tang (December 8th, Short Fiction)
Interview with Author Troy Tang by Jason Sizemore (December 9th)
Myrrh, and the Sun by Lara Ek (December 10th, Poetry)
WEEK THREE
The Phylactery by Nick Mamatas (December 15th, Short Fiction)
Shiny Boots and Corinthians: Writing Historical Fiction without Cliches by Jennie Goloboy (December 16th, Nonfiction)
A Letter to Santa by Melanie Rees (December 17th, Christmas Invasion Flash Fiction Winner)
WEEK FOUR
Memory Tree> by Jess Rausch (December 22nd, Short Fiction)
Christmas is Coming by Gina L. Grandi (December 23rd, Christmas Invasion Flash Fiction Winner)
Reconstituted by Marla Jane Ward (December 24th, Christmas Invasion Flash Fiction Winner)
WEEK FIVE
Nemesis by Laird Barron (December 29th, Short Fiction)
Interview with Artist Irek Konior by Russell Dickerson (December 30th)
Podcast Fiction
Download Podcast #30 ("She Gave Her Heart, He Took Her Marrow" by Sam Fleming) or listen using the player below. (41:14 in length)