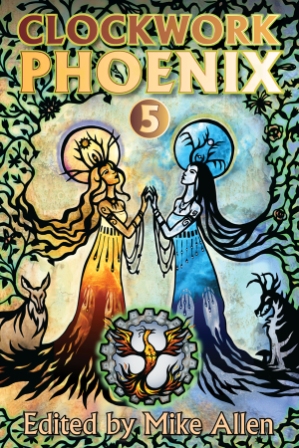 By Mark L. Blackman: On the still-wintry-cold evening of Tuesday, April 5 the New York Review of Science Fiction Readings Series, heading into the "home stretch" of its 25th Anniversary Season, hosted a launch party for the anthology Clockwork Phoenix 5 at its venue The Commons Café in Brooklyn. Guest-emcee was Mike Allen, editor of the Clockwork Phoenix anthologies, as well as of Mythic Delirium magazine and, in addition, a Nebula Award and Shirley Jackson Award finalist and winner of three Rhysling Awards for poetry. The occasion featured readings from seven(!) of the contributors to the volume. (A beautiful, full-color program spotlighting the anthology and the septet of readers was crafted by Series producer/executive curator Jim Freund.)
The festivities opened with the customary welcome from Freund, longtime host of WBAI-FM's Hour of the Wolf radio program on sf and fantasy. The show broadcasts and streams every Wednesday night/Thursday morning from 1:30-3:00 am and worldwide at wbai.org, and for a time afterwards may be heard on-demand as well as an RSS feed for podcasts. Additionally, the Readings stream live via Livestream – this evening was, in essence, a broadcast – where they remain archived for a period of time, and may be accessed by going to Livestream.com and searching for NYRSF. (Here is the link to tonight's Readings.)
The Readings Series, Freund reminded us, is supported entirely by donations. They are free, but there is a suggested contribution of $7.) Next month's event, on May 3, he announced, will be a play, a project by Andrea Hairston and Pan Morigan; and on June 7 a gala will celebrate Space & Time Magazine's 50th anniversary, with Gordon Linzner and Hildy Silverman. He concluded by thanking Terence Taylor, the Series' technical director, and the Café's landlady, Melissa Ennen. The Café, he noted, now has a special menu for us as well as table service, and directed attention to its menu. Not remarked on was the change in décor, the room's long tables replaced by small, two-person round tables. This would prove difficult in a full house. Finally, Freund turned hosting duties over to Mike Allen.
Tonight was not only a launch party for Clockwork Phoenix 5, said Allen, but its actual all-over-the-world launch day. He described how great it was to edit the anthologies, and how proud he was that the fantastic stories don't easily fit in commercial categories. They have an offbeat feel and a powerful emotional impact. Those in Clockwork Phoenix 5 explore the intersection between love and death. All five volumes, indicated Allen, were for sale here. He nodded to the volume's cover artist, Paula Arwen Owen (she too should be asked to autograph the book, he said), before introducing the first reader in what Freund had quipped was "a cast of thousands."
Brooklynite Rob Cameron paused from "working on his Buddha-like glow" to read "Squeeze." The narrator, in the throes of lost love, encounters a ghost-child on the #7 train (much of the audience was familiar with the 7, which runs between Mid-Manhattan and Flushing, Queens) that only he and an African woman with one arm (and a phantom limb) can see.
Next to read was South Asian fantasy writer Shveta Thakrar. In her charming story, "By Thread of Night and Starlight Needle," a twin brother and sister consult a plain-speaking witch, their requests revealing both their similarity and their differences. The tale included footnotes, perhaps indicating how influential Terry Pratchett was.
The third reader was Barbara Krasnoff, a very familiar face at the NYRSF Readings, another Brooklynite, and, in Allen's words, "a repeat offender," having appeared also in Clockwork Phoenix 2 and 4. Having read from her story, "Sabbath Wine," here just two months earlier, she opted for sharing a different portion of it. In the story, set in Brownsville, Brooklyn in 1920, a pre-adolescent Jewish girl befriends a black boy, who tells her that he's dead, and invites him to her home for a full-ceremonial Sabbath dinner. Her loving father, who has abandoned religion for radicalism, nevertheless gives in to her entreaty and goes off to obtain the titular kosher wine, a task complicated by it being the Prohibition Era and the local rabbi being only all-too-aware of his irreligiosity. Needless to say, the two argue, and her father seeks out the boy's father, a bootlegger. (Some of us recall the story's heartrending ending.)
During the intermission, there was a raffle drawing with the first two prizes a grab bag from Mythic Delirium and the grand prize "a real doozy," all five volumes of Clockwork Phoenix.
Resuming, Allen introduced the next reader, Sonya Taaffe, a short fiction writer and award-winning poet.  (It is noteworthy that several of the guests were poets.  Taaffe's biography also notes that she once named a Kuiper Belt Object.) In "The Trinitite Golem," J. Robert Oppenheimer, who had headed the Manhattan Project, here already under surveillance by the FBI and on the verge of losing his security clearance, is visited by the titular creature who asks him to "undo" him.
A.C. Wise was another "a repeat offender," having been represented also in Clockwork Phoenix 4, and is the author of the recently published debut collection The Ultra Fabulous Glitter Squadron Saves the World Again. Her offering, "A Guide to Birds by Song (After Death)," was beautiful and eerie, as a woman tries to understand her lover's suicide through her typed manuscript. "Absence shapes the world around it."
The final reading of the evening was a "fun" collaboration between C.S.E Cooney, a Nebula Award nominee for "Bone Swans" and, like Allen, a Rhysling Award-winning poet (for "The Sea King's Second Bride"), and Carlos Hernandez, author of the short story collection The Assimilated Cuban's Guide to Quantum Santeria. The two met at Readercon a couple of years ago and their story, "The Book of May," began as a Facebook dare. In a series of e-mail exchanges with her old D&D buddy (with Cooney and Hernandez enlivening their respective parts), a young woman with a brain tumor muses about what type of tree she wants to become after death, an oak?, a sugar maple? Amid the underlying sadness there were shifts to hysterical, laugh-out-loud bits that brilliantly illuminated the protagonists' deep friendship.
Allen returned to the podium to be presented by Freund with a suitably decorated apple cake for him and the readers. (For the audience, it was, as someone near me quipped, "Let them watch cake.")
As traditional at these Readings, the Jenna Felice Freebie Table offered giveaway books, while the Café saw to "wining, dining and other worldly needs."
It was a record-breaking crowd of about 90 – the Series biggest turnout ever – and not all were readers or even contributors to Clockwork Phoenix. Included among the audience were (to name a small few) Melissa C. Beckman, Richard Bowes, Amy Goldschlager (filling in as ticket-taker for Barbara), Lynn Cohen Koehler, Ellen Kushner, John Kwok, Lissanne Lake, Gordon Linzner, James Ryan, Delia Sherman and Terence Taylor. Afterward, many stuck around to schmooze, and some adjourned to the Café.