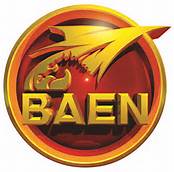 Baen Books, one of the top independent publishers of science fiction and fantasy, and RBmedia, a global leader in spoken audio content, have announced an agreement to publish more than 170 audiobooks over the next three years. The partnership brings together Baen's bestselling, award-winning content and RBmedia's market-leading position as a publisher of sci-fi and fantasy audiobooks.
This agreement means publication of both frontlist titles–with a primary focus on alternate history and science fiction–as well as many titles from Baen's extensive backlist, including classics from Science Fiction and Fantasy Writers of America (SFWA) Grand Masters and long-time fan favorites that have not previously been released in audio format. RBmedia will publish Baen Books titles across its family of imprints, including Recorded Books and Tantor.
Notable recent and upcoming RBmedia exclusive audiobook productions include:
In Fury Born by David Weber
The Council Wars series by John Ringo
The Belisarius series by David Drake & Eric Flint
The General series by David Drake, Eric Flint, S.M. Stirling, & Tony Daniel
The Domination (Draka) series by S.M. Stirling
SERRAted Edge: The Doubled Edge series by Mercedes Lackey & Roberta Gellis
The Witchy War trilogy by D.J. Butler
The Chronicles of Kencyrath by P.C. Hodgell The entire Technic History series
"Given the soaring demand for audiobooks, especially in the realms of science fiction and fantasy, Baen is thrilled to be entering into this partnership with RBmedia to make sure our rousing tales of adventure are available in all formats," said James Minz, Director of Subsidiary Rights for Baen Books. "With this deal, Baen Books will have licensed as an audiobook virtually every available title on our extensive list."
The first titles published under the agreement will be available starting this monthon Audible, iTunes, Google Play, Audiobooks.com, public libraries via RBdigital, and many other sites that provide digital audio. The remainder will be released over the next three years.