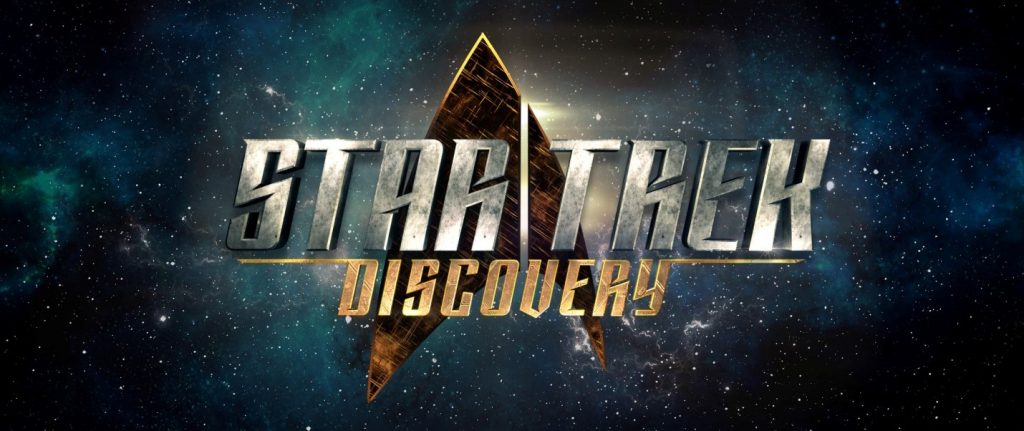 Flash Review: Star Trek Discovery
"The Vulcan Hello" and "Battle at the Binary Stars"
By Chris M. Barkley: STAR TREK: Discovery, The Vulcan Hello and Battle at the Binary Stars, (4 out of 4 stars, 2017) with Sonequa Martin-Green (First Officer Michael Burnham), Doug Jones (Lieutenant Saru), Michelle Yeoh (Captain Philippa Georgiou) and James Frain (Ambassador Sarek). Created by Alex Kurtzman and Bryan Fuller, Story by Bryan Fuller and Alex Kurtzman. Teleplay by Bryan Fuller and Akiva Goldsman. Directed by David Semel (The Vulcan Hello) and Adam Kane (Battle at the Binary Stars).
When a Starfleet monitor goes silent on the edge of Federation space, the USS Shenzhou, commanded by Captain Philippa Georgiou (Michelle Yeoh) is sent to investigate. The situation becomes complicated when an inspection of the monitor shows deliberate damage and an unknown object in a nearby asteroid field is obscured from their sensors. The First Officer, Michael Burnham (Sonequa Martin-Green) performs a flyby of the object, which turns out to be a Klingon scout ship. The occupant attacks her without provocation, which in turn starts a cascading sequence of events that will bring the Federation and the Klingons to the brink of war…
I went into last night's airing of Star Trek Discovery with very low expectations. While I was very familiar with the works of writer-producers Alex Kurtzman (Sleepy Hollow, Hawaii Five-O), Bryan Fuller (Hannibal, Pushing Daisies), Akiva Goldsman (Fringe) and director David Semel (House, Heroes), there was no guarantee any of them could crack and tame a vast franchise like Star Trek.
I have watched EVERY version of Star Trek over the past fifty plus years and I must say that I am far more excited by them than I was by the first three episodes of The Orville.
The first thing that I was impressed by was the way the dynamic was set between Commander Burnham and Captain Georgiou in the first sequence on the desert planet. Some complained that a captain and her XO on a long walk to perform a minor mission was about as unusual as those Kirk and Spock missions, I saw it as a chance for the show to set a tone with the main characters, which is clearly a master-apprentice situation.
With seven years of duty as a First Officer under her belt, I was beginning to think that the series was setting Burnham up to be the captain of her own vessel. But no, that rug got pulled out from underneath me right away when she's nearly killed by a Klingon warrior and then nearly fried to death by radiation exposure. So I thought, hey, maybe she's not ready for command after all.
By the time the third and fourth acts roll around, I was really in a tizzy; is Burnham actually thinking of doing something that very few characters have attempted in Star Trek… DID SHE ACTUALLY…Jose, Mary and Joseph! In the very first freaking episode? At the end of the second episode we find Burnham in a deep dark hole that is perfectly designed to tantalize viewers to come back for more.
After watching the pilot episode on Sunday, I immediately went to social media outlets to gauge the reactions of the fans. And, as I suspected people were polarized about nearly every single aspect of the show. Some of the more negative ones were:
It was too dark (both in the tone of the story and the lighting of the sets).
What, a war with the Klingons?  That's not what I signed up for.
Michael Burnham is not very likeable. The focus should have been on Captain Georgiou.
It's a production design in search of a story.
Hey, those weird-looking Klingons aren't canon.
Lens flare? REALLY?
And the inevitable, I don't wanna pay for Star Trek!
Well people, you're going to have to face up to a few facts: we don't live in 1966, 1987, 1993 or 2005 anymore. Things change, sometimes for the better, sometimes for the worse and that applies to television drama, too. The best dramas challenge their audiences in every way. And in the crowded state of television today, ST: Discovery is going be competing for the time and attention of audiences against dozens of streaming, cable and network shows.
Having said that, I still think that ST: Discovery has a chance to be one of the best versions of Star Trek yet AND one of the best shows on television, period.
I remember not being very impressed by a good majority of the first season episodes of the Next Generation. But I stuck with it and was rewarded on the fifteenth episode, "11001001" one of the best of that season.
Similarly, with Deep Space Nine (which had an exceptionally brilliant pilot, BTW), Voyager and Enterprise, I've heard all of the same cycle of complaints. Look, my advice to the naysayers is this: either give the show a chance to find its sea legs or find something else to watch. If you don't want to watch on CBS All Access, you'll just have to wait for the release of the DVDs some point next year.
To the people who don't want to pay for Discovery, fine. But I'll just point out that an All Access subscription costs just $5.99 a month or $9.99 without those pesky commercials. If you pay streaming or cable fees for Shameless, Game of Thrones and Homeland, this is no different than paying for that. True, CBS has only two original programs streaming at the moment (the other being the Good Wife spinoff, The Good Fight) but they do have several thousand episodes of shows to watch anytime. And it's a relatively low-cost monthly subscription that won't tie you to a long-term contract.
CBS has the rights to Star Trek and they are demanding money from fans in order to produce a quality show on this scale. But the question remaining is will Discovery turn out to be a great entry into the pantheon of Star Trek lore or a bust?
I'll end on this note; if Discovery had been just a another clone of the Original Series or the Next Generation with a weekly meet and greet of alien species, problem stories and planetary intrigue, I would have been incredibly disappointed. All I can say is that I am suitably impressed by the pilot and it far exceeded my own meager expectations. I believe that these creators know what they're doing and are building a credible and, dare I say it, fascinating storyline that I am more than eager to follow.
And I'm willing to pay for it; I subscribed to CBS All Access earlier today.
When the season ends, I'll be back with a full review.
See you on the other side!