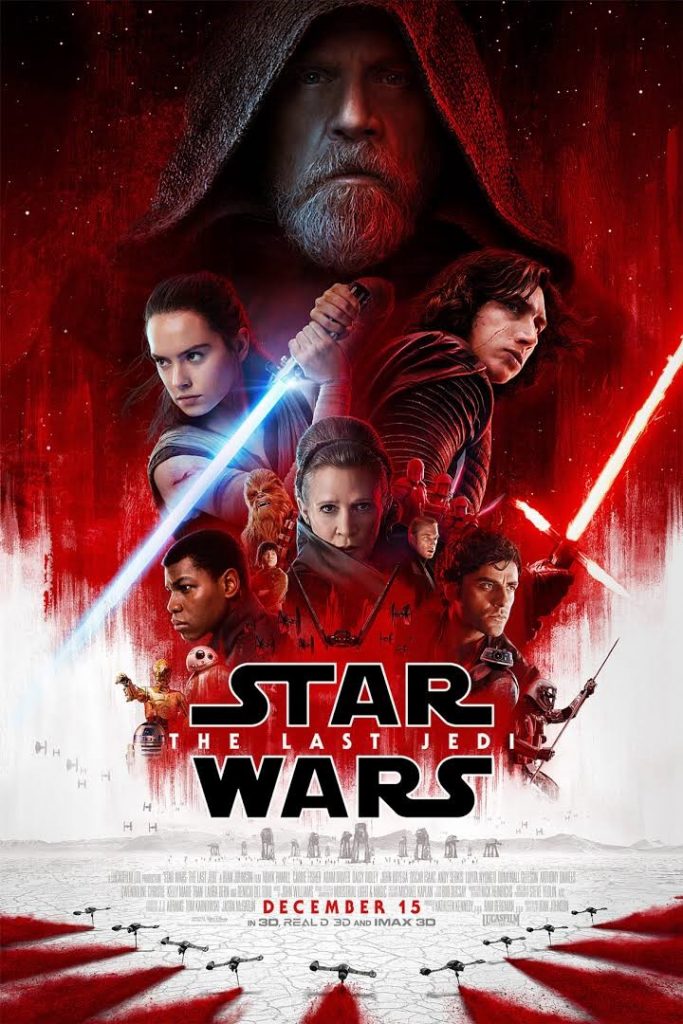 Review: Episode VIII – The Last Jedi
By Chris M. Barkley:  
Star Wars Episode VIII – The Last Jedi (****, 2017) with Mark Hamill, Carrie Fisher, Daisy Ridley, John Boyega, Adam Driver, Andy Serkis, Anthony Daniels, Peter Mayhew and Joonas Suotamo, Oscar Isaac, Benicio del Toro, Laura Dern, Gwendolyn Christie, Billie Lourd, Donhall Gleeson and Lupita N'yongo.  Written and Directed by Rian Johnson.
December 13th, Wednesday Morning, 3:15 AM.
I am wide wake in bed, on my back.
One of our cats, Luna, is lying quietly on my tummy, looking at me expectantly.
She peers at me, I look back at her.
I don't have to be a Jedi to know what she's is thinking; she's thinking if stays there long enough, her six pound weight on my bladder will induce me to go to the toilet and her ensuing mewing will lead me to turn on the bathtub tap, where she will happily lap up something resembling mineral water from the faucet.
Me? I'm thinking about The Last Jedi.
I'm thinking about the tickets for the advanced screening that I purchased a month ago and cleverly hid in our townhouse, JUST IN CASE OF A HOME INVASION, don't cha know.
Eventually, Luna admits defeat and leaves. I roll over and happily dive back into dreamland.
Avoiding spoilers, specifically involving Star Wars films, has been a tradition with me since The Phantom Menace (1999). For the past year and a half, I have been dodging rumors, possible storylines, memes, photos and especially those dreaded trailers, popping up unexpectedly during my favorite shows and sporting events. My partner, Juli, became very amused at my efforts to mute the tv and cover my eyes to avoid spoilers.
I admit that these feeble attempts to recapture the stunned feeling of being enraptured in the sights, sounds and fury of my first viewing of Star Wars in the Uptown Theater on Massachusetts Avenue in Washington DC on Memorial Day weekend in 1977.
But, deep down, I know I am being naïve about this; I have stumbled across some little bits of information about The Last Jedi by accident or happenstance so there is really no real way to recapture that initial thrill of discovery.
I know that some of my close friends and acquaintances have openly declared they are not bothering to see The Last Jedi because they are tired of the relentless hype, the good vs. evil plotlines or of the odious nature of Walt Disney Company (who purchased Lucasfilm Ltd in 2012 for four billion dollars).
The Last Jedi premiered in Los Angeles this past weekend and in London yesterday, December 13th. And this evening, I, along with several dozen moviegoers, saw it for the first time, in 3-D, no less…
"THIS isn't going the way you THINK is it!"
Luke Skywalker
As foreshadowing goes, the quote above perfectly sums up The Last Jedi. Needless to say, NOTHING goes according to plan for anyone concerned and deeper you go into the film, the more uncertain the outcome becomes.
None of the Star Wars previous films, even the worst of them, has been about holding back emotions or having a restraining story narrative. But this difference with this film is that characters matter here and their motivations and actions match the roller coaster plot.
Episode Eight's writer/director, Rian Johnson starts out with a few simple plots that quickly branch out into several different directions: Rey (Daisy Ridley) has come seeking Luke Skywalker (Mark Hamill) for guidance with her newly found powers and has some trouble convincing him to help her. General Leia's (the late Carrie Fisher) challenge is to lead her remaining Resistance forces to safety after being discovered by the forces of the First Order.
The situation proves to be so desperate that Poe Dameron (Oscar Isaac), Finn (John Boyega) and a new-found friend, Rose (Kelly Marie Tran) undertake a dangerous (and unauthorized) side mission to save the rebel fleet.
Meanwhile, Ben Solo (Adam Driver) is trying to find a way out of the First Order doghouse after his previous failures enrage Snoke (Andy Serkis), much to the amusement and disdain of General Hux (Domhnall Gleeson).
There are some thrilling moments of revelations that are balanced out with battles sequences, cliffhangers and, surprisingly enough, some of the best character developments since the first set of films.
Also worth noting are performances by Laura Dern as a loyal Resistance Admiral and Benicio del Toro as a shady underworld thief.
The Last Jedi is a big, long, heartwarming and heartbreaking epic that will take your breath away too many times to count. At 152 minutes it is the longest film in the series and, dare I say it, one of the best.
It is memorable in every way possible. I have a feeling you'll be seeing it several times. I know I will be!