My 2022 Hugo Awards Nomination Ballot for the Best Dramatic Presentation Long and Short Form Categories 
By Chris M. Barkley:
This year's 80th World Science Fiction Convention, Chicon 8, will mark the twentieth presentation of the Best Dramatic Presentation Long and Short Form Hugo Award categories.
Last year around this time, I presented our loyal File 770 readers with a remarkable (and lengthy) plethora of choices for both awards.
This year, on the day before the close of the nomination period, I have decided to change things up and offer readers a look at my BDP Long and Short Form nominees on my own ballot.
To be sure, I don't think my roster of nominees is in any way definitive to anyone else except myself. Like many of you, I agonized over my choices because while I try to see (and in some cases, hear) the best of everything, my choices still barely scratch the surface of the number of Hugo Award worthy productions that saw the light of day last year.
This year's list is divided into two; the first will cover eligible theatrical and streaming films that I feel should be firmly ensconced in the Long Form category, the second will cover choices from television or streaming series.
(AND, as I do on an annual basis, IF an entire run of a mini-series or a season of a series is deserving of a nomination, I URGE you to do that, even at the expense of a slot for theatrical film. If that happens often enough, MAYBE the folks in the Business Meeting will seriously consider reformatting the BDP categories to primarily separate series from films, as I, and others, have advocated for in the past few years).
Best Dramatic Presentation, Long Form Nominations
I'm Your Man – Netflix
Zach Synder's Justice League – Warner Brothers
Foundation Season One – Apple +
The Witcher Season 2 – Netflix
The Matrix Resurrections – Village Roadshow/Warner Brothers
I went into the selection process thinking that I would not be nominating some of the heavy hitters in this category, namely Dune, Spider-Man: No Way Home, Don't Look Up or The Suicide Squad. I would be incredibly surprised if one or more of those films didn't make the cut this year.

But my reasoning is this; some fans who take the time and effort to nominate seem to gravitate towards the large, tent pole franchise movies more often than not. In some years, I'm no different than anyone else but, I would say in the last decade or so, I tend to throw my support behind projects that rely more on excellent writing and acting than explosions and witticisms.
I'm Your Man
From the nominees listed above, if I'm Your Man (Written by Jan Schomburg and Maria Schrader, Directed by Maria Schrader) were nominated, I would have no problem whatsoever listing it as my first choice on the final ballot.
Amanda Wakaruk and Olav Rokne over at the Hugo Book Club Blog reviewed I'm Your Man in their February 2nd post: "Please give the German android gigolo movie a Hugo nod".
Alma (Maren Eggert), an archaeologist, is tasked with spending three weeks with an experimental android, Tom (Dan Stevens, speaking with a delightful German accent, IN GERMAN!) in order to beta test his interactions with other human beings. Tom has been programmed to be a perfect match with Alma, who, at the very outset of the film, is having second, third and fourth thoughts about the prospect of living with Tom for any amount of time.
I really can't add anything else to the Hugo Book Club Blog's stellar review except to say this: I'm Your Man is the sort of film the Hugo Awards should be honoring; a elegant, funny and dramatic story about the human, and android, hearts in conflict with themselves.
Justice League, Written by Chris Terrio, William Beall and Zack Synder, Directed by Zack Synder.
The sheer will of millions of fans worldwide brought Zack Synder's Justice League back from an early (and infamous) cinematic death. Clocking in at near four hours, this mammoth movie is the direct sequel to his previous film, 2016's Batman vs. Superman: Dawn of Justice, as The Batman (Ben Affleck) and Wonder Woman (Gal Gadot) join forces to bring together Earth's meta-humans to battle an alien menace. When they fail to do so, they desperately enact a very dangerous and unorthodox plan to revive their recently deceased colleague Superman (Henry Cavill), from the grave.
No one, least of all the executives at Warner Brothers, thought that the unfinished, grayscale version that only existed on Snyder's personal harddrive would ever see the light of day. But, after a persistent and exhaustive campaign by many fans (myself included), the suits gave him $70 million to properly finish the film. The result was not only substantially different from the version substitute writer/director Joss Whedon delivered in 2017, it was vastly and infinitely superior as well. Bravo.
Foundation, created by David S. Goyer and Josh Friedman.
Apple TV teased about its adaptation of Isaac Asimov's Foundation series for nearly a year before it premiered. I subscribed to Apple + specifically to see it. And I must say, I was not disappointed.
Using Asimov's story as a basic framework, writer/producer/director David S. Goyer (Dark City, Batman Begins, Terminator:Dark Fate) weaves a fascinating mosaic that shifts between the struggles of psycho-historian Hari Seldon (Jared Harris) and his persecuted followers as they try to stave off the total disintegration of the galactic empire and the various triads of cloned Emperors (Lee Pace, Terrence Mann and Cassian Bilton) who will stop at nothing to maintain their despotic grip on power.
Beyond these two white male leads, there is an astonishingly diverse cast, which includes two women of color, Lou Llobell as Gaal Dornick and Leah Harvey as Salvor Hardin, playing two of the main protagonists throughout the first season.
The first season of Foundation is not only an excellent work of visual sf, it is also an outstanding work of television drama.
The Witcher Season 2, created by Lauren Schmidt Hissrich.
Before 2019, I had never heard nor read any of the works of Polish writer Andrzej Sapkowski, who created the complex medieval world of "The Continent". Here, magic is the key to power and monsters, both human and otherwise, roam the lands.
Geralt of Rivia (Henry Cavill) is a Witcher, a magically enhanced warrior who patrols the Continent to eradicate both the savage beasts and anyone who might be controlling them.
In the second season of The Witcher, Geralt and his ward Princess Ciri (Freya Allan) seek shelter from both the oncoming winter season and the ongoing war between the kingdoms of Cintra and Nilfgaard. They go to Kaer Morhen, the home base of the remaining witchers, where they find they are not as safe as they thought from old rivalries and new dangers within the castle walls.
In the meantime, Geralt's former companion Yennefer (Anya Chalotra) the mage, has inexplicably lost her powers and comes under the thrall of Voleth Meir (the Deathless Mother) a demonic entity that promises to restore her powers if she can capture Ciri, so she can possess her human body and return to the Continent.
The entertainment landscape is filled with fantasy series that have pretenses of being epic, but The Witcher is one of the rare television projects that actually delivers the goods. And while Henry Cavill may be billed as the lead of the show, all of the supporting cast can match his brooding and charismatic presence, scene for scene.
I think that The Witcher is easily the most Hugo-worthy fantasy series since the early seasons of Game of Thrones. Let's not wait for the third season to put them on the final ballot.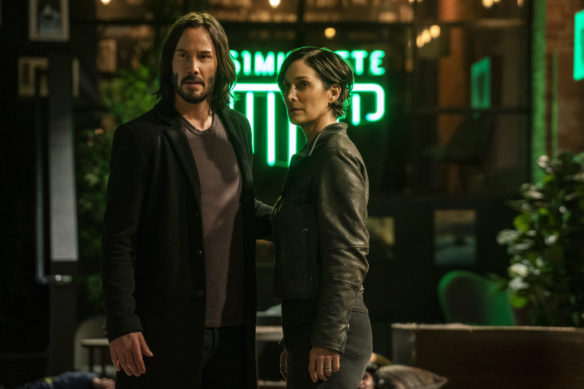 The Matrix Resurrections, written by David Mitchell, Aleksander Hemon and Lana Wachowski, Directed by Lana Wachowski.
For a long time, it seemed as though The Matrix Resurrections would never happen. For many years after The Matrix Revolutions (2003), the series creators, Lilly and Lana Wachowski, repeatedly insisted that the adventures of Neo (Keanu Reeves), Trinity (Carrie Anne Moss) and Morpheus (Lawrence Fishburne) had come to an end.
While the immersive world (and a few of the surviving characters) lived on through officially sanctioned video games like The Matrix Online, studio executives at Warner Brothers mulled over the possibility of another film without the Wachowski's involvement. Finally, Lana Wachowski agreed to write and direct a new film, but without any creative input from her sister Lilly, who begged off for personal reasons.
Neo and Trinity are alive, well thriving in The Matrix; he as the chief game developer and she as a wife, mother of two and a part time motorcycle mechanic. But, as before, Neo begins to suspect that there is something else just beyond his perception of reality. And when he is visited by a hacker named Bugs (Jessica Hardwick) and a digital reincarnation of Morpheus (Yahya Abdul-Mateen), Neo once again accepts the Red Pill and is thrown headlong into a battle that will determine the ultimate destiny of both the real and digital worlds.
Lana Wachowcki and her screenwriting collaborators, novelist David Mitchell (who wrote 2004 masterpiece, Cloud Atlas) and Aleksander Hemon (the 2002 novel, Nowhere Man), took pains not to make Resurrections a routine reboot or a remake of the first Matrix film, although there are certainly some winks and nods to the original if you look hard enough.
What the story really concerns itself with is about loss, remorse, memory and ultimately, redemption. The director is very familiar with these themes; she has gone on the record several times stating that the making of Resurrections was a form of therapy in dealing with the 2019 deaths of her parents, Ron and Lynne Wachowski and of another close (and undisclosed) friend around the same time.
Personally, I think it's a fine testament from a loving daughter and a good friend.
BDP Long Form: Honorable Mentions:
Shang-Chi and the Ten Rings (Marvel Studios)
Black Widow (Marvel Studios)
The Eternals (Marvel Studios)
Spider-Man: No Way Home (Marvel Studios)
The Suicide Squad (DC/Warner Brothers)
Dune (Warner Brothers)
Don't Look Up (Netflix)
Swan Song (Apple +)
Ghostbusters: Afterlife (Columbia/Sony Pictures)
The Green Knight (A24 Films)
Best Dramatic Presentation, Short Form Nominations
"Koybashi Maru"; Star Trek Discovery, Season 4, Episode 1.
"Cowboy Gospel"; Cowboy Bebop, Season 1, Episode 1
"True"; The Nevers, Season 1, Episode 6
"For All Time. Always."; Loki, Season 1, Episode 6
"One Lucky Day"; Squid Game, Season 1, Episode 9
Star Trek Discovery, Season Four, Episode 1, "Kobayashi Maru", Written by Michelle Paradise & Jenny Lumet & Alex Kurtzman, Directed by Olatunde Osunsanmi)
Star Trek: Discovery has only a single BDP Hugo Award nomination in its previous three years of eligibility. I'm hoping that the first episode of their fourth season,"Kobayashi Maru" (Written by Michelle Paradise & Jenny Lumet & Alex Kurtzman, Directed by Olatunde Osunsanmi) will nab one this year.

When Captain Michael Burnham (Sonequa Martin-Green) and the Discovery are sent to aid a deep space base in distress, she and the crew are confronted with tough choices and imminent peril as they try to rescue the survivors of the disaster.
Meanwhile, her partner Cleveland Booker (David Ajala) is faced with a more dire situation; his homeworld of Kwejian is engulfed in a strange energy anomaly that ultimately destroys the planet and nearly kills him as well.
These two incidents set up a simmering, season-long clash between Michael and Booker, as she tries to find and contact the entities that created the anomaly, and he seeks to destroy it before it causes another calamity. 
Cowboy Bebop, Season 1, Episode 1, "Cowboy Gospel", Written by Christopher Yost, Directed by Alex Garcia Lopez.
Netflix's live action adaptation of the popular Japanese anime series Cowboy Bebop was an eye popping surprise to me, since I was totally unacquainted with the story and characters. And that may have been a factor in why I like it because all of the criticisms I read about it after it dropped on Netflix, loudly complained about how unfaithful it was to the source material.
Spike Spiegel (John Cho) and Jet Black (Mustafa Shakir) are rough and tumble interplanetary bounty hunters, but most of the time, they seem to be down on their luck as well. After botching a job that leaves a casino in shambles and them in more debt than ever, they try for a bigger, easier score, a fugitive couple on the run, to get them out of the hole.
Needless to say, their quarry turns out to be more clever than they thought and unfortunately, for them, a rival bounty hunter, Faye Valentine (Daniella Pineda), is also after them. And when all of the involved parties finally cross paths, Spike and Jet's problems are just starting.
The pilot for Cowboy Bebop, "Cowboy Gospel" (Written by Christopher Yost and Directed by Alex Garcia Lopez), has EVERYTHING I want in a tv show; great acting, characters with hidden motives, snappy, snarky dialog and it's all backed up with great action, a smashing good acid jazz score, vivid graphics and production design to kill for (literally).
It's too bad Netflix canceled it after one season, though I imagine that fans of the original series were hoisting their beverages of choice in the air when they heard the news. To hell with all of them; give Cowboy Bebop a Hugo nomination and the last laugh.
The Nevers, Episode 6, "True", Written by Jane Espenson and Directed by Zetna Fuentes.
The Nevers, the very last project that disgraced creator/writer Joss Whedon has worked on, took me by surprise. Some may think that his well documented toxic behavior might automatically disqualify this particular work from consideration. And they're all quite wrong!
Whedon was fired during the latter portion of the production of the first six episodes and the project was turned over to veteran writer/producer Jane Espenson. She won Hugo Awards for her work on Buffy the Vampire Slayer (BDP Short Form,"Conversations With Dead People" 2003) and Game of Thrones (BDP Long Form, writing Episode 6, "A Golden Crown).
And look, I get it, many of you don't want to give Joss Whedon another shot at a Hugo Award. Here's an alternative course of action; nominate the last episode of the first half of season one, "True".
On a smoggy London morning in 1896, a strange aircraft in distress is spotted overhead, dispensing a strange substance that gives those who are directly exposed to it extraordinary abilities.
After several years, "The Touched" (as they are called), are both reviled and viewed with suspicion by the public and the government as well. St. Romaulda's Orphanage has been converted into an urban sanctuary for them, established by two "touched" compatriots, Amalia True (Laura Donnelly) and Pennace Adair (Ann Skelly). When the duo help a young woman escape a band of thugs from being kidnapped, it sets off a chain of events that soon reveal a deadly conspiracy that spans the full length of British society.

Written by Jane Espenson and directed by Zetna Fuentes, "True" reveals the true origins of Amalia True (not her real name), where she really came from (not from Leeds, to be sure) and what her real mission is (to save the WORLD, silly).
Since The Nevers is set in the Victorian Age, I was delighted to see that this series is fully and richly immersed in a steampunk ambiance, in its writing, acting and production design.
The production of Season One was suspended after the first six episodes were completed.
Naturally, I can't wait for the next six episodes to drop. But I'll have to, Damn it!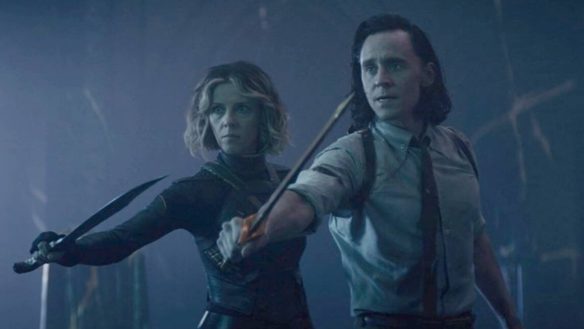 Loki, Episode 6, "For All Time. Always.", Written by Michael Waldron & Eric Martin, Directed by Kate Herron.
Marvel's Loki mini-series debuted in the summer of 2021, promising a new and mind blowing exploration into some of the undiscovered corners of the Marvel Universe that would change the course of all of the tales that soon follow.

Spoiler Alert: THEY WERE NOT KIDDING!
As many of you may know by now, a variant of the Asgardian god Loki (Tom Hiddleston), escaped the custody of the 2012 Avengers with the Space Stone during the 2024 Avengers time heist of the Infinity Stones in their attempt to reverse the universe shattering decimation caused Thanos. That part of the story eventually works out. But…
The amoral variant of Loki is easily captured by the Time Variance Authority because his escape has created an unauthorized timeline. The TVA usually disposes of the timeline and anything that may have been created from it.
But Loki's capture has come to the attention of TVA agent Mobius M. Mobius (Owen Wilson), who is obsessed with the lives of Loki and his variants. Mobius arranges to spare Loki's life in exchange for his help hunting down a dangerous variant who is eliminating TVA agents across all of the time lines.
As keen that he is to stay alive, Loki begins to question everything about his mission and the TVA itself when he finds out, to his dismay, that their quarry is another variant of himself (Sophia Di Martino).
And then, things get really CRAZY!
If you love the Marvel Cinematic Universe, Loki is required watching because everything that came afterwards, from the recently released Spider-Man: No Way Home and the upcoming Doctor Strange: In the Multiverse of Madness and beyond, stems from the monumental final episode, "For All Time. Always",which brings both variants of Loki face to face with the founder of the TVA, Kang (Jonathan Majors), who presents them with a terrible set of choices that may decide the fate of all of the universes.
Brilliantly written, staged and acted, I have no doubt that the Emmy Awards will honor this series (as they did with WandaVision) at their ceremonies later this year. We in sf fandom need not wait as long as they do.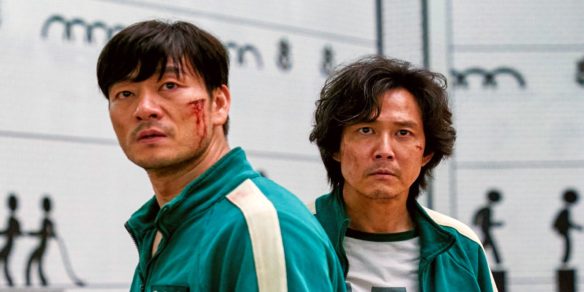 Squid Game Episode Nine, "One Lucky Day". Written and Directed by Hwang Dong-hyuk.
When Netflix released the South Korean drama Squid Game last September, no one could have predicted what a stunning, worldwide success it would become. This dystopian nightmare touched a raw nerve with nearly everyone who saw it, including me. If my Long Form nomination dance card hadn't been filled to the brim already, I would have nominated all nine episodes.
Seong Gi-hun (Lee Jung-jae) is an unemployed, divorced father who has been forced to live with his elderly mother. What's worse is that he's a compulsive gambler and is deeply indebted to some local loan sharks who are getting very impatient with his pathetic excuses for not paying.
A chance encounter with a stranger in a subway leads to a startling proposition; play a series of children's games against 455 other anonymous players and he will win an enormous, life-changing sum of cash.
After being drugged, kidnapped and taken to an undisclosed location, Gi-hun awakes to find out that he is now involved in a cruel and unusual survival contest, where if you lose any of the sadistic games, you will lose your life as well.
Some may argue that this sort of drama series has no place on the Hugo Awards ballot. I would certainly beg to differ; other cinematic dystopian works such as Stanley Kubrick's A Clockwork Orange (1972), Soylent Green (1973), A Boy and His Dog (1974), The Road Warrior (1982), WarGames (1984) and Brazil (1985) were all nominated for the Best Dramatic Presentation Award. And some will note that several of these productions won it as well.
To me, Squid Game clearly is a brutal and timely continuation of the examination of how, after a few unfortunate events, how easily people can easily be stripped of their empathy and humanity and how hard it is to regain any semblance of it after surviving such an ordeal.

I once wrote on Facebook recently that watching the best South Korean dramas is like having various organs removed from your body without anesthetic, and then having you watch helplessly as merciless gangsters sell your vital organs on the street to the highest bidder.
And I have no doubt that some industrious South Korean production company is hard at work on this very scenario, right now…
BDP Short Form and Series: Honorable Mentions:
WandaVision (Marvel Studios, 6 Episodes)
The Falcon and the Winter Soldier (Marvel Studios, 6 Episodes)
Loki (Marvel Studios, 5 Other Episodes)
What If… (Marvel Studios, 9 Episodes)
Hawkeye (Marvel Studios, 6 Episodes)
Star Trek: Discovery (CBS, Paramount +, 6 Other Eligible Episodes)
The Expanse (Amazon, 5 Eligible Episodes)
Snowpiercer Season 2 (CJ Entertainment/TNT, 10 Episodes)
The Book of Boba Fett (Lucasfilm/Disney +, 1 Eligible Episode)
Star Wars: The Bad Batch (Lucasfilm/Disney, 16 Episodes)
Midnight Mass (Netflix, 7 Episodes)
Resident Alien Season 1 SyFy/Amblin, (10 Episodes)
The Underground Railroad (Amazon, 10 Episodes)
Y, The Last Man (Hulu/FX, 10 Episodes)
Station Eleven (HBO MAX, 7 Eligible Episodes)
Invasion (Apple +, 10 Episodes)