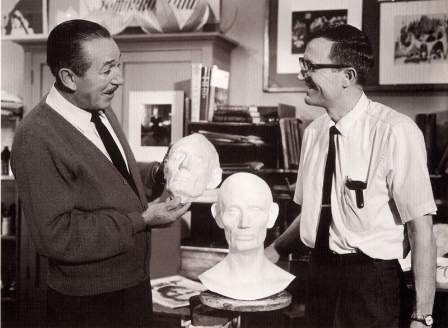 Blaine Gibson, the Disney Legend who created hundreds of sculptures and the exteriors of many audio-animatronic characters for Disney theme parks, died July 5 at the age of 97.
Gibson was hired by Walt Disney Studios in 1939 as an assistant animator and spent many years working his way up to achieve his ambition — animating figures with faces.
Meanwhile, he pursued his private interest in sculpture, a talent that became important to the company when it began developing Disneyland. The New York Times obituary lists his most important contributions:
Mr. Gibson's handiwork includes the buccaneers of the popular Pirates of the Caribbean attraction, the fearsome ghosts and goblins of the Haunted Mansion, the colorful birds of Walt Disney's Enchanted Tiki Room and the global village children of It's a Small World. He created the sculpture of Abraham Lincoln that became the first Audio-Animatronic figure. It made its debut in a Disney attraction called "Great Moments With Mr. Lincoln" at the 1964 World's Fair in New York City. Since then, every American president, including Barack Obama, has received the Disney treatment, many of them at the hands of Mr. Gibson. All appear at the Hall of Presidents at Walt Disney World in Florida.

Mr. Gibson was also responsible for one of the Disney empire's recognizable symbols: the statue known as "Partners," which depicts Walt Disney and Mickey Mouse hand in hand. The original sculpture is in the central plaza of the original Disneyland in Anaheim, Calif., and replicas are prominently displayed at Disney parks elsewhere.
A popular story about Gibson is that he immortalized some of the people he knew while creating figures for the "Pirates of the Carribean" ride —
DG: So then there is something to that rumor that some of them were based on people you would observe at church for example?

BG: Absolutely, yes. My wife would say, "Blaine, you're staring at that person." She'd sort of kick me. [Laughs] That was embarrassing her a little bit, me staring at somebody, and I was really giving him the once over, you know. Yes, that did happen in church, and also in restaurants.
Gibson created the face of the audio-animatronic Lincoln, the inspiration for Ray Bradbury's story "Downwind From Gettysburg."
[Thanks to Andrew Porter for the story.]