By Carl Slaughter: Colin Barnes' popular Codebreakers series is back!  The four novels and the prequel novella are out in audio in November.
ALPHA
Code Breakers: Alpha is a futuristic, high-stakes thrill ride. In a post-apocalyptic future, humanity survives within a single domed city run by a shadowy benefactor known only as The Family. Each week the death lottery claims more lives and Gerry Cardle, head of the lottery, inexplicably finds himself the next on the list. Something's wrong with the system. A deadly artificial intelligence has breached security. Gerry has just 7 days to live. Forced off the grid, Gerry has to do the unthinkable: willingly leave the city. What he finds in the abandoned lands will shatter his perception of what it means to be human. Everything he had been told before was a lie. In a deadly world of conspiracies, Gerry has to sacrifice everything he loves in order to save it, and time is running out.
BETA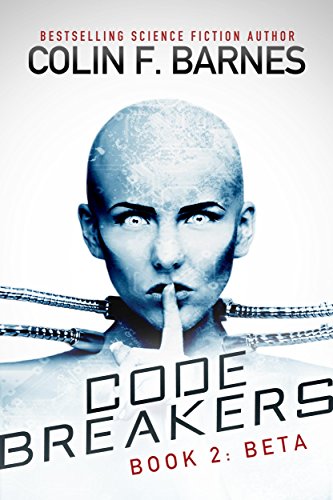 Being human is no longer enough. The fanatical Red Widows sweep destruction across the abandoned lands. Their aggression threatens to destroy the city Gerry had risked his life to save. Petal, the woman Gerry has come to love is dying. The despotic cabal, The Family, demand he bring her to them, but she's missing, running from the Widows, searching for the truth of her origins before it's too late. When their paths cross, Petal and Gerry will hold the fate of humankind in their hands—if they can survive the malevolent digital entity that stalks them from the shadows.
GAMMA
How much sacrifice should anyone have to give? Petal and Gabriel are forced to decide, as the mad, digital entity, Elliot Robertson, is determined to dominate the world. His influence, spread by an insurgent group, The Ronin, seeks to control and enslave the last of humanity. With time running out, Petal and Gabriel must travel to the far reaches of the abandoned lands in order to repair a server they believe will be the key to defeating Elliot and his ronin. All the while, Petal has a ticking time bomb inside her head: Gerry Cardle's uploaded consciousness. The code of which is mutating, but to what end? Together with their few allies, Petal and Gabriel must face either victory or total annihilation.
DELTA
Gabriel and Petal have tracked Gabe's mother back to Hong Kong. But to find her Gabe has to face his old gang and the ghosts he thought he had laid to rest years before. While helping him, Petal stumbles on a way of getting Gerry's mind out of her head, but like Gabe, she too has to return to a place full of ghosts: Libertas.

Enna is now the Prime Minister of the domed city, and when Petal arrives she discovers Enna has developed her Transcendent technology. However, to give Gerry a new existence, they'll need more help—help from someone within the Family.

Faced with shifting loyalties and an uncertain future, Petal and Gerry will for the last time face a dire threat to their existence when Jess is kidnapped by a shadowy figure. It's a race against time to find her and uncover the conspiracy before the Family has the last laugh.
CODE BREAKERS PREQUEL
Rogue hackers Petal and Gabriel are low on food and water. Their reputation precedes them and they are no longer able to hustle the crime community for supplies. With survival becoming harder, they're left with no other choice but to accept a risky job from a dangerous individual. The two will have to negotiate with the Tinker – a woman whose reputation for psychotic behaviour is known across the nuclear-blasted Abandoned Lands; infiltrate a town overrun with killers; and recover a cache of exceptionally rare information. They will have to put their very lives on the line in order to succeed, and with the odds considerably stacked against them, they'll need more than luck on their side.