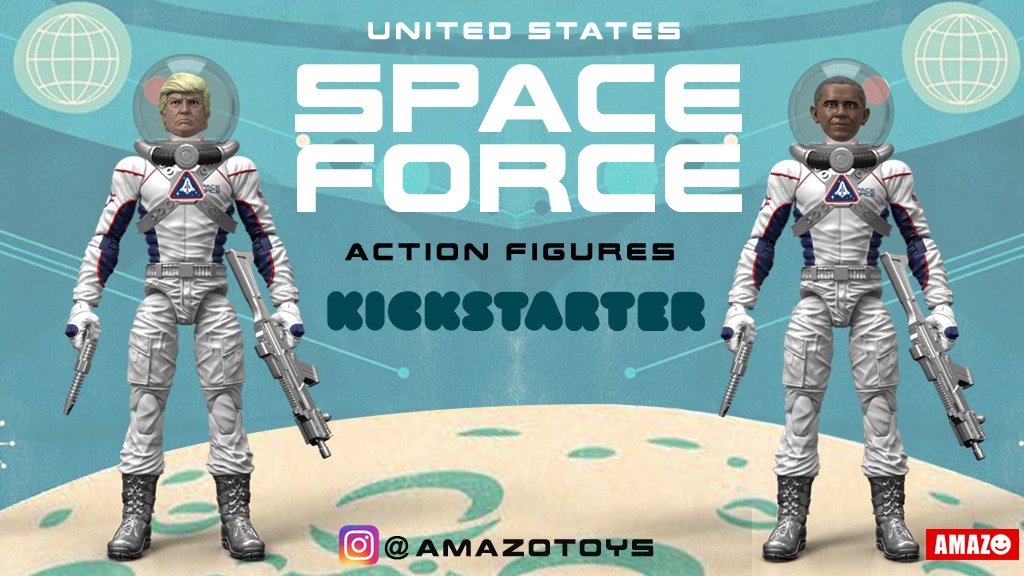 The Kickstarter for this set of "United States Space Force Action Figures" has already funded and is galloping through its early stretch goals.
Now you can help win the Space Race with the United States Space Force action figures. Build your own Space Force Red or Space Force Blue team OR combine forces to defeat Putin and make space great again!
The goal set by Chris Gawrych, CEO of Amazo Toys, was $40K and they've raised over $45K.
Each 4" United States Space Force action figure has over 14 points of articulation, including multiple accessories and 3 interchangeable heads.
The humor is not subtle — Russia's Space Agency is headed by Vladimir Putin, a figure whose head is interchangeable with Gregori Rasputin.
The actual Space Force is a new branch of the military established in December 2019,
If they reach their $95K stretch goal, a whole flock of other Presidents' heads will be added to the line. (If they get to $135K they'll add the four Presidents on Mount Rushmore!)
[Thanks to John King Tarpinian for the story.]