(1) TWO EVENTS SHUFFLED IN RESPONSE TO PANDEMIC. KU's Gunn Center has announced these changes:
Due to the COVID-19 pandemic, we will likely move our Science Fiction Summer program to online offerings for 2020.

We are also moving this year's Gunn Center Conference and Awards to the University of Nebraska in Lincoln, NE, October 1 -3.

Stay tuned.
(2) BEYOND THE FINAL FRONTIER. "Legends of Tomorrow's Wild New Trailer Promises a Star Trek Parody for the Ages". The trailer for the remainder of the season shows the Legends (superheroes etc. in a time-travel spaceship trying to fix time problems) taking on Star Trek and more. Io9 has a breakdown.
(3) TRAVEL BROCHURE. In "Worlds Enough and Tim", Camestros Felapton and Timothy the Talking Cat plot a way to get out of their apartment without the inconvenience of contracting the plague.
…[Timothy] …shut that pie hole for a moment, please! This isn't a regular cruise! It's not a cruise on the sea! It is a cruise ship of THE IMAGINATION!
[Camestros] Gasp! Tell me more…

Timothy clicked the settings menu on his Zoom app and switched from 'dialogue mode' to 'conventional narrative form' and with that the whole story shifted style. With another deft flick of his paws he activated 'share screen' and a bright colourful image filled the screen. In a friendly font it announced "Mythopoeic Cruises: Travel the worlds in style".

"Oooh! A fancy brochure!" said Camestros, who was warming to the idea of ditching this timeline altogether….
(4) VACUUM BREATHERS. How does James Davis Nicoll come up with all these listicle ideas? "Five Stories Featuring Vast Beings From the Darkest Depths of Space" at Tor.com.
Space, even the deep space between the stars, is not entirely empty. As far as we can tell at present, the matter scattered through interstellar space is lifeless. But…appearances can be deceiving. Even if they are not, there's enough story in the idea of vast beings living in the interstellar depths to attract SF writers. Here are five books that took the idea and ran with it…
(5) SOURCE MATERIAL. "Motherhood And Monsters: How Being A Parent Helps Me Write Thrillers" — Jennifer Hillier explains the connection at CrimeReads.
… I haven't had a good night's sleep since I gave birth to my son, Mox. Actually, if I'm keeping it real, I haven't slept well since I was pregnant. Nightmares have always been a normal occurrence for me, but during my pregnancy they were more vivid than usual, more visceral, more terrifying. I can only guess it was the hormones, acting as an anabolic steroid for my already overactive imagination. Mox is five and a half now, which means I haven't slept well in six years.

Exhaustion notwithstanding, my nightmares do provide plenty of fuel for writing, since my thrillers are inspired by the things that scare me the most. For a long time, it was serial killers (and still is). I'm also afraid of dark basements, old cellars, lurking shadows, fog, dimly lit parking lots, the backseat of my car if I'm driving at night, and anytime the doorbell rings.
(6) NASA QA TESTING. [Item by Daniel Dern.] From my $DAYJOB (for loosish definitions, as I'm a self-employed/freelance writer), another fun-to-research-and-write article about NASA (I've recently written about NASA and 3D printing, and recycling-in-space.) "How NASA does software testing and QA".
Every quality tester worries about the cost of missing defects. But imagine the scenario when lives are at stake, and when embedded flaws can be expensive or impossible to fix. That's what it's like for QA testing at NASA – and it applies to equipment such as rocket engines, fuel mixes, satellites, space habitats, as well as to ordinary computer software and hardware.

What makes NASA's testing requirements unique? Here's a take-off point – and how the U.S. space agency's methods can help not-for-space testers and QA practitioners….
The SFnal sub-heads were at my editor's suggestion. (An sf story ref or two didn't make it in.)
Enjoy!
(7) TABLEAUS. [Item by JJ.] Getty Museum challenged people who are staying at home to recreate famous works of art. Not genre, but absolutely hilarious. Click on this link to see a long string of them. The creativity is amazing!
Klimt's Woman in Biscuits:
Vermeer's Girl With a Purrl Earring
(8) FLIGHTS OF FOUNDRY. Dream Foundry plans to hold Flights of Foundry, a virtual convention for speculative creators and their fans, on May 16-17. Registration is open – and free, although donations are requested. The guests of honor will be:
Comics: Suzanne Walker and Wendy Xu
Editor: Liz Gorinsky
Fiction: Ken Liu
Games: Andrea Phillips
Illustration: Grace Fong
Translation: Alex Shvartsman and Rachel S. Cordasco
In addition to panels and information sessions, programming will include workshops, a dealer's room, a virtual consuite (I expect people will be appertaining their own drinks), and more.

There is no cost to register, though donations to defray costs and support Dream Foundry's other programming are welcomed. Dream Foundry is a registered 501(c)3 dedicated to supporting creators working in the speculative arts as they begin their careers.
Register here.
(9) TODAY'S BIRTHDAYS.
[Compiled by Cat Eldridge.]
Born April 21, 1911 — John Lymington. Between the late Fifties and the mid-Eighties, he wrote twenty-six genre novels, an astonishing number. All of his short fiction was done in 1964 and published in his Night Spiders collection. He's not made it into the digital realm and I'll admit that I've not heard of him, so I'm hoping the brain trust here can tell me about him.(Died 1983.)
Born April 21, 1933 — Jim Harmon. During the Fifties and Sixties, he wrote more than fifty short stories and novelettes for Amazing Stories, Future Science Fiction, Galaxy Science Fiction, If, The Magazine of Fantasy & Science Fiction and other magazines. Most of his fiction was collected in Harmon's Galaxy. EoSF says he has one genre novel, The Contested Earth, whereas ISFDB lists two more, Sex Burns Like Fire and The Man Who Made Maniacs. He's a member of First Fandom Hall of Fame. (Died 2010.)
Born April 21, 1939 — John Bangsund, 81. Australian fan most active from the Sixties through the Eighties. He was instrumental with Andrew Porter in Australia's winning the 1975 Aussiecon bid, and he was Toastmaster at the Hugo Award ceremony at that con. His fanzine, Australian Science Fiction Review is credited with reviving Australian Fandom in the Sixties. And he's the instigator of the term Muphry's law which states that "If you write anything criticizing editing or proofreading, there will be a fault of some kind in what you have written."
Born April 21, 1954 — James Morrison, 66. Lt. Col. Tyrus Cassius 'T.C.' McQueen on the short-lived but much loved Space: Above and Beyond series. Starship Troopers without the politics. He's got a lot of one-off genre appearances including recently showing up as an Air Force General in Captain Marvel, guesting on the Orville series and being Warden Dwight Murphy on Twin Peaks.
Born April 21, 1965 — Fiona Kelleghan, 55. Though an academic to the bone, she has two genre stories "The Secret in the Chest: With Tests, Maps, Mysteries, & Intermittent Discussion Questions" and "The Secret in the Chest". Of her academic works, I find most fascinating Mike Resnick: An Annotated Bibliography and Guide to His Work and her forthcoming Alfred Bester, Grand Master: An Annotated Bibliography.
Born April 21, 1971 — Michael Turner. Comics artist known for his work on a Tombraider / Witchblade one-off, the Superman/Batman story involving Supergirl, his own Soulfire, and various covers for DC Comics and Marvel Comics. He would die of bone cancer and A Tribute to Michael Turner with writings from people who knew him would feature a cover done by Alex Ross would be released to cover his medical expenses. (Died 2008.)
Born April 21, 1979 — James McAvoy, 41. In the Frank Herbert's Children of Dune series, he was Duke Leto II Atreides. Later roles included Mr. Tumnus in The Chronicles of Narnia: The Lion, the Witch and the Wardrobe, Professor Charles Xavier in X-Men film franchise, Victor Frankensteinin Victor Frankenstein and Bill Denbrough in It – Chapter Two.
Born April 21, 1980 — Hadley Fraser, 40. His first video acting role was as Gareth in the superb Tenth Doctor story, "Army of Ghosts". He'd later be Chris in The Lost Tribe, a horror film, and play Viscount Raoul de Chagny in The Phantom of The Opera, as well as being being Tarzan's father in The Legend of Tarzan. And though not even genre adjacent, I'm legally obligated to point out that he showed up as a British military escort in the recent production of Murder on the Orient Express.
(10) COMICS SECTION.
(11) FINAL FRONTIERSMAN. The piece by Glen Swanson for The Space Review is about how Gene Roddenberry worked with NASA during the creation of Star Trek: "'Space, the final frontier': Star Trek and the national space rhetoric of Eisenhower, Kennedy, and NASA".
… In the October 1956 premiere issue of Missile and Rockets, the publisher wrote, "This is the age of astronautics. This is the beginning of the unfolding of the era of space flight. This is to be the most revealing and the most fascinating age since man first inhabited the earth."[2]

In the midst of the Cold War, space started to become a real place in popular culture as both fiction and fact began riding on the back of a galloping technology and could not dismount for fear of breaking their necks. Together, they were on a convergent course, and the lines separating fact from fiction became more blurred. Nonfiction books that romanticized humanity's future in the new frontier of space started to borrow the look and feel of many of the popular pulps.

This essay attempts to explore the origins of some of the national space rhetoric that appeared during the Cold War, the way its use in political documents, congressional reports and campaigns tells us something about the self-image of Americans in the early to mid 1960s, and how this rhetoric may have influenced Gene Roddenberry during the creation of his pioneering and highly influential television series Star Trek….
(12) QUESTION REALITY. Camilla Bruce recommends uncanny fiction in "Eight Novels To Make You Question Reality" at CrimeReads. Some books on her list are creepy, others are surreal. One of them is –
Experimental Film by Gemma Files

This novel is about Lois Cairns, a film critic in Toronto who stumbles upon the work of what she believes to be Canada's first female filmmaker. The latter, Mrs. Whitcomb, mysteriously disappeared in 1918, leaving behind canisters of film containing scenes from the Wendish legend of Lady Midday, a deity who shines so bright that you cannot look upon her face, and who sports a pair of shears sharp enough to cut off heads. The beauty of this novel is how it combines the mundane details of Lois' life (she has a son with autism) with the more mysterious elements. Like several of the novels on this list, it flitters on the border between psychological thriller and horror, which is my favorite kind of read.
(13) ZOOM FURNITURE. Nerdbot volunteers "Official Star Wars Backgrounds You Can Use For Your Next Meeting". There's a partial gallery at the link. You can check out all the backgrounds to download by clicking here. One example —
(14) ONE MORE STEP. "Facebook bans events that violate social distancing orders".
Facebook has banned event listings that violate government social distancing policies.

On Monday, the social media giant removed the listing for anti-quarantine protests in California, New Jersey, and Nebraska.

The discussion sparked outrage from some including the son of President Donald Trump who claimed the company's move violated free speech.

Protests have been planned for across the US calling for the lifting of stay-at-home orders.

Facebook said it consulted with local governments and would only take down events that violated states' guidelines.

"Unless government prohibits the event during this time, we allow it to be organized on Facebook. For this same reason, events that defy government's guidance on social distancing aren't allowed on Facebook," a spokesperson said.
(15) COMING TO A THEATER NEAR YOU, EVENTUALLY. Yahoo! Entertainment reports "'Hunger Games' Director Francis Lawrence Returns for Prequel 'Ballad of Songbirds and Snakes'".
The movie adaptation of the upcoming "The Hunger Games" prequel book "The Ballad of Songbirds and Snakes" from author Suzanne Collins is a go at Lionsgate, and the creative team from the original films, including director Francis Lawrence, is all returning for the new film, Lionsgate motion picture group chairman Joe Drake announced Tuesday.

Lawrence, who directed "Catching Fire" and both "Mockingjay" films, will direct "The Hunger Games" prequel. Collins will write a treatment based on her upcoming novel, Color Force's Nina Jacobson is returning to the franchise to produce, and Michael Arndt, who wrote "Catching Fire," will pen the screenplay.

"The Ballad of Songbirds and Snakes" takes place 64 years before the original trilogy, during the 10th annual Hunger Games, and will focus on Coriolanus Snow (played by Donald Sutherland in the original franchise) at age 18, years before he would become the tyrannical president of Panem.
(16) A NUMBER ONE NEW RELEASE. Yes, I'd say we're all surprised to learn Amazon has a category for this —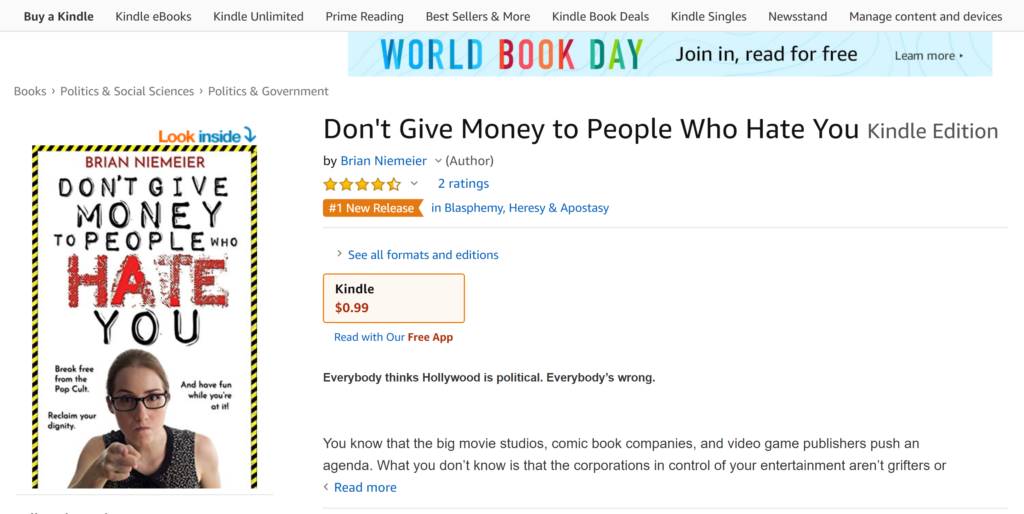 (17) BARN DOOR. "WHO developing guidance on wet markets" – BBC has the story.
The World Health Organization (WHO) is calling for stricter safety and hygiene standards when wet markets reopen.

And it says governments must rigorously enforce bans on the sale and trade of wildlife for food.

The start of the pandemic was linked to a market in Wuhan, where wildlife was on sale.

Wet markets are common in Asia, Africa and elsewhere, selling fresh fruit and vegetables, poultry, fresh meat, live animals and sometimes wildlife.

The WHO is working with UN bodies to develop guidance on the safe operation of wet markets, which it says are an important source of affordable food and a livelihood for millions of people all over the world.

But in many places, they have been poorly regulated and poorly maintained, Dr Tedros Adhanom Ghebreyesus, director general of the WHO, said in a briefing on Friday.

"WHO's position is that when these markets are allowed to reopen it should only be on the condition that they conform to stringent food safety and hygiene standards," he said. "Governments must rigorously enforce bans on the sale and trade of wildlife for food."

And he added: "Because an estimated 70% of all new viruses come from animals, we also work together closely [with the World Organization for Animal Health and the Food and Agricultural Organization, FAO, of the United Nations] to understand and prevent pathogens crossing from animals to humans."
(18) DON'T INVITE HIM TO THE PREMIERE. [Item by Mike Kennedy.] In an interview with The Hollywood Reporter, "How I'm Living Now: David Lynch, Director", Lynch was asked about life in the time of quarantine, both current & possible future projects, and what he thinks about the upcoming movie adaptation of Dune. On that latter:
This week they released a few photos from the new big-screen adaptation of Dune by Denis Villeneuve. Have you seen them?

I have zero interest in Dune.

Why's that?

Because it was a heartache for me. It was a failure and I didn't have final cut. I've told this story a billion times. It's not the film I wanted to make. I like certain parts of it very much — but it was a total failure for me.

You would never see someone else's adaptation of Dune?

I said I've got zero interest.
(19) VIDEO OF THE DAY. "The Mandalorian Theme (Cello Cover)" on YouTube is Nicholas Yee's adaptation for cello of the theme to The Mandalorian.
[Thanks to Daniel Dern, Chip Hitchcock, John King Tarpinian, JJ, Martin Morse Wooster, Mike Kennedy, Michael Toman, Cat Eldridge, Daniel Dern, and Andrew Porter for some of these stories. Title credit and two stars go to File 770 contributing editor of the day Andrew.]