(1) LOOK AT A HUGO NOMINEE. Abigail Nussbaum reviews "She Who Became the Sun by Shelley Parker-Chan" at Strange Horizons.
The twenty-first century has seen a tremendous flowering in the subgenre of epic fantasy. What was once largely a monoculture of vaguely medieval, vaguely Western European settings has seen an influx of writers (or perhaps more accurately, of publishers willing to platform those writers) who look beyond the template set by Middle Earth. From more specific European settings (Naomi Novik, Katherine Arden) to the Middle East (S.A. Chakraborty), and Africa (Marlon James). Perhaps most especially, there have been a slew of epic fantasies set in East Asian-inspired worlds, drawing on the varied cultures of the region and its storied history.

At first glance, Shelley Parker-Chan's debut novel, She Who Became the Sun,seems like it would sit comfortably on the shelf beside these works. It is a fantasized, fictionalized account of the rise to power of Zhu Yuanzhang, the peasant-turned-monk-turned-general who drove the descendants of Genghis Khan out of China and established the Ming dynasty. It is blatantly inspired by the Chinese historical melodramas that have populated our TV screens in recent years. And it features enough battle scenes and political scheming to fill a whole season of Game of Thrones.

On this level, the novel delivers handsomely, and is a thoroughly enjoyable fantasized adventure (though its actual fantasy elements are on the thin side, and not very central to its story). But the further one gets into this gripping, thoughtful novel, the more obvious it becomes that this is first and foremost a novel of character—and that the lens through which it interprets character is that of gender. Not for nothing was Parker-Chan awarded an Otherwise (then Tiptree) fellowship for an earlier draft of this book: at the heart of She Who Became the Sun is an analysis of how two cultures define themselves through—and are weakened by—rigid gender roles, and how specific individuals—by subverting, defying, and most of all queering those roles—can discover an unexpected path to power….
(2) MAY THE FOURTH ETC. National Public Radio celebrates the day: "On May the 4th, let's remember the time NPR had a 'Star Wars' radio drama".
On this May the 4th, we want to take you back to 1981, when NPR turned its attention to Star Wars. That's right: Some of you may have forgotten (and some might not even know) that the network created three radio dramas based on George Lucas' original three movies.

NPR figured it could maybe get more listeners by reviving the radio drama, which had been out of fashion for some 30 years. So the network called Richard Toscan, then-head of the theater program at the University of Southern California. He remembers asking a colleague for advice on what story to dramatize: "There's this long pause, and he says, 'Create a scandal.' "

Toscan was at a loss. Then he mentioned the problem to a student. "And he said, 'Oh, why don't you do Star Wars?' " Toscan recalls. "There was the scandal."

See, Star Wars was a commercial juggernaut. And as Toscan puts it, "Folks working at NPR thought, 'Oh good grief, we're selling out to Hollywood.' "

But if this was selling out, it sure came cheap. George Lucas had graduated from USC and was a fan of the campus NPR station. So after a little prodding, he gave away the radio rights to Star Wars for $1 — a public radio budget if there ever was one….
(3) BY GRABTHAR'S HAMMER, WHAT A BARGAIN. "'Star Wars' Icon James Earl Jones Only Made $7,000 to Voice Darth Vader in 'A New Hope'" recalls The Hollywood Reporter.
The actor also says when he first read the script for 'The Empire Strikes Back,' he thought for sure Vader was lying to Luke Skywalker about being his father.

James Earl Jones was paid only $7,000 to voice Darth Vader in Star Wars: A New Hope — but the actor says for him at the time, it was a huge score.

To celebrate Star Wars Day, The Hollywood Reporter looked back at some interviews Jones gave through the years, in which he talked about voicing the legendary sci-fi villain….
(4) FOR TEN YEARS WE'VE BEEN ON OUR OWN. Disney Plus dropped this Obi-Wan Kenobi trailer for Star Wars Day.
The story begins 10 years after the dramatic events of "Star Wars: Revenge of the Sith" where Obi-Wan Kenobi faced his greatest defeat—the downfall and corruption of his best friend and Jedi apprentice, Anakin Skywalker, who turned to the dark side as evil Sith Lord Darth Vader. The series stars Ewan McGregor, reprising his role as the iconic Jedi Master, and also marks the return of Hayden Christensen in the role of Darth Vader.
(5) KGB. Fantastic Fiction at KGB reading series hosts Ellen Datlow and Matthew Kressel present Grady Hendrix and Alex Irvine on May 18.
Grady Hendrix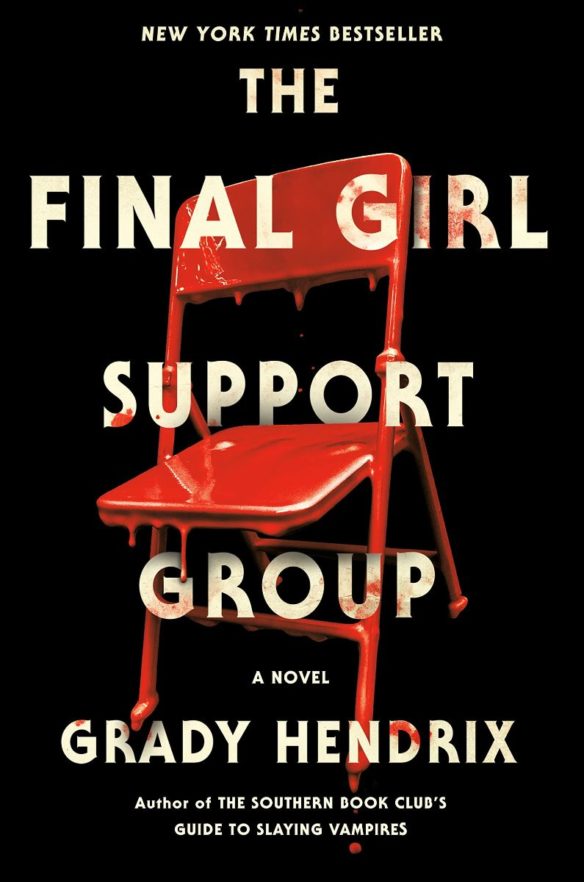 Grady Hendrix is a New York Times bestselling novelist and screenwriter who makes up lies and is mean to babies. He has written terrible books like My Best Friend's Exorcism, The Final Girl Support Group, The Southern Book Club's Guide to Slaying Vampires, and Paperbacks from Hell. Currently, he has an unhealthy fixation on gothic romances.
Alex Irvine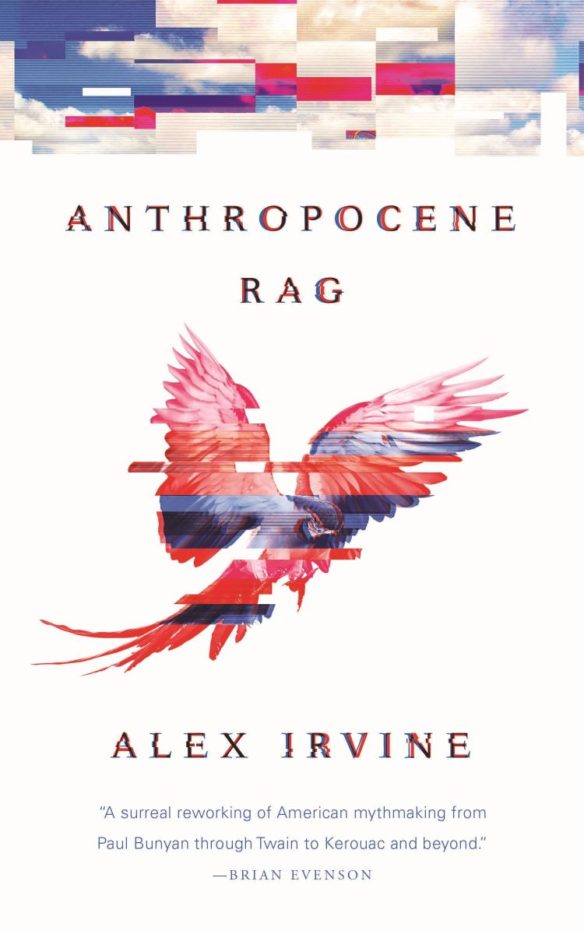 Alex Irvine would write nothing but short stories if he thought he could get away with it, but in this fallen world he has also written novels, comics, games, and various forms of interactive narrative. Recent work includes Anthropocene Rag, The Comic Book Story of Baseball, New York Collapse, and stories in F&SF, Asimov's, and Tor.com. He lives in Maine.
IN-PERSON at the KGB Bar on May 18, starting at 7:00 p.m. Eastern. KGB Bar, 85 East 4th Street, New York, NY 10003 (Just off 2nd Ave, upstairs)
(6) THE COLOSSUS OF BED BATH AND BEYOND. There's a story that explains how it landed here: "The Captain America Statue at Brooklyn's Bed Bath & Beyond" at Untapped New York.
Shoppers going in to grab one of the innumerable home products on sale at Bed Bath & Beyond or discount fashion garb at the Saks Off 5th outlet may be surprised to see a 13-foot-tall bronze Captain America statue upon entering Liberty View Industrial Plaza in Industry City, Brooklyn. Captain America is so tall, his shield reaches into the mezzanine level of the building's atrium. He holds his iconic star shield aloft with his left hand, with his right hand clenched into a fist. On the top of the bronze plinth are the words "I'm just a kid from Brooklyn," a line from the 2011 film Captain America: The First Avenger. In this modern era, it seems rare for any statue to arrive without controversy and this one was no different….
(7) MEDIA BIRTHDAY.
1999 — [By Cat Eldridge.] Remember that fan letter I just wrote to Heinlein's Rocket Ship Galileo? Well certain films have the same effect upon me. Such is true of The Mummy and the first sequel, The Mummy Returns. (I shall not mention the third film in the series in pain of, well, something horrible happening to all of us. Yes, it is that bad a film.) Both are perfect popcorn films worthy of repeated viewing which I've certainly done in the last two decades. 
I know I saw the first one in the theater not long after it came out. It was directed by Stephen Sommers who wrote the screenplay and it claims to be a remake of a 1932 American pre-Code horror film called, errr, The Mummy. It's out of copyright and you see it here. Boris Karloff was The Mummy.
The 1999 version stars what I think is one of the great movie pulp couples of modern times in Brendan Fraser as Rick O'Connell and Rachel Weisz as Evelyn Carnahan. A librarian? Huh? Are they completely believable in their roles? Well no, but they look like they're have a lot of fun in a really absurd undertaking and that counts for quite a lot. John Hannah as Jonathan Carnahan is just the right amount of comic relief. The secondary characters, good and bad, are great characters — Arnold Vosloo as Imhotep, Oded Fehr as Ardeth Bay and even Patricia Velásquez as Anck-su-namun add a great deal to the film.
The production values are very high and the look of the film, be London or the pulpish Egypt they create is quite amazing. The original script was a Terminator-style Mummy but no one was interested in that. Clive Barker wrote a screenplay next that was so dark and violent everyone cringed. (I want to see that one!) Sommers is, well I can't count that high, the Director who eventually found a screenplay that worked.
The studio needed a hit after a series of film failures so they gave Sommer an actual budget and turned him loose, one of eighty million dollars. The film would make four hundred and twenty million dollars in its initial showing. Not bad at all. (The first director was offered ten million dollars as his budget.) And of course it gout a Sequel (yes I capitalized that), The Mummy Returns which earned just over four hundred million against a budget of a hundred million.
Now let's see how it was received by critics.
You know I really, really like the reviews of Roger Ebert who wrote for the Chicago Sun-Times so let's start with his rather nice summation: "There is hardly a thing I can say in its favor, except that I was cheered by nearly every minute of it. I cannot argue for the script, the direction, the acting or even the mummy, but I can say that I was not bored and sometimes I was unreasonably pleased."
Next up is David Hunter of Variety who was more ambivalent: "Far more ambitious than its predecessors but a notch or two below the unique event-movie experience it might have been, Universal's The Mummy is undermined by weak writing. Overall, though, it should erect pyramids of moola and not sink into the quicksand when Star Wars: Episode 1 — The Phantom Menace opens 12 days into its run."
Finally let's end with these words from Bob Graham of the SF Gate: "This comic horror movie emphasizes the comic, and Brendan Fraser is in his element. With his exaggerated features — big eyes, big nose, big lips — Fraser already looks like a comic-book hero. More importantly, he's got the flair and know-how to bring it off. "The Mummy" digs up both laughs and chills from timeworn material. From the gilded bodies of ancient priests about to die — they are going to be "mummified alive" — to the hokey subtitles in the prologue — what do they think they are speaking, anyway, old Egyptian? — this looks as if it's going to be big-time fun. It is."
It has an excellent rating at Rotten Tomatoes among audience reviewers of seventy five percent.
(9) TODAY'S BIRTHDAYS.
[Compiled by Cat Eldridge.]
Born May 4, 1920 — Phyllis Miller. She co-wrote several children's books with Andre Norton, House of Shadows and Seven Spells to Sunday. Ride the Green Dragon, a mystery, is at best genre adjacent but it too was done with Norton. I'm not seeing any of them being available at the usual suspects. (Died 2001.)
Born May 4, 1926 — Christine White. Forever known for appearing in one episode of the Twilight Zone, to wit "Nightmare at 20,000 Feet" alongside William Shatner as Bob Wilson. She played Julia Wilson, his wife. She, like Shatner, had appeared on the Twilight Zone earlier, though not with him; she had the lead as Kitty Cavanaugh in "The Prime Mover". I'm reasonably sure that her only other genre appearance was on One Step Beyond as Nancy Lloyd Chandler in "The Haunting" episode. (Died 2013.)
Born May 4, 1943 — Erwin Strauss, 79. I'm not sure I can do him justice. Uberfan, noted member of the MITSFS, and filk musician. He frequently is known by the nickname "Filthy Pierre" which I'm sure is a story in itself that one of you will no doubt tell me. Created the Voodoo message board system used at a number of early cons and published an APA, The Connection, that ran for at least thirty years. Still does the event calendar for Asimov's. Do tell me about him.
Born May 4, 1949 — Kim Mohan, 73. Editor and author of the Cyborg Command RPG based on an outline by Gary Gygax. He was Editor of TSR's The Dragon magazine for several years which led to his becoming editor of Amazing Stories from 1991 to 2000.
Born May 4, 1974 – James Bacon, 47. He's a 16-time Hugo nominee, as a fan writer and as co-editor of The Drink Tank and Journey Planet, and a two-time winner — one Hugo with each fanzine. James was the 2004 Trans-Atlantic Fan Fund delegate: download his trip report at the unofficial TAFF website, WorldConNomicon. In addition to working on Irish convention Octocon, he ran his own conventions: Aliens Stole My Handbag, Damn Fine Convention, and They Came and Shaved Us. Ultimately, he chaired the Dublin 2019 Worldcon. He ran Sproutlore—the Robert Rankin Fan Club. With fellow fans he established The James White Award, an annual short-story competition. And he often contributes to File 770! (OGH)
Born May 4, 1976 — Gail Carriger, 46. Ahhhh such lovely mannerpunk she writes! I think I first noticed her with the start of the Finishing School series which she started off with Etiquette & Espionage some six years ago. Moirai Cook does a delightful job of the audiobooks so I recommend that you check them out. I also love the two novellas in her Supernatural Society series as well. And let's not overlook Souless getting a nomination for BSFS's Compton Crook Award's Best First Novel.
Born May 4, 1995 — Shameik Moore, 27. He voices Miles Morales, the teen-ager who would become Spider-Man in Spider-Man: Into the Spider-Verse which I review here. It's by far the best film I saw while in-hospital that year for fifty days straight and I urge you to go see it now. Yes, I know it deservedly won a Hugo at Dublin 2019. And the sequel is coming up soon!
(10) RETAILING SCIENCE. [Item by Bill Higgins.] Many's the time I've toured a museum along with fellow SF fans, so when we get to the gift shop, we usually find ourselves exchanging views on the merchandise offered there. In "Outer Space in the Museum Shop," Dr. Eleanor Armstrong, an expert on space science communication and museums, contemplates messaging, merchandising, and visitors' experiences. "Outer Space in the Museum Shop" from EASST Review Volume 41(1) 2022 (that is, the European Association for the Study of Science and Technology).
…Purchasing an item from the shop at a science museum will make that object part of the visitor's everyday science learning, both at the time of purchase and after the museum visit[…] n this instance, the item comes home from the museum with the visitor, bringing science learning into a different sphere of a visitors' life, and arguably allowing the item to influence secondary communities, such as family members and larger school groups. Science (and by extension, everyday science learning) never happen in a vacuum, but instead reflect and magnify broader social and political issues in the society in which the museum sits….
(11) LEGENDS BUT NO TOMORROW. CBR says "DC's Legends of Tomorrow Proved Taking Risks Can Pay Off". It's going away anyhow.
…While many of the CW shows — and superhero shows in general — stick to that single format, Legends of Tomorrow created entirely new scenarios that existed throughtout time. Seeing the team track down an alien in the 1930s or fight with magicians in the Wild West helped to make each episode special. The show allowed fans to experience their heroes in so many different eras that the plotlines were continually refreshed.

…While fans are upset to see the end of the series — especially with the cliffhanger ending to Season 7 — they can be happy with the impact it had. Legends of Tomorrow evolved from a show featuring other series' guest characters to one of the longest-running Arrowverse series. The actors, writers, and directors all worked tirelessly to provide a different superhero experience, and it was those risks and differences that kept the series on the air for the better part of a decade.
(12) CARTOONIST KEEPS GOING. [Item by Martin Morse Wooster.] Nathan Fitch profiles New Yorker cartoonist George Booth, still active at 95.  This dropped about a week ago.
(13) EDGAR ALLAN POE NEWS. This 2008 adaptation of Poe's "The Tell-Tale Heart," starring Carrington Vilmont, is directed by Robert Eggers, whose current feature is The Northman.
[Thanks to John King Tarpinian, Chris Barkley, Andrew Porter, Bill Higgins, Michael Toman, Cat Eldridge, Mike Kennedy, Martin Morse Wooster, and JJ for some of these stories. Title credit belongs to File 770 contributing editor of the day Danny SIchel.]