(1) YOUR VIRTUAL VACAY. Paul Weimer has transplanted the famous Mind Meld feature, a roundtable discussion of the tropes, themes, politics, and future of genre fiction that solicits answers from writers, editors, readers and fans, to its new home at Nerds of a Feather. The topic of"Mind Meld : One Spot Holodeck" is —
Congratulations. You have been given a Star Trek style holodeck, fully capable otherwise, you can bring in anyone you want, hold a roomful of people but not an entire Worldcon in it, but you can only program it to be fixed to one time and place or the verse of one fictional work or series.

Where/what do you program your holodeck for? (Star Wars and Star Trek are off the table!)
Playing in the virtual sandbox are Fonda Lee, Beverly Bambury, Cora Buhlert, Arturo Serrano, Mikaela Lind, Hannah (H. M.) Long, Claire O'Dell, Catherine Lundoff, Maurice Broaddus, K.B. Wagers, Elizabeth Bear, Camestros Felapton, Andrew Hiller, K. B. Spengler, Nancy Jane Moore, and Shelly Parker-Chan.
(2) THE OTHER SON. Melinda Snodgrass watched the first episode of the new Disney+ series and was inspired to discuss "Loki : Or What Makes A Fascinating Villain". BEWARE SPOILERS.
… I love the Thor movie because it felt so magnificently Shakespearian in its feel and tone. I often use it when I teach to illustrate theme versus plot. Because really at its base the film Thor is about an abusive father, Odin, who destroys his children and ultimately his entire family by pitting his two sons against each other. Odin's line in the opening scene to his two young sons sums it all up. "Only one of you can ascend to the throne. But both of you were born to be kings."
(3) TUTTLE RECOMMENDS. [Item by Meredith.] The Guardian has an article today that people might enjoy agreeing/disagreeing with: Lisa Tuttle's "The best recent science fiction and fantasy – reviews roundup".
Tuttle covers Widowland by CJ Carey; Project Hail Mary by Andy Weir; This Fragile Earth by Susannah Wise; Rabbits by Terry Miles; This Eden by Ed O'Loughlin; and The Colours of Death by Patricia Marques.
(4) OTTONE Q&A. In "A Point of Pride: Interview with Robert P. Ottone", the Horror Writers Association blog continues its Pride Month series.
What was it about the horror genre that drew you to it?

I feel that horror is such an expansive sandbox to play in. I like to say that reading a well-written family drama is fascinating and certainly draws you in, but imagine that same family drama, just with a haunted house thrown in. That's even better. Horror allows the writer to indulge in the ugliness of the world while doing so in a therapeutic, relatively safe way.
(5) ON JEOPARDY! Andrew Porter and John King Tarpinian witnessed contestant stumble over these science fictional answers on last night's Jeopardy! – both in the category of "Book-borne words & phrases."
Answer: William Gibson coined this term that now refers to the internet in his short story "Burning Chrome."

Wrong questions: "What is the information superhighway?"; "What is the world-wide web?"

Correct question: What is cyber-space?
Mayim Bialik is this week's guest host. Her website is called Grok Nation. That wasn't enough of a clue for last night's contestants when they saw this answer.
Wrong question: "Who is Huxley?"

Right question: Who is Robert A. Heinlein?
And there was another gap in their knowledge tonight —
Category: 1930s Literature

Answer: After a plane crash in the Himalayas, 4 people end up in Shangri-La in this 1933 novel.

Wrong question: "What is Paradise Regained?"

Right question: What is "Lost Horizon?"
(6) BARRETT OBIT. Actress Claudia Barrett, remembered for her work in Fifties sci-fi movie Monster Robot, died April 30 at the age of 91.
… In an image remembered on countless "Worst Movies" lists and in the minds of 1950s drive-in theatergoers, a screaming Barrett is carried off, Fay Wray-style, by the title creature of Robot Monster, a big, hairy alien that looks like a stuntman in a cheap gorilla suit with a diving helmet on its head. Which is, more or less, exactly what it was. As portrayed by stuntman George Barrows, the creature was named Ro-Man, and is generally regarded as the ultimate in 1950s low-budget monsterdom.

…Sci-fi immortality came in 1953, when she was cast as Alice, daughter in the last surviving family in 25-year-old producer-director Phil Tucker's post-apocalyptic Robot Monster. Costarring George Nader and shot in black and white 3-D, Robot Monster was shot mostly in L.A.'s Bronson Canyon over four days with a reported budget of $16,000.
(7) RILEY OBIT. Not genre but still noteworthy: Irish women's fiction author Lucinda Riley has died of cancer aged only 55. Her historical women's fiction novels were hugely popular, particularly in Germany, the Netherlands, Australia, New Zealand, South Africa and Scandinavia: "Lucinda Riley's family announce that she has died after a four year battle with cancer" at Pan Macmillan.
(8) MEDIA BIRTHDAY.
June 11, 1982 — On this day in 1982, E.T. – The Extra-Terrestrial premiered. It was directed by Steven Spielberg. Production credits were shared by Spielberg, Kathleen Kennedy and Frank Marshall. It was written by Melissa Mathison. It starred Dee Wallace, Peter Coyote, and Henry Thomas. Special effects were by Carlo Rambaldi and Dennis Muren. Critics universally loved it, the box office was phenomenal and audience reviewers at Rotten Tomatoes give it a seventy-four percent rating. It would finish third to Blade Runner for Best Dramatic Presentation Hugo at ConStellation.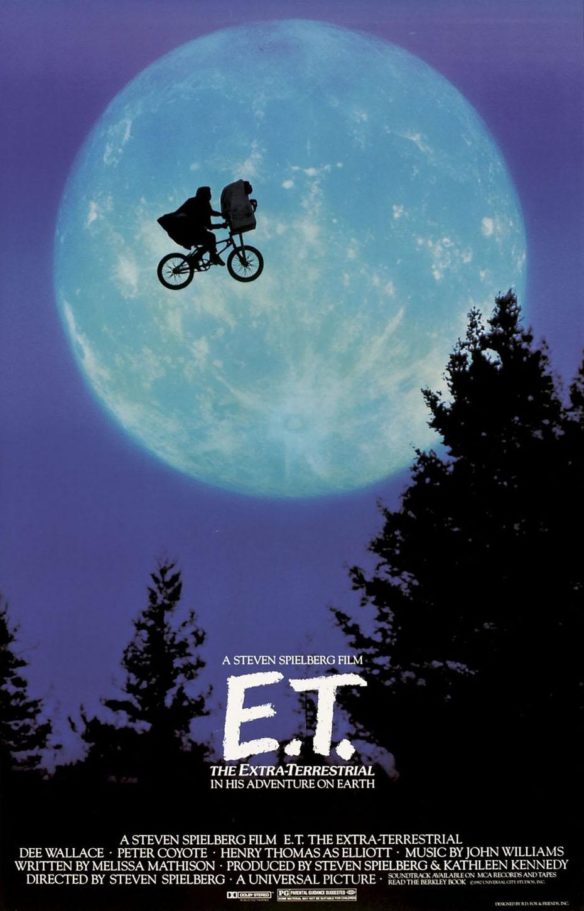 June 11, 1993 — In 1993, eleven years after E.T. came out, Jurassic Park premiered. Directed by Steven Spielberg, and produced by Kathleen Kennedy and Gerald R. Molen. Its based on the novel of the same name by Michael Crichton. It starred Samuel R. Jackson, Sam Neill, Laura Dern, Jeff Goldblum and Richard Attenborough. Like E.T., It was an overwhelming hit with the critics and the box office was quite stellar. The audience reviewers at Rotten Tomatoes give a ninety-one percent rating.
(9) TODAY'S BIRTHDAYS.
[Compiled by Cat Eldridge and John Hertz.]
Born June 11, 1572 – Ben Jonson. Among much else he and Inigo Jones (1573-1672) composed masques, a theatrical artform now long asleep through abandonment of its circumstances. At the court of a monarch, or some lesser court, elaborate scenery was built, in and around which elaborately costumed actors played, sometimes in mime, with music and dance, sometimes including courtiers. Jonson wrote and acted, Jones designed and built. For us at least Oberon, the Faery Prince, The Lady of the Lake with Merlin and Arthur, The Devil Is an Ass. We can and should read and imagine them (you can look at this Website to see text); if they were filmed and you saw them it would not be the same as if twenty or thirty people performed for you and your friends at one of your palaces. (Died 1637) [JH]
Born June 11, 1815 – Julia Cameron. Pioneer photographer, started at age 48, made portraits and allegories. She said "My aspirations are to ennoble Photography and to secure for it the character and uses of High Art by combining the real and Ideal and sacrificing nothing of the Truth by all possible devotion to Poetry and beauty." Do find her portraits; but this is an SF Weblog, so here are The South-West Wind, Prospero (from Shakespeare's Tempest), and The Parting of Sir Lancelot and Queen Guinevere which Bloomsbury used for its 1999 printing of The Princess Bride. (Died 1879) [JH]
Born June 11, 1929 — Charles Beaumont. He is remembered as a writer of Twilight Zone episodes such as "Miniature", "Person or Persons Unknown", "Printer's Devil" and "The Howling Man" but also wrote the screenplays for several films such as Burn, Witch, Burn which was nominated for a Hugo at Discon I (no award was given that year), 7 Faces of Dr. Lao and The Masque of the Red Death. He also wrote a lot of short stories, so let's see if there's digital collections available. Yes, I'm pleased to say, including several ones by legit publishers. Yea! (Died 1967.) (CE)
Born June 11, 1933 — Gene Wilder. The first role I saw him play was The Waco Kid in Blazing Saddles. Of course he has more genre roles than that, starting out with Willy Wonka in Willy Wonka & the Chocolate Factory followed by the already noted Blazing Saddles and then Dr. Frederick Frankenstein in Young Frankenstein. He was Sigerson Holmes in The Adventure of Sherlock Holmes' Smarter Brother, a brilliantly weird film whose cast also included Marty Feldman, Madeline Kahn, Dom DeLuise, Roy Kinnear and Leo McKern! I've also got him playing Lord Ravensbane/The Scarecrow in The Scarecrow, a 1972 TV film based based on Nathaniel Hawthorne's short story, "Feathertop". (Died 2016.) (CE)
Born June 11, 1934 – Jerry Uelsmann, age 87. Used photomontage long before Adobe Photoshop. Guggenheim and Nat'l Endowment for the Arts fellowships. Lucie Award. Here is a Boat and Moon. Here is a Tree Goddess. Here is his Website. [JH]
Born June 11, 1945 — Adrienne Barbeau, 76. She's in the Swamp Thing, also in the Carnivale series, a very weird affair that never got wrapped up properly. She provided the voice of Catwoman on Batman: The Animated Series. And she was in both Creepshow and The Fog. Oh and ISFDB lists her as writing two novels, Vampyres of Hollywood (with Michael Scott) and presumably another vampire novel, Love Bites. Anyone here read these? (CE)
Born June 11, 1946 – Barry Levin. For thirty-five years his antiquarian bookshop in Santa Monica was a pearl beyond price. Here is an interview with Scott Laming of AbeBooks. Here is an appreciation by Scott Haffner of Haffner Press – scroll down; BL is third from top. (Died 2016) [JH]
Born June 11, 1959 – Galen Tripp, age 62. Active fan in Los Angeles, organizing the LASFS (L.A. Science Fantasy Society) 50th Anniversary banquet; given the Evans-Freehafer, LASFS' service award; moved to the San Francisco Bay area, where he is BASFA (Bay Area Science Fiction Ass'n) sergeant-at-arms, a position BASFA takes about as seriously as LASFS. [JH]
Born June 11, 1968 — Justina Robson, 53. Author of the excellent Quantum Gravity series which I loved. I've not started her Natural History series but have not added it to my digital To Be Read list, so would be interested in hearing from anyone here who has. I was surprised that she hasn't picked up any Hugo nominations so far. (CE)
Born June 11, 1970 — Jane Goldman, 51. She's a English screenwriter, author and producer who's done a lot of work but I'm going to list but a few of her works including the screenplay for the Hugo winning Stardust, the same for Miss Peregrine's Home for Peculiar Children, based on the Ransom Riggs novel, The Limehouse Golem screenplay off Peter Ackroyd's novel and a screenplay on spec off Bill Willingham's Fables series that never got financed. She was also a fan of the X-Files as she wrote two volumes of The X-Files Book of the Unexplained. (CE)
Born June 11, 1971 — P. Djèlí Clark, 50. I'm very much enjoying A Master of Djinn which will make my Hugo nominations list next year. It follows his "The Haunting of Tram Car 015" novella and "The Angel of Khan el-Khalili" and "A Dead Djinn in Cairo", short stories, all set in his Dead Djinn universe. I've not read his "Black Drums" novella, nor the "Ring Shout" novella, so welcome opinions on them. (CE)
(10) COMICS SECTION.
Half Full shows the moment Superman's job interview went off the rails.
(11) FREE DOWNLOAD. Whetstone: Amateur Magazine of Pulp Sword and Sorcery Issue dropped today on the 85th anniversary of the death of Robert E. Howard. Download the issue free at the link — 16 tales of modern sword and sorcery, including Cora Buhlert's story "The Gate of Mist" (page 103). The intro reads –
Buhlert's uplifting tale of an ancient order of warrior-monks fighting to keep a tenacious evil at bay deploys an uncommon element in sword and sorcery today: a budding romance between two men becoming warriors together. The contemplative mountain setting provides a unique and memorable foe: monstrous forms of living mist.
(12) BUSIEK FAN. Christos Gage, whose writing credits include Daredevil Season 1 and such comics as Buffy and Spider-Man, ranks a familiar name high on this list:
(13) THE CAT WHO CAME BACK FROM NOTHING AT ALL. Caldecott Medal winner Sophie Blackall makes Catherine Gilbert Murdock's new book sound irresistible in a review for the New York Times: "The Cat Came Back — All the Way From 16th-Century Rome".
On any normal pre-Covid summer day, as many as 30,000 visitors craned their necks to see Michelangelo's Sistine Chapel ceiling, one of the greatest achievements of Western art. I was not among them when I visited Rome a few years ago with my parents, who had already seen the ceiling and were not enthusiastic about waiting hours in line. I wasn't among them the time before, with my toddlers, who were even less enthusiastic about lines. Nor did I see it as a backpacker in the late 1980s, when restorers were injecting polyvinylacetate resin into its cracks. From 1710 to 1713 the frescoes were cleaned with sponges dipped in Greek wine. In 1625 a dark patina was removed with damp bread. In 1511 the plaster was still wet and Michelangelo was standing on his scaffolding, painting, which is when "Da Vinci's Cat," by the Newbery honoree Catherine Gilbert Murdock ("The Book of Boy"), begins….
(14) PIECES OF EIGHT. In Octothorpe episode 33, "Jigsaw Psychoanalysis" "John Coxon can't cope with any, Alison Scott can cope with one, and Liz Batty has excellent mental health. We have lots of lovely locs, before we discuss fanzines and various conventions' latest news."
(15) AVOIDING TOXICITY. Pokémon Detective Pikachu and Addams Family 2 screenwriter Dan Hernandez made an interesting social media decision. Thread starts here.
(16) WEAK SHOWING. The Washington Posts's Alexandra Petri hosts an op-ed from one of the X-Men: "Magneto: These new 'magnetic' vaccine mutants are extremely disappointing".
… I met the people who were saying that metal objects now stuck to them because of their vaccines and gave them a whole recruitment speech about how they were the next stage in evolution, but once I said the word "evolution," they looked at me doubtfully. Then I asked them to show off their abilities, and — I hate to say this but, have you ever been at a friend's amateur magic show, where the magic show is not going quite as was hoped, and there's a lot of saying "hold on" and "wait, hang on" and "sorry" as they fail several times running to identify your card, and then a dead bird falls unprompted out of someone's hat? Frankly, that would have been an improvement….
(17) ANCIENT POO REVEALS MODERN GUT BACTERIA CHANGE AND IS SUGGESTIVE OF HUMAN EVOLUTION. [Item by SF Concatenation's Jonathan Cowie.] We humans have changed over thousands of years, and our way of life has altered dramatically the past thousand years. This is reflected in a number of ways, one of which is the type of bacteria we have in our intestine.
It is known that the gut microbes in humans today living in industrial countries differs greatly to those living in non-industrial nations. For example, the guts of those living in industrial nations harbour microbes that tend to be more resistant to antibiotics. The latest news is that a research collaboration has now compared the gut microbial community from modern humans with those that lived between a thousand and two thousand years ago. They managed to extract reasonable microbial genomes from 498 samples of ancient shite and poo found in the US and Mexico. 181 of these the researchers are confident of being of human gut origin. They then compared these with the genome of modern human gut microbial genomes.
They found that all the ancient human gut microbes differed from those in modern humans living in industrialised countries. Instead, they were all similar to those in the present-day living in non-industrial nations. Further, in looking at the genetic variation in a specific bacterial species, Methanobrevibacter smithii, they were able to back-track and estimate its past evolution. Their limited analysis that it changed markedly between 75,000 years ago and 25,000 years ago. This was during the last glacial (the cold part of our current ice age) during which there was considerable diversity in small populations of our Homo species. This work lays open great potential in a new area of ancient poo science. This is not to be sniffed at.
(See Wibowo, M. C. et al (2021) Reconstruction of ancient microbial genomes from the human gut. Nature, vol.594, p234-9 and a review paper Sonnenburg, J. L. & Olm, M. R. (2021) Ancient human faeces and gut microbes of the past. Nature, vol.594, p182-3.)
Review article here. Primary research paper here.
(18) SOLAR FLYBY. From NASA's Astronomy Picture of the Day Archive for June 11:
Image Credit & Copyright: Zev Hoover, Christian A. Lockwood, and Zoe Chakoian. Explanation: On June 10 a New Moon passed in front of the Sun. In silhouette only two days after reaching apogee, the most distant point in its elliptical orbit, the Moon's small apparent size helped create an annular solar eclipse. The brief but spectacular annular phase of the eclipse shows a bright solar disk as a ring of fire when viewed along its narrow, northerly shadow track across planet Earth. Cloudy early morning skies along the US east coast held gorgeous views of a partially eclipsed Sun though. Rising together Moon and Sun are captured in a sequence of consecutive frames near maximum eclipse in this digital composite, seen from Quincy Beach south of Boston, Massachusetts. The serendipitous sequence follows the undulating path of a bird in flight joining the Moon in silhouette with the rising Sun.
(19) TWO TO BEAM UP. A Despicable Me cast member helps NBC Sports advertise the upcoming Olympics with its own work on the balance beam: "The Minions interrupt Simone Biles' Olympic Training".
[Thanks to Andrew Porter, Martin Morse Wooster, JJ, Cora Buhlert, John Coxon, Meredith, Nancy Sauer, SF Concatenation's Jonathan Cowie, Michael Toman, John King Tarpinian, Cat Eldridge, John Hertz, and Mike Kennedy for some of these stories. Title credit belongs to contributing editor of the day jayn.]