(1) THE SANTA FE. Now he'll really be George Railroad Martin: "George R. R. Martin Buys Part of Historic Santa Fe Railroad".
George R. R. Martin, who wrote the book series that was adapted into the HBO series "Game of Thrones," and two co-investors have bought an abandoned, 18-mile spur railroad line from Santa Fe to Lamy, New Mexico, with the intent of restoring it to its former glory as a tourist attraction, The Business Insider reported on Monday.

No price was mentioned for the purchase, which also includes 10 antique rail cars, two vintage locomotives, and a station house at Lamy currently leased by Amtrak that is part of its twice daily line from Chicago to Los Angeles.

"There are a lot of opportunities for a new tourist attraction," Martin told the Albuquerque Journal. "COVID has thrown a monkey wrench into our plan. We had hoped to get things up and running in 2021, but now it won't be until 2022."
I've caught a train at the Lamy station, after visiting my sister in Santa Fe. It's miles out of town — despite the city's iconic railroad name, the Amtrak line doesn't run through the city.
Martin explains his plans in more detail in his blog post "All Aboard for Lamy" which concludes:
…It is going to take a lot of work, more than a few bucks, and a fair amount of time to get the railroad running again. There are tracks and trestles to inspect and repair, old historic coaches to restore to their former splendor, a dead locomotive to bring back to life. And the coronavirus has slowed the process way down. But sooner or later, we do hope to have the old Lamy Line chuffing and puffing once again, and we have all sorts of fun ideas for the future, live music and murder mysteries and train robberies and escape rooms and… well, we shall see.

And best of all, we won't need to pull up the tracks when Christmas is over.
(2) CON CANCELLATION. Pulpfest, planned for August, has been cancelled, too. They made the announcement today: "There is Nothing Wrong with Your Television Set . . ."
…We regret to announce that PulpFest is being postponed until August 2021.

Although it is likely that businesses and events in the region where PulpFest is staged will be allowed to resume operations in June, they will have to follow guidelines issued by the United States Centers for Disease Control and Prevention and the Pennsylvania Department of Health.
…Given the substantial risks involved and our desire to maintain the health and well-being of our many supporters, the PulpFest organizing committee voted unanimously to postpone this year's convention until early August 2021.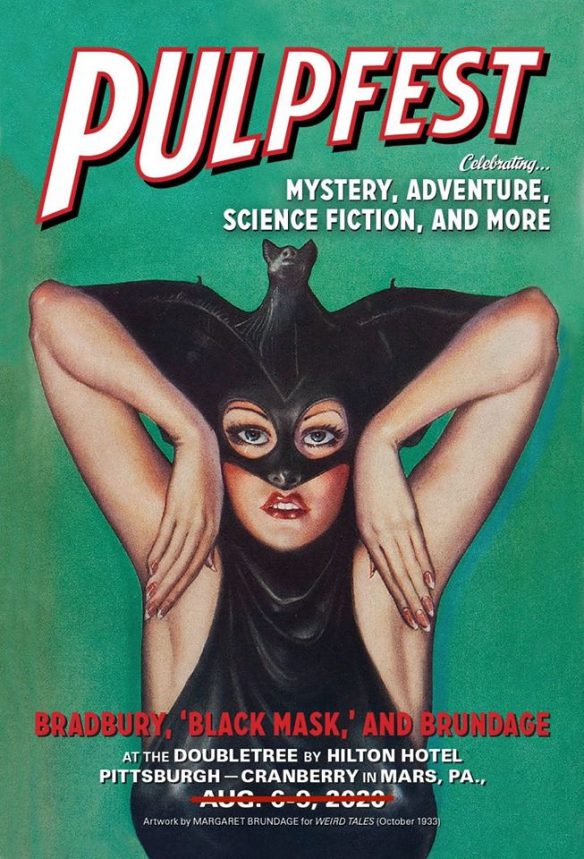 (3) LEAP, BUT NOT QUANTUM. Chancellor Agard, in "Watch Legends of Tomorrow jump from Friends to Downton Abbey in exclusive sneak peek" on Entertainment Weekly discusses tomorrow's episode, where the Legends jump from the world of a show like Friends to one like Downton Abbey to one like Star Trek.
(4) A HORSE, OF COURSE. Yesterday was the thirtieth anniversary of the debut of the third Back to the Future movie. Yahoo! Entertaiment put together a quiz — "'Back to the Future Part III' turns 30: Take this quiz to test your knowledge". I really blew this one – only 6 out of 14. And one of my right answers was about how special effects manure was made – am I supposed to be proud of that?
… On May 24, 1990, the final film in Robert Zemeckis and Bob Gale's Back to the Future trilogy premiered in theaters. Directly picking up from the cliffhanger of 1989's Back to the Future Part II, where Doc Brown (Christopher Lloyd) and the DeLorean time machine accidentally being struck by lightning, sending him back to the Old West. Part III picks up with Marty McFly (Michael J. Fox) traveling to 1885 to rescue Doc and return him to the present.
(5) SPACE FORCE REDUX. Netflix dropped a second trailer for Space Force, which they have cleverly called Space Force Trailer 2.
Steve Carell was also on The Late Show with Stephen Colbert on Thursday promoting Space Force but he doesn't talk about the show until 5-1/2 minutes into the segment.
(6) STILES REMEMBERED. Balticon 54's website includes a tribute to the late fanartist: "In Memoriam: Steve Stiles (1943-2020)". Includes lots of photos and art.
Steve Stiles became a science fiction fan in 1957; he'd been illustrating fanzines from then until his death, earning him the first Rotsler Fan Artist Award in 1998, and a Fan Artist Hugo in 2016. Professionally, he worked in numerous comic book genres since 1973 (horror, super hero, science fiction, humor), including the award-winning Xenozoic Tales and perhaps the first steampunk graphic novel, The Adventures of Professor Thintwhistle, with author Richard Lupoff.
(7) TODAY'S DAY.
May 25 — Towel Day which is celebrated by fans every year on May 25 as a tribute to the author Douglas Adams. Fans carry a towel with them as described in The Hitchhiker's Guide to the Galaxy. The commemoration was first held May 25, 2001 two weeks after Douglas Adams' death. [Via Rocketmail.]
(8) TODAY IN HISTORY.
May 25, 1977 — Star Wars premiered. Later retitled as Star Wars: Episode IV – A New Hope, it was written and directed by George Lucas. You know who the cast is so we'll not list all of them here. Lucas envisioned the film as being in the tradition of Buck Rodgers which he originally intended to remake but couldn't get the rights to. Reception by critics and fans alike was fantastic with IguanaCon II voting it the Best Dramatic Presentation Hugo over Close Encounters of The Third Kind. It holds a stellar 96% rating among audience reviewers at Rotten Tomatoes.
May 25, 1983 — Return of the Jedi, the last of the original trilogy, premiered. Later retitled Star Wars: Episode VI – Return of the Jedi, it came out six years after Star Wars. It is directed not by Lucas this time but by Richard Marquand from a screenplay by Lucas and Lawrence Kasdan who co-wrote Raiders of the Lost Ark. The principal cast is the same as the first film. Critics were ever so slightly less pleased with this concluding film of the trilogy but the audience reviewers at Rotten Tomatoes give it an equally stellar 94% rating as the first film. It would win The Best Dramatic Presentation Hugo at L.A. con II beating Right Stuff and WarGames. Box office wise, it sold more tickets for most of its first eight week American run than any other film.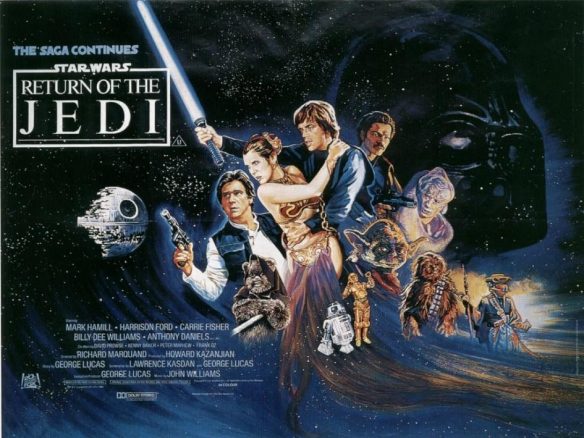 (9) TODAY'S BIRTHDAYS.
[Compiled by Cat Eldridge and John Hertz.]
Born May 25, 1915 – DeeDee Lavender.  Four decades an active fan with her husband Roy.  Together they were Secretary-Treasurer of the Nat'l Fantasy Fan Fed'n in 1950.  They were at Aussiecon I the 33rd World Science Fiction Convention (I wasn't), and Noreascon II the 38th (I was).  They're in Harlan Ellison's forewords to his collections I Have No Mouth and I Must Scream and Angry Candy; they knew Leigh Brackett & Edmond Hamilton, and were guests at the B&H homes in Ohio and California.  They were part of a Southern California fannish social group called the Petards, named by one of Rick Sneary's famous misspellings, hoist for host.  Here she is with Roy at a Petards meeting in 1983 (Dik Daniels photo), and thirty years earlier in New York (L to R, Bea Mahaffey, Hannes Bok, DeeDee, Roy, Stan Skirvin; Mike Resnick collection).  (Died 1986) [JH]
Born May 25, 1916 – Charles Hornig.  Publishing his fanzine The Fantasy Fan in 1933, thus First Fandom (i.e. active by at least the first Worldcon, 1939), and hired, age 17, by Hugo Gernsback to edit Wonder Stories.  Founded the Science Fiction League with HG, 1934; later edited Fantasy; also Future and Science Fiction (they eventually combined); SF Quarterly.  See his notes on Nycon I, the first Worldcon, here.  (Died 1999) [JH]
Born May 25, 1926 – Phyllis Gotlieb.  Prix Aurora for A Judgement of Dragons (note spelling; she was Canadian).  The Sunburst Award is named for her first novel.  Thirteen SF novels, twenty shorter stories, eight poetry collections (the first being Who Knows One?).  Translated into Dutch, French, German, Italian.  Among her husband's Physics students was Cory Doctorow's father.  (Died 2009) [JH]
Born May 25, 1946 — Frank Oz, 74. Actor, director including The Dark Crystal, Little Shop of Horrors and the second version of The Stepford Wives, producer and puppeteer. His career began as a puppeteer, where he performed the Muppet characters of Animal, Fozzie Bear, Miss Piggy, and oh so patriotic Sam Eagle in The Muppet Show, and Cookie Monster, Bert, and Grover in Sesame Street. Genre wise, he's also known for the role of Yoda in the Star Wars franchise. An interesting Trivia note: he's in the Blues Brothers as a Corrections Officer, and is the Warden in Blues Brothers 2000. (CE)
Born May 25, 1946 — Janet Morris, 74. Hey I get to mention Thieves' World! Yea! In that universe, she created the Sacred Band of Stepsons, a mythical unit of ancient fighters modeled on the Sacred Band of Thebes. She has three series, both listed as SF though I'd call one of them fantasy,  the Silistra quartet, the Kerrion Space trilogy and the Threshold series. And let's not over overlook her Heroes in Hell series she wrote,most co-authorEd with her husband Chris Morris, some with C J Cherryh and David Drake. (CE)
Born May 25, 1950 – Kathryn Daugherty.  Engineer.  Married four decades to James Stanley Daugherty.  Back when FORTRAN wasn't even Two-tran she fed punch-cards to a Control Data CDC 6400.  For ConFrancisco the 51st Worldcon, Official Editor of the con committee's APA (Amateur Press Ass'n, a collection of fanzines) The Never-Ending Meeting.  At Bucconeer the 56th Worldcon, headed Contents of Tables; a typo made it "Contests of Tables": in each newsletter I announced "Today's winner is the Picnic", "Today's winner is the Periodic".  Chaired Westercon LIII, a hard one: it was at Honolulu, see my report here [PDF; p. 11].  Luckily not exhausted; she and JSD were Fan Guests of Honor at Baycon in 2001, and Loscon XXXI (2004).  Joined me in liking Mission of Gravity.  Obituary by OGH here.  (Died 2012) [JH]
Born May 25, 1952 — Al Sarrantonio, 68. His horror short stories are brilliant and they've earned him a Stoker for 999: New Tales of Horror and Suspense and a Jackson for Stories: All-New Tales, the latter co-edited with Gaiman. His Masters of Mars series is SF and he's written a Babylon 5 novel as well, Personal Agendas. (CE)
Born May 25, 1953 – Stan Sakai.  Lettered Groo the Wanderer comics; since 1984, author of Usagi Yojimbo comics about samurai rabbit Miyamoto Usagi, who has (wouldn't you know it) crossed paths with the Teenage Mutant Ninja Turtles.  The rônin lifeis hard.  During the most recent Year of the Rabbit (2011), the Japanese-American Nat'l Museum in Los Angeles had an Usagi Yojimbo exhibit.  Sakai has won a Parents' Choice award, an Inkpot, six Eisners, an Inkwell, two Harveys, two Haxturs (Spain), a Plumilla de Plata (Mexico), a Cultural Ambassador award, and a Nat'l Cartoonists Society award.  [JH]
Born May 25, 1960 — Eric Brown, 60. Well-deserved winner of two BSFA awards for his short stories, "Hunting the Slarqye" and "The Children of The Winter".  He's very prolific, averaging a novel a year over the past three decades and countless novellas and short stories. As far as SF goes, I'd start with his Binary System and Bengal Station series, both of which are superb. And I'm going to single out his Sherlock Holmes metaverse novel, The Martian Menace, in which The Great Detective meets and defeats those Invaders. (CE)
Born May 25, 1966 — Vera Nazarian, 54. To date, she has written ten novels including Dreams of the Compass Rose, what I'd called a mosaic novel structured as a series of interlinked stories similar in to The One Thousand and One Nights that reminds a bit of Valente's The Orphans Tales. She's the publisher of Norilana Books which publishes such works as Catherynne M. Valente's Guide to Folktales in Fragile Dialects, Marion Zimmer Bradley's Sword and Sorceress anthologies,and Tanith Lee's Lee's Sounds and Furies. (CE)
Born May 25, 1982 – Bertrand Bonnet.  Six dozen reviews in Bifrost (French-language prozine; European SF Society award for Best Magazine, 2016), of Blish, Le Guin, Pohl (with and without Kornbluth), Resnick, Tolkien (including the Letters, yay).  [JH] 
(10) COMICS SECTION.
Non Sequitur's birds learn about their ancestors.
Non Sequitur sells foresight.
Non Sequitur has an SJWC intervention.
Mikey Heller drew a comic about a cat café. It's got sjw credentials, sf, everything!
(11) LID OVERFLOW. In The Full Lid 22nd May 2020 Alasdair Stuart takes a look "at how now is very much the time for Strange New Worlds and what the Short Treks set on Pike's Enterprise can teach us about the show's tone."
I also take a look at excellent, furious and overlooked movie Assassination Nation and Bog Bodies, a superb crime graphic novel out this week. Signal Boost is big this week but the YA/MG Author spotlight that follows it is much bigger and full of amazing books.
This week Stuart also launched The Full Lid Plus! A monthly supplement covering Disney Plus.
It's first issue covers what we learn in the first for episodes of The Mandalorian and looks at award winning free-climbing documentary Free Solo. Oh and Will Smith sings.
The Full Lid Plus is published monthly and run off a paid subscription model, Details at the link.
Stuart's Hugo Voting Packet for 2020 is also available at his website. "It touches on all my non-fiction work, has links to every piece and a consolidated PDF of everything too."
(12) NO GO. It barely got out of California:"Virgin Orbit rocket fails on debut flight"
Sir Richard Branson's Virgin Orbit company has tried unsuccessfully to launch a rocket over the Pacific Ocean.

The booster was released from under the wing of one of the UK entrepreneur's old jumbos which had been specially converted for the task.

The rocket should have ignited its engine seconds later but engineers had to terminate the flight.

Virgin Orbit's goal is to try to capture a share of the emerging market for the launch of small satellites.

It's not clear at this stage what went wrong but the firm had warned beforehand that the chances of success might be in the region of 50:50.

The history of rocketry shows that maiden outings very often encounter technical problems.

The firm is sure to be back for another attempt pretty soon – depending on the outcome of the post-mission analysis.
(13) FLOCKING OFF. [Item by John A Arkansawyer.] I just noticed this monologue from the May 18th Late Night with Seth Meyers. There was no genre-related sketch that night. However!
When Seth Meyers first started broadcasting from home, he apparently (to my eyes, at least) ordered several feet of cheap respectable-looking trade paper and hardcover books from a local used book store. One that caught my eye was Shardik, which has a lot of whitespace on the spine and that weird symbol. The two copies of a book about Thessalonica were the big tip-off to me these were surplus and not garage detritus.
And then there was The Thorn Birds. No one seemed to believe Seth Meyers was a Thorn Birds fan.
Soon Meyers moved out of his garage and into his attic, where he has a plain backdrop…and an end table with a small stack of books. I've seen two dust-jacketed books claiming to be The Thorn Birds and one unjacketed copy between them. The Janelle Monae clip has a stack of Thorn Birds, Thorn Birds II: More Thorns, and Thorn Birds III: Something written in script too fine for me to read.
But the best one yet you can see in this clip, in the lower left-hand corner: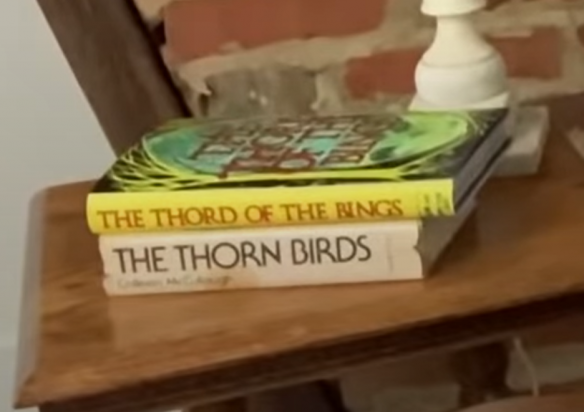 (14) JUST WHEN THE PREZ LEARNED HOW TO PRONOUNCE IT. BBC reports "WHO halts trials of hydroxychloroquine over safety fears".
Testing of the malaria drug hydroxychloroquine as a possible treatment for coronavirus has been halted because of safety fears, the World Health Organization (WHO) says.

Trials in several countries are being "temporarily" suspended as a precaution, the agency said on Monday.

It comes after a recent medical study suggested the drug could increase the risk of patients dying from Covid-19.
(15) DON'T KNOW HOW GOOD YOU'VE GOT IT. And we close with this benediction from The Onion: "Nation's Politicians, Law Enforcement, Corporate Executives Marvel At Futuristic Utopia They're Living In".
"To think that I have all this at my fingertips, whether it's automated high-volume stock trading or unlimited surveillance footage of my employees, it's like something out of a science fiction paradise," said pharmaceutical executive Ron Pollard, who claimed previous generations of police officers, elected officials, and business leaders could never comprehend the world of unlimited possibilities that has been created for them, where they are free to do whatever they want all the time.
[Thanks to John King Tarpinian, John Hertz, Andrew Porter, Chip Hitchcock, Michael Toman, Mike Kennedy, Lise Andreasen, Cat Eldridge, Alasdair Stuart, and Martin Morse Wooster for some of these stories. Title credit goes to File 770 contributing editor of the day Kurt Busiek.]