(1) DYNAMIC DINOS. Camestros Felapton continues celebrating his fifth blogoversary with the release of a post collection — "Book Launch: The Hugosauriad". And the price is right: "As always the cost is FREE and half price for dinosaurs."
Two hundred and fifty two million years in the making, a book that spans geological eras, astronomical bodies colliding, and people getting upset at award ceremonies. Space! Big game hunters! A surprising number of priests! Atheist therapods! This is a book that has everything but a simple premise!

…Picking a single theme opened up a way into the huge scope of the Hugo Awards. Instead of just winners, I could look at notable finalists as well but more than that, I could look at stories that weren't even nominated (in some cases because they preceded the Hugo Awards) but which were influential. It also meant that I could trace how one theme had changed and shifted in the genre over decades but also how features of the Hugos (such as the infamous No Award) had played out in multiple eras.

To my delight and surprise other themes volunteered themselves as if eager to jump on the bandwagon: the boundary between science fiction and literary fiction, the influence of changing scientific ideas on science fiction, the role of humour in science fiction, the representation of women as both authors and characters in the awards.
(2) KGB. Fantastic Fiction at KGB reading series hosts Ellen Datlow and Matthew Kressel present N.K. Jemisin and Kenneth Schneyer online Wednesday, June 17th, 2020, at 7 p.m. (The in-person event is cancelled.) The YouTube link for the livestream is forthcoming.
N.K. Jemisin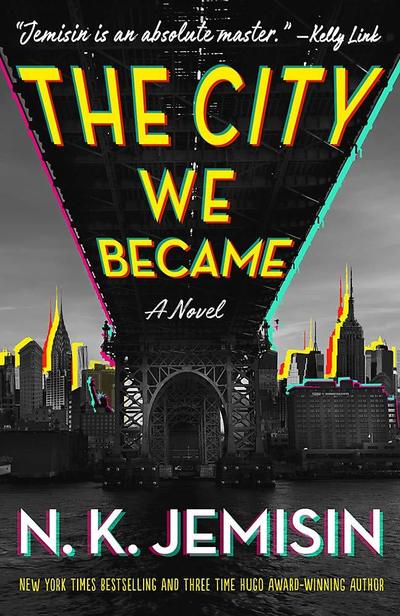 N.K. Jemisin is a New York Times-bestselling author of speculative fiction short stories and novels. In 2018, she became the first author to win three Best Novel Hugos in a row for her Broken Earth trilogy. She has also won a Nebula Award, two Locus Awards, and a number of other honors. Her latest novel, The City We Became, is out now from Orbit Books. She lives and writes in Brooklyn.
Kenneth Schneyer
Kenneth Schneyer has been nominated for the Nebula and Sturgeon awards. His fiction has appeared in Lightspeed Magazine, Uncanny Magazine, Strange Horizons, Analog, Beneath Ceaseless Skies, and Clockwork Phoenix. Fairwood Press will release his second collection, Anthems Outside Time and Other Strange Voices in July. He teaches Shakespeare, constitutional law, sf, criminal procedure, and introductory logic to college students in Rhode Island.
(3) LEGENDS OF TOMORROW RECAP. [Item by Martin Morse Wooster.] Tuesday night's episode of DC'S Legends of Tomorrow was the episode where they parodied Star Trek. The premise this season is that the three Greek Fates are in the Legends of Tomorrow universe and have three rings, and these rings are plot coupons that you can turn in for the prize, which I think is absolute power or something. Two of the Fates are evil and one, Clotho, is a good character who helps the Legends. In Tuesday's episode, Clotho places the Legends in a universe where they are on TV all the time, in shows that are analogues of Friends, Mister Rogers' Neighborhood, Downton Abbey, and Star Trek.
The Trek parody was called "Star Trip," a spaceship whose continuing mission was to find strange new worlds and then blow them up. They faced characters called "Gromulans" who looked vaguely like Klingons. There was also a character who looked like Khan and was called Don, and the joke here is that Don had long flowing white hair while Dominic Purcell, who played Don, is a bald character in the Legends universe. Caity Lotz did her Shatner impression and was funny, but I thought the best character in the show was Matt Ryan, who played the head butler in the Downton Abbey analogue but on the show plays dissolute demon hunter John Constantine.
My problem with the Arrowverse shows is that their writers discovered parallel worlds, making the show's story arcs ridiculously complicated. I think Tom Cavanaugh on The Flash has played four variants of his character from four parallel worlds. But Legends of Tomorrow has a less complex backstory and is entertaining. I also think Stargirl is promising, at least for the first two episodes.
(4) LET'S KEEP LOOKING. Robert Zubrin, in "Searching for Life in the Outer Solar System" at National Review Online, has a positive review of JPL scientist Kevin Peter Hand's Alien Oceans, which discusses the need for continuing deep-space exploration.
You Earthlings are all alike. Whether humans, turtles, wasps, trees, mushrooms, tardigrades, or bacteria, you all use the same DNA, RNA, ATP biochemical operating system. You offer some interesting diversity, that is true. But are you all there is to life?

Kevin Peter Hand, a scientist with the Jet Propulsion Lab, really wants to get the answer. In his engaging new book, Alien Oceans: The Search for Life in the Depths of Space, he lays out why, where, and how we can do so.

English, French, Spanish, German, and Polish all use the same system for encoding information: the Latin alphabet. Greek and Russian employ alphabets that differ significantly but still work according to the same basic principles. That is because all these scripts have a common origin. If all you knew were European languages, you might think that variation on such writing systems exhausted the possibilities. Chinese, though, on the other hand, utilizes an information technology with no resemblance to any Western phonetic alphabet. It accomplishes the same function but does so in a fundamentally different way.

There are, as Hand explains, fundamental reasons why we might expect that life everywhere uses the same carbon- and water-based chemistry we see here. But Earth life is far more restricted in its format than such considerations alone require. Specifically, it all uses the same DNA-RNA alphabet for encoding genetic information from one generation to the next — the Latin alphabet, if you will. That works well enough, but could life elsewhere be using Chinese? And what could that mean if it does? …
(5) BE AWARE. Angela Yuriko Smith advises readers of the Horror Writers Association newsletter about the need to do "Marketing Without Marketing".
…For many of us (including my own family) expendable income has been reduced or dried up completely. Even those of us who were flush before the pandemic are feeling the pinch now. Many of us are looking at all the avenues of income we have access to. And suddenly, I've noticed, everyone has something to sell.

Here's the problem: when people don't have extra money, how do blatant advertisements make them feel? For me, I get annoyed. I'm already upset that my extra money is gone and I'm having to cut back on luxury items. Some people can't even cover bare necessities right now. When we're broke and you get hit with a blunt "buy this" notice, we typically have a negative response.

If I can no longer purchase the things I do regularly, a "buy this" marketing approach only serves as a reminder of the bitter truth. As artists, we never want anyone to feel a negative response to us or our work. That feeling of dislike can last long after the current pandemic becomes history.
(6) CALLED OFF. A piece in the Washington Post with the theme "summer is not cancelled" that names a lot of activities still happening or going online, also lists local cancellations – including two large Washington media conventions: Blerdcon, the "black nerd" convention, and Otakon, a giant 30,000 person anime convention that was in Baltimore and moved to Washington a few years ago.
Blerdcon and Otakon: It's a tough year for those who love dressing up as their favorite pop-culture icons. Both Otakon, the mega-convention which drew almost 30,000 attendees to a celebration of anime, manga and Asian art at the Walter E. Washington Convention Center in 2019, and Blerdcon, a diverse gathering for thousands of gamers, cosplayers and fans of nerd culture at the Hyatt Regency Crystal City, are off.
(7) CREATING TO SCALE. Tor.com's Alan Brown might talk you into making a model yourself: "Bringing Stories to Life: The World of Science Fiction and Fantasy Model Building".
Science fiction and fantasy fans love to dream about things that never existed. And some of them enjoy bringing objects and ideas from their imagination to life. Whether working from kits or making something from scratch, there is a great deal of enjoyment to be gained from model building, and satisfaction in seeing a finished project. This is a great time for those who enjoy the hobby: the internet has provided ways to share information with other modelers and to shop for kits and products from around the world, and the new technology of 3D printing has opened up even more ways to bring imaginary things to life. So if, like a lot of people these days, you have some extra time on your hands, you might want to look into model building

We live in a time where social distancing has become imperative. Folks are being warned to minimize contact with other people, keep a safe distance and remain in their homes as much as possible. This has become a source of good-natured humor in the model-building community, whose members spend a lot of time at benches tucked away in a basement or corner of their house. "We've been training for this our whole lives," they joke. But this also raises a good point: Modeling is a perfect hobby for these times….
(8) AT SEVENTEEN. PureWow's Sarah Stiefvater did it: "Every Single 'Harry Potter' Movie Explained Using Only a Haiku".
2. 'HARRY POTTER AND THE CHAMBER OF SECRETS'

Dobby tries to help

Gang gets whomped by a willow

Tom Riddle—uh oh!
(9) JAMES OBIT. Actor Anthony James, famed for playing creeps and villains in major films like The Heat of the Night and The Unforgiven, died of cancer May 26. His extensive resume included appearances in TV's Beauty and the Beast (1989), and Star Trek: The Next Generation ("The Neutral Zone" as Romulan Sub-Cmdr. Thei, 1988). (His career included getting killed by Clint Eastwood's character in two different movies.)
James had made a single brief appearance on a TV series before Norman Jewison cast him as the killer Ralph in 1967's In the Heat of the Night, starring Sidney Poitier and Rod Steiger. The film went on to win five Oscars, including Best Picture.

His memoir, Acting My Face — a title borrowed from an oft-told story about his acting idol Marlon Brando — was published in 2014.
(10) HERD OBIT. Actor Richard Herd, best-known for his work on Seinfeld, died May 27. The New York Times paid tribute:
Richard Herd, who played lawmen, tough guys, a general, an alien commander and a Watergate burglar, but was best known as Mr. Wilhelm, George Costanza's supervisor, on "Seinfeld," died on Tuesday at his home in Los Angeles. He was 87.

Mr. Herd was also known for roles on several science-fiction series, among them Supreme Commander John on the mini-series "V" in 1983 and its sequel the next year; L'Kor, a Klingon, on "Star Trek: The Next Generation"; and Admiral William Noyce on "Seaquest 2032."

Richard Thomas Herd was born on Sept. 26, 1932, in Boston. In 1970 he was cast in his first film, "Hercules in New York," whose star, Arnold Schwarzenegger, was also making his movie debut.

He stayed busy for nearly 50 years. He had roles in the mini-series "Ike: The War Years" (1979), "The China Syndrome" (1979), "All the President's Men" (1976), and the TV series "T.J. Hooker," "Quantum Leap" and "Desperate Housewives."

In 2017, Mr. Herd played the founder of a cult in one scene in Jordan Peele's acclaimed horror film "Get Out."
(11) TRIVIAL TRIVIA.
Edgar Allan Poe's poem "The Raven" was inspired by a real bird, specifically Charles Dickens' pet Grip, who also makes an appearance in his owner's story "Barnaby Rudge." Grip died in 1841 but was preserved in arsenic and taxidermied. He can be seen in the Rare Books department of the Philadelphia Free Library.
Source: Atlas Obscura
(12) TODAY IN HISTORY.
May 29, 1956 — X Minus One aired Gordon R. Dickson's "Lulungameena." It first appeared in the Looking Forward anthology in November 1953 (edited by Milton Lesser), and is the first story where his Dorsai mercenaries are mentioned (though it was not considered a Dorsai story by him). Four years after this aired, Dorsai! would finish second to Starship Troopers for Best Novel Hugo at Pittcon. The script was by George Lefferts who did most of the scripts here. The cast was Ralph Camargo, Ned Weaver, Jack Grimes, Bob Hastings and Kermit Murdock. You can hear the show here.
(13) TODAY'S BIRTHDAYS.
[Compiled by Cat Eldridge and John Hertz.]
Born May 29, 1874 – G.K. Chesterton.  Wrote essays, fiction, poems (is poetry fiction?), plays, biography, criticism.  Illustrator; journalist; radio broadcaster.  Half a dozen of his eighty books are ours, famously The Napoleon of Notting Hill and The Man Who Was Thursday; eighty of his two hundred shorter stories.  Events in his Father Brown stories turn out not to be fantasy.  But GKC was the prince of paradox.  Translated into Dutch, Finnish, French, German, Italian, Portuguese, Romanian, Spanish.  (Died 1936) [JH]
Born May 29, 1901 – Ken Fagg.  A dozen covers for If and a few others; co-creator of world's largest geophysical relief globe; illustrator for Life, Holiday, Saturday Evening Post; art director for 20th Century Fox.  See three of his If wrap-arounds here, here, here.  Here is A Volcanic Eruption on Titan, Sixth Moon of Saturn.  (Died 1980) [JH]
Born May 29, 1906 – T.H. White.  We can claim six of his novels (counting The Once and Future King as one – although its publication history made its first part "The Sword in the Stone" eligible for a Retro-Hugo, which we gave it), twenty shorter stories.  He lived to see Once & Future made into the Lerner & Loewe musical Camelot, which L&L told each other was impossible, and they were right, but luckily that didn't matter.  He translated a Bestiary, called non-fiction, which is like calling Once & Future a children's story.  (Died 1964) [JH]
Born May 29, 1909 — Neil R. Jones. It is thought that "The Death's Head Meteor," his first story, which was published in Air Wonder Stories in 1930, could be the first use of "astronaut" in fiction. He also created the use of a future history before either Robert A. Heinlein or Cordwainer Smith were to do so. They're collected in The Planet of the Double Sun, The Sunless World and a number of another overlapping collections.  He's a member of the First Fandom Hall of Fame. (Died 1988.) (CE)
Born May 29, 1923 — Genevieve Linebarger. Widow of Cordwainer Smith. She had a hand in The Instrumentality of Mankind series, co-authoring "The Lady Who Sailed the Soul" (1960), and "Golden the Ship Was — Oh! Oh! Oh!" (1959) and, after her husband's death, was the sole author of "Down to a Sunless Sea" (1975) published under his name, and completed "Himself in Anachron" (published 1993). (Credits per NESFA Press' Rediscovery of Man collection.) (Died 1981.) (CE)
Born May 29, 1930 – Richard Clifton-Dey.  Five dozen covers in our field; a hundred total, Westerns, war books, advertising, romance; a few interiors; much unsigned, identified by his widow.  See here (Fritz Leiber), here (Tim Powers), here (H.G. Wells).  (Died 1997) [JH]
Born May 29, 1939 — Alice K. Turner. Playboy fiction editor from 1980 to 2000. Silverberg praised her highly and she did much to make sure SF had an important place in the fiction offered up there. The Playboy Book of Science Fiction collects a good tasting of the SF published during her tenure. (Died 2015.) (CE)
Born May 29, 1948 – Larry Kresek.  Thirty covers in our field.  First chair of illustration dep't, Ringling School of Art & Design; movie posters, record albums, national ads, pharmaceutical illustrations; adviser to education committee, N.Y. Society of Illustrators; professor, Rocky Mountain College of Art & Design; various projects with wife Joan Kresek.  See here (Spider & Jeanne Robinson), here (Theodore Sturgeon), here.  [JH]
Born May 29, 1952 – Louise Cooper.  Eighty novels in our field: a dozen Time Master novels; also Creatures; Dark Enchantment; Indigo; Mermaid Curse; Mirror, Mirror; Sea Horses; a dozen stand-alone novels, another dozen shorter stories. Translated into French, German, Spanish.  She and husband Cas Shandall sang with the shanty group Falmouth Shout.  (Died 2009) [JH]
Born May 29, 1959 — Adrian Paul, 61. Duncan MacLeod on Highlander. And yes, I watched the whole bloody series. His first appearance in genre circles was as Dmitri Benko in the "Ashes, Ashes" episode of the Beauty and the Beast series. He shows up next as Prospero in Masque of the Red Death. He's got several series before Highlander, War of the Worlds (not bad at all) where he was John Kincaid, a short-lived role as Jeremiah Collins on Dark Shadows and an even shorter-lived rolled on Tarzán as Jack Traverse. His first post- Highlander Sf series is Tracker where her he players alien shapeshifter Cole / Daggon.  A decade ago, he returned to a familiar role in Highlander: The Source. His last series role was playing Dante on Arrow.  Note: this is not a complete list. (CE)
Born May 29, 1987 — Pearl Mackie, 33. Companion to Twelfth Doctor, the actress was the first openly LGBTQ performer and companion cast in a regular role in Doctor Who. Mackie, says Moffatt, was so chosen as being non-white was not enough. Her other notable genre role was playing Mika Chantry in the audiowork of The Conception of Terror: Tales Inspired by M. R. James. (CE)
Born May 29, 1996 — R. F. Kuang, 24. She's an award-winning Chinese-American fantasy writer. The Poppy War series, so-called grimdark fantasy, consists of The Poppy War which won the Compton Crook Award for Best First Novel, The Dragon Republic and The Burning God (forthcoming). She's a nominee this year for the Astounding Award for Best New Writer. (CE)
(14) COMICS SECTION.
Q: Why is the suspense killing him?
A: Someone has to do it.
Wondermark on time traveling assassins.
(15) BLEEDING OUT. Sarah McNally asks in a New York Times opinion piece, "What Could Kill My New York Bookstores?" There's no doubt about it. Tagline: "It won't be Amazon or the coronavirus. It will be artificially high rents."
Every weekday I drive to my four bookstores, pick up our customers' orders, wedge them into the back of my car and take them to the Cooper Station post office. My route takes me to Williamsburg to Downtown Brooklyn to the South Street Seaport, and ends at my original store in NoLIta.

I sweep the deserted sidewalks — if you own a shop, you're responsible for the sidewalk — and I wonder how many of the stores and restaurants around mine will be able to reopen and pay the debts they accrued during the lockdown.

So many closed long before the pandemic. I miss my old neighbors in NoLIta, the restaurants and their chefs, the bodega that magically had everything I needed, like Mary Poppins's carpetbag, the Buddhist monk from the Tibetan store who gave me cardamom for tea, the bar where I had the most beautiful date of my life.

How many more distinctive stores and restaurants can our city lose before we find that we are no longer New York, but a dead-faced simulacrum?

Years before Covid, many city blocks had been reduced to a few overlit national chains — Dunkin' Donuts, Metro by T-Mobile, Subway, Starbucks — and a whole lot of dark, depressing vacancies. Almost every business owner I spoke to or read about seemed to give the same reason: soaring rents. In some neighborhoods, even as vacancies are increasing, rent keeps rising….
(16) DEEP EIGHT. "World's deepest octopus captured on camera".
The deepest ever sighting of an octopus has been made by cameras on the Indian Ocean floor.

The animal was spotted 7,000m down in the Java Trench – almost 2km deeper than the previous reliable recording.

Researchers, who report the discovery in the journal Marine Biology, say it's a species of "Dumbo" octopus.

The name is a nod to the prominent ear-like fins just above these animals' eyes that make them look like the 1940s Disney cartoon character.
(17) ONE TO MEME UP. William Shatner tweeted a photo of him inside one of the new SpaceX spacesuits and said he's available if NASA wants him.
(18) WAVE OFFERING. "'Cannabis burned during worship' by ancient Israelites"
Ancient Israelites burned cannabis as part of their religious rituals, an archaeological study has found.

A well-preserved substance found in a 2,700-year-old temple in Tel Arad has been identified as cannabis, including its psychoactive compound THC.

Researchers concluded that cannabis may have been burned in order to induce a high among worshippers.

This is the first evidence of psychotropic drugs being used in early Jewish worship, Israeli media report.

The temple was first discovered in the Negev desert, about 95km (59 miles) south of Tel Aviv, in the 1960s.

In the latest study, published in Tel Aviv University's archaeological journal, archaeologists say two limestone altars had been buried within the shrine.

Thanks in part to the dry climate, and to the burial, the remains of burnt offerings were preserved on top of these altars.
(19) ASSUMING THIS IS YOUR IDEA OF COOL. "When Covid-19 hit, zookeeper Caitlin Henderson ended up in lockdown with 70 spiders" — video with lots of cool closeups.
Caitlin Henderson was working for a spider exhibition when the coronavirus pandemic hit. The venue closed, and suddenly she was living in lockdown with 70 spiders in her bedroom.
(20) BACK IN THE DAY. Superman serial star Kirk Alyn plays baseball with other movie celebrities of 1950, including Hopalong Cassidy, in this Paramount News feature.
[Thanks to John King Tarpinian, John Hertz, JJ, Chip Hitchcock, Michael Toman, Mike Kennedy, Martin Morse Wooster, Nina Shepardson, John A Arkansawyer, Cat Eldridge, and Andrew Porter. Title credit belongs to File 770 contributing editor of the day Daniel Dern.]