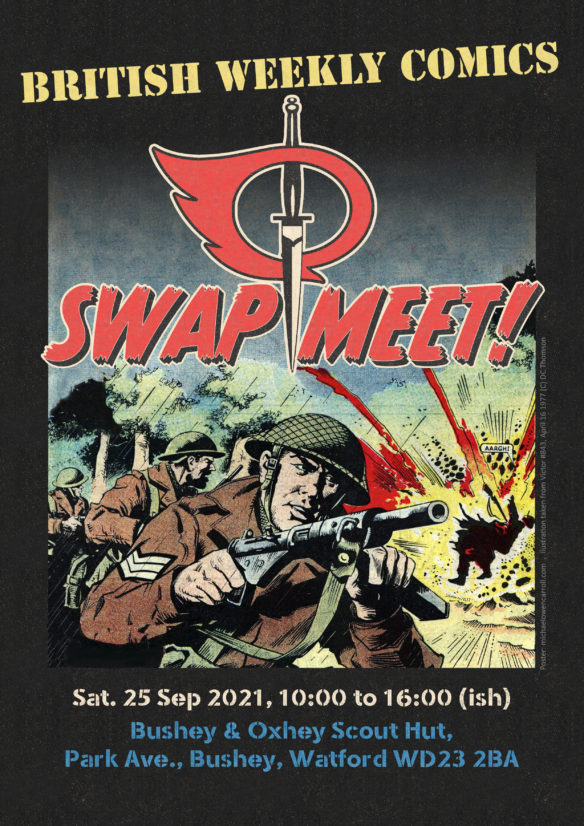 Saturday 25th September 
Bushey and Oxhey Scout Hut
Park Ave. Bushey, Watford.
WD23 2BA
By James Bacon: Join comic book fans at the 7th Commando Comic Swap meet, an old school event in suburban Watford where thousands of British weeklies and digest comics will be on sale, at very affordable prices.
Being organized with profits going to the Scout Hut, the volunteers organizing the event welcome dealers, and with tables only a tenner, it's a very affordable way to sell comics.
Entry is a £1.
Alan Hebden will be along for the day. Alan who has written for Commando, Victor, Starlord, 2000AD and most recently had a story in The Battle special from Rebellion, and created fan favorites Major Easy, El Mestizo and Fighting Mann.
With Commando Comics trading for 50p, and weeklies at a variety of prices, not only is it a chance to fill up your collection, but an opportunity for new collectors to make a decent start on doing so while finding or reconnecting with incredibly good story telling and fabulous art.
This as a small but excellent comic event offering exceptionally good value, and a level of friendly helpful expertise with most sellers collectors themselves or only too happy to engage and chat about shared interest and passion.
(Further details can be found on the Commando Comic Collectors Facebook group, but you have to join the group to get access.)