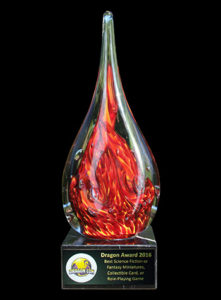 What did the winners of Dragon Con's new Dragon Award have to say about winning? Here are some statements they posted.
Larry Correia: "Son of the Black Sword Wins the 1st Annual Dragon Award for Best Fantasy" on Monster Hunter Nation
Son of the Black Sword won the inaugural Dragon Award for best fantasy. I want to congratulate all of the other nominees and winners. There were some truly fantastic stories to choose from. There were a lot of talented creators up for awards, and it is an honor just to be considered.

I want to thank my fans for voting, because they are absolutely amazing. I have the best fans ever. I wouldn't trade my fanbase for anyone's (and my fans are better armed too).  I love you guys. Seriously. You are a bunch of bad asses.

I want to thank Toni and the good folks at Baen for putting together one hell of a book, and being awesome to work with.

And thank you, DragonCon. You guys rock. You saw the need for an award that represented all of fandom, and you stepped up. Thank you for all of the hard work this must have been. You did a great job.
John C. Wright: "The Voice of the Dragon"
The Dragon Awards were given out today. Guess who won for best science fiction novel? Yup, it surprised me, too.

This makes me the Frank Herbert of the Dragon. If you recall, he won the first ever Nebula award for best SF novel….

If and when they make Sad Puppies into a movie, the first scene will be Larry Correia being spurned and scorned by the Dursleys from HARRY POTTER and the Morlocks from the TIME MACHINE and all the villains from Ayn Rand and Charles Dickens put together. They will insult him due to his politics, lie and say it is not due to his politics, lie and call Brad Togersen a racist (even though he is married to a black woman) lie and have their lies repeated in the press, and lie, and lie and lie.

And this, this will be the last scene. Sarah Hoyt, dressed as Princess Leia, will give Larry a medal, and Tom Kratman, dressed as a wookie, will roar, the space soldiers will all salute, and the John William's music will soar into a triumphant crescendo of horns and drums.
Brian Niemeier: How I Predicted that Souldancer Would Win a Dragon Award
Yesterday I announced that my SF/Horror book Souldancer has won the first annual Dragon Award in the Best Horror Novel category. Winning the Dragon, which  truly reflects SF fans' preferences, has been a great honor and a tremendous pleasure. But it wasn't a surprise. Two weeks ago I predicted that the fans would choose Souldancer as this year's best horror novel. Making a call like that is risky. The public eye is on SFF, and the internet is forever, so if you want to pull a Babe Ruth you'd better know what you're doing. Fortunately there were plenty of signs pointing toward a Souldancer win. Not only that, my friends can tell you that I predicted a blowout in favor of Somewhither, Son of the Black Sword, and Ctrl-Alt-Revolt! If you knew where to look, you could see the writing on the wall in the weeks leading up to Dragon Con. Here are a few of the omens that indicated how the awards would turn out….
Michael O'Brien: "Call of Cthulhu Wins at Inaugural Dragon Awards" at Chaosium Inc.
We're delighted that Call of Cthulhu 7th Edition won the inaugural award in the Best Science Fiction or Fantasy Miniatures/Collectible Card/Role Playing Game category at Dragon Con in Atlanta last weekend.

Many thanks to the Dragon Con attendees and Call of Cthulhu fans worldwide who supported the nomination!
Plus bonus statements from a couple of nominees about not winning.
Declan Finn: The First Annual Dragon Awards on The Catholic Geeks
Best Horror Novel Souldancer by Brian Niemeier

I wasn't shocked. It was such an obvious win that even the publisher Vox Day, when commenting paragraphs on other choices, only said, "Sorry Declan, you're screwed."
Marko Kloos: "the dragon awards have been dragon-awarded"
NEWSFLASH: I did not win the Dragon Award for Best Military SF Novel. David Weber did, and congratulations to him. Congratulations also to Larry Correia, whose SON OF THE BLACK SWORD won the award for Best Fantasy Novel.

(I didn't expect to beat David on votes because he has a lot more fans and a lot more books out than I do, and I am but an egg in the genre.)