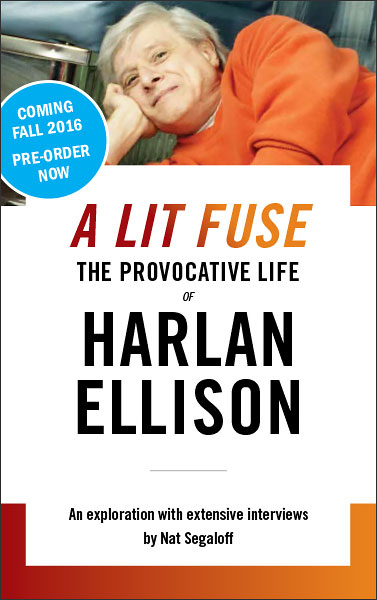 The NESFA Press will release a limited edition of A Lit Fuse: The Provocative Life of Harlan Ellison, An Exploration by Nat Segaloff in late Fall 2016, followed by a general hardcover edition in early Spring 2017.
Written over the course of five years, consisting of exhaustive and exclusive interviews with Ellison, his colleagues, his family, his friends, and his enemies, A Lit Fuse will be published in a 500-copy limited special edition this fall (2016). The limited edition is now available for pre-order at $75 from NESFA Press. A general hardcover edition is expected by early Spring, 2017. The slipcased special limited edition will include features not available in the general edition.
"A Lit Fuse is authorized, but that doesn't mean it's a hagiography," says Segaloff. Of course Ellison wouldn't want a hagiography. If you clean up and smooth over all the controversy, the face-to-face throwdowns, the litigation, all the let-me-show-you-who's-in-charge-here moments in his career, while you'd still have a lot of really fine stories to talk about, Harlan Ellison the human being would have disappeared in the process.
Those interviewed for the bio include Neil Gaiman, Patton Oswalt, Peter David, David Gerrold, Robert Sawyer, Michael Scott, Edward Asner, Leonard Nimoy, Ed Bryant, Alan Brennert, J. Michael Straczynski, Robert Silverberg, Paul Krassner, and Walter Koenig. Segaloff also conducted the Emmy Legends interview with Harlan Ellison for the Archive of American Television.
The press release, following the no-hagiogrphy theme, says, "Of particular note are an analysis of the Connie Willis controversy, the infamous dead gopher story, allegedly pushing a fan down an elevator shaft, and the final word on The Last Dangerous Visions." But mentioning the Connie Willis episode leads me to say, if it's going to be anything but a faithful recitation of Ellison's version of events I'll believe it when I see it. As for Last Dangerous Visions, what else can the last word be than, "Nevermore"?
If I am not an uncritical Ellison fan, I have certainly enjoyed the decades of drama and entertainment he has delivered. Therefore, the kind of bio I want to read about him isn't going to be a relentless ideological ripping, or a literary deconstruction. Judging from Nat Segaloff's resume, he seems likely to strike the balance where I want it. He's written bios of entertainment industry figures like Arthur Penn, William Friedkin, and Stirling Silliphant, and produced documentaries on Stan Lee, John Belushi, Larry King, and Shari Lewis & Lamb Chop.
Tracing the fractious Ellison's life and career – and including, for the first time with permission, excerpts from his work –  the biography explores his fears, his demons, and his doubts as well as his principles, his hopes, and his triumphs. "It is, without question, the most vulnerable and intimate he has ever allowed himself to appear in print," Segaloff says. "This is a portrait of the man and his intensely personal creative process, not the usual list of lawsuits, melees, or tantrums, although they're in here, too."
By the way, it's the NESFA Press that calls this a biography. In Michael A. Ventrella's interview with author Nat Segaloff, Segaloff coyly emphasized that his title does not include the word biography.
VENTRELLA: Tell us about the Harlan Ellison book!

SEGALOFF: It was after he read my Arthur Penn book that Harlan (whom I had known since I directed my Stan Lee documentary) asked me if I would be interested in writing his. He barely finished the question when I said Yes. It's due out later this year from NESFA Press – the New England Science Fiction Association – and will be a very different book than people are expecting. Everyone who knows Harlan Ellison knows that he is combative, precise, relentless, and brilliant. My book probes the roots of those traits and led both of us into highly personal areas that reveal him as few have ever seen. We're calling it A LIT FUSE: THE PROVOCATIVE LIFE OF HARLAN ELLISON, AN EXPLORATION BY NAT SEGALOFF. Note that it doesn't have the word biography in the title. I don't know what kind of book it is. Yes I do. It's Harlan.
A LIT FUSE: THE PROVOCATIVE LIFE OF HARLAN ELLISON, AN EXPLORATION BY NAT SEGALOFF
Table of Contents
Foreword
Preface and Acknowledgments
Prologue
Chapter 1: Morning in the Sunken Cathedral
Chapter 2: First Contact
Chapter 3: Harlan in Wonderland
Chapter 4: Marriage Ain't Nothin' But Love Misspelled
Chapter 5: Science Friction
Chapter 6: Teats for Two
Chapter 7: All the Lies That Are His Life
Chapter 8: The Cordwainer Chronicles
Chapter 9: Aye, Robot
Chapter 10: The Snit on the Edge of Forever
Chapter 11: The Voice in the Wilderness
Chapter 12: The Collector
Chapter 13: Repent, Harlan!
Chapter 14: The Rabbit Whole
Chapter 15: The Lost Dangerous Visions
Chapter 16: The Flight of the Deathbird
Epilogue
Afterword
Appendix A: Harlan Ellison on Writing: A Conversation
Appendix B: Unrealized Projects (Unproduced Teleplays, Screenplays, and Treatments)
Appendix C: Awards
Appendix C: Interiews
Selected Bibliography
Index