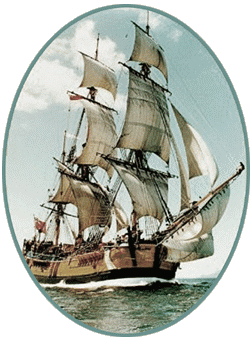 The Endeavour Award has named the finalists and judges for books published in 2021. A panel of judges will select the winner, to be presented at Norwescon 45, April 6-9, held in SeaTac, Washington at the DoubleTree Hotel. The finalists are:
Calculated Risks by Seanan McGuire (Daw)
On Fragile Waves by E. Lily Yu (Erewhon Books)
How to Get to Apocalypse by Erica L. Satifka (Fairwood Press)
Jade Legacy by Fonda Lee (Orbit)
Blood of the Chosen by Django Wexler (Orbit)
The award encourages the growth of literature in the field and recognize works of excellence. It is named for H.M. Bark Endeavour, the ship of Northwest explorer Capt. James Cook. It is accompanied by a grant of $1,000 to the winner.
The 2021 Award judges are Fran Wilde, Andy Duncan, and Catherine Asaro.
Fran Wilde: Two-time Nebula Award-winner Fran Wilde has (so far) published seven novels, a poetry collection, and over 50 short stories for adults, teens, and kids. Her stories have been finalists for six Nebula Awards, a World Fantasy Award, four Hugo Awards, four Locus Awards, and a Lodestar. They include her Nebula- and Compton Crook-winning debut novel Updraft, and her Nebula-winning, Best of NPR 2019, debut Middle Grade novel Riverland. Her short stories appear in Asimov's Science Fiction, Tor.com, Beneath Ceaseless Skies, Shimmer, Nature, Uncanny Magazine, and multiple years' best anthologies. Fran teaches for Vermont College of Fine Arts' WFCMYA MFA and the Genre Fiction MFA concentration at Western Colorado University and also writes nonfiction for publications including The Washington Post, The New York Times, and Tor.com. You can find her on Twitter, Instagram, Facebook, and at franwilde.net.
Andy Duncan: Andy Duncan's fiction has been honored with a Nebula Award, a Theodore Sturgeon Memorial Award and three World Fantasy Awards. A graduate of Clarion West in Seattle, he is a tenured writing professor at Frostburg State University and a frequent instructor at the Clarion and Clarion West workshops. His latest collection is AN AGENT OF UTOPIA, from Small Beer Press and Recorded Books.
Catherine Asaro: Catherine Asaro has authored about thirty books, including science fiction, thrillers, and fantasy. Her novel The Quantum Rose and novella "The Spacetime Pool" both won the Nebula® Award. She is a multiple Hugo nominee and a multiple winner of the AnLab from Analog magazine. Her most recent book is The Jigsaw Assassin, a science fiction mystery. Catherine has a doctorate in chemical physics from Harvard and a BS in chemistry from UCLA. Her paper "Complex Speeds and Special Relativity" (The American Journal of Physics, April 1996) forms the basis for some of the science in her fiction. She directed the Chesapeake Math Program for many years. Her students distinguished themselves in many national programs, including the USA Mathematical Olympiad, the USA Physics Olympiad, and the Harvard-MIT Math Contest. Catherine has appeared as a speaker at many institutions and as a Guest of Honor at cons across the US and abroad. She served two terms as president for SFWA and is a member of SIGMA, a think tank that advises the government as to future trends affecting national security. She also appears as a vocalist at clubs and conventions. Her most recent single, the Celtic- themed song Ancient Ages (written by Arlan Andrews) placed on the Blast-FM top 100 in 2020.
Submissions will soon open for the Endeavour Award for books published in 2022. The award welcomes submissions of all science fiction or fantasy works of 40,000 words or more, or single-author collections of short fiction. The author(s) must have legal or physical residence in the Pacific Northwest [Alaska, Oregon, Washington, Idaho, The Yukon, and British Columbia] when the publisher accepted the book and must affirm that they wrote the majority of the book while living in the Pacific Northwest.
[Based on a press release.]