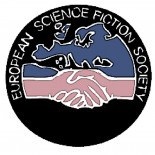 The European Science Fiction Association released the 2020 nominees for the ESFS Achievement Awards and the ESFS Hall of Fame Awards on September 13.
The Hall of Fame award celebrates lifetime contributions while the Chrysalis award recognizes authors who have emerged in the past three years.
The winners will be selected at the next general meeting of the ESFS, which will take place (online) during Futuricon, the 2020 Eurocon, which will be held October 2-4.
Note: The nominating country is listed, which in some cases is not the country associated with the work. For links related to each nominee, see here. Some names have been done as screencaps to work around WordPress' failure to support certain special characters.
BEST WORK OF ART NOMINATIONS
AUSTRIA
Däniken zum Schmunzel by Reinhard Habeck
"Däniken zum Schmunzeln" is a comic book inspired by the works of the Swiss author Erich von Däniken. While his books claim to be science, mainly palaeoastronomy, Reinhard Habeck turns those wild theories into funny comics of speculative fiction, very often featuring a loveable alien character.
CROATIA
As quoted by the artist herself: "Although these photographs look as abstract expression of colors and shapes, for me they represent a search for broader spaces, wider horizons, and a proof that even between the four walls of your room you could travel far with your imagination."
FRANCE
Utopiales19 book cover, by Mathieu BABLET
The cover of this anthology (Utopiales 19) comes from the same-name festival's poster of that year. It is by Mathieu Bablet, comics author and illustrator (France, 1987-). He was the invited artist with a large art show. His 31 works translated in 6 languages works include The Beautiful Death, DoggyBags, Shangri-La…
IRELAND
The Dublin 2019 Hugo Award bases
The Dublin 2019 Hugo bases were created by Eleanor Wheeler, based on a design by Jim Fitzpatrick.
ITALY
Maurizio Manzieri – Poster for Cartoons on the bay
World famous Italian illustrator. Poster for Cartoons on the bay 2019, the children's television animation festival promoted by Rai Com, the Italian public broadcasting company.
LUXEMBOURG
Tow & Tank (Andy Genen)
Tow & Tank is Andy Genen's latest series of comics taking a mute tow tank driver and a sentient zombie into a post-apocalyptic weird-land to discover the secret behind glyphs that the duo uncover on their journey.
RUSSIA
Cover of the anthology "Other Sky"
Cover of the anthology "Other Sky" by Sergey Shikin
SPAIN
Art for La guerra de Dios. Artist: Juan Alberto Hernández
This collection consists of nine illustrations (including the cover art) by Juan Alberto Hernández. The technique used is digital, but the strokes and the high contrast colours make the images appear as if they were oil paintings. Hernández's work is an extraordinarily accurate depiction of the fantastic world build by Kameron Hurley (as the author herself mentioned during her Spanish tour).
SWEDEN
Urtidsbilder
Simon Stålenhag is a Swedish artist is famous for his paintings. "Urtidsbilder" is his latest work with paintings of dinasaures. The text is written by Anna Davour
BEST WRITTEN WORK OF FICTION NOMINATIONS
AUSTRIA
Shape Me by Melanie Vogltanz
The "Encouragment Award"-winner 2016 Melanie Vogltanz is back with her new novel "Shape Me" about the fascinating method of body-exchange-technologies. In her story the state controlls stuff like body weight, so a fitness trainer changes her body with her clients to "shape them" with her discipline. But then her body is stolen
CROATIA
Krsnik by Ana Cerovac
A fantasy novel set in the time of Uskok wars against Venice and inspired by Istrian folklore, Krsnik is a compelling advenutre about the supernatural as much as the everyday, with stregas and curses as integral to the plot as soldiers and spies. Based on both historical research and local legends, the story is one of war, conspiracy, and the fates of both nobles and commoners alike.
FRANCE
Trois hourras pour Lady Évangeline, by Jean-Claude DUNYACH
(L'Atalante, 2019) In this space opera novel, a young girl has to merge in a alien hive to survive. Maybe what she learns in these slimy settings will allow her to help her diplomat father so they can successfully face a new menace, an intelligent interstellar cloud.
IRELAND
Luna: Moon Rising (Luna #3) by Ian McDonald
Luna: Moon Rising is the final book in the Luna trilogy.
Luna: Moon Rising was nominated for the 2020 Locus Award for Best Science Fiction Novel.
ITALY
No/Mad/Land by Francesco Verso
Last novel by Francesco Verso, finishing The Walkers story.
LUXEMBOURG
The Harm Tree by Rose Edwards
Rose Edwards is nominated for her recent publication, The Harm Tree, 'an epic fantasy set in a world still recovering from one war, and on the brink of another. The resistance is rising and dark forces stir to take back what was once theirs. Belief in the ancient gods runs strong–the sacrificial Harm Tree still stands.' (editor's synopsis)
SPAIN
Bionautas, by Cristina Jurado
Bionautas is the ordinary account of an extraordinary story, which Jurado tells in a quotidian and exquisitely simple way. The novel is a monologue, the transcription of a recording; a rather unusual and bold way to tell such a complex story. It's also an ode to nature and a reflection about relations and language, which are so inherent to any intelligent species, no matter how apart they are.
BEST DRAMATIC PRESENTATION NOMINATIONS
AUSTRIA
Little Joe
CROATIA
Slice of Life
"Slice of Life" is an original short Science Fiction film.

The whole film is made the old school way like the legendary SciFi movies of the 80's. Think miniatures, matte paintings, rear projections – You won't find any CGI here!!!

Slice Of Life is a love letter to the Science Fiction genre of the 80's. We invite you to follow our journey back to the future envisioned by the 80's!
FINLAND
Aniara
A modern take of Harry Martinson's classical poem that goes deep under the spectator's skin.
FRANCE
Terra Willy – Planète inconnue
Animated feature (90 mn, 2019)
IRELAND
Dr. Krell & The Carnyx of Terror (as performed at Dublin 2019 – An Irish Worldcon by Crazy Dog Audio Theatre)
The full performance of the live radio play Dr. Krell & The Carnyx of Terror as performed at Dublin 2019 – An Irish Worldcon by Crazy Dog Audio Theatre can be viewed on YouTube. It was written, directed and produced by Roger Gregg.
ITALY
Good Omens
Series based on Neil Gaiman and Terry Pratchett's novel of the same name.
LUXEMBOURG
Superjhemp Retörns (Felix Koch, 2018)
To save the small Luxusbourg from a cosmic catastrophy, a government clerk, himself deep in mid-life crisis, has to recover his lost superpowers and confront his biggest fear: his family.
The film is the first based on Lucien Czuga and Roger Leiners' long series of Bande Dessinee around a very Luxembourgish superhero who draws his powers from the national dish of 'boiled cheese'.
RUSSIA
The Outbreak
Epidemic is a 2019 Russian sci-fi drama television series directed by Pavel Kostomarov, based on the debut novel by Russian writer Yana Wagner, "Vongozero".
An unknown virus turns Moscow into a city of the dead. Outbreak is a family drama in the midst of a global disaster. It is one of the first post-apocalyptic TV shows in Russia.
SPAIN
Klaus, directed by Sergio Pablos
A traditionally animated Christmas adventure comedy, Klaus is an alternate origin story of Santa Claus. A truly emotional plot full, of empathy and positivity, is rounded by the outstanding performances of the voice actors. It won 7 Annie Awards, including Best Animated Feature, as well as the BAFTA award for Best Animated Film. It was also nominated to the Oscar award for Best Animated Feature.
SWEDEN
Aniara
Aniara is based on the space poem by Harry Martinsson. The directors are Pella Kagerman and Hugo Lilja
BEST FANZINE NOMINATIONS
AUSTRIA
Super Pulp #5
Austria want to intruduce "Sulper Pulp". It is horror, science-fiction and of course pulp-magazine culture!
CROATIA
FantaSTine #3
A fanzine written by young authors aimed predominantly at children and teens, with SF stories, articles and reviews, as well as interviews.
FRANCE
Présences d'esprits #96
This French Fanzine exists since 1992 (the oldest still thriving) and just reached its 100 issue !
News fanzine, published 4/year (with critics of books, comics, games and medias, and a special feature).
IRELAND
Journey Planet
A Half Pint of Flann. Edited by James Bacon, Michael Carroll, Chris Garcia, Pádraig Ó Méalóid, this issue of Journey Planet is dedicated to Flann O'Brien (aka Brian O'Nolan or Myles na gCopaleen), the Irish author of At Swim-Two-Birds and The Third Policeman.
LUXEMBOURG
Sci-Fan – Science Fiction, Fantasy and Horror Radio
1st September show in 2019

Sci-Fan has been on air at Radio ARA for over ten years and every other week provides a mix of reviews, discussions, news and music for SF, Fantasy and Horror fans.
ROMANIA
ZIN 4/19
ZIN is a fanzine of Wolf's Pack sci-fi club from Bucharest, with two magazine issues printed
in 2019.
RUSSIA
Aconitum No. 7-8, 2020
The first fanzine in Russia dedicated to weird fiction and everything adjacent.
SPAIN
Cuentos para Algernon, by Marchetto #7 (2019)
A non-profit on-line fanzine focused on increasing the exposure of short stories written in English in the Spanish market, the blog translates and publishes the stories for free (always with the owner's permission). It won the 2014 Spanish Ignotus Award for Best Website. Some of the Cuentos para Algernon's stories have been nominated for the Ignotus Awards, winning in two occasions.
BEST WORK FOR CHILDREN NOMINATIONS
AUSTRIA
Thalmus by Ursula Poznanski
"Thalamus" is a SF-thriller for teenagers. In the novel the young protagonist has a bike-accident with severe brain damage. He cannot talk and hardly control his movements anymore, but he finds out that some patients in the clinic in even worse condition walk around during the night, what seems to be the result of a futuristic experimental treatment …
CROATIA
The newest installment of the award winning series following the supernatural adventures of six teenage friends. The novel and series has been a hit with young readers and has won critical acclaim and literary awards.
FRANCE
Mers Mortes, by Aurélie WELLENSTEIN
(Scrinéo, 2019) A chilling novel on ecology. In this dark future, oceans and seas disappeared, but ghostly tides and marine fauna wraiths seek revenge on human souls.

Aurelie Wellenstein (1980-) has won many young adult awards since her first novel (2013).
IRELAND
The Invasion by Peadar Ó Guilín
The Invasion is the conclusion to the story begun in The Call. The Invasion was nominated for the 2019 Lodestar Awards (the award for YA that is part of the Hugo Awards ceremonies).
LUXEMBOURG
Illustrated Fairytales (Sabrina Kaufmann)
With Illustrated Fairytales Sabrina Kaufmann takes her Manga influenced art to the masses. Sabrina has been working as a freelance illustrator since leaving art school and this is the first major publication of this young talent.
RUSSIA
Julia Ivanova. Cycle "Charovodjie"
Seven islands are fraught with many secrets: everything here is saturated with magical power that can be controlled with the help of living stones – charonites, brave defenders riding on winged dragon-hounds patrol the sky, once driven away horsemen suddenly return to avenge long-standing grievances.
SPAIN
Rapunzel con piojos, by Miguel López "El Hematocrítico"
This is the fourth work of a series of children's books in which López takes traditional fairy tales and gives them a twist in order to use them to depict our modern world and make you think about deep issues. The book, however, is not exemplary, but extremely witty and funny. Hematocrítico's books have been translated to several languages and are very popular in Asia, mainly in South Korea.
BEST INTERNET PUBLICATION NOMINATIONS
CROATIA

Over the course of two lockdown months in Spring 2020 this webpage published new original works by Croatian SF authors, both established and new, written specifically for the page. The authors had their choice of ten very different topics, all inspired by the literary classic Decameron but with a genre twist. With 52 stories and 48 authors, this webpage was a smash hit with readers and writers.
FRANCE
ActuSF
ActuSF is a French webzine on written, movies and TV SFF news : new books, interviews, special features. It records SF conventions & festivals panels and conferences, building living archives.
The Web Forum has 224 429 messages on 21782 subjects with 2453 members. 14789 members on Facebook.
IRELAND
The Irish Fandom Community Group on Facebook
To keep the enthusiasm and momentum generated by the Dublin 2019 Worldcon going, a Facebook group was created to carry on after the Worldcon had ended, and is open to all interested in supporting Irish Fandom.
ITALY
Fantascientificast
Most important Italian podcast on science fiction.
RUSSIA
Author's blog of Vladimir Anikeev
A project that has been going on for over 6 years and is dedicated to science fiction and the Polish magazine "FANTASTYKA". The author gradually tells about the content and authors of the magazine to Russian readers. Carefully scrutinizing each issue of the magazine has made the blog an invaluable source of information on Polish science fiction.
SPAIN
La nave invisible
La Nave Invisible is a collaborative non-profit project which is focused on improving the visibility of female SFF writers. La nave is a strong team effort of over 25 people dedicated to raise awareness about female authors from all over the world through social media, essays, reviews, translated articles, interviews and a bibliographic library with over 200 entries.
2020 HALL OF FAME AWARD NOMINATIONS
BEST ARTIST NOMINATIONS
CROATIA

A master artist and illustrator whose works of art blend photography and digital art into enchanting, otherworldly collages. Popular in Croatia and abroad, with multiple books and covers under his belt.
FINLAND
Petri Hiltunen
Hiltunen has produced work in a variety of genres, but is most notable for his fantasy and horror work. He has won the prestigious Puupäähattu award in 2002, which is regarded as the highest honour for Finnish comic artists. He is also a well-known figure in Finnish science fiction fandom and a regular panelist and guest of honour at conventions, such as Finncon.
FRANCE
Philippe CAZA
CAZA (1941-) began in 1970 in comics, magazines, & drew many legendary SF covers. He also worked on the animated films Gandahar, and The Rain Children.
A long time SF fan, he conceived the Rosny (French SF) awards and often gave drawings or created posters for conventions and fandom. 
IRELAND
Iain Clark
Iain Clark created many of the stunning promotional artworks used for the Dublin 2019 WorldCon, and for the bid to host the 2024 WorldCon in Glasgow, Scotland. He created the wraparound cover of the Dublin 2019 Souvenier Book. He was nominated in the Best Fan Artist Category for the 2020 Hugo Awards.
LUXEMBOURG
Ken Barthelmey
Ken Barthelmey works mainly in Creature and Character design and his organic renderings are both fascinating and unsettling. He has worked on big productions like the Maze Runner Films, IT!, Bright, Fantastic Beasts: The Crimes of Grindlewald, The Predator, Godzilla: King of Monsters, and Detective Pikachu 
POLAND
Tomasz is a Polish artist creating astounding pictures as well as great models. When it comes to graphics he has experience in both traditional and computer graphics.
ROMANIA
Adrian Chifu
Adrian Chifu asserted himself as a writer, composer, graphic artist, director, photographer. Member of the electronic music band Urban Experience. Music albums in 1995 and 1997. Ambient and electronic music concerts, starting in 1995. Individual graphic exhibitions, from 1992. Illustrations and covers for magazines and books with sci-fi and fantasy themes.  Short films. Professional photography.
RUSSIA
Sergey Shikin
Sergey Shikin is one of the best contemporary Russian artists who designed over 100 books, including those for foreign publishing houses. Has been working with book design since the early 90s. Multiple laureate of local awards for artist. Participated in the art exhibition at the Worldcon, which took place in Dublin.
SPAIN
Enrique Corominas
Corominas has been a prominent illustrator in the Spanish fantastic scene since the 1980's and has worked for the main publishers in the country, like Gigamesh, Minotauro or Planeta. He is known for his covers for the Game of Thrones series as well as his comic books, like the Dorian Grey graphic novel, originally published in France. He is also a painter whose work is sold across Europe.
UKRAINE
Igor Baranko
Ukrainian comic artist, best known for his sardonic and sometimes scary stories.
BEST AUTHOR NOMINATIONS
AUSTRIA
Marc Elsberg
After his  past bestselling novels Marc Elsberg has released his novel "Gier". People in the whole world are demonstrating against "greed" (what is actually the meaning of the title), as they demand a socially balanced system. And then it turns into a very exciting near-future future story!
CROATIA
Milena Benini
One of key authors of Croatian SF for decades. A multi-award winnning writer, writing teacher, translator and editor, as well as geek extraordinaire, Milena Benini was a mainstay of SF conventions and a role model for many aspiring authors. Her literary work set a high bar for SF in Croatia and even though she unfortunately passed away this year, her legacy will live on for decades to come.
FINLAND
Johanna Sinisalo
Sinisalo has won the Atorox award for the best Finnish-language SF short story 7 times, and was awarded Finlandia Prize in 2000 for her first novel, which was translated as Not Before Sundown/Troll – A Love Story. It won the James Tiptree Jr. Memorial in 2004. Sinisalo was nominated for a Nebula in 2009 for her novelette Baby Doll. Examples of translated novels Blood of Angels and Core of the Sun 
FRANCE
Philippe CURVAL
Philippe Curval (1929-) is a French science fiction writer, journalist and photograph. 
Since 1960, Curval is one of the most eminent French SF writers.  He wrote more than 100 short stories and 40 novels, some translated in 14 countries, & won many awards.
He is also known for his works of science fiction criticism and as an editor.
IRELAND
Maura McHugh
Maura McHugh has written fiction (Twisted Fairy Tales, Twisted Myths, The Boughs Withered The Boughs Withered (When I Told Them My Dreams), 2000AD), comic books (2000AD, Hellboy: Witchfinder, Jennifer Wilde), radio plays (The Love of Small Appliances).
Her short story "Bone Mother" was adapted into a short stop-motion animated film. She was also a 2018 BFS Best Non-Fiction Award nominee.
ITALY
Francesco Verso
Multiple awards winner. Published in Italy, USA, UK and China.
LUXEMBOURG
Claude Peiffer
Claude Peiffer has been involved with fandom for a long time and will be intimately known to the Perry Rhodan fans for Sternenstaub which he edited between 1994 and 1997. A short story set in the Perry Rhodan universe was awarded and published in Begegnungen an der Grossen Leere in 1996. Between 2009 and 2020 he published five space opera novels in the Hammanon cycle. 
POLAND

Anna received ESFS Encouragment Award in 2007. In the years since she became really well established as one of the most important SFF writers in Poland. She won Janusz A. Zajdel Award five times. She writes both novels and shorter stories. Both her adult and YA works are a great reading. Apart from SFF she also creates crime fiction.
ROMANIA
Gheorghe Sasarman
Gheorghe Sasarman is one of the most prolific Romanian sci-fi writers of all
time. At the 1980 Italian Eurocon, Sasarman was awarded the Europa Prize for the novel 2000, translated into German and published by the Fisher Verlag PH in Munich.
Cuadratura Cercului (Squaring the Circle), published in 1978 has been translated into French, Spanish, German and English (by Ursula K. LeGuin).
RUSSIA
Victor Pelevin
Victor Pelevin is a Russian fiction writer. He is a laureate of multiple literary awards including the Russian Little Booker Prize and the Russian National Bestseller. His books are multi-layered postmodernist texts fusing elements of pop culture and esoteric philosophies while carrying conventions of the science fiction genre. Was nominated by Russia for the Nobel Prize in Literature.
SPAIN
José Carlos Somoza
José Carlos Somoza is a Spanish scriptwriter, dramatist and novelist, whose fiction has won several awards, including La Sonrisa Vertical, Café Gijón, Fernando Lara and Hammett. In 2000 his novel Dafne desvanecida was a runner-up for the Premio Nadal. Two years later, La caverna de las ideas won the Gold Dagger for the best crime novel and was translated into over twenty languages.
BEST PUBLISHER NOMINATIONS
AUSTRIA
Ohneohren
The publishing house Ohneohren, founded in 2013 by Ingrid Pointecker is specialized in speculative fiction. A focus is on so called "unpopular" topics and on supporting female authors.
CROATIA
Hangar 7
For the past decade Hangar 7 has provided a platform for Croatian authors by publishing both novels and short story collections. They have also been translating SF into Croatian, both from current writers such as Brett and Tchaikovsky as well as classics such as Lafferty, Dick and Lovecraft. They received the Artefakt award for special contribution to Croatian SF fandom.
FRANCE
L'Atalante
Famous & respected, this independant publishing house for +30 years publishes French & US authors but also many Europeans as British MOORCOK, PRATCHETT, Jamie SAWYER,  Frances HARDINGE, German ESCHBACH, Kai MEYER, Hans BEMMANN, Thomas VON STEINAECKER,  Italian GUERRINI, Ukrainian DIATCHENKOs, Spanish NEGRETE, LEDESMA, Russian GLUCKHOVSKY, Swiss Laurence SUHNER, GESSLER, ROUILLER…
& many more!
ITALY
Zona 42
Young small publisher dedicated to quality international science fiction.
LUXEMBOURG
Robert 'Gollo' Steffen
Robert Steffen edited the first, and so far only, science fiction collection in Luxembourg with contributions in German, French and English, bringing together 20 authors and artists in 1979.
POLAND
Wydawnictwo MAG
Wydawnictwo MAG was established in 1993. They publish both SF and Fantasy books. MAG publishes almost exclusively translations. They published books by Robin Hobb, Neil Gaiman, Brandon Sanderson, Cassandra Clare, Ada Palmer, and many more. Their books have excellent covers – many of them created by very talented artists from Poland.
ROMANIA
PAVCON
Founded in 2002 in Bucharest, publishing marketing and education books.
In 2016 Pavcon founded the Science-Fiction Collection, publishing only Romanian authors. Distinguished in 2018 and 2020, with the ROMCON award for the best sci-fi publishing house. Many of the published authors have been awarded with national prizes. Since 2020 Pavcon has started publishing Romanian authors on Amazon.
RUSSIA
Fanzon
It is an imprint of the Eksmo publishing holding, founded in 2016. Fanzon publishes contemporary world fiction. The authors are Joe Abercrombie, Christopher Priest, Liu Cixin, Neal Stephenson, China Mieville, Patrick Rothfuss, Michael Swanwick, James Corey and many others. Also publishes contemporary comics.
SPAIN
Crononauta
Crononauta is a Spanish non-profit independent publisher that showcases feminist science fiction, fantasy and horror literature. They also focus on stories that depict diversity in every way. As publishers of the Binti series, by Nnedi Okorafor, in Spanish, they were honoured with the Ignotus Award for Best Foreign Story in 2019.
BEST PROMOTER NOMINATIONS
CROATIA
Vesna is a writer, a librarian and a passionate cheerleader of SF in Croatia. She organized promotions for SF writers in libraries, and was active in literary workshops and the local NaNoWriMo scene. She was one of the editors of Decameron 2020. She has been organizing educational SF-related larps and workshops and book clubs for children and young adult.
FRANCE
Raymond MILÉSI
French SF writer, anthologist (Mouvances) & active fan for almost 40 years. 
He went to the 2nd French SF national convention (1975) & only missed 4 since!?
Since 1988, he is responsible for their attribution vote and the guardian of their smooth running.
He receives the Cyrano special award in 2018 in Amiens for his writings and his commitment to SF fandom and genre.
IRELAND
Marguerite Smith
Marguerite Smith was the co-division head of Promotions for the Dublin 2019 Worldcon. Many people were involved with promoting the con, but Marguerite was involved from the start of the bid to the very end of the con. Bid Parties, con flyers, social media – her management of the Bid and Con's promotion and Social Media strategy cannot be understated.
ITALY
Deep Space One
No profit association dedicated to promoting science fiction in Italy. Founded more than 20 years ago. Eurocon organizer in 2009 and 2020.
LUXEUMBOURG
Gérard Kraus
Gérard Kraus was a founding member of Luxembourg's Science Fiction and Fantasy Society in 1995 and has been working towards making science fiction, fantasy and horror in its different media more popular. 
He is the current president of SFFS Luxembourg, the chair of LuxCon, holds an MA in Science Fiction Studies from the University of Liverpool.
RUSSIA
Alexey Karavaev
Author is studying the history of the formation and development of the genre in Russia and the USSR, richly illustrated materials of these studies are published in the form of colorful albums in the series "How fiction was published in the USSR". Cultural phenomena of the Soviet book subculture as the special book series an the magazines are considered in detail in this albums.
SPAIN
Cristina Jurado
A translator, editor and multiple award-winning author, Jurado has contributed to the promotion of SFF in many ways; she founded 'Supersonic', the ESF award winning magazine; she has been the editor of several anthologies, many of them focused on women's work in SFF and horror; she works in the new bilingual mag 'Constelación', and co-edited The Apex Book of World SF#5.
UKRAINE
Yuri Shevela
Old fan. Bibliographer of Ukrainian SF and fantasy. Founder of unique Museum of SF and SF.
BEST MAGAZINE NOMINATIONS
CROATIA
Sirius B
Since 2011 it has been the only Croatian SF magazine publishing
both translations of current and classic authors, as well as stories by current Croatian authors.
FRANCE
Gandahar
Gandahar is a  quaterly magazine, published since 2014 by Jean-Pierre
Fontana and Christine Brignon. They publish illustrated short stories.
ITALY
IF – Insolito e Fantastico
One of the Italian Science Fiction magazine.
POLAND
Esensja
Esensja is an online pop-culture magazine published since 2000 and available for free. They publish mainly reviews and other articles but it is not uncommon to find there short stories as well.
They write about books, movies, games, music and more. Although they are not limited to SFF it is the main field of their interest.
ROMANIA
Helion
Helion is a distinguished SF magazine, published by Helion Club Timisoara.
In recent years, six printed issues were published annually.

Some of its long-standing columns are Laborator SF (SF
(Lab), Cronica de familie (Family Review) Alternative (Alternatives),
Meridian SF (SF Meridian), Fototeca (Photo Gallery).

RUSSIA
Mu Cephei
Science fiction almanac based on the print on demand platform. A publication for experiments with style and genre diversity: SF and fantasy, magrealism and cosmoopera, sur and horror … A cut of Russian-language fiction here-and-now. Each issue is dedicated to one topic. Distributed electronically (free of charge) and in print.
Chief editor: Alexandra Zlotnitskaya.
SPAIN
Tantrum
Tantrum is a Spanish quarterly magazine, featuring short stories and serial novels focused on a strong sense of wonder. Its compact and contemporary design revisits the concept of pocketbooks. The magazine has been nominated to the Ignotus Awards in 2020.
BEST TRANSLATOR NOMINATIONS
CROATIA

FRANCE
Michelle CHARRIER
ITALY
Silvia Castoldi
ROMANIA
Silviu Genescu
RUSSIA
SPAIN
Pilar Ramírez Tello
CHRYSALIS AWARD
AUSTRIA
Caroline Hofstätter
Caroline Hofstätter debuted just in 2019 with a short story in the German magazine "phantastisch!", but it didn't take long to have a print of her first science-fiction novel "Das Ewigkeits-Projekt" at the publishing house Atlantis in her hands. Her story deals with living in a virtual world – a topic more current than ever!
CROATIA
Zoe Penn
The Library of Secrets is the first novel by young Croatian author Zoe Penn.  It was described by reviewers as "highly creative", "Indiana Jones for a younger audience" and "filled with characters both human and fantastic, and spiced with many enjoyable twists and turns".

Zoe Penn describes herself as a writer, reader, coder and a passionate puzzle solver, which inspired her novel.
FINLAND
Edmund Schluessel
A long-short story A Funeral for Massachusetts

Technically, it's eldritch horror. Under that is the alien-ness of life outside the city to city dwellers, and the inevitability of seeing yourself in that unknown if you look.
FRANCE
Chloé VEILLARD
Concept artist / character Artist / editor.

SF magazine cover and illustrations.

Also working on for Video Games, Animation Movie, AAA Games, Advertising.
IRELAND
Oein DeBhairduin
Oein DeBhairduin's first book was published in September 2020. "Why The Moon Travels" is a collection of  tales of spirits, giants and fairies rooted in the oral tradition of the Irish Traveller community, collected throughout his childhood and retold by Oein.
ITALY
Linda De Santi
Promising young talented author published by Urania.
LUXEMBOURG
Jean Bürlesk
Jean Bürlesk is emerging as the first in a range of voices in the nascent field of Luxembourg Science Fiction and Fantasy Literature. He is the recipient of the encouragement award of Luxembourg's national Servais literature award. 
His short story collection The Pleasure Of Drowning is out from Luna Press.
ROMANIA
DIANA ALZNER
Diana Alzner – young author launched in recent years in the Romanian sci-fi. Debut in 2009. She published many stories in sci-fi genre magazines. Debut in 2018 with the novel "Tunnel at the end of the world" (Pavcon). In 2019 she published at the short stories volume TROVANTUL, both awarded with the National Prize for
Sci-Fi in 2019 and 2020. She currently works as a teacher in Ramnicu-Valcea.
RUSSIA
Olga Rejn
Olga Rajn is a social fiction, fantasy and magical realism writer. Author of numerous stories. In 2017 and 2019, short story collections were printed special project – paired stories female with male authors. The first author's collection and the first author's novel were published in 2020.
SPAIN
Haizea Zubieta
A young Spanish author and former cosplayer, Zubieta's short stories and first novel, 'Infinitas', have become very popular among YA readers. A second novel, 'Tocar el cielo' –an urban fantasy, vampire story located in Madrid–, was released in July 2020 and a third book will be published in 2021. Zubieta is a women rights' and LGTB+ activist who also works as a sensitivity reader.
UKRAINE
Volodymyr Kuznietsov
Ukrainian sci-fi/horror writer, game designer, comix writer, and metal musician
[Thanks to Edmund Schluessel for the story.]