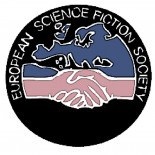 The European Science Fiction Association released the 2021 nominees for the ESFS Achievement Awards and the ESFS Hall of Fame Awards on June 29.
The Hall of Fame award celebrates lifetime contributions.
The winners of these awards will be selected at the next general meeting of the ESFS, which will take place at Eurocon 2021 which takes place from July 15-18 in Fiuggi, Italy.
Note: The nominating country is listed, which in some cases is not the country associated with the work. For links related to each nominee, see here. Some names have been done as screencaps to work around WordPress' failure to support certain special characters.
The nominations for the ESFS Achievement Awards and ESFS Hall of Fame Awards follow the jump. There is also a link to the ESFS Awards website for each award, which has links to additional resources about the nominees.
NOMINATIONS FOR THE ACHIEVEMENT AWARDS
Nominations for the Achievement Awards
BEST WORK OF ART NOMINATIONS
BULGARIA
Cover art for "Night Shift" by Peter Stanimirov
Night Shift is a choose-your-own-adventure book by Victoria Hancocks – a book in which you are NOT the hero but a simple medical worker thrown into the worst of nightmares. Peter Stanimirov is one of the veteran cover artists and illustrators of the contemporary Bulgarian visual arts genre scene. This cover art won the 2nd place at the Bulgarian game-books award Motley Niksa 2020.
CROATIA
Animosities (comic book)
Korina Hunjak is a Croatian artist that worked on many book covers and comics.Her comic Animosities tells a story of love and shapeshifter family that does not quite fit in the society
FRANCE
"L'Héliotrope" book cover by Vaderetro
First of two 2020 YA novels by E. S. Green, a French woman author.Vaderetro is Alexandre Debelloir & Julian Santus, illustrators & graphic designers. Working for music, edition & brands, their visual production mostly inherits from ancient engraving.They won the last « Grand Prix de l'Imaginaire » for best work of art for these « Steam Sailors » series covers. https://vaderetrostudio.com
IRELAND
Savage Her Reply (Illustrations)
Karen Vaughn is a Dublin based illustrator. Her ornate pen and ink illustrations for "Savage Her Reply" by Deirdre Sullivan have garnered high praise from readers and reviewers.
ITALY
Cover for Seven of Infinities by Aliette de Bodard, illustrated by Maurizio Manzieri
Amazing illustrator with a long career of success. This year he's been nominated for a Hugo Award.
LUXEMBOURG
Fortific(a)tions
The graphic novel is a unique collaboration between Luxembourg's leading comic book artists, illustrators and writers who tell the (often supernatural) stories of and surrounding the capital's fortifications.
RUSSIA
Ilya Muromets (comics)
"Ilya Muromets" is a graphic novel based on Old Russian epics. A dark black and white story about a mysterious hero who will no longer stand aside! The mysterious atmosphere of Ancient Russia, cruel fights, dense forests, impenetrable swamps, danger in every creak of branches, as well as harsh treacherous opponents waiting for the moment to strike…
BEST WRITTEN WORK OF FICTION NOMINATIONS
AUSTRIA
Die maschinellen Technokraten by Joachim Angerer
"Die maschinellen Technokraten" sets place in a future world. Everyone is connected to Ino, some kind of "super-internet" and most by a brain implant. The protagonist, a retired police officer is not. During a murder case a lot of questions of philosophical nature arise.
BULGARIA
"Seven Urban Sins" by Blagoy Ivanov
Blagoy Ivanov, author and movie critic, joins forces with artist Petar Stanimirov to create a special kind of a book beast, with no analogue in Bulgaria. The graphic novel Seven Urban Sins contains seven comic stories that open the gates of Hell hidden in human souls; seven adventures in the darkness, immersing the reader in a black and white but terribly beautiful world… 
CROATIA
Mistress of Geese is a collection of folk horror tales about isolation, loneliness, destructive powers of nature, magic, and creatures lurking in the dark.The titular story was shortlisted for the oldest Croatian genre award, SFERA, in a category of Story.
FRANCE
Quitter les monts d'automne, by Émilie Querbalec
(Albin Michel Imaginaire, 2020) In a far-future interstellar Empire where written words have disappeared, we follow Kairi, who inherits a forbidden calligraphic scroll. The author was born and grew up in Japan and it inspired this novel. Memory and alienation are here important issues.
IRELAND
"Psyche" by Maura McHugh
"Psyche" is a novella in Rebellion Publishing's Judges series, which details the genesis of what will eventually become Psi-Division in the 2000 AD / Judge Dredd universe.
ITALY
Bloodbusters by Francesco Verso, translated by Sally McCorry
The original novel in Italian was the Co-Winner of 2015 Urania Award. First Italian novel to be published in Italy, UK and China. "Full of savage humour, Francesco Verso imagines a tax system based upon blood. Weirdly, Bloodbusters is plausible and powerfully written, a high-spirited page-turner thanks to a great translation by Sally McCorry. Definitely this is the book to read after a holiday in Rome." Ian Watson,
LUXEMBOURG
The Harm Tree (Rose Edwards)
Friends sent away by their families work together and watch out for each other. Too young to remember the war that tore apart the kingdom, Torny dreams of the glorious warriors of old, while Ebba misses her family, despite the darkness she left behind.But when a man is murdered on the street and Torny finds herself in possession of a dangerous message, the two friends must tread separate paths.
MONTENEGRO
Firentinski dublet by Goran Skrobonja, Ivan Nesic
[No description]
POLAND
Radek's novel (A Tale of the Serpent Heart, or yet another word bout Jakób Szela) is a great work of Fantasy. Although it is a genre novel it was not only seen but also appreciated by the mainstream critics. The book received multiple awards – including SFF related Janusz A. Zajdel Award and Jerzy Zulawski Award. Radek also won Nike Award – one of the most prestigious awards in Polish literature.
RUSSIA
Star Fire by Natalia Osoianu. "Children of the Great Storm" trilogy
The second novel in the "Children of the Great Storm" trilogy telling about the world of endless ocean spaces and countless islands, inhabited, in addition to people, by amazing creatures, among which the most extraordinary are living ships capable of entering into a mental connection with their navigators.
BEST DRAMATIC PRESENTATION NOMINATIONS
AUSTRIA
Little Joe (directed by Jessica Hauser)
"Little Joe" is a science-fiction movie in English language by the Austrian director Jessica Hauser. The protagonist works for an enterprise breeding plants. Her new project is a genetically changed plant that can make people happy. So she decides to bring one of those flowers which she calls "Little Joe" home as a present for her son – and then the horror begins …
BULGARIA
Promotional video of AniVenture ComicCon 2019
Aniventure ComicCon is among the biggest festivals in Bulgaria, catering to fans of anime, cosplay, comics, gaming, street art, etc, in the country. The 2019 edition gathered 29K visitors participating in various contests and tournaments, with special guests from Marvel and DC. The nomination is for the promotional video of the event as an SFF communication tool ..
CROATIA
Experimental dance film Pulsar thematically relies upon the vastness of space and next to it issues of science fiction realizations, which are inspired by literary and film classics of that genre. Choreographic exploration of the body that adjusts to the changed physical conditions, different gravitation and unknown biospheres reflects characteristics of pulsars especially quick rotation, spiral movement, contracting and pulsating.
FRANCE
Poissonsexe
2020, 89 minutes (Fishlove) – Directed by Olivier Babinet with Gustave Kervern and India Hair.Funny, moving, a sensitive take of a quiet end of the world: French Atlantic coast. Near Future. Fish can no longer reproduce. A biologist finds love and a very special fish.English trailer: https://youtu.be/inYjv9UB_sQ
IRELAND
Wolfwalkers
Wolfwalkers is a 2020 animated fantasy adventure film directed by Tomm Moore and Ross Stewart. It won five Annie Awards including Best Director for Moore and Stewart and Best Independent Animated Feature. It also received the nominations for Best Animated Feature Film at the Academy Awards, Golden Globe Awards and BAFTA Awards.
ITALY
Pinocchio by Matteo Garrone
Pinocchio by Matteo Garrone starring Roberto Benigni.A classic of Italian fantastic literature by Carlo Collodi turned into a wonderful visual experience.Nominated for many International Movie Awards.
LUXEMBOURG
Tune Into the Future
Meet the most influential nerd you may never have heard of: Hugo Gernsback. Decades in advance he foresaw Skype, jetpacks, space mining and drones. His most influential invention remains Science Fiction. Gernsback planted the seeds for pop-culture phenomena such as Superman, Star Wars and a whole nation's obsession with UFOs.
RUSSIA
Russian Cyberpunk Farm
The Birchpunk studio, a team of artists from Russian, shared their project that tells a story about a farm in the future. The farm is swarmed with robots and new technologies and located on Mars.
UKRAINE
Chornobyldorf: An Archaeological Opera
Descendants of mankind, who survived a series of man-made, epidemic and climatic catastrophes, are building a post-apocalyptic settlement on the ruins of a nuclear power plant. Composers: Roman Grygoriv and Illia Razumeiko, performed by Nova Opera.
BEST FANZINE NOMINATIONS
AUSTRIA
Super Pulp #5
Austria wants to introduce "Super Pulp". It is horror, science-fiction and of course pulp-magazine culture!
BULGARIA
ShadowDance #1: CYBERPUNK
The first printed issue of the venerable digital outlet ShadowDance tackles the history, philosophy and aesthetics of cyberpunk on over 270 pages with beautiful design and a mix of fiction, essays and reviews. Written by an ensemble cast and funded by the crowd, it ties in a diverse palette of topics related to cyberpunk, such as David Bowie, transhumanism and other *punk genres… [more on link]
FRANCE
Présences d'esprits no. 100, Spring 2020
This French Fanzine exists since 1992 (the oldest still thriving) and just reached its 100 issue !It is the oldest french news fanzine, published 4/year (with critics of books, comics, games and medias, and a special feature).4 issues in 2020, the n°100 is nominated.Présences d'Esprits special n°100, spring 2020, 84 pages.https://fr.wikipedia.org/wiki/Club_présences_d%27esprits
IRELAND
Journey Planet #55 "Russian Space"
A bilingual issue of Journey Planet, all about the Russian Space Program.
MONTENEGRO
Galaxy 42 #4
The Galaxy 42 is a F&SF literature and art magazine. They publish the following categories: F&SF prose & poetry, essays, science articles, book or film reviews, music, films, visual art and graphics. G42 is coordinated by Alexandru Lamba, Daniel Timariu, and Cristian Vicol.
RUSSIA
Journey Planet #55 "Russian Space"
[See above description]
BEST WORK FOR CHILDREN NOMINATIONS
AUSTRIA
"Sie werden dich verraten by Andreas Gruber
"Code Genesis" is a trilogy finished in 2020 with "Sie werden dich verraten". In this adventurous story a teenager girl who grows up on a submarine has to solve the secret of her late mother´s research.
BULGARIA
"An Adventure in the Lower Earth. Christmas Carolers vs Hallus Beasts" by Elena Pavlova
Aimed at middle graders, the book combines ethno-fantasy, electropunk and environmentalism in a dizzying adventure, where characters discover the strength of kinship, the secret of Thracian sanctuaries and the bizarre fairy world from Bulgarian folklore. They manage to save both the Lower Earth from poachers and our own Upper Earth from the invasion of the Hallus electricus
FRANCE
Yardam, by Aurélie Wellenstein
(Scrinéo, 2020)In the city of Yardam, madness became a sexually transmitted disease and the whole town is cut from the rest of the world.Aurelie Wellenstein (1980–) has won many young adult awards since her first novel (2013).
ITALY
Luna 2069
Luna 2069 by famous Italian illustrator Leo Ortolani Publish by Feltrinelli Comics in collaboration with ASI and ESA
SWEDEN
"Bortförda" No 1 , Imperiets Arvingar by Oscar Källner and Karl Johnsson
"imperiets arvingar" is a comic aimed for children, were two children travel in space.
BEST INTERNET PUBLICATION NOMINATIONS
BULGARIA
The biggest online genre media in Bulgaria has been around for more than 20 years, offering in-depth texts on all things SFF and tangent topics. It has been especially active since 2016 with daily content. It covers all media and its authors are very active on the fandom scene. The outlet works with many local publishers and pays special attention to promoting local authors…
CROATIA
Decameron 2020, price iz karantene
The online literary event Decameron 2020 was created as a reaction to the sudden closing down of cultural events and subsequent lockdown in Croatia. During these times, three young speculative fiction writers came up with an idea to create a new publishing platform for local writers, inspired by Boccaccio's legendary work. An E-book with English translation is currently in work
FRANCE
ActuSF is a French webzine on written and medias SFF news : new books, interviews, special features. It records SF conventions and festivals panels and conferences, acting as living archives.The Web Forum has 225 300 messages on 22340 subjects with 2456 members. https://www.facebook.com/Actusf-30930093565/
IRELAND
2000 AD / Judge Dredd writer Michael Carroll runs the blog "Rusty Staples" – a celebration of UK comics.
ITALY
Nocturnia by Nick Parisi Winner of 2020 Italy Award for Best Blog http://wwwwelcometonocturnia.blogspot.com/ Full of reviews about Science Fiction, Fantasy and Horror books. Many interviews with international writers
MONTENEGRO
An informative web portal dedicated to science fiction and Fantasy. With current news from Montenegro, ex-Yugoslavia and the world. In the field of literature, film, series, music, comics, video games. With interviews, audio and video announcements from promotions and festivals. With free e books and podcasts.
POLAND
Rainbow and Fantastic by Grupa Wydawnicza Alpaka (Alpaca Publishing Group) is the biggest and probably the first Polish anthology of LGBTQ+ speculative fiction. It was published as a free ebook and was downloaded over 20 000 times. The book consists of both literary works – over 40 stories and several essays – and art from numerous creators.
ROMANIA
Helion Online appeared in 2010, being one of the best publications of its kind. 5 national sci-fi awards for the best online sci-fi publication in Romania. 10 appearances per year until 2019, then monthly appearances.
RUSSIA
Author's blog of Vladimir Anikeev
The author's blog (in Russian), which has been conducted since 2014, which is devoted to various fantastic materials that were printed in the Polish magazine "Fantastyka". He carefully reviews all issues of the journal from the very beginning.
SWEDEN
Det svenska science fiction by Mats Dannewits Linder by
Mats has made list of all science fiction titles that has been published in Sweden the last year.
UKRAINE
"42 fantasty" is the series of interviews with Ukrainian SF&F writers. The name of project is the homage to Ultimate Question of Life, the Universe, and Everything. Each person answers 3 questions: about the Incredible, about the Literature and about Everything. Writers represents all kind of speculative fiction and almost all regions of Ukraine.
NOMINATIONS FOR THE HALL OF FAME
Nominations for the Hall of Fame Awards
BEST ARTIST NOMINATIONS
BULGARIA
Peter Stanimirov
Peter Stanimirov is one of the most prominent Bulgarian artists. He has done covers and illustrations for a lot of genre fiction and has an illustrious career with doing cover work for choose-your-own-adventure books, while also creating a publishing house for publishing them. He's been the Art Director of the local game studio Haemimont and also frequently does children books…
FRANCE
Philippe CAZA
CAZA (1941-) began in 1970 in comics and drew many iconic SF covers.He also worked on the animated films Gandahar and The Rain Children. A long time SF fan, he conceived the Rosny awards trophies and often gave drawings or conceived posters for conventions, fanzines & fandom. EN: https://en.wikipedia.org/wiki/Caza More on https://www.facebook.com/CazaPhilippeHis complete SF covers work below
IRELAND
Iain Clark
Iain Clark created many of the stunning promotional artworks used for the Dublin 2019 WorldCon, and for the bid to host the 2024 WorldCon in Glasgow, Scotland. He created the wraparound cover of the Dublin 2019 Souvenier Book. He was nominated in the Best Fan Artist Category for the 2020 Hugo Awards. He won a BSFA in 2021 for "Shipbuilding Over the Clyde".
LUXEMBOURG
Magali Villeneuve
Magali Villeneuve is an illustrator/Concept artist. She now works for many different companies and publishing houses around the world, including Hasbro (Magic the Gathering, Dungeons and DragonsHer work has been featured in role-playing games, video games, collectible cards, magazines, book covers…She is also the author of the dark fantasy book series La Dernière Terre (Line of Descent).
POLAND

A Polish graphic and illustrator. He is best known for the book covers that he created for a few Polish SFF publishers. Both the illustrations and cover designs he creates are astounding.His company is called Dark Crayon and many of his works can be seen on his FB and Instagram (https://www.instagram.com/dark.crayon/).
ROMANIA
Adrian Chifu
Adrian Chifu is a versatile artist, writer, composer, graphic artist, director, professional photographer. Member of the electronic music band Urban Experience Music albums in 1995 and 1997. Ambient & electronic music concerts every year (from 1995). Graphic exhibitions (from 1992). Illustrations, covers for magazines & books with sci-fi / fantasy themes. 2020-three concerts.
RUSSIA
Eldar Zakirov
Zakirov is a digital artist and illustrator. In 2006 he was awardedthe Golfen Brush Award in Illustrator Future Contest. In recent years, he has actively collaborated with the magazines Analog and Asimov's Science Fiction. in 2018 and 2019, his covers for Asimov's Science Fiction were recognized by the readers of the magazine as the best over the past year.
UKRAINE
Igor Baranko
Igor Baranko is an Ukrainian comic artist that published his graphic novels not only in his home country, but also in United States, France and some other countries. Not only he was published in these countries, but also lived there working with local comics artists. Now Igor lives in Thailand and is working on a comic strip based on the Indian epic Mahabharata.
BEST AUTHOR NOMINATIONS
AUSTRIA
Marc Elsberg
After his past bestselling novels Marc Elsberg has released his novel "Gier". People in the whole world are demonstrating against "greed" (what is actually the meaning of the title), as they demand a socially balanced system. And then it turns into a very exciting near-future future story!
BULGARIA
Nikola Raykov
Contemporary fantasy author who speaks the language of children. He became famous for his first of a kind gametales and is a winner of many awards for children books, including the "Magic Pearl" award voted by children. Mr.Raykov's books have been translated and published in different countries in the EU and China. His works are also available for free download at his website
FRANCE
Philippe Curval
French SF writer, journalist and photograph (1929-). Since 1960, Philippe Curval is one of the most eminent French science-fiction writers. He wrote more than 100 short stories and 40 novels, some translated in 14 countries. He still published new novels now.He is also known for his works of science fiction criticism and as an editor.https://www.noosfere.org/livres/auteur.asp?numauteur=209
IRELAND
Celine Kiernan
Celine Kiernan is the award-winning author of several novels for young people, including "Into the Grey", which won the Children's Books Ireland's Book of the Year Award, the Moorehawke trilogy, "Resonance", and the Wild Magic trilogy. The first book in the Wild Magic trilogy, "Begone the Raggedy Witches" won the ESFS Award for Children's Literature in 2019.
ITALY
Francesco Verso
Francesco Verso is a multiple-award SF writer and editor. He has published: Antidoti umani, e-Doll, Nexhuman, Bloodbusters and I camminatori. Nexhuman and Bloodbusters – translated by Sally McCorry – have been published in the US, UK and China. He's the editor of Future Fiction, a multicultural project dedicated to publishing the best World SF in translation.
LUXEMBOURG
Aliette de Bodard
Aliette de Bodard writes speculative fiction: she has won three Nebula Awards, a Locus Award and four British Science Fiction Association Awards, and was a double Hugo finalist. Her most recent book is Fireheart Tiger (Tor.com), a sapphic romantic fantasy inspired by precolonial Vietnam, where a diplomat princess must decide the fate of her country, and her own. She lives in Paris.
ROMANIA
Gheorghe Sasarman
Gheorghe Sasarman is one of the most prolific Romanian science fiction writers of all time. His representative work, Cuadratura Cercului (Squaring the Circle) published in 1978 has been translated into French, Spanish, German and English (by Ursula K. LeGuin). Many of his short stories have been translated in Hungarian, Russian, Italian, German, French, Serbian.
RUSSIA
Victor Pelevin
Pelevin wrote in various fantastic genres. In his work, you can find both mystical motivations, and works in the genre of anti-utopia and science fiction. Pelevin books have been translated into many languages. According to a French Magazine, Pelevin is among the 1,000 most significant people in the contemporary culture. His name is included in the list of nominees for the Nobel Prize.
BEST PUBLISHER NOMINATIONS
AUSTRIA
Ohneohren
BULGARIA
Colibri
CROATIA
Shtriga
FRANCE
Mnémos
IRELAND
Little Island
ITALY
Zona 42
LUXEMBOURG
Robert Gollo Steffen
MONTENEGRO
Local Public Broadcaster Radio Bijelo Polje
ROMANIA
Pavcon
RUSSIA
Azbooka
BEST PROMOTER NOMINATIONS
BULGARIA
The Team of ShadowDance
The team organizes a variety of short story competitions, writing workshops, award ceremonies, festivals, lectures, quizzes, board game competitions, etc. The team are frequent lectors and reporters at events, promoting SFF in various culture contexts, including teaching SFF at Sofia University. They also do various intiatives to showcase young Bulgarian SFF authors and artists…
FRANCE
Raymond Milési
French SF writer, anthologist (Mouvances) & active fan for almost 40 years. He went to the 2nd French SF national convention (1975) & only missed 4 since! Since 1988, he is responsible for the Rosny awards vote & guardian of their smooth running.He receives the Cyrano special award in 2018 in Amiens for his writings & his commitment to SF fandom and genre.EN: www.isfdb.org/cgi-bin/ea.cgi?6778
HUNGARY
Margit S. Sárdi
Margit S. Sárdi is the most influential organizer and literary historian of Hungarian sci-fi. She organized university seminars about the theory and Hungarian history of science fiction from 1992. She founded the Society of Hungarian Science Fiction History (Magyar Scifitörténeti Társaság, MASFITT) in 2003. Until 2018, she was a juror of Zsoldos Péter-award (Hungarian national sci-fi award).
ITALY
Flora Staglianò
Deep Space 1 – Flora Staglianò: working for the fandom for more than 20 years!
LUXEMBOURG
Gérard Kraus
Gérard Kraus has been the driving force behind Luxembourg's fandom since the mid-90s.
MONTENEGRO
A Convention Leader of the Zagreb Science Fiction Convention SFERAKON and Secretary of the Sfera Association. Long-term member of the ESFS, a participant in conventions in the region and Europe. Participant in numerous Eurocons. She is a translator and promoter of SF.
POLAND
Miroslaw "Xaric" Kowalski
Miroslaw is a spiritus movens of Avangarda Society in Warsaw. They started collaboration when the society formed in 2005. He was a board member for both Avangarda and ZSFP (Societies' Assoctaion Polish Fandom). He was in concom at many conventions including four Polcons (Polish natcons). For many years he was a member of the nominations committee for Janusz A. Zajdel Award.
RUSSIA
Vasiliy Vladimirskiy
One of the main literary critic, journalist, editor. Member of the organizing committees of SF conventions, member of the nomination commissions of a number of genre awards.
BEST MAGAZINE NOMINATIONS
BULGARIA
Dracus
A semi-annual magazine encouraging and promoting young writers in the SFFH field. It publishes mostly short fiction, both original and classic, along with a companion book series. The team organizes regularly contents for fiction short stories and publishes the winners of the contest…
FRANCE
Gandahar
Gandahar is a quaterly magazine, published since 2014 by Jean-Pierre Fontana and Christine Brignon. They published illustrated short stories.https://www.noosfere.org/livres/niourf.asp?numlivre=2146621030
ITALY
Fantasy Magazine
One of the leading Italian magazines publishing daily information and resources on Fantasy, edited by Emanuele Manco
ITALY
Fantasy Magazine
One of the leading Italian magazines publishing daily information and resources on Fantasy, edited by Emanuele Manco
ROMANIA
Helion
Helion is a distinguished SF magazine, published by Helion Club Timisoara. In recent years, six printed issues were published annually, in A4 format. Some of its long-standing columns are Laborator SF (SF Lab), Cronica de familie (Family Review) Alternative (Alternatives), Meridian SF (SF Meridian), Fototeca (Photo Gallery), Pe scurt despre proza scurta (Short Fiction – in Short).
RUSSIA
Mir Fantastiki
A monthly Russian magazine and portal about fantasy and science fiction. Published since September 2003 and is the largest science fiction magazine in the former USSR. The publication reviews books, movies, TV series, games and comics in such genres as science fiction, fantasy and horror, publishes articles about fictional universes, famous science fiction, fandom, mythology and futurology.
BEST TRANSLATOR NOMINATIONS
BULGARIA
Elena Pavlova
Elena Pavlova is a genre translator, as well as a prolific SFF author with a 30 year career. She has translated Isaac Asimov, Roger Zelazny, Alastair Reynolds, Paolo Bacigalupi, R.Howard and E. R. Burroughs, Peter Watts, and others. She is also the winner of many awards and a frequent lector at festivals and international conferences, most recently at Eurocon 2020..
CROATIA

Translates from Polish, and he won Translator of the year award for 2020.He translated about 20 books from Polish to Croatian and several hundred articles and essays. His last gig was translation of 3 books of Stanislav Lem for Croatian publisher Hangar7: Fairy Tales of Robots, Futurologic congress, and collection Star Diaries.
FRANCE
Jacques Barbéri
Celebrated author in his own right since the seventies and musician, he also translates many Italian SF authors into French (Valerio Evangelisti, Vittorio Catani, Nicoletta Vallorani, Luca Masali, Silvana De Mari, etc.).
ITALY
Silvia Castoldi
Long-time translator of Science Fiction, whose works include books by Ian McDonald, Robert Heinlein, John Shirley and Karl Schroeder.
MONTENEGRO
Goran Skrobonja
Skrobonja lives and works in Belgrade, he has translated more than 150 titles from English into Serbian. He has translated stories and novels by numerous writers of genre literature, among whom, in addition to Stephen King, Clive Barker, James Herbert, Dan Simons, Ian MacDonald, and Michael Marshall Smith stand out. Among the latest translations are Adrian Tchaikovsky's books Children of Time.
ROMANIA
Silviu Genescu
Silviu Genescu (b. 13.09.1958) is a Romanian author & translator. His first translation from English into Romanian was Sam Lundwall's Alice's World, published in the Almanahul Anticipatia, 1986. Since then, he signed translations of novels by George R.R. Martin (two of GOT novels), Lucius Shephard, Vernor Vinge, Michael A. Stackpole, James Patterson, N.K. Jemisin.
RUSSIA
Serhiy Legeza
For a great contribution to the promotion of Polish fiction.He translated from Polish into Ukrainian the works of Andrzej Sapkowski and Jacek Dukaj, from Polish into Russian the works of Andrzej Sapkowski, Jacek Dukaj, Jakub Nowak, Jacek Pekara, Robert Schmidt, Robert Wegner, and Stanislaw Lem.
UKRAINE
Serhiy Legeza
Serhiy translated a huge number of works of contemporary Polish science fiction writers into Ukrainian and Russian. Thanks to him, Ukrainian and Russian readers were able to get acquainted with the best modern Polish science fiction writers.