By Carl Slaughter: Are you a mancer fan? Clarion graduate Ferrett Steinmetz has a fix for you. No pun intended. In September, Steinmetz followed up Flex and Flux with Fix.
No shortage of mancers and mancering in this series. Videogamemancers, origamimancers, culinomancers. The main protagonist is a bureaucromancer trying to protect his exceptionally gifted mancer daughter from unimancers.
What's a unimancer? "The Unimancers: Brain-burned zombies. Former 'mancers, tortured into becoming agents of the government's anti-'mancer squad. An unstoppable hive-mind."
Meanwhile, you can find Steinmetz's short stories in Asimov's, Beneath Ceaseless Skies, Intergalactic Medicine Show, Daily Science Fiction, Fantasy Scroll, Apex, Unidentified Funny Objects, Andromeda Spaceways Inflight Magazine, Electric Spec, Bards and Sages, Giganotosaurus, Kaleidotrope, Podcastle, Escape Pod, and Pseudopod.
Sauerkraut Station, a novella published in Giganotosaurus, was nominated for a Nebula.
#1 FLEX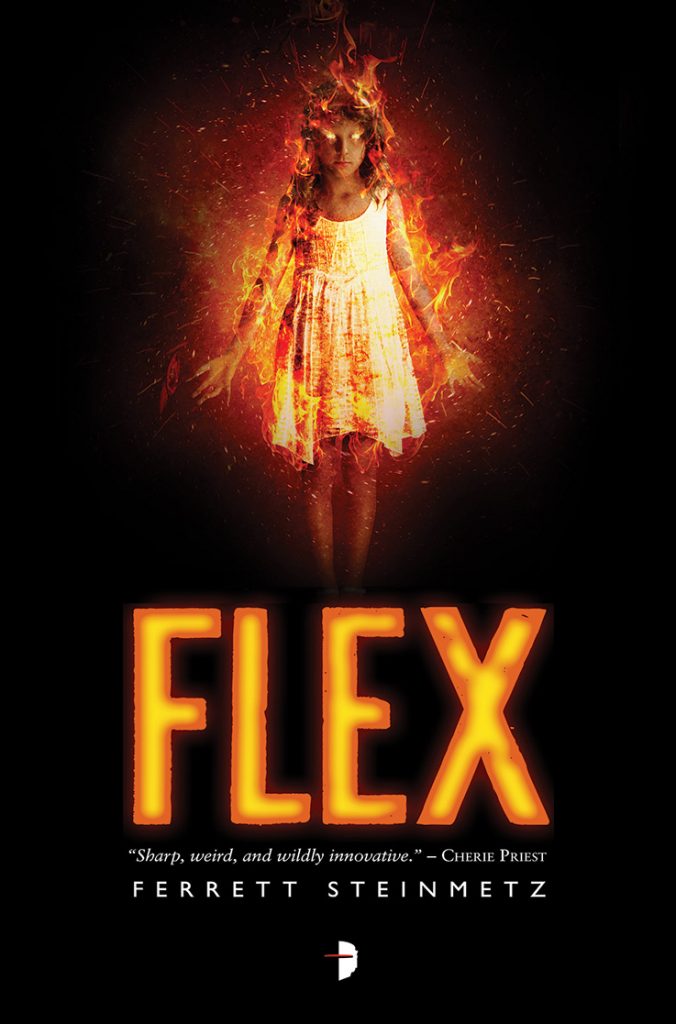 FLEX: Distilled magic in crystal form. The most dangerous drug in the world. Snort it, and you can create incredible coincidences to live the life of your dreams.

FLUX: The backlash from snorting Flex. The universe hates magic and tries to rebalance the odds; maybe you survive the horrendous accidents the Flex inflicts, maybe you don't.

PAUL TSABO: The obsessed bureaucromancer who's turned paperwork into a magical Beast that can rewrite rental agreements, conjure rented cars from nowhere, track down anyone who's ever filled out a form.

But when all of his formulaic magic can't save his burned daughter, Paul must enter the dangerous world of Flex dealers to heal her. Except he's never done this before – and the punishment for brewing Flex is army conscription and a total brain-wipe.
#2 THE FLUX
Love something enough, and your obsession will punch holes through the laws of physics. That devotion creates unique magics: videogamemancers. Origamimancers. Culinomancers.

But when 'mancers battle, cities tremble…

ALIYAH TSABO-DAWSON: The world's most dangerous eight-year-old girl. Burned by a terrorist's magic, gifted strange powers beyond measure. She's furious that she has to hide her abilities from her friends, her teachers, even her mother – and her temper tantrums can kill.

PAUL TSABO: Bureaucromancer. Magical drug-dealer. Desperate father. He's gone toe-to-toe with the government's conscription squads of brain-burned Unimancers, and he'll lie to anyone to keep Aliyah out of their hands – whether Aliyah likes it or not.

THE KING OF NEW YORK: The mysterious power player hell-bent on capturing the two of them. A man packing a private army of illegal 'mancers.

Paul's family is the key to keep the King's crumbling empire afloat. But offering them paradise is the catalyst that inflames Aliyah's deadly rebellious streak…
#3 FIX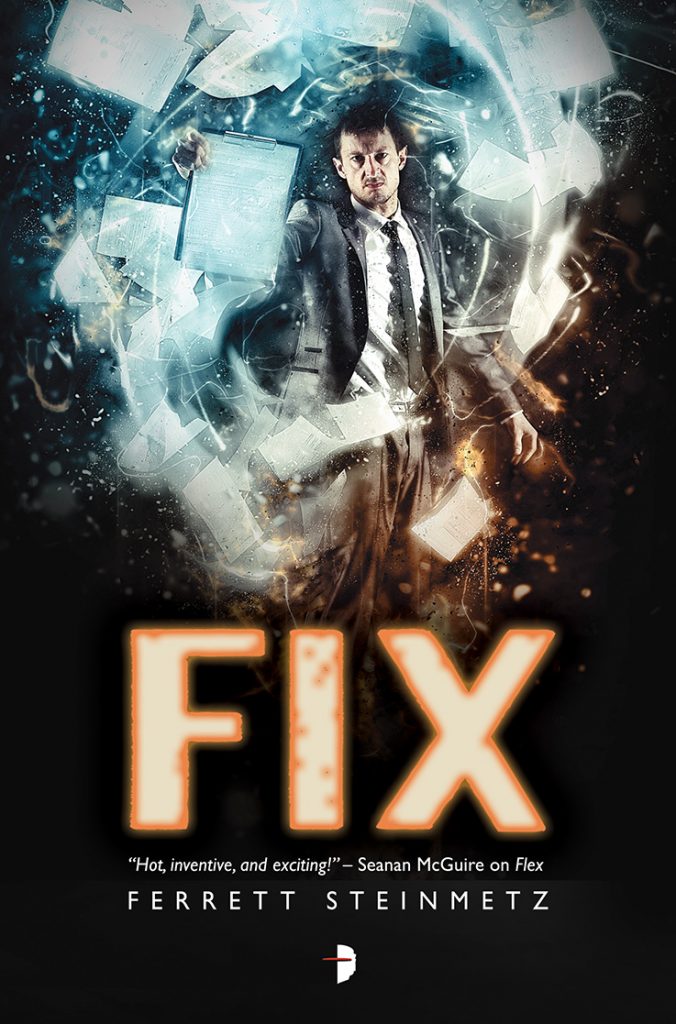 "America's long sent its best SMASH agents overseas to deal with the European crisis. As of today, they decided dismantling your operation was more important than containing the Bastogne Broach. Now you're dealing with the real professionals."

Paul Tsabo: Bureaucromancer. Political activist. Loving father. His efforts to decriminalize magic have made him the government's #1 enemy – and his fugitive existence has robbed his daughter of a normal life.

Aliyah Tsabo-Dawson: Videogamemancer. Gifted unearthly powers by a terrorist's magic. Raised by a family of magicians, she's the world's loneliest teenager – because her powers might kill anyone she befriends.

The Unimancers: Brain-burned zombies. Former 'mancers, tortured into becoming agents of the government's anti-'mancer squad. An unstoppable hive-mind.

When Paul accidentally opens up the first unsealed dimensional broach on American soil, the Unimancers lead his family in a cat-and-mouse pursuit all the way to the demon-haunted ruins of Europe – where Aliyah is slowly corrupted by the siren call of the Unimancers…
PRAISE FOR FLEX
"Do you like magic? Do you like drugs? Donut-based psychological theories? Video games? Do you like PAPERWORK!? Read this book!" – Ann Leckie, author of Ancillary Justice and winner of the Hugo, Nebula and Arthur C. Clarke Awards
"Big ideas, epic thrills, and an unlikely paper-pushing hero you'll never forget. Just when you think you know what's next, the book levels up spectacularly." – John Scott Tynes, author of Delta Green: Strange Authorities
"Amazing. I have literally never read a book like this. Read this NOW, if only to be forced to turn the page wondering what the hell Steinmetz is going to come up with next." – Mur Lafferty, Campbell award-winning "Best New Writer 2013? and author of The Shambling Guide to New York
"Featuring one of the most original magic systems ever devised and a pair of likable, layered protagonists, Flex is a fast-paced, imaginative, and emotionally engaging adventure. The developing friendships and rapport among the characters are portrayed with sensitivity and avoids cliches, and the magical battle sequences are rigorous and filled with ingenious touches that will make gamers and tax lawyers alike grin with joy." – Ken Liu, winner of the Nebula, Hugo, and World Fantasy Awards
"Flex is hot, inventive, and exciting.  A real joyride of a story … a whole new kind of magic and a whole new ballgame. Totally recommended." – Seanan McGuire, winner of the John W. Campbell Award and Hugo-nominated author
"Flex is a breath of magical, drug-addled, emotionally tortured fresh air, with one of the most unique and fascinating main characters I've read in ages. In an urban fantasy genre filled with handsome vampires and sassy witches, Ferrett presents us with Paul Tsabo – a Greek insurance adjuster with a prosthetic foot, forced into the half-mad underworld of a reality-bending narcotic to save his daughter from a devastating house fire. With great characters, evocative writing, and boundless creativity, Flex is one of the strongest debut novels I've ever seen, and one of my favorite novels of the year." – Dan Wells, author of I Am Not a Serial Killer
PRAISE FOR THE FLUX
"The Flux is the best kind of sequel: bigger, deeper, scarier, funner. The emotional journey it takes the reader on is just as thrilling as the jaw-dropping wonders of videogamemancy and bureaucramancy. With the 'Mancer series, Ferrett Steinmetz has achieved something rare in contemporary fantasy: a world that feels both truer and more magical than our own." — Ken Liu, winner of the Nebula, Hugo, and World Fantasy Awards and author of the The Grace of Kings and The Paper Menagerie and Other Stories.
"I really, really liked the uniqueness of the world of magic Steinmetz has created with his novels.  It's very well thought out, and structured. It was exciting to see how someone obsessed with video games would see the world, and its rules, through the use of 'mancy. I also enjoyed the addition of such human dynamics between all of the characters. Steinmetz has done a wonderful job of blending superb battles between the 'mancers and mundanes, with heart wrenching moments with Paul and his eight-year-old daughter Aliyah, while still walking the tightrope of creating a story about family, good vs evil, and trust." – Books, Cats and Caffeine
"I cannot express this enough, THIS BOOK MUST BE READ! 5 HOOTS." – Purple Owl Reviews
"I give The Flux a score of 9.5/10. This is a great novel that like with Flex I would strongly recommend to anyone who has any interest at all in Urban Fantasy as a genre, and even to people who've never read the genre before and might be interested in giving it a go; the Mancer series would be a fantastic introduction for you. This book makes Ferrett Steinmetz a name to watch." – Talk Wargaming