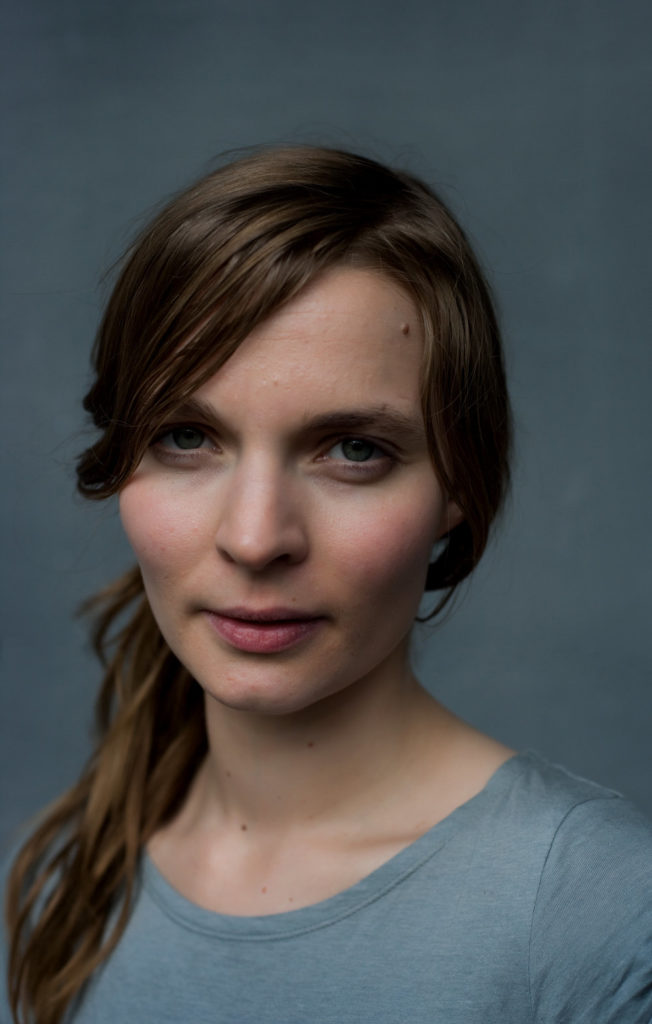 The International Film Music Critics Association (IFMCA) today announced its nominees for excellence in musical scoring in 2019, for the 16th annual IFMCA Awards. For the first time in IFMCA history a female composer leads the field, with Icelandic composer and cellist Hildur Gudnadóttir receiving five separate nominations for her work on the critically acclaimed comic-book drama Joker, and for the HBO television series Chernobyl. These are the first nominations for Gudnadóttir, who is nominated in the categories for Film Score of the Year, Composer of the Year, Drama Score, Television Score, and Film Music Composition of the Year. (Note: Gudnadóttir is spelled here with a Latin "d" because WordPress doesn't support the correct character.)
Also nominated for both Score of the Year and Composer of the Year are veteran composers Alexandre Desplat, Thomas Newman, and John Williams.
American Thomas Newman receives his nominations mostly for his work on director Sam Mendes's epic World War I action-drama 1917, however, he also scored the biopic Tolkien, which is another WWI movie, albeit one that specifically looks at the wartime experiences of the author of The Lord of the Rings.
The legendary John Williams, who turns 88 next week, wrote the final installment in the Star Wars saga, The Rise of Skywalker, and in doing so completed a 40-year film music project spanning nine movies that may never be equaled in the history of cinema. The score is also nominated for Fantasy/SciFi/Horror Score and Film Music Composition of the Year. Williams has three prior IFMCA Score of the Year wins, for Star Wars: The Force Awakens in 2015, War Horse in 2011, and Memoirs of a Geisha in 2005.
The fifth nominee for Score of the Year is Englishman John Powell's "How to Train Your Dragon: The Hidden World," the third and final entry in the series of well-loved animated films based on the novels by Cressida Cowell. Powell previously won the IFMCA Score of the Year awards in 2018 for Solo and in 2010 for the original How to Train Your Dragon.
The fifth nominee for Composer of the Year is American composer Bear McCreary, who wrote music for an astonishing six films and four television series in 2019. The most lauded of these are Godzilla: King of the Monsters, which is nominated in the Fantasy-SciFi-Horror category, and The Professor and the Madman, which is nominated in the Drama category.
The International Film Music Critics Association will announce the winners of the 16th IFMCA Awards on February 20, 2020.
The full list of nominees follows the jump.
FILM SCORE OF THE YEAR
1917, music by Thomas Newman
HOW TO TRAIN YOUR DRAGON: THE HIDDEN WORLD, music by John Powell
JOKER, music by Hildur Gudnadóttir
LITTLE WOMEN, music by Alexandre Desplat
STAR WARS: THE RISE OF SKYWALKER, music by John Williams
FILM COMPOSER OF THE YEAR
ALEXANDRE DESPLAT
HILDUR GUDNADÓTTIR
BEAR McCREARY
THOMAS NEWMAN
JOHN WILLIAMS
BREAKTHROUGH COMPOSER OF THE YEAR
NAINITA DESAI
BOBBY KRLIC
MATHIEU LAMBOLEY
ANNE-SOPHIE VERSNAEYEN
CHRISTOPH ZIRNGIBL
BEST ORIGINAL SCORE FOR A DRAMA FILM
A HIDDEN LIFE, music by James Newton Howard
JOKER, music by Hildur Gudnadóttir
LITTLE WOMEN, music by Alexandre Desplat
MOTHERLESS BROOKLYN, music by Daniel Pemberton
THE PROFESSOR AND THE MADMAN, music by Bear McCreary
BEST ORIGINAL SCORE FOR A COMEDY FILM
BLANCHE COMME NEIGE/WHITE AS SNOW, music by Bruno Coulais
DOLEMITE IS MY NAME, music by Scott Bomar
ELD & LÅGOR/SWOON, music by Nathaniel Méchaly
JOJO RABBIT, music by Michael Giacchino
LE MYSTÈRE HENRI PICK, music by Laurent Perez Del Mar
BEST ORIGINAL SCORE FOR AN ACTION/ADVENTURE/THRILLER FILM
1917, music by Thomas Newman
DUMBO, music by Danny Elfman
THE MAN WHO KILLED HITLER AND THEN THE BIGFOOT, music by Joe Kraemer
MASQUERADE HOTEL, music by Naoki Sato
SORDO: THE SILENT WAR, music by Carlos Martín Jara
BEST ORIGINAL SCORE FOR A FANTASY/SCIENCE FICTION/HORROR FILM
AVENGERS: ENDGAME, music by Alan Silvestri
GODZILLA: KING OF THE MONSTERS, music by Bear McCreary
MIDSOMMAR, music by Bobby Krlic
STAR WARS: THE RISE OF SKYWALKER, music by John Williams
US, music by Michael Abels
BEST ORIGINAL SCORE FOR AN ANIMATED FEATURE
BUÑUEL IN THE LABYRINTH OF THE TURTLES, music by Arturo Cardelús
FROZEN II, music by Christophe Beck
HOW TO TRAIN YOUR DRAGON: THE HIDDEN WORLD, music by John Powell
J'AI PERDU MON CORPS/I LOST MY BODY, music by Dan Levy
MINISCULE: LES MANDIBULES DU BOUT DU MONDE, music by Mathieu Lamboley
BEST ORIGINAL SCORE FOR A DOCUMENTARY
THE BIGGEST LITTLE FARM, music by Jeff Beal
CYBER WORK AND THE AMERICAN DREAM, music by Chad Cannon
FINIS TERRAE, music by Christoph Zirngibl
OUR PLANET, music by Steven Price
UNTAMED ROMANIA, music by Nainita Desai
BEST ORIGINAL SCORE FOR TELEVISION
CHERNOBYL, music by Hildur Gudnadóttir
THE DARK CRYSTAL: AGE OF RESISTANCE, music by Daniel Pemberton and Samuel Sim
GOOD OMENS, music by David Arnold
HIS DARK MATERIALS, music by Lorne Balfe
THE ORVILLE, music by John Debney, Joel McNeely, and Andrew Cottee
BEST ORIGINAL SCORE FOR A VIDEO GAME OR INTERACTIVE MEDIA
DAYS GONE, music by Nathan Whitehead
ERICA, music by Austin Wintory
A PLAGUE TALE: INNOCENCE, music by Olivier Derivière
REND, music by Neal Acree
STAR WARS JEDI: FALLEN ORDER, music by Gordy Haab and Stephen Barton
BEST NEW ARCHIVAL RELEASE – RE-RELEASE OR RE-RECORDING
AIR FORCE ONE, music by Jerry Goldsmith; album produced by Cary E. Mansfield and Bryon Davis; liner notes by Daniel Schweiger; art direction by Mark Shoolery and Bill Pitzonka (Varèse Sarabande)
APOLLO 13, music by James Horner; album produced by Mike Matessino; liner notes by John Takis; art direction by Kay Marshall (Intrada)
THE BRIDE OF FRANKENSTEIN, music by Franz Waxman; album produced by Mike Matessino; liner notes by Frank K. DeWald and John Waxman; art direction by Dan Goldwasser (La La Land)
DIAL M FOR MURDER, music by Dimitri Tiomkin; The Royal Scottish National Orchestra, conducted by William Stromberg; album produced by Douglass Fake; liner notes by Roger Feigelson and Douglass Fake; art direction by Kay Marshall (Intrada)
DRACULA/THE CURSE OF FRANKENSTEIN, music by James Bernard; The City of Prague Philharmonic Orchestra, conducted by Nic Raine; album produced by James Fitzpatrick; liner notes by David Huckvale; art direction by Nic Finch (Tadlow)
BEST NEW ARCHIVAL RELEASE – COMPILATION
ACROSS THE STARS, music by John Williams; The Recording Arts Orchestra of Los Angeles and Anne-Sophie Mutter, conducted by John Williams; album produced by Bernhard Güttler; liner notes by Jon Burlingame; art direction by Büro Dirk Rudolph (Deutsche Grammophon)
THE DISASTER MOVIE SOUNDTRACK COLLECTION, music by John Williams; album produced by Mike Matessino; liner notes by Jeff Bond and Jon Burlingame; art direction by Jim Titus (La La Land)
MARCO BELTRAMI: MUSIC FOR FILM, music by Marco Beltrami; The Brussels Philharmonic Orchestra, conducted by Dirk Brossé; album produced by Film Fest Gent; liner notes by Patrick Duynslaegher and Raf Butstraen; art direction by Stuart Ford (Silva Screen)
NEVADA SMITH: THE PARAMOUNT WESTERNS COLLECTION, music by Various Composers; album produced by John Takis and Frank K. DeWald; liner notes by John Takis and Frank K. DeWald; art direction by Dan Goldwasser (La La Land)
PLANET OF THE APES: THE ORIGINAL FILM SERIES SOUNDTRACK COLLECTION, music by Jerry Goldsmith, Leonard Rosenman, and Tom Scott; album produced by Mike Matessino and Neil S. Bulk; liner notes by Mike Matessino and Jeff Bond; art direction by Dan Goldwasser (La La Land)
FILM MUSIC RECORD LABEL OF THE YEAR
INTRADA RECORDS, Douglass Fake and Roger Feigelson
LA LA LAND RECORDS, MV Gerhard and Matt Verboys
MOVIESCORE MEDIA, Mikael Carlsson
MUSIC BOX RECORDS, Cyril Durand-Roger and Laurent Lafarge
QUARTET RECORDS, Jose M. Benitez
FILM MUSIC COMPOSITION OF THE YEAR
"A Hidden Life" from A HIDDEN LIFE, music by James Newton Howard
"Call Me Joker" from JOKER, music by Hildur Gudnadóttir
"Portals" from AVENGERS: ENDGAME, music by Alan Silvestri
"The Night Window" from 1917, music by Thomas Newman
"The Rise of Skywalker" from STAR WARS: THE RISE OF SKYWALKER, music by John Williams
[Based on a press release.]