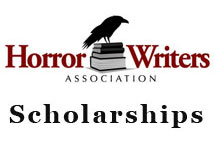 The Horror Writers Association has announced that its Scholarship From Hell recipient is Sumiko Saulson.
The scholarship includes roundtrip domestic travel to Las Vegas, accommodations at the Flamingo Las Vegas Hotel & Casino, registration to StokerCon 2016, and as many workshops as she can attend
Additionally, HWA awarded a runner-up mini-scholarship (registration & five workshops) to Hillary Dodge.
The Scholarship From Hell (for StokerCon) puts the recipient into an intensive, hands-on workshop environment (called Horror University). There are 18 instructors lined up for the workshop, including Jonathan Maberry, Jo Fletcher, Stephen Jones and Lucy Snyder.