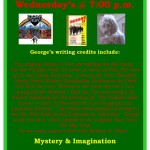 By John King Tarpinian: Starting June 2 George Clayton Johnson will be giving FREE weekly writing classes at 7 p.m. on Wednesday nights. These classes will be held at Mystery and Imagination, 238 N. Brand Blvd, Glendale, CA 91203 (818-545-0206). (Click on thumbnail to see flyer.)
Just a partial list of George's writing credits include the script for the original Ocean 11 (we are talking the Rat Pack). For the Twilight Zone he wrote A Game of Pool, The Four of Us Are Dying, Execution, A Penny for Your Thoughts, Ninety Years Without Slumbering, Nothing in the Dark and Kick the Can.
Nothing in the Dark starred a very young Robert Redford. Kick the Can was chosen by Steven Spielberg for his direction of The Twilight Zone movie. A Game of Pool starred Jack Klugman and Jonathan Winters.
His The Demon God episode of Kung-Fu was the first flash forward episode in television.
George wrote the first aired episode of the original Star Trek, The Man Trap.
Lastly he co-wrote Logan's Run with William F. Nolan. At the time, they were paid a record breaking sum for the script rights.
If you look up the word loquacious in the dictionary you'll see George's picture.  Anybody interested in writing or the writing process should consider attending.