Longtime LASFS member June Moffatt died May 31. June's son Bob Konigsberg announced her passing on Facebook. She was 92.
June attended her first LASFS meeting in 1947. By the time I joined in 1970 she was chair of the Board of Directors. Her maturity, compassion, and wisdom made her one of the club's most admired and respected members.
June married Eph Konigsberg in 1949 and together they had three children Robert (Bob), Katie, and Jerry. June had little opportunity to visit the club for the next decade. After June and Eph divorced in 1964 she resumed going to LASFS meetings. That also was the year the club started APA-L, the weekly amateur publishing association, and June became a faithful contributor for decades.
Len Moffatt, himself a LASFS member since 1946, married June in 1966. They both participated in club leadership, alternating terms on the LASFS Board of Directors, and serving in other offices.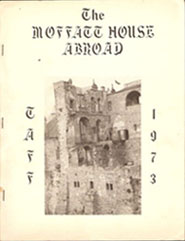 Len and June were elected the Trans-Atlantic Fan Fund delegates in 1973. Their TAFF trip report, The Moffatt House Abroad, which I mimeographed and slip-sheeted on the LASFS mimeo (!), for thirty years enjoyed the distinction of being the only full-length North American TAFF report completed and published.
Len and June also were active in mystery fandom. In 1965 they started publishing The JDM Bibliophile, about John D. MacDonald (who wrote in multiple genres, but was especially known for his Travis McGee detective series). And as Sherlock Holmes aficianados, they were members in the Blustering Gales of the SW and the Curious Collectors of Baker St.
In 1970, they co-founded Bouchercon, and chaired three of them. Today the convention is called Bouchercon: World Mystery Convention.
As part of another subfandom, she and Len were charter members of the Los Angeles SubERBs chapter of the Burroughs Bibliophiles.
They were jointly celebrated as guests of honor at Loscon 8 (1981), Bouchercon 16 (1985), and Tra-La-La Con (1997). LASFS gave them its Evans-Freehafer service award in 1994.
And at LASFS's seventy-fifth anniversary in 2009, the couple presented "LASFS ALIVE AT 75!" in rhyme and prose.
JUNE:

In Nineteen Forty-Seven I got a treat
And was taken to the LASFS on Bixel Street.
I met Forry Ackerman, van Vogt and more
Science-fiction fans by the score.
Only a year later, Len predeceased her.
After that June remained as active in the club as health permitted.
Following two hospitalizations in March of this year she entered hospice care. Her family reports that on May 31 she went peacefully. Her remains will be cremated.
[Thanks to Lee Gold for her help with this story – but any errors are mine!]