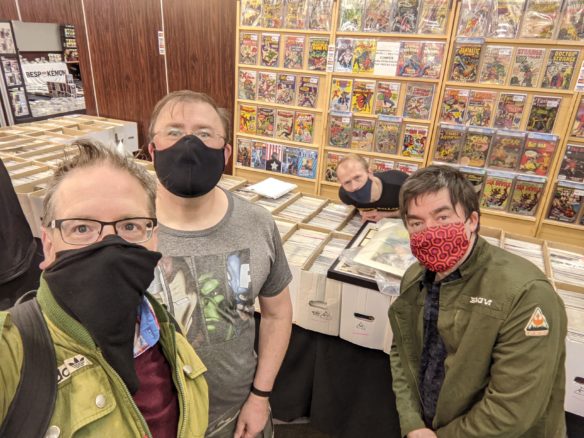 London Comic Mart, May 23, 2021 Royal National Hotel Russell Sq., London 
By James Bacon: The London Comic Mart has a long history, in various guises, can be traced back to the Seventies, and it continued today. The lockdown beginning to ease has recently allowed venues to open up and welcome fans. It's been 435 days since I walked into a scout hall in Pollokshields, Glasgow for the Commando Swap Meet, and the lack of interaction and engagement, and just comics, is telling.
I headed into London early. Once into the city, the streets were deserted, surely quiet on a Sunday morning, but as I watched a cyclist pedal down the wrong side of what is normally a brisk road, it is obvious that normality is slow to return here. But a small group of comic book fans had also made the trek in. Changes have occurred, the space normally for tour busses and vans maneuvering is now a courtyard with matted green fake grass, and plastic benches, so seating was socially distanced amongst the couple dozen people who were patiently waiting.
The queue formed, there were no cosplayers, no people running around offering hugs, no cheer when the door opened, these are collectors, of all ages, quietly on the mission, looking for comics, or cards or pops, and hoodies adorned with Venom, Cap Shields, Hunger Games and Star Wars were de rigueur, amongst some slick looking styles, and relaxed casuals. The wide diversity of London gets good representation at this event, while it's also a destination for hard core European collectors, literally jetting in for the day. Or used to be.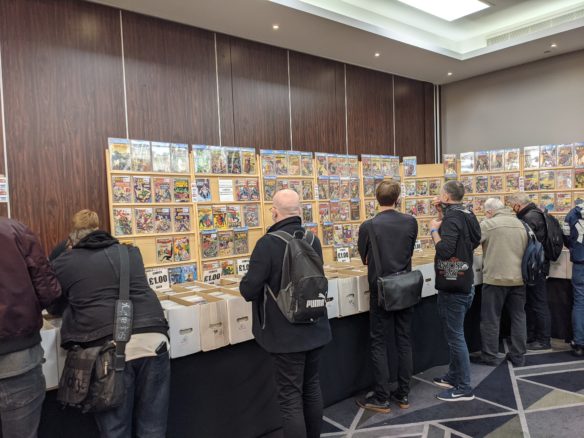 There was a limit on how many people were allowed in, which was never met. One had to fill in a tracing form, masks were mandatory for those who can wear them, and hand san was in abundance. The tables themselves were much more spaced, an extra room had been utilised, and a number of tables were not where they once were, a whole island block no longer in existence, and more spacing. Many of the regulars were here, and there were dealers who were there who I had not seen before, but there were also one of two regulars missing, making me wonder and hope that they were OK.
If you felt there was someone too close, there was ample move away space.
Comics were of course in abundance, eight boxes at 20p next to some silver age, about 50 boxes at a £1 next to an incredible wall for of key titles, 40p, 50p, £850… all prices were catered for here, and I was astonished to see one dealer offering Fantastic Four 1, graded at 1.5 for £10,000. The first appearance of Catwoman, you can have that for four figures, while Star Wars comics from 2015, a pound, including number 1.
Usually it is a swarming chaotic mess of humanity, a little jostling, pushing and squeezing to get into the comics, but today, well today it is different. A new politeness had descended upon everything, people were patient, stepping away or back, giving space, checking in, and generally the extra space helped.
Dave Finn from Incognito Comics reported a brisk and positive trade, and he reckoned that business was similar to pre-Covid, but it was clear that people went in earlier, and with more focus, to get going. His wall, all colourful and full of the nice things had many gaps as the short day wore on.
It was amazing to watch, as a few comics would cost hundreds, and then moments later, a stack cost so little. There was some serious spending happening and many of the dealers had interesting comics on their walls.
Some of the dealers who specialise in recent comics sold cheaply (from the last six to eighteen months) were either not there, or those that were did not have as much as I expect. It was interesting, there was no sign of Far Sector, and no DIE, Invisible Kingdom, Monstress and only a couple of very recent Ghost Spiders. There was a Far Sector 1 on wall, at a fascinating price, but the Hugo constituency have chosen comics which have sold through, which are popular, and obviously in demand, as well as recognising the brilliance.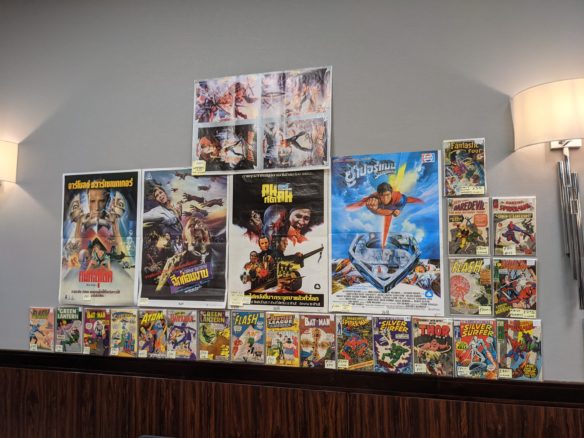 Variety in pricing was obvious, with so many thousands of comics at a £1 or less, it was easy to find one person selling at a few or fiver, and the same to hand, being moved on. Stock in shops or stock rooms, is not what is wanted, here, there was a keenness to move stock on. It was great to hear sharp London voices getting good deals, everyone, sellers and buyers happy, with the transaction, and to see knowledge and at times watch on, and see incredible bargains.
My purchase of the day was a Silver Age Captain America for a £1.

Everyone was just so nice, so grateful to be back, elbow knocks were to greet people, not to sharply squeeze in and look at comics, everyone thankful for being there, well, and of course enjoying the browse, the hunt, the chase, ticking off the wants, and taking in the comics. The outdoor bar filled up after lunch, and many like myself, moved on, headed off when it was time to do so, not hanging around unnecessarily.
The next Comic Mart is scheduled for 22nd of August, but the same team, Showmasters, will be bringing London Film and Comic Con to the Olympia in July, and with Christopher Eccelston and Fiona Shaw leading the dozens of TV and film guests, that is expected to be the next major event, in London. The full Showmasters team were here, welcoming and observing, taking it in, and It was nice to hear about future plans and the National Film and Sci-Fi Museum, which will open this summer.
A lovely day altogether, and great to get back.