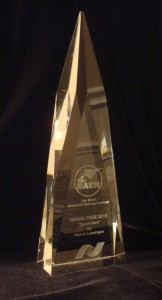 Sean Monaghan of New Zealand has won the 2014 Jim Baen Memorial Writing Contest with his short story "Low Arc."
Finishing in second place was Marina J. Lostetter for her short story, "Balance." Third place went to Angus McIntyre for his story "Wind Shear."
The contest has been co-sponsored by Baen Books and the National Space Society of America since 2007. It honors Jim Baen, founder of Baen Books and a prominent space exploration supporter.
Monaghan was presented with his award on May 16 by Baen editor Jim Minz in Los Angeles at the Space Development Conference sponsored by the National Space Society.
Along with the award comes professional publication by Baen Books on the Baen.com web site and in a 2014 short story ebook anthology. Lostetter's story will also see publication at Baen.
Finalists are judged anonymously by a panel of Baen editors and writers helmed by science fiction author David Drake.