(1) STORY DECK. From the fertile mind of James Davis Nicoll – "Five SF Works to Read If You've Ever Played Traveller" at Tor.com. First on the list —
Becky Chambers' Wayfarers series

Both The Long Way to a Small, Angry Planet and A Closed and Common Orbit are quite Traveller-esque, the first with its small commercial vessel crewed by a diverse assortment of characters struggling to stay afloat in a demanding universe, and the second features the sort of horrifying backstory implied by Traveller's notorious character generation system.
(2) THE WHY. BBC's The Why Factor analyzes the appeal of "Dystopias".
23 minute audio

Released On: 13 Jan 2020

Available for over a year

Dystopic fiction is going through a bit of a boom at the moment, but why is it that we can't seem to get enough of stories where ordinary people struggle to survive against an all-powerful state or in a post- apocalyptic world? Is it because they reflect the anxieties we already feel about the world we live in, or because they allow us to escape it. 

Shabnam Grewal asks Why is Dystopic fiction so appealing? 
(3) PRATCHETT. BBC Radio 4's "Good Omens" webpage includes a section about "Terry Pratchett on Neil Gaiman" which is an extract from the hardback edition of Good Omens, published by Gollancz. This is probably not recent, but it's news to me…
…He also had a very bad hat. It was a grey homburg. He was not a hat person. There was no natural unity between hat and man. That was the first and last time I saw the hat. As if subconsciously aware of the bad hatitude, he used to forget it and leave it behind in restaurants. One day, he never went back for it. I put this in for the serious fans out there: If you search really, really hard, you may find a small restaurant somewhere in London with a dusty grey homburg at the back of a shelf. Who knows what will happen if you try it on?
(4) DEVIL IS IN THE DETAILS. "Lucifer Season 5 Announces Musical Episode" — Comicbook.com has the story.
Details about "Blood Celestial Karaoke Jam" aren't being released just yet, but what we do know is that this episode will be different from the 1940s-set episode. That episode, which will be the fourth of the final season, reportedly will contain only two song performances and not a full plot built around singing and dancing. Even with that being the case, the noir episode should be highly entertaining for fans as it will offer an alternate version of Lucifer (Tom Ellis) and Mazikeen (Lesley-Ann Brandt) singing together. The rest of the cast will also be part of that episode but won't be playing the characters fans are most familiar with in the series given its past setting.

"I can't tease too much!" Ellis said previously about the episode. "I would say on this episode, we take a trip down memory lane with Lucifer. We tell a story that answers the question a lot of fans have been asking actually."
(5) IN TIME OF MOURNING. David Gerrold deftly addresses an issue on Facebook.
When Harlan Ellison died, there were people who were quick to point out what a terrible human being he was. And yes, that was their experience of him. Okay.

Over here, Harlan was my big brother. He saved my life. I knew he had human failings. We all do. Harlan's were considerable. (So are mine.) So what? His impact on me — and on many — was enormous. And those of us who had benefited from his various kindnesses were saddened by his loss. He was important to us.

But to those who needed to vent their unfulfilled angers — "Have you no decency? At long last, have you no sense of shame?"

In such a circumstance, I would ask, "Why do you want to add to the pain of the close friends and family? What do you gain?"

Or is your own self-righteous need to dredge up your own angers one more time so important that the feelings of others are irrelevant to you?

What I'm talking about is the lack of empathy — and the inability to recognize the consequences of one's own actions.

What I have learned (the hard way) is that maturity and wisdom are best demonstrated by keeping one's mouth shut and listening harder. There might still be something to learn that is more important than my own unresolved issues.

Does this have anything to do with any recent events in the SF community?

Oh, probably.
(6) MORBIUS. Sony Pictures has dropped a teaser trailer for Morbius. "Teaser"? It's almost three minutes long!
One of Marvel's most compelling and conflicted characters comes to the big screen as Oscar® winner Jared Leto transforms into the enigmatic antihero, Michael Morbius. Dangerously ill with a rare blood disorder, and determined to save others suffering his same fate, Dr. Morbius attempts a desperate gamble. What at first appears to be a radical success soon reveals itself to be a remedy potentially worse than the disease.
(7) RESNICK GOFUNDME CONTINUES. The target amount has been raised to $70,000 for the "Help Mike Resnick's widow pay off medical bills" GoFundMe.
UPDATE on 01/13/2020: Carol and Laura would like to very much thank all of Mike's friends, peers, and donators for their condolences and amazingly generous donations. Carol is just now starting to discover how expensive everything is following Mike's passing, and it has been quite overwhelming. Your support has helped comfort her through a very hard time.

As you may be aware, Carol does not earn an income herself, and Mike was unable to work for a good slice of this year, due to multiple surgeries and illnesses. Yet she still has funeral arrangements to cover, a mortgage to pay, food to put on the table, and way too many bills to pay off. Every dollar donated helps her set up a new existence without her life partner.

We have changed the fundraiser goal to help meet her current needs, and while we understand you may have donated already (for which we are profoundly grateful), we ask if you could please share the fundraiser on your social media accounts again to help raise awareness. Your well wishes alone, and supportive words, have been so valued. Thank you, from the bottom of our hearts.
(8) TODAY IN HISTORY.
January 13, 1939 — Son Of Frankenstein premiered. It  starred Boris Karloff and Bela Lugosi, and was the third entry in Universal Studios' Frankenstein series and the last to feature Boris Karloff as the Monster. Directed and produced by Rowland V. Lee, Wyllie Cooper wrote the script in which he created the Igor character. The box office was remarkable and Universal Studios ordered The Ghost Of Frankenstein several years later with Lon Chaney Jr. in the title role. It has an amazing 91% rating among critics and 71% among reviewers at Rotten Tomatoes.
January 13, 1964 — The Outer Limits aired the sixteenth episode of its first season, a comedy called "Controlled Experiment". Yes comedy and the only one that they did.  Written and directed by Leslie Stevens, it starred Grace Lee Whitney of Trek fame as Carla Duveen and The Martians in a story well worth seeing. You can see it here.
January 13, 1980 — Dr. Franken first aired. Directed by Marvin J. Chomsky and Jeff Lieberman from a script by Jeff Lieberman, it starred Robert Vaughn as Dr. Arno Franken in a modern retelling of this that tale. Robert Perault played the John Doe in  Room 841 whom I assume was The Monster. The All Movie Site says no network or sponsor cared enough to purchase this pilot film for a weekly series emerge from it.
January 13, 1989 — Deepstar Six premiered. It was directed  by Sean S. Cunningham and produced by  him and Patrick Markey from a screenplay by Lewis Abernathy and Geof Miller from the story that  Abernathywrote. (I know that's a lot of credits.) The sprawling cast included included Greg Evigan, Nancy Everhard, Miguel Ferrer, Nia Peeples and Matt McCoy. It was extremely poorly received by critics and audience members alike. Currently it's got a a 0% rating at Rotten Tomatoes among critics but only seven have been found that expressed an opinion, and it gets just 23% among the many reviewers there gave their opinion.  
January 13, 2008 — Fox Television premiered Terminator: The Sarah Connor Chronicles. It starred Lena Headey, Thomas Dekker and Summer Glau, it lasted two seasons and thirty one episodes. (It actually had a wrap-up to it.) It was narrated by Lena Headey who you'll remember as Ma-Ma in Dredd. At Rotten Tomatoes, critics (77%) and reviewers (85%) really liked it but it never got better than mediocre ratings.
(9) TODAY'S BIRTHDAYS.
[Compiled by Cat Eldridge.]
Born January 13, 1893 — Clark Ashton Smith. One SFF critic deemed him one of "the big three of Weird Tales, with Robert E. Howard and H. P. Lovecraft". This is while some readers found him excessively morbid — as L. Sprague de Camp said of him, "nobody since Poe has so loved a well-rotted corpse." If you've not read his work, Nightshade has collected it in The Collected Fantasies of Clark Ashton Smith, five volumes in total. They're all available in Kindle editions. (Died 1961.)
Born January 13, 1933 — Ron Goulart, 87. First I must acknowledge that he is very prolific and uses many pseudonyms,  to wit Kenneth Robeson, Con Steffanson, Chad Calhoun, R.T. Edwards, Ian R. Jamieson, Josephine Kains, Jillian Kearny, Howard Lee, Zeke Masters, Frank S. Shawn, and Joseph Silva. (Wow!) You did the see Doc Savage one in there, didn't you? I'm reasonably sure that the I've read a lot of his fiction including the Flash Gordon series, his Avenger series, maybe a bit of the Vampirella novels, the Incredible Hulk definitely, not the Groucho Marx series though it sounds fun, and, well, damn he's prolific. So what have you have read by him that you like? 
Born January 13, 1938 — William B. Davis, 82. Best remembered I say as the Smoking Man. (need I say which series? I think not.) He's had a long career in SFF video with roles in The Dead Zone, Mindstorm, Beyond the Stars, Snakehead Terror, Rise of the Damned, Singularity Principle, and my fav title for one of his his works, Medium Raw: Night of the Wolf. 
Born January 13, 1938 — Billy Gray, 82. Here's here for being Bobby Benson in The Day the Earth Stood Still. He's certainly not here for CPO Fred Twining in The Navy vs. the Night Monsters, the other SFF film he did which rates a 26% by reviewers at Rotten Tomatoes. His Wiki page has him retiring from acting in 1977 but he appeared in 1996 as the Majordomo in The Vampyre Wars which was his last acting role. 
Born January 13, 1938 — Charlie Brill, 82. His best remembered role, well at least among us, is as the Klingon spy Arne Darvin in "The Trouble with Tribbles". And yes he'll show in the DS9 episode that repurposed this episode to great effect. He was the voice of Grimmy in the animated Mother Goose and Grimm series, as well having one-offs in They Came from Outer Space, The Munsters Today, Sliders, The Incredible Hulk, Wonder Woman and Super Train. Not even genre adjacent but he was a recurring performer on Rowan & Martin's Laugh-In. 
Born January 13, 1943 — Richard Moll,  77. Most will best remember him best from Night Court — that's not genre unless the Magic Judge Harry did was real — but I've found that he voiced Harvey Dent aka Two-Face on Batman: The Animated Series which I recognized him from. He had SFF other appearances on Buck Rogers in the 25th Century, Mork & Mindy, Fantasy Island, Jurassic: Stone Age, Headless Horseman, Scary Movie 2, The Flintstones and Metalstorm: The Destruction of Jared-Syn. 
Born January 13, 1945 — Joy Chant,  75. Chant is an odd case as she only wrote for a short period between 1970 and 1983 but she produced the brilliant House of Kendreth trilogy, consisting of  Red Moon and Black Mountain, The Grey Mane of Morning and When Voiha Wakes. Her other main work, and it is without doubt absolutely brilliant, is The High Kings, illustrated lavishly by George Sharp and designed by David Larkin with editing by Ian and Betty Ballantine. It is intended as a reference work on the Arthurian legends and the Matter of Britain with her amazing retellings of the legends. I've got one reference to her writing Fantasy and Allegory in Literature for Young Readers but no cites for it elsewhere. Has anyone actually read it?
Born January 13, 1960 — Mark Chadbourn, 60. 've read his Age of Misrule series in which the Celtic Old Gods are returning in modern times and they're not very nice but they make for very entertaining reading. It's followed by the Dark Age series which is just as well-crafted. His two Hellboy novels are actually worth reading as well.
Born January 13, 1968 — Ken Scholes, 52. His major series, and it's quite worth reading, The Psalms of Isaak.  His short stories, collected so far in three volumes, are also worth your precious reading time. He wrote the superb " Rock of Ages" for METAtropolis: Green Space.
Born January 13, 1982 — Ruth Wilson, 38. She's Marisa Coulter in BBC's His Dark Materials series. She's in Depp's The Lone Ranger as Rebecca Reid. (Yes, it's genre. There's a wendigo as a story device,) in the horror film I Am the Pretty Thing That Lives in the House, she was Lili Saylor. Finally I note she was Sara (Number 313) in the remake of The Prisoner. Having seen and enjoyed the original series, I skipped this happily when it came out. 
(10) MORE STEVE STILES. The artwork Steve Stiles did for the Baltimore Sun in the Eighties and Nineties can be viewed here.
(11) IN THE QUEUE. Is it funny? Well, its at least well-told. Thread starts here.
(12) A REALLY GRAPHIC NOVEL. "Strip artist: Local cartoonist collects 10 years of smutty sci-fi comics" – an interview in the Brooklyn Paper.
…Migdal also wanted to create an inclusive erotic novel, one that would be a fun and exciting read for audiences of any orientation. But it took a little while to work out the kinks in his art style, said the author. 

"I had to develop my artistic skills to draw naked people that didn't look like a pile of legos," Migdal said. "But also drawing images that were representing body positivity and figuring out how to get that on to the page." 

The story follows Ana?s Phalese, a Brooklynite who meets a visitor from another world — Fauna Lokjum, the Liquorice Princess of Candy World — who is on the run from an arranged marriage to a supervillain. The two hop across dimensions and explore their sexualities while trying to save the world from Fauna's would-be fiance.  
(13) BURN A LITTLE. Parts of the western US are still arguing over how to back down from the old Forest Service policy of preventing all fires, realizing that small fires helped reduce the fuel for huge fires. Australia is now looking at the same issue: "Aboriginal planners say the bush 'needs to burn'".
For thousands of years, the Indigenous people of Australia set fire to the land.

Long before Australia was invaded and colonised by Europeans, fire management techniques – known as "cultural burns" – were being practised.

The cool-burning, knee-high blazes were designed to happen continuously and across the landscape.

The fires burn up fuel like kindling and leaf detritus, meaning a natural bushfire has less to devour.

Since Australia's fire crisis began last year, calls for better reintegration of this technique have grown louder. But it should have happened sooner, argues one Aboriginal knowledge expert.

"The bush needs to burn," says Shannon Foster.

She's a knowledge keeper for the D'harawal people – relaying information passed on by her elders – and an Aboriginal Knowledge lecturer at the University of Technology Sydney (UTS).

…While modern-day authorities do carry out hazard reduction burning, focusing on protecting lives and property, Ms Foster says it's "clearly not working".

"The current controlled burns destroy everything. It's a naive way to practise fire management, and it isn't hearing the Indigenous people who know the land best.

"Whereas cultural burning protects the environment holistically. We're interested in looking after country, over property and assets.

…"Cool burning replenishes the earth and enhances biodiversity – the ash fertilises and the potassium encourages flowering. It's a complex cycle based on cultural, spiritual and scientific knowledge."

They also create a mosaic of ecologies, Ms Foster says, and this can lead to beneficial micro-climates.
(14) BE ALERT. Penguin is releasing We Have Always Lived in the Castle and The Call of Cthulhu as part of its new brand:
Orange you glad we included Penguin Orange? This vivid collection of beloved modern classics is a nod to our old-school, tri-band heritage design, featuring custom illustrations by artist Eric Nyquist that take everything to the next level.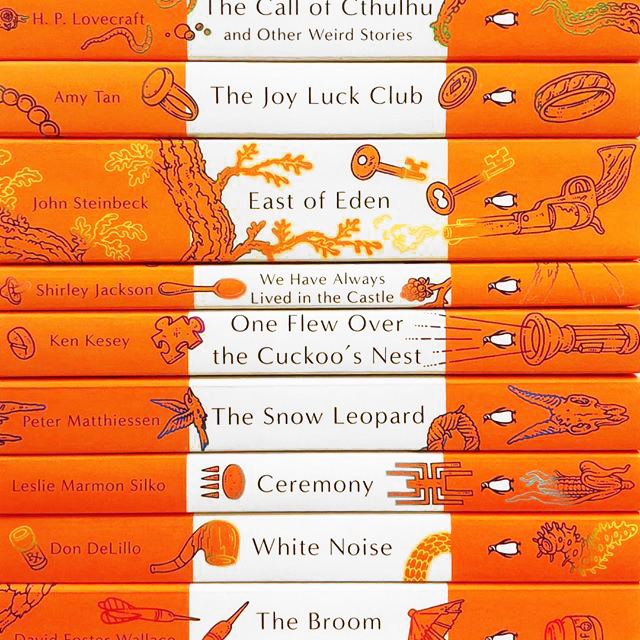 (15) THE SCENT OF A BOOK. The BBC's Miguel Trancozo Trevino reports on "The people trying to save scents from extinction"
The smells of ordinary life, from traditional pubs to old books, are part of our culture and heritage – and many of them are in danger of being lost.

Imagine an old leather-bound book just pulled out from a wooden shelf. Its yellowed pages release dust as they open. Even before you begin to read the book, the unique smell of it fills your nose.

This familiar scent is not only a simple pleasure for people who like to peruse libraries and bookshops. These smells have a cultural heritage value, and they are at risk of being lost. For every old book that falls apart, is thrown away or kept locked behind a temperature-controlled curatorial door, these scents become harder to experience. It is a problem that is far from unique to books – from perfumeries and pubs to entire cities, the background scents of our lives are changing all the time.

For Cecilia Bembibre, a researcher at the UCL Institute for Sustainable Heritage, the smell of old books is important. She is developing different techniques to recover "extinct" scents from the past and to preserve those around today for the future.

It's a facet of heritage that is often, quite literally, overlooked. "The proposals made by cultural heritage spaces such as galleries, museums, historic houses, are mostly focused on the sight," says Bembibre. "The engagement they propose tends to be visual. [With] some exceptions, the stimulation of senses, like the objects that can be touched or smelled, is reserved for children."

…In 2003, Unesco adopted a convention to safeguard intangible cultural heritage, which includes social practices, oral traditions and performing arts. Where, though, were the scents? For centuries there have been cultural practices where smell plays a vital role, like the Spanish Fiesta of the patios in Cordova or the Holy Week processions in Popayán, Colombia. In 2018, the skills related to perfumery in Pays de Grasse, France, were included on the intangible heritage list. No scents themselves, however, are listed.
(16) TECHNICAL PROWESS. Sure, the excuse to post this non-sff film is that it was shot on a phone – but the real reason is that it's very sweet.
A film about three generations of Chinese women coming together at Chinese New Year. Shot on iPhone 11 Pro. Directed by Theodore Melfi. Cinematography by Lawrence Sher. Starring Zhou Xun, China's leading actress.
(17) JEAN-RELUCTANT PICARD. "Patrick Stewart Didn't Want To Reprise Captain Picard In A Post-Brexit World". The NPR piece includes interview excerpts, and audio link to full interview including his impression of the version of the voiceover intro that was recorded but fortunately not used.
…Stewart says, in a post-President Trump and post-Brexit world, the United States and the United Kingdom, in particular, distanced themselves from what the United Federation of Planets — Star Trek's fictional interstellar union of planets that share democratic goals — represented.

"The European Union always made me feel, well, we are heading towards our own Federation of Planets somewhere down the line that will come about. And I am angry, disappointed and embarrassed by our decision to leave the Union," the English-born actor said in an interview with Weekend Edition Sunday.

Much like Picard, Stewart is uninterested in playing a part — fictional or not — if it doesn't mesh with his beliefs.

It wasn't until the producers described the transformed landscape they envisioned for Picard that Stewart got on board. "The Federation" has swung isolationist, and the new Picard is very different.
(18) VIDEO OF THE DAY. In "The Way Out" on Vimeo, Jeon You-jin explains what happens when little girls chase balloons.
[Thanks to Andrew Porter, John King Tarpinian, Mike Kennedy, Martin Morse Wooster, JJ, Chip Hitchcock, Michael Toman, and Cat Eldridge for some of these stories. Title credit goes to File 770 contributing editor of the day Daniel Dern.]