(1) MICHELLE YEOH TREK SPINOFF. The Hollywood Reporter brings us additional details on one of the several Star Trek spinoffs (the existence of which leaked as far back as November) in the works ("'Star Trek': Michelle Yeoh-Led 'Discovery' Spinoff Details Revealed").
Riding the high of a Critics' Choice Award win for best comedy, Michelle Yeoh has further reason to celebrate Monday.

CBS All Access has officially tapped Yeoh to captain a Star Trek series of her own: a black ops-themed spinoff of Discovery in which the actress will reprise her role and explore the next chapter in the life of Capt. Philippa Georgiou. The untitled drama will further explore Starfleet's Section 31 division, a shadow organization within the Federation featured on Star Trek: Discovery.

[…] "Michelle has shattered ceilings, broken boundaries and astonished us with her grace and gravitas for decades. As a human, I adore her. As an actor, I revere her," [producer Alex] Kurtzman said. "Erika [Lippoldt] and [Bo Yeon Kim] are remarkable, exciting writers who bring a fresh perspective to the world of Star Trek, and we're all thrilled to explore the next wild chapter in the life of Captain Philippa Georgiou."
(2) SMOKE GETS IN YOUR EYES. Kotaku covers the auto arsonist who struck at Anime Los Angeles this weekend: "Suspected Cosplay Stalker Destroys Seven Cars During Anime Con".
A suspected arson attack, allegedly carried out by an "obsessed stalker", has torched seven cars in the parking lot of a hotel where Anime Los Angeles attendees have been staying over the weekend.

The incident took place early on Sunday morning, just before 2am. The night manager of the Azure Hotel & Suites in Ontario, California told ABC News that surveillance footage "showed a man walk up to the main vehicle, pour two cans of gasoline all over it and then [flick] a match on it".

That car belonged to cosplayer Julia Moreno Jenkins, who says her vehicle was "targeted and set on fire by an obsessed stalker". Once it was in flames, the fire then spread to nearby cars. As a precaution, the hotel was evacuated….
(3) YOU DON'T SPIT INTO THE WIND. Maybe they won't be suing Cory Doctorow after all — "Start-up Bird backs down in electric scooter legal row".
A scooter firm has apologised after issuing a journalist with legal threats over a blogpost about its scooters.

Start-up Bird offers electric scooters in around 40 US cities, which are hired via an app.

Bird accused Cory Doctorow of copyright infringement for linking to a forum about a device which enables abandoned scooters, bought at auction, to be fitted with a new motherboard.

This means they can then be used without the Bird app.

Mr Doctorow's blogpost, published on the website Boing Boing, was about the number of Bird scooters that are being abandoned or badly parked, then removed by local authorities and legitimately sold.

It described a $30 (£23) motherboard which replaces the scooters' existing hardware but does not alter either the hardware or software installed by Bird.

A spokesperson told the BBC Bird's legal team had "overstretched" in issuing a takedown request.
Doctorow posted Bird's lawyer letter at the Electronic Frontier Foundation.
(4) FIFTIETH ANNIVERSARY. Neil Clarke unveiled Mack Sztaba's cover and the table of contents for his The Eagle Has Landed collection, to be released in July.
On July 20, 1969, mankind made what had only years earlier seemed like an impossible leap forward: when Apollo 11 became the first manned mission to land on the moon, and Neil Armstrong the first person to step foot on the lunar surface.

…The Eagle Has Landed collects the best stories written in the fifty years since mankind first stepped foot on the lunar surface, serving as a shining reminder that the moon is and always has been our most visible and constant example of all the infinite possibility of the wider universe.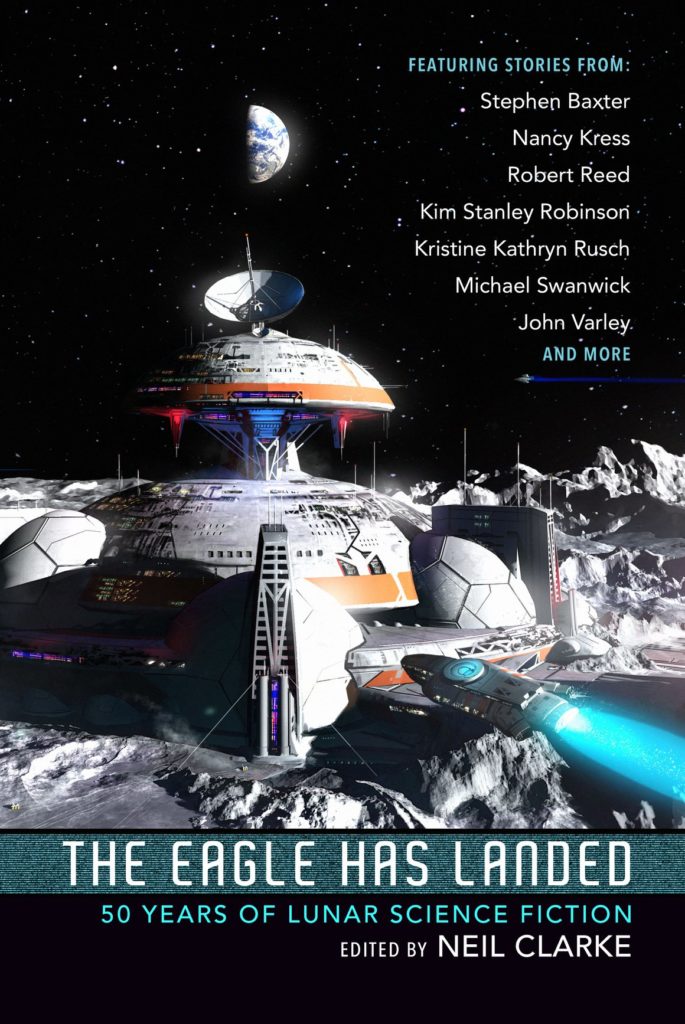 Table of Contents
Introduction
Bagatelle by John Varley
The Eve of the Last Apollo by Carter Scholz
The Lunatics by Kim Stanley Robinson
Griffin's Egg by Michael Swanwick
A Walk in the Sun by Geoffrey A. Landis
Waging Good by Robert Reed
How We Lost the Moon by Paul McAuley
People Came From Earth by Stephen Baxter
Ashes and Tombstones by Brian Stableford
Sunday Night Yams at Minnie and Earl's by Adam Troy Castro
Stories for Men by John Kessel
The Clear Blue Seas of Luna by Gregory Benford
You Will Go to the Moon by William Preston
SeniorSource by Kristine Kathryn Rusch
The Economy of Vacuum by Sarah Thomas
The Cassandra Project by Jack McDevitt
Fly Me to the Moon by Marianne J. Dyson
Tyche and the Ants by Hannu Rajaniemi
The Moon Belongs to Everyone by Michael Alexander and K.C. Ball
The Fifth Dragon by Ian McDonald
Let Baser Things Devise by Berrien C. Henderson
The Moon is Not a Battlefield by Indrapramit Das
Every Hour of Light and Dark by Nancy Kress
In Event of Moon Disaster by Rich Larson
(5) FANHISTORY. Steven H Silver reminisces about "The Golden Age of Science Fiction: Lou Tabakow" at Black Gate, a long resume of the conventions he founded. I'd also like to mention what impressed me about Lou Tabakow. By the time I encountered him in the mid-1970s yes, he was a vaunted fanpolitician and Secret Master of Fandom, yet he was always interested in how to bring more people into fandom and share what was going on. That not as common a trait as you'd expect among fans.
(6) TODAY IN HISTORY.
January 14, 1959 — Journey to the Center of the Earth premiered.
January 14, 2005 — The first probe to land on Saturn's moon, Titan, signaled it survived its descent. The Huygens space probe was designed to last only minutes on Titan's surface, but surpassed the expectations of mission managers. Huygens descended the atmosphere, contacted the surface, and transmitted for at least an hour and a half.
(7) TODAY'S BIRTHDAYS.
[Compiled by Cat Eldridge.]
Born January 14, 1921 – Kenneth Bulmer. Oh my god. I couldn't possibly summarise him if I tried. Looking through his list of writing that I know that I have read some Astor New Writings in SF and I reasonably sure that those Antares novels sound awfully familiar. So what have y'all read of him? (Died 2005.)
Born January 14, 1949 – Lawrence Kasdan, 70. Screenwriter, director and producer. He is best known as co-writer of The Empire Strikes Back, Raiders of the Lost Ark (one of my favorite films of all time), Return of the Jedi, Star Wars: The Force Awakens, and Solo: A Star Wars Story. He directed SF horror film Dreamcatcher which was based on a novel by Stephen King and by a William Goldman screenplay.
Born January 14, 1962 – Jemma Redgrave, 57. Her her first genre role was as Violette Charbonneau in the "A Time to Die" episode of Tales of the Unexpected which was also her first acting role. Later genre roles are scant but include a memorable turn as Kate Lethbridge-Stewart, daughter of Brigadier Lethbridge-Stewart on Doctor Who.
Born January 14, 1964 – Mark Addy, 55. He got a long history in genre films showing up first as Mac MacArthur in Jack Frost followed by by the lead in The Flintstones in Viva Rock Vegas (why did anyone make this?), Roland in A Knight's Tale (now that's a film), Friar Tuck In Ridley Scott's Robin Hood (has anyone seen this?) and voicing Clyde the Horse in the just released Mary Poppins Returns. Television work includes Robert Baratheon on Game of Thornes, Paltraki on a episode on Doctor Who, "The Battle of Ranskoor Av Kolos", and he was Hercules on a UK series called Atlantis.
Born January 14, 1974 – Kevin Durand, 45. Jason Woodrue In the forthcoming live Swamp Thing series on the DC Universe service (that's me jumping up and down!). Previous genre roles include as The Blob in X-Men Origins: Wolverine, Little John In Robin Hood, Mogadorian Commander In I am Number Four, Ricky in Real Steel, Emil Pangborn In The Mortal Instruments: City of Bones, Cesar Tan In Winter's Tale
Born January 14, 1990 – Grant Gustin, 29. Actor, known as The Flash in the Arrowverse. I've got him as a boyfriend on an episode of A Haunting, one of those ghost hunter shows early in his career. Later on, well that's it as Arrowverse has kept him rather busy.
(8) COMICS SECTION.
Yoda offers some seasonal advice at Half Full.
(9) IS HOMER IN THE MCU NOW? Thanos paid a visit to The Simpsons with predictable—yet unpredictable—results (Inverse: "Only One 'Simpsons' Character Survived Thanos on Sunday"). The Big Guy added a new "stone" to his gauntlet and used it to lay low most of the Simpson family in the introduction to the episode.
Thanos wants to wipe out half the known universe in the pursuit of perfect balance, but he has a (very toxic) soft spot. In a guest appearance on The Simpsons on Sunday, the villain of Avengers: Infinity War used the Infinity Stones to wipe away most of the Simpsons family, except for one.

In the "couch gag" for the Sunday premiere of Season 30, Episode 12 of The Simpsons, Jim Starlin's Thanos occupies the Simpsons family couch and uses his Infinity Gauntlet to wipe out most the Simpsons family.
(10) A LIST TO THINK ABOUT. Nerds of a Feather's contributors have assembled the "2019 Nerds of a Feather Hugo Awards Longlist, Part 1: Fiction Categories". A nice set of cover galleries accompany the picks.
…The rules for inclusion were simple–just: (a) meet the eligibility criteria; and (b) be "award worthy" (i.e. good). Given the subjectivity of the latter, it should come as no surprise that the selections on our longlist reflect the spectrum of tastes, tendencies and predilections found among our group of writers. You'll find selections ranging from the obscure and literary to the unabashedly popular and commercial, and from all corners and subdivisions of the genresphere.

That said, this is not nor intends to be a comprehensive survey of the field. Some books that are undoubtedly "award worthy," for example, are absent for the simple reason that we haven't read them yet. Thus we encourage you to think of this as a list of candidates to consider–alongside others….
(11) R.O.U.S. Ars Technica: "Rodents of Unusual Size—Meet the invasive, orange-toothed pests of coastal erosion". A new nature documentary makes a callback to The Princess Bride—in its title, at least. Nutria. They're not just for breakfast anymore.
…Back in the early 20th century long before environmental changes imminently threatened the state's natural resources, Louisiana still needed more industry. So businessmen like EA McIlhenny (of the Tabasco family, yes) had an idea. Argentina has this abundance of these large, furry creatures called nutria, what if we acquired some?

The concept seemed solid: raise 'em on a fur farm, skin 'em for the pelts, and then export hats, jackets, and other fine furs to make a pretty penny. And for a long time, the scheme worked—even Sophia Loren once wore nutria, and the industry for Louisiana trappers peaked around $15 million in annual revenue. But as animal rights became more of a mainstream concept, the popularity of fur drastically decreased. Suddenly, folks in Southern Louisiana didn't have the same motivation, and nutria quietly built out a larger population within their new habitat.

This, to put it lightly, had consequences. In the '70s and '80s when the fur game started drying up, Rodents of Unusual Size estimates 25 million invasive nutria occupied Southern Louisiana. Unfortunately, the rats tend to devastate their immediate environment, eating anything green in sight and uprooting plants in the process, which makes a plot of land more at risk to the natural forces of coastal erosion….
(12) SHORT FICTION REVIEWS. Charles Payseur catches up with "Quick Sips – Anathema #6":
So I might have missed when this latest issue of Anathema dropped on the last day of the year. My apologies! I'm super glad I caught it, though, because it's an amazing bunch of stories, featuring six different works that explore grief, loss, and a palpable powerlessness. The characters are dealing with things that cannot be changed (or that seem like they cannot be changed) and finding out what they can do about it. That sometimes means learning how to accept things and try to move on, though that's complicated by grief, by pain, and by the fear of losing more. It's an emotional and often devastating read, and I'll get right to those reviews!
(13) OUT OF THE MAZE AND INTO THE BOX. "Rosa Salazar: From 'Abbreviated' 'Bird Box' Role to James Cameron's 'Alita'" – The Hollywood Reporter has the story.
The apocalypse has been good to Rosa Salazar.

After dystopic turns in the Divergent and Maze Runner franchises, the 33-year-old actress was most recently seen in Bird Box, Netflix's foray into the end times. While the movie has since reached hit status (more than 45 million views in its first week, according to the streamer), she was hesitant to sign on.

"I felt like I had been there and done that," she explains. But Bird Box was an opportunity to work with some of her "idols," like star Sandra Bullock, and Salazar ultimately joined after director Susanne Bier offered to add more of a backstory for her character, who was not in the original Josh Malerman novel.
(14) A STORY ABOUT RAY BRADBURY. Mr. Sci-Fi shares a story Ray Bradbury told him personally — about the time he met Laurel and Hardy. And Space Command is off to London to meet with Netflix!
(15) SPILL THE BEANS. Supermarket News says "Giant/Martin's, Stop & Shop begin robot rollout".
Ahold Delhaize USA plans to deploy robots to nearly 500 Giant Food Stores, Martin's and Stop & Shop locations to help improve in-store efficiencies and safety.

The company's Retail Business Services (RBS) arm said Monday that the rollout, slated to continue through the early part of 2019, comes after successful store pilots of the technology. The initiative stems from a partnership between RBS and retail automation and robotics provider Badger Technologies, a division of Jabil.

Named "Marty," the robots are being used to flag hazards — such as liquid, powder and bulk food-item spills — and report when corrective action is needed. RBS said the robots help stores reduce the risk caused by such spills, freeing up store associates to spend more time serving customers.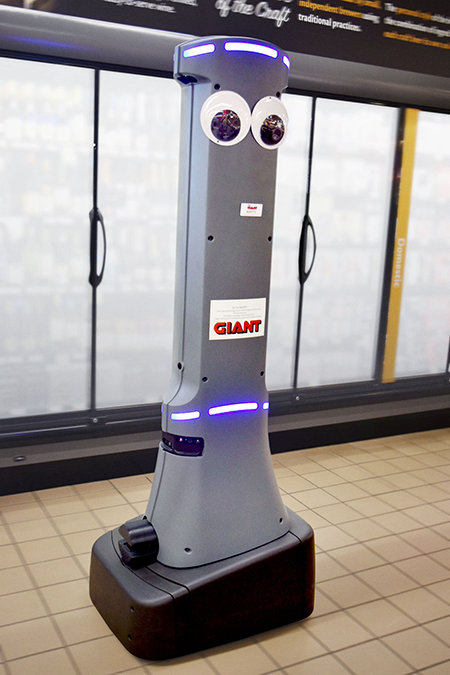 (16) VIDEO OF THE DAY. In "If You Can" on Vimeo, Hanna Rybak animates an inspiring quote by WInston Churchill.
[Thanks to Mike Kennedy, Cora Buhlert, JJ, Cat Eldridge, David Doering, John King Tarpinian, Chip Hitchcock, Martin Morse Wooster, Michael J. Walsh, Carl Slaughter, and Andrew Porter for some of these stories. Title credit goes to File 770 contributing editor of the day Daniel Dern.]