(1) FOCUS ON THE FANS. Tor.com's Andrew Liptak brings word that "Star Wars Documentary Looking for Leia Is Now Streaming".
At the launch of the Kickstarter project, Ophelian told me that she wanted to focus on how Star Wars impacted female fans, especially because the franchise always seems to be dominated by male fans. She first saw Star Wars in theaters in 1977, and was amazed at the level of female representation when she attended Star Wars Celebration in 2015.

That experience helped to inspire the documentary, and she's been hard at work since interviewing fans across the country….
You can access the 7-episode playlist on YouTube.
(2) CREAM OF THE SMALL SCREEN. Variety has picked "TV's Top 25 Episodes of the Decade", and depending on what you count as genre, about a quarter (or more) of the episodes mentioned in the article linked below are sff-related.
9. "Blackwater," "Game of Thrones" (HBO, May 27, 2012)
Written by George R.R. Martin; dir. Neil Marshall

In telling about a dozen sweeping stories at any given time, "Game of Thrones" made it difficult for itself to deliver stellar episodes in and of themselves. The ones that do stand out are ones that winnow down the action to a few manageable plots, makes the most of giant setpieces, and gives its characters enough delicious dialogue to chew on alongside the scenery. In that respect, it's hard to beat "Blackwater," an action-packed episode that includes Tyrion (Peter Dinklage striving to protect King's Landing from Stannis Baratheon's (Stephen Dillane) oncoming onslaught while Cersei (Lena Headey) educates a terrified Sansa (Sophie Turner) on how they, as women, might have to bear the consequences of losing a war. (It's also very possible that we're blinded by the power of Headey's monologuing, which always made Cersei a scathing pleasure to behold throughout the show's uneven run.)
(3) DUELS. In the Washington Post, Michael Cavna, David Betancourt, and Shelly Tan count down "The five best lightsaber battles in Star Wars history".
"This weapon is your life." Those wise words about the lightsaber from Obi-Wan Kenobi to a young Anakin Skywalker resonate throughout the Star Wars films, positively glowing with mortal meaning.

And ever since Force-sensitive warriors began wielding their plasma blades in 1977, the lightsaber duel has been a central Star Wars spectacle. From Luke Skywalker to Yoda, from Darth Vader to grandson Kylo Ren, these battles are more than physical showdowns — they are windows into who has greater power or purpose, whether the result is apparent victory or higher self-sacrifice.
(4) THUMB UP. In "Empire of the Alexandrines" on Przekroj, Adam Weglowski has an alternate history where the Alexandrian Library wasn't destroyed in 48 BC but survived and became a center of knowledge for the Romans and their successors.
Julius Caesar's Egyptian excursion almost ended in catastrophe. Battles broke out in Alexandria, and from the burning ships, the flames moved to the structure of the great, famous library. Already a good 200 years old, it contained the entirety of ancient knowledge and culture. It's frightening just to think what dark ages would have fallen on the Earth if we had lost this invaluable collection of books.

We owe the rescue of this treasure to Julius Caesar himself. It was he, seeing that the building with tens of thousands of books was threatened, who ordered the Roman soldiers to halt their attack, and threw himself into the battle against the flames. While putting out the fire he was severely burned, losing his left thumb. It was then that he said the famous words: "When books are burning, it's time to lay down the sword." Ever since that moment, the divine Julius has been sculpted and painted without his left thumb. And the Roman salute – the left hand raised, with the thumb hidden – gained popularity as a sign of people who are educated and hungry for wisdom.
(5) LINDSEY OBIT. Bestselling romance novelist Johanna Lindsey has died at the age of 67 reports the New York Times.
…Ms. Lindsey set her passionate tales in many locales, including England as early as the year 873; the Barbary Coast and the Caribbean; Norway when the Vikings ruled; 19th-century Texas, Wyoming and Montana; and the planet Kystran in a series of sci-fi bodice-rippers.

Her deep space/ Ly-san-ter Family Saga included Warrior's Woman (1990), Keeper Of The Heart (1993), and Heart Of A Warrior (2001), and she wrote a time travel novel whose modern protagonist would up in the Middle Ages, Until Forever (1995).
(6) AUGER OBIT. Actress Claudine Auger died December 18 in Paris. The New York Times' resume of her career says that in addition to playing James Bond's love interest in Thunderball, she had these genre credits —
Ms. Auger also worked in both the science fiction and horror thriller genres. "Un Papillon sur l'Épaule" (1988), or "Butterfly on the Shoulder," one of several projects she did with the director Jacques Deray, was about a parallel world. "Reazione a Catena" (1971), or "A Bay of Blood," was about a murder spree. And "La Tarantola dal Ventre Nero" (1975), or "Black Belly of the Tarantula," with Marcello Mastroianni, focused on a serial killer.
(7) TODAY IN HISTORY.
December 22, 1933 — A audiences were treated to a family picture known as Son Of Kong. Yes, it's the sequel to King Kong. It was directed by Ernest Schoedsack and had special effects by Buzz Gibson and Willis O'Brien with the cast being Robert Armstrong, Victor Wong, Helen Mack and Frank Reicher. Intended to be more family friendly than its predecessor, it got harsh reviews and currently has a 28% rating among those who've reviewed it at Rotten Tomatoes.
December 22, 1958 — The BBC aired the first installment of the Quatermass and the Pit television series.  The first  episode of the six in total was called the "The Halfmen". Each episode was thirty one to thirty six minutes in length. It was created by Nigel Kneale, and stared André Morell. Cec Linder. Anthony Bushell, John Stratton and Christine Finn. Special effects were handled by the BBC Visual Effects Department. For the box set release, Quatermass and the Pit was extensively restored.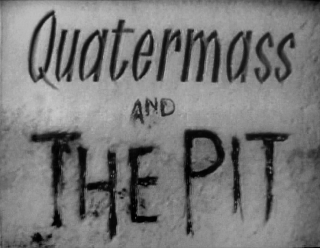 December 22, 1967 – Star Trek's "Wolf in The Fold" first aired on CBS. Written by Robert Bloch,  it was not one of the three Trek episodes up for the Best Dramatic Presentation at NyCon 3 which was won by "The Menagerie" episode. Critics in general, now and then, found it both misogynistic and, here's a phrase you don't hear very often, "containing offensive orientalist sets". 
(8) TODAY'S BIRTHDAYS.
[Compiled by Cat Eldridge]
Born December 22, 1917 — Frankie Darro. What I'm most interested to know is that he was inside Robbie the Robot in Forbidden Planet. Other roles — showing up on Batman as a Newsman in two episodes, and The Addams Family as a Delivery Boy in one episode, I don't think he had any other  genre roles at all. (Died 1976.)
Born December 22, 1943 — Michael Summerton. One of the original Dalek operators, his work would show up in three First Doctor stories, "The Survivor", "The Escape" and " The Ambush". He's interviewed for "The Creation of The Daleks" documentary which is included in the 2006 The Beginning DVD box set. According to his Telegraph obit, he was he was the last survivor of the original four operators of the Daleks. So you don't need to get past their paywall, here's the Who part here: "After a lean period, he was excited to be offered a part in a new BBC science fiction series. His agent told him he would not need to learn any lines for the casting, and when he arrived at the BBC workshops he was asked to strip down to his underpants and sit in what appeared to be a tub on castors.  Summerton (who was one of the four original Daleks) was instructed in how to move this apparatus about, the director saying: "We want to test this prototype for manoeuvrability. We want you to move forwards, backwards, sideways. Quickly, slowly." Presently the director lowered a lid over him with a plunger sticking out of it. Summerton found himself in total darkness. He would later relate: "When the lid went on I knew my career as an actor was over." (Died 2009.)
Born December 22, 1951 — Charles de Lint, 68. I've personally known him for twenty-five years now and have quite a few of his signed Solstice chapbooks in my possession. Listing his fiction would take a full page or two as he's been a very prolific fantasy writer so let me offer you instead our Charles de Lint special edition. My favorite novels by him? That would be Forests of The Heart, Someplace To Be Flying, Seven Wild Sisters and The Cats of Tanglewood Forest. You'll find my favorite chapter from Forests of The Heart here.
Born December 22, 1962 — Ralph Fiennes, 57. Perhaps best-known in genre as Lord Voldemort of the Harry Potter film franchise, he's also been M in the Bond films starting with Skyfall. His first genre role was as Lenny Nero in Strange Days, one of my favorite SF films. If you haven't seen it, he voices Lord Victor Quartermaine in Wallace & Gromit: The Curse of the Were-Rabbit. Run now and see it! 
Born December 22, 1968 — Dina Meyer, 51. She's the female in Johnny Mnemonic. Of course, she's in Starship Troopers, a film that, oh well, where she's best known for a scene we discuss here. She actually gets to act in Dragonheart, bless the producer!  And there might have been something good come out up of her role as Barbara Gordon/Oracle/Batgirl on Birds of Prey but we'll never know.
Born December 22, 1978 — George Mann, 41. Writer and editor. He's edited a number of anthologies including the first three volumes of Solaris Book of New Science Fiction. Among my favorite books by him are his Newbury & Hobbes series, plus his excellent Doctor Who work. 
(9) COMICS SECTION.
Bizarro gets a very droll joke from this literary mashup.
Free Range comes up with something a superhero can't lift.
Incidental Comics' Grant Snider has a new writing-oriented cartoon.
(10) OH, CANADA! Entertainment Weekly: "Screaming fight at The Rise of Skywalker screening breaks out over cell phone".
A screaming fight broke out at a Vancouver screening of Star Wars: The Rise of Skywalker, with part of the raucous confrontation captured on video. One man was even allegedly punched in the face.

No, it wasn't a debate over Rey's parentage or the practicalities of lightspeed skipping. But a moviegoer who was using their cell phone during the highly anticipated film.

The video below captured the aftermath of the fight […]
As Master Yoda says: "Control, control, you must learn control! Anger leads to hate. Hate leads to suffering — and suffering leads to the whole movie being stopped."
(11) THE FORCE. "Trump Created The Space Force. Here's What It Will Actually Do" – NPR thought you'd like to know.
When President Trump signed a $738 billion defense spending bill on Friday, he officially created the Space Force. It's the sixth branch of the U.S. Armed Services, and the first new military service since the Air Force was created in 1947.

…"This is not a farce. This is nationally critical," Gen. John Raymond, who will lead the Space Force, told reporters on Friday. "We are elevating space commensurate with its importance to our national security and the security of our allies and partners."

…The new service branch essentially repackages and elevates existing military missions in space from the Air Force, Army and Navy, said Todd Harrison, who directs the Aerospace Security Project at the Center for Strategic & International Studies.

"It's about, you know, all the different types of missions our military already does in space — just making sure that we're doing them more effectively, more efficiently," said Harrison.

"It will create a centralized, unified chain of command that is responsible for space, because ultimately when responsibility is fragmented, no one's responsible," he added.
(12) ALL'S NOISY ON THE WESTERN FRONT. The Beaverton follows up one of the week's surprising American government news stories — "Vibranium stocks tumble as U.S. raises tariffs on Wakanda".
…Despite the loss of value on the NASDAQ, vibranium has continued robust trading in international markets. Though the rare element is highly prized for its weapon applications, its near indestructibility has made vibranium the go-to material for a wide variety of objects, ranging from single-use Keurig cups to Ruth Bader Ginsburg's exoskeleton.
(13) WITH ELF EDDIE MURPHY. "North Pole News Alert" in last night's Saturday Night Live explains how global warming has affected the North Pole and Santa and his elves.
[Thanks to John King Tarpinian, Andrew Porter, N., Chip Hitchcock, JJ, Cat Eldridge, Todd Mason, Mike Kennedy, and Martin Morse Wooster for some of these stories. Title credit goes to File 770 contributing editor of the day Xtifr.]