(1) RIDLEY SCOTT'S COGNAC AD. The noted director of Blade Runner, various Aliens movies, and the Apple Mac: 1984 commercial, Ridley Scott, has returned to commercial work this year. First to air was his Turkish Airlines ad for the Super Bowl, and now comes a short video tailored for airing online and on TV during the Oscars:
The liquor brand is promoting its Hennessy X.O cognac in "7 Worlds," a mix of epic drama and sci-fi odyssey. The video highlights the seven notes of X.O and pays homage to the Oscars with a scene that includes colossal golden figures similar to the Oscars award statue.

Scott, who directed films including "Alien," "Blade Runner" and "Gladiator," created a four-minute film for the brand that will air on Hennessey's site during the Oscars on Feb. 24. A 60-second version airs during the show on ABC.
The YouTube blurb explains:
Hennessy X.O – The Seven Worlds – Directed by Ridley Scott. Each time you taste Hennessy X.O, you go on an odyssey. Seven tasting notes, like seven unique worlds to explore. Seven oneiric stories to convey the incredible richness and complexity of this cognac. …The Seven Worlds are creative interpretations of each tasting note, described by Hennessy's Comité de Dégustation as illustrations of Hennessy X.O's taste and feel: Sweet Notes, Rising Heat, Spicy Edge, Flowing Flame, Chocolate Lull, Wood Crunches. Culminating in Infinite Echo. These seven notes are envisioned by Ridley Scott as individual worlds each brought to life through wonderous and extreme physiography.
(2) ZAK SMITH CALLED OUT. Game author Zak Smith, a four-time Ennie Award nominee in 2018, has been accused by several women of sexual assault. One company will no longer do business with him.
The Morrus' Unofficial En World Tabletop RPG News site summarized the story: "RPG Writer Zak S Accused Of Abusive Behaviour".
RPG writer Zak S (aka Zak Smith, Zak Sabbath) has been accused by multiple women of abusive behaviour in a public Facebook post by his ex-partner, and two other women.

Zak Smith appeared in the video series I Hit It With My Axe, and is known for the Playing D&D With Porn Stars blog. He has also written several RPG books, most recently for Lamentations of the Flame Princess, consulted on the D&D 5th Edition Player's Handbook, has won multiple ENnies, and recently worked for White Wolf. As yet, he hasn't made any public response to the accusations.
The Facebook post referred to is public, and can be accessed here. Consider ALL the content warnings given. Many reactions and links will be found using this search on Twitter.
OneBookShelf / DriveThruRPG President Steve Wieck says they basically won't be doing business with Zak Smith going forward — "DriveThruRPG Responds to Current Industry News" at OneBlogShelf.
Thanks to everyone for your patience as we deliberated on the situation that has unfolded regarding Zak Smith (aka Zak Sabbath). At DriveThruRPG, we want to do our part to keep bad actors out of the roleplaying community, and we don't want business relationships with such people. As such, you'd think there wouldn't be much deliberation needed on our part. However, the situation posed a number of challenges for us to consider in terms of precedent and collateral impact on other parties.

I have decided that we will not accept future titles for sale on DriveThruRPG (or our other marketplaces) if Zak is a contributor on the title. If any publisher has a title-in-process to which Zak is a contributor and this policy would impact you financially, then we'd ask that you please reach out to us via the publisher services link to have a dialogue about that title…

So DriveThruRPG is now banning certain creators? Will whoever the "outrage brigade" complains about next be banned as well?
We all share a responsibility for the health of our hobby. Any demographic measure we've ever seen on the roleplaying hobby shows women are under-represented. Things won't improve if people shirk the responsibility to make our hobby inclusive.

Zak Smith has a long and well-documented history of behaviors antithetical to a healthy community. In light of recent allegations, which we find credible, we think our business and our hobby is better off without him, so we're doing our part.
Eric Franklin explained the significance of this decision in a comment: "DTRPG/OBS is the largest RPG PDF retailer on the planet, and are the ONLY legal source for many publishers' games. This is equivalent to Amazon cutting a publisher off – without OBS, it's super-hard to make money selling RPG PDFs."
(3) LEGO CAMEOS. Kevin Polowy, in the Yahoo! Entertainment story "How LEGO MOVIE 2 Scored Those Surprising Celebrity Cameos (Spoilers!)" discusses how Bruce WIllis and Justice Ruth Bader Ginsburg have cameos in the film, with Justice Ginsburg saying she would only be in the movie if her action figure had a small gavel.
But there are a few cameos in the new hit animated sequel that will catch you for a loop. While folks like Channing Tatum and Jonah Hill return as superheroes Superman and Green Lantern, respectively, and DC stars Jason Momoa and Gal Gadot are onboard to voice Lego versions of Aquaman and Wonder Woman, fans who saw the film over the weekend got an unexpected surprise in the bricky form of Bruce Willis playing… well, Bruce Willis (though he bears a striking resemblance to Bruce Willis as Die Hard's John McClane).
(4) ERRM, NO. The BBC's Nicholas Barber asks: "Does The Lego Movie 2: The Second Part match the original?"
Set five years after the original, a new film continues the story of Lego figure Emmet – and it fails to measure up.

Perhaps no sequel could ever have reached the giddy heights attained by The Lego Movie. Written and directed by Phil Lord and Christopher Miller, the best cartoon of 2014 was such a magnificently animated and dazzlingly inventive delight that there was probably only one way its follow-up could go. But it is still depressing to see The Lego Movie 2: The Second Part falling so far short of its glorious predecessor.

One obvious reason for the shortfall is that the first film caught everyone unawares. Those of us who walked into the cinema fearing a cynical advert for a Danish construction toy brand found ourselves gawping instead at a daring Orwellian satire, the exhilarating and hilarious adventure of a cheerfully conformist construction worker, Emmet (voiced by Chris Pratt), who learns that the tyrannical Lord Business (Will Ferrell) plans to glue every one of Bricksburg's Lego citizens into place….
(5) NOT PRIME ENOUGH? The Counterpart TV series has been cancelled. (At least in this universe.)
Creator Justin Marks announced Monday on his verified Twitter account that the premium cable network has opted to cancel the drama starring J.K. Simmons after two seasons. The news comes ahead of Sunday's season two finale, which will now serve as a series finale should another outlet not pick up the Media Rights Capital-produced drama.
(6) MARVEL MIGRATION. Hulu looks like the new home for Marvel TV programs: "Marvel, Hulu Set Four-Show Animated Slate". The Hollywood Reporter has details:
As Marvel's Netflix relationship sours, the comic book powerhouse is entering a new pact for a slate of four animated series with Hulu.

The streamer — soon to be majority controlled by Marvel parent Disney as part of the Fox asset sale — has greenlit four animated series (and a special) as part of a new partnership with the comic giant.

M.O.D.O.K. centers around an egomaniacal supervillain with a really big head and a really little body, who struggles to maintain control of his evil organization and his demanding family. Writers Jordan Blum and Patton Oswalt will also executive produce.

Hit-Monkey tells the tale of a wronged Japanese snow monkey, mentored by the ghost of an American assassin, as he cuts a wide swath through the Tokyo underworld in this darkly cinematic and brutally funny revenge saga. Writers Josh Gordon and Will Speck will executive produce.

Tigra & Dazzler Show is a story about two woke superheroes and best friends, Tigra and Dazzler, as they fight for recognition among powered people who make up the eight million stories in Los Angeles. Writers Erica Rivinoja and Chelsea Handler serve as executive producers.

Howard the Duck is trapped in a world he never made, but America's favorite fighting fowl hopes to return home with the help of his unstoppable gal pal Beverly before the evil Dr. Bong can turn him the crispiest dish on the menu. Writers Kevin Smith and Dave Willis will also executive produce.

The Offenders follows MODOK, Dazzler, Tigra, Hit Monkey and Howard the Duck as they are all forced to team up in order to save the world and certain parts of the universe.
(7) HOLLOMAN OBIT. Master costumer D. Jeannette Holloman (1955-2019) died February 11.
Jeannette was a founding member of the Greater Columbia Fantasy Costumers Guild. Her costumes have been featured in Threads magazine and The Costume Makers Art. She has participated several WorldCon, CostumeCon and Malice Domestic award-winning costumes. She was a noted voice-over artist. She is survived by her husband Ron Robinson, author, costumer, and technocrat. She also leaves a vast number of good friends.
(8) SMITH OBIT. British fan Tony "Blindpew" Smith died of cancer on February 9 according to the Novacon 49 Facebook page. He is survived by his wife Wendy and his family. Smith was an early member of the Peterborough SF Club.
(9) TODAY'S BIRTHDAYS.
[Compiled by Cat Eldridge.]
Born February 12, 1920 — Russ Chauvenet. He co-founded the National Fantasy Fan Federation, with Damon Knight and Art Widner, and was a member of First Fandom. He coined the word "fanzine" in the October 1940 issue of his fanzine Detours and was for many years a member of the Fantasy Amateur Press Association. He later coined prozine, a phrase for professionally published magazines containing SF stories. It looks like he wrote one piece of fanfic called "If I Werewolf". He shares credit for it with Harry Jenkins, Jr., Elmer Perdue, Jack Speer, Wilson Tucker and Arthur L. Widner, Jr. and it was published in Spaceways, January 1942. (Died 2003.)
Born February 12, 1922 – Sam Youd. Best known for writing under the name of John Christopher, which he used when he penned The Tripods series. A BBC and Seven Network (Australia) series would be made from the books. He also wrote two other genre novels, The Death of Grass and The Guardians. (Died 2012.)
Born February 12, 1933 — Juanita Ruth Coulson, 86. She apparently is well-known for her Children of the Stars books though I've not heard of them. She co-edited the fanzine Yandro for many years. The magazine won the Hugo in 1965, thus making Coulson one of the very first women editors to be so honored. She's also known for being an excellent filker. She was inducted into the Filk Hall of Fame in 1996. She was nominated for several Pegasus Awards for filk music, winning the award for Best Writer/Composer in 2012.
Born February 12, 1942 — Terry Bisson, 77. He's best known for his short stories including "Bears Discover Fire," which won the Hugo Award and the Nebula Award and "They're Made Out of Meat." His genre novels includes Talking Man, Wyrldmaker and a rather superb adaptation of Johnny Mnemonic.
Born February 12, 1950 — Michael Ironside, 69. Ahhhh, he of Starship Troopers fame. His first SF role was actually as Darryl Revok in Scanners. Later roles included Overdog in Spacehunter: Adventures in the Forbidden Zone, Ricther In Total Recall, General Katana in Highlander II: The Quickening and of course Lt. Jean Rasczak In Starship Troopers. Now he also did some series work as well including being Ham Tyler on V The Final Battle and V The Series, seaQuest 2032 as Captain Oliver Hudson, General Sam Lane on Smallville and on the Young Blades series as Cardinal Mazarin.
Born February 12, 1952 — Steve Szilagyi, 67. This is going to get very meta. Photographing Fairies, his first novel, was short-listed for the 1993 World Fantasy Award. But the novel itself is based on the Cottingley Fairies hoax so is the novel a metanarrative? Ok I've been up too long again. At any rate the film made the novel starring Ben Kingsley is first rate.
(10) COMICS SECTION.
In its own way, Non Sequitur asks whatever happened to that sense of wonder?
(11) TOLKIEN TRAILER. Oxford, WWI, true love – it's all in Tolkien, the biopic, arriving in theaters on May 10.
TOLKIEN explores the formative years of the orphaned author as he finds friendship, love and artistic inspiration among a group of fellow outcasts at school. This takes him into the outbreak of World War I, which threatens to tear the "fellowship" apart. All of these experiences would inspire Tolkien to write his famous Middle-Earth novels.
(12) STAR STRUCK. [Item by Mike Kennedy.] One of pop star Ariana Grande's tracks on her new album is called "NASA," though it's more about self-empowerment than space exploration. That didn't keep there from being some cross-talk (Bustle: "Ariana Grande's Twitter Exchange With NASA & Buzz Aldrin Perfectly Shows Why She's Such A Superstar") featuring Twitter exchanges between NASA and Grande plus between Buzz Aldrin and Grande. For the latter, she seemed a bit, shall we say, star struck.
Another article (The Atlantic: "A Space Nerd's Reading of Ariana Grande's 'NASA' Song") notes that the song begins "with a reimagining of Neil Armstrong's famous line: 'This is one small step for woman / One giant leap for womankind.'" Self-empowerment indeed.
(13) THE RIGHT-ER STUFF. TV will take another look at America's space pioneers.Variety: "Nat Geo Orders Adaptation of Tom Wolfe's 'The Right Stuff' to Series".
National Geographic, in partnership with Leonardo DiCaprio's Appian Way and Warner Horizon Scripted Television, has greenlit to series an adaptation of Tom Wolfe's 1979 book "The Right Stuff," which recounts the early days of the U.S. space program and its astronauts.

Using Wolfe's book as a jumping-off point, the first season begins in 1958, the height of the Cold War, with the Soviets leading the space race and the U.S. launching NASA's Project Mercury. The best-selling book was previously adapted into a feature film in 1983.

The show is described as taking "a clear-eyed, non-nostalgic look at the lives of these ambitious astronauts and their families, who became instant celebrities in a competition that would either kill them or make them immortal." Following seasons will follow the Apollo Space Program, the moon landing, and other missions.
(14) THE FUTURE IS UNEVENLY DISTRIBUTED. BBC asks, "Sweden's Cashless Experiment: Is It Too Much Too Fast?"
Cash is still king around the world, but there are pockets of places, especially in Europe, moving away from cash. And no one is dropping cash as fast as Sweden.

In 2018, only 13 percent of Swedes reported using cash for a recent purchase, according to a nationwide survey, down from around 40 percent in 2010. In the capital, Stockholm, most people can't even remember the last time they had coins jingling in their pockets.

By contrast, around 70 percent of Americans still use cash on a weekly basis, according to a recent study by the Pew Research Center.

In Sweden, however, especially in bigger cities, going cashless is becoming the norm. Purchases usually happen as digital transactions — by card, online or with Sweden's most popular mobile payment app, Swish.

…But all this change has also spurred a debate in the Nordic nation over the consequences of how quickly Sweden is going cashless, especially for the most vulnerable groups in society. Many retirees, people with disabilities and newly arrived refugees struggle with digital transactions.

"If you go to a bar or if you go to some shops, they say to you that the only way to pay is to pay with cards or this Swish system," explains 75-year-old Christina Tallberg, who is president of the Swedish National Pensioners' Organisation.

She says that even going to public toilets can pose a problem. These often cost 10 kronor (around a dollar) in Sweden, but the toilets rarely accept cash these days.
(15) OF THIS EARTH. Dylan Narqvist has translated his research into graphic form —
He'd love to sell you a copy of the "World Map of Alien First Contacts in Popular Motion Pictures – Poster". Here's an excerpt of the detail —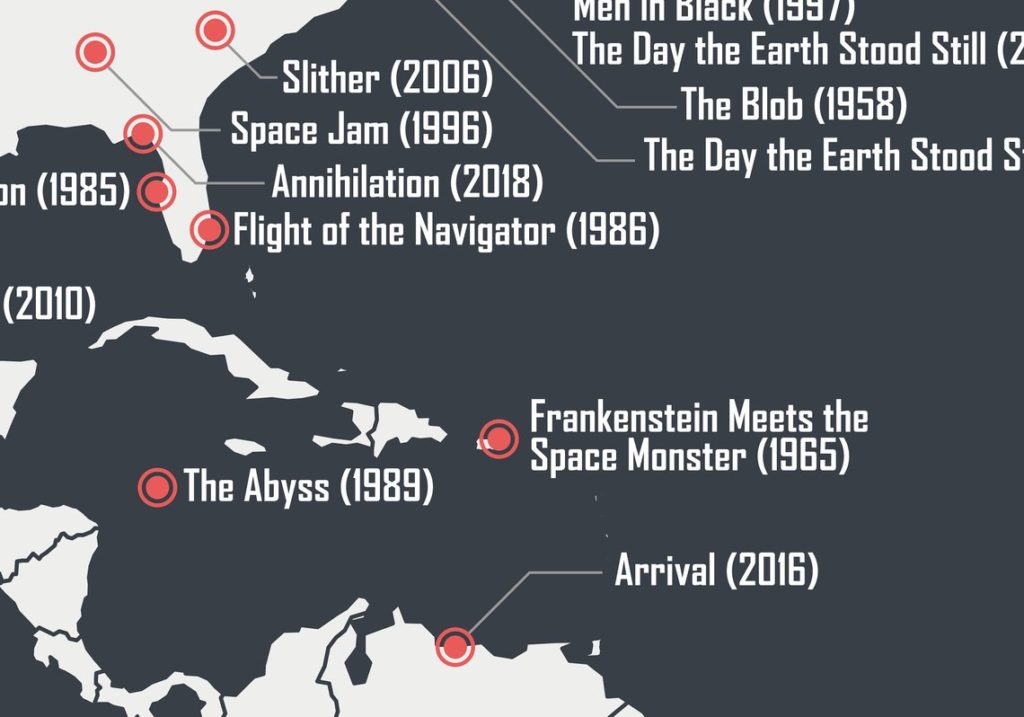 (16) THE ONE ELLISON TOOK HIS NAME OFF. Cancelled SciFi tells you how to watch Cordwainer Bird's 1973 TV show: "Streaming Finds: The Starlost Has Its Own Roku Channel".
The Skinny: This oddity from the 70's is not well known, but some sci fi fans may be interested in checking it out. It was a Canadian production that was syndicated in the U.S. and that ran for only one season of sixteen episodes. It was created by Harlan Ellison and his script for the pilot even received the Best Original Screenplay award from the Writer's Guild of America. But Ellison distanced himself from the show after growing disillusioned with the production direction (the studio made many changes and recorded the show on video tape like classic Doctor Who), and had his name removed from the credits (replaced with his usual protest moniker Cordwainer Bird). The resulting series was not great, but still of interest to fans of 70's sci fi. 2001: A Space Odyssey's Keir Dullea was one of the leads in the series and Star Trek's Walker Koenig showed up in a couple of episodes as an alien.

Apparently this series has slipped into the public domain and a Roku channel titled–what else?–The Starlost has been set up with the entire sixteen episodes available for streaming.
(17) LIVING ON MARS. [Item by Mike Kennedy.] The Verge: "The company that promised a one-way ticket to Mars is bankrupt".
As the subheading says, "What a shocker." (Not.)
Mars One Ventures — the company that claimed it was going to send hundreds of people to live (and ultimately die) on the Red Planet — is now bankrupt, according to Swiss financial notices. It's an unsurprising development, as many experts suspected that Mars One has been a scam for years, preying on people's desires to travel to space without having a real plan to get them there.
—On the other hand—
CNBC: "Elon Musk: Moving to Mars will cost less than $500,000, 'maybe even below $100,000'".
Elon Musk says he is "confident" moving to Mars will "one day" cost less than $500,000 and "maybe even" cost below $100,000.

While the final cost is "very dependent on [the] volume" of travelers, Musk said the cost of moving to Mars will be "low enough that most people in advanced economies could sell their home on Earth [and] move to Mars if they want." (The median home price in the U.S. is $223,900, according to Zillow.)
Mike Kennedy says, "Hmmm, I move to Mars and weigh about 60% less? I would say 'sign me up NOW,' but I suppose that people who move there will be expected to work and I don't want to un-retire."
[Thanks to John King Tarpinian, JJ, Chip Hitchcock, Cat Eldridge, ULTRAGOTHA, Errolwi, Martin Morse Wooster, Mike Kennedy, Carl Slaughter, and Andrew Porter for some of these stories. Title credit goes to File 770 contributing editor of the day Jack Lint.]