(1) TOP 100 SF BOOKS. Reedsy Discovery is back with the counterpart to its fantasy list — "The 100 Best Sci-Fi Books of All Time". This one arranges the titles in chronological order and I found myself zooming through, checking off one after another, when suddenly it was like I dropped off a cliff. I ended with only 43/100 read. (So it was hardly worthwhile to cheat and add another two titles I started and never finished.)
Whether you read sci-fi for its ability to speculate how technology will change our lives, or if you enjoy how its authors use it to hold a mirror up to modern society, you'll find some of your favorite books (and hopefully, a few titles you've never read before) in our chronological list of the 100 best sci-fi books of all time.
(2) ON THE TRAIL. There's a high-concept title for you — The Man Who Killed Hitler and then The Bigfoot. And it stars Sam Elliott.
Since WWII, Calvin Barr has lived with the secret that he was responsible for the assassination of Adolf Hitler. Now, decades later, the US government has called on him again for a new top-secret mission. Bigfoot has been living deep in the Canadian wilderness and carrying a deadly plague that is now threatening to spread to the general population. Relying on the same skills that he honed during the war, Calvin must set out to save the free world yet again.
(3) SUPERNATURAL FLAVOR. "'Hellboy' to Get 6 Limited Edition Beers for 25th Anniversary" – The Hollywood Reporter has the story. The official launch of the Hellboy beer will take place during an as-yet-undisclosed March 15 event as part of Emerald City Comic Con in Seattle.
Six flavors will be released in editions of 666 starting in March.

What better way to celebrate the 25th anniversary of Mike Mignola's Hellboy than to enjoy a drink in his honor? The answer is clear: enjoying one of six exclusive Hellboy beers, brewed by Oregon's Gigantic Brewing to mark the character's birthday.

Each of the six beers will be released in a limited edition of 666, with release windows of approximately seven weeks beginning in March to coincide with "Hellboy Day," Dark Horse Comics' March 23 celebration of the character's 25th anniversary. Each release will have a flavor profile based on a specific character from the mythology built around the long-running comic character, launching with March's "Hellboy," obviously; that beer is described as "maple syrup pancake beer" by Gigantic Brewing.

Subsequent releases will be Liz Sherman (Mole Chili Stout), Johann Kraus (Citrus Wit Beer), Abe Sapien (Indigo Blue Fruit Ale), Blood Queen (Cranberry Yuzu Sour) and Trevor Bruttenholm (British Barleywine). Each beer, with the exception of the Trevor Bruttenholm, is 6.66% ABV; Trevor is a stronger 9.99%.
(4) HERE'S WHAT'S IN THE LTUE BENEFIT ANTHOLOGY. Trace the Stars, a benefit anthology for Life, the Universe, & Everything, the annual science fiction and fantasy symposium in Provo, Utah, will be released Thursday by Hemelein Publications and LTUE Press. The editors are Joe Monson and Jaleta Clegg. Cover art by Kevin Wasden. All of the stories were donated by the authors in support of the symposium's mission to educate and train new authors and artists.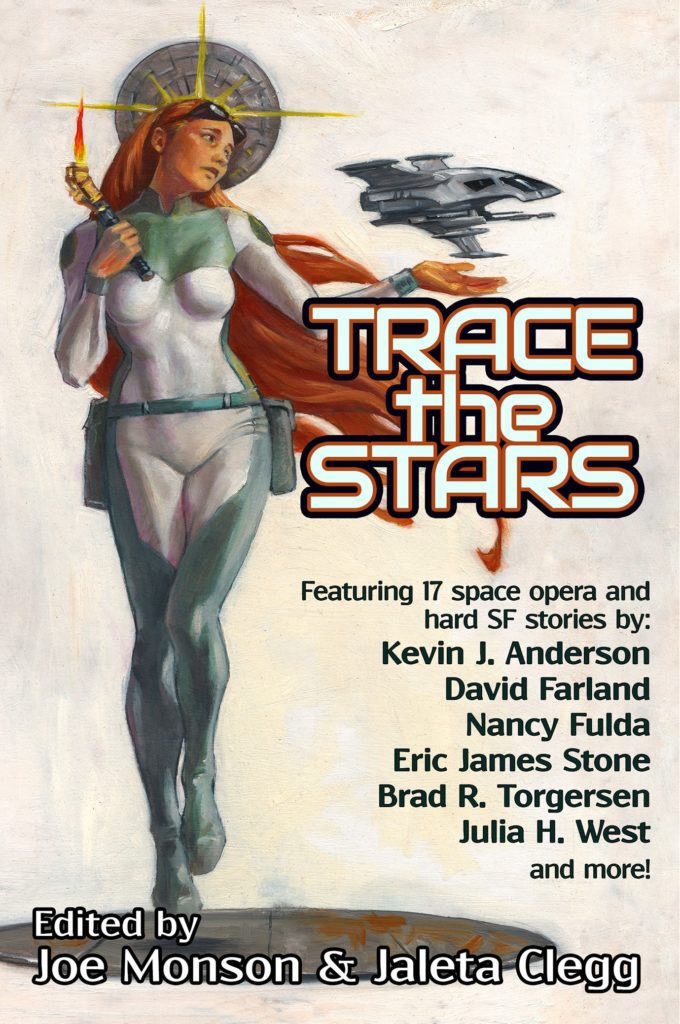 Trace the Stars is a space opera and hard science fiction anthology created in memory of Marion K. "Doc" Smith, the founding faculty advisor to Life the Universe, & Everything. All proceeds from sales of the anthology will go to support LTUE in allowing students to attend for a greatly reduced price.

Contents
(5) THE NEIL CLARKE FOUR: Over at Featured Futures, Jason has updated the "Collated Contents of the Year's Bests (2018 Stories, Links" so that it now has collation. Strahan and Clarke's ToCs are combined and the available stories are linked.

Welcome to the third annual linked collation of annuals or "year's bests." As the contents of the Afsharirad, BASFF, Clarke, Datlow, Guran, Horton, Shearman/Kelly, and Strahan science fiction, fantasy, and horror annuals are announced, they will be combined into one master list with links to the stories which are available online. Hopefully, you'll enjoy some of them and that will help you decide which annual or annuals, if any, to purchase.
(6) THE FIRST MONTH'S FIRST-CLASS STORIES: Jason also has compiled the latest list of fiction which fascinated him in "Month in Review: January 2019" at Featured Futures.

This is a slightly re-titled and graphically enhanced version of what used to be the "Monthly Summation" and marks the first month of the two-tiered review system in which eight magazines are fully reviewed and twelve are selectively reviewed. This installment looks back on 96 stories of 502K words which produced just four recommendations and seven honorable mentions. It also includes links to the thirteen relevant reviews and the seven other January articles.
(7) TODAY'S BIRTHDAYS.
[Compiled by Cat Eldridge.]
Born February 11, 1908 – Tevis Clyde Smith. He's a curious story indeed as he collaborated on three short stories with Robert E. Howard. Those stories are "Red Blades of Black Cathay", "Diogenes of today" and "Eighttoes makes a play". ISFDB suggests that he might have written other short stories and poetry. Anyone encounter these? (Died 1984.)
Born February 11, 1926 – Leslie Nielsen. I know the comic, bumbling fool who delighted generations of film goers. But his first starring role was as Commander John J. Adams in one of the finest SF films of all time Forbidden Planet. I am most decidedly not a fan of his later films but I think he's brilliant here. (Died 2010.)
Born February 11, 1939 — Jane Yolen, 80. She loves dark chocolate. That I know as I just sent her some a few weeks ago. She wrote me into a novel as a character, an ethnomusicologist in One-Armed Queen to be precise in exchange for finding her a fairytale collection she wanted. Don't remember now what it was other than it was very old and very rare. My favorite book by her is The Wild Hunt, and I love that she financed the production of Boiled in Lead's Antler Dance which her son Adam Stemple was lead vocalist on.
Born February 11, 1953 – Wayne Hammond, 66. He's married to fellow Tolkien scholar Christina Scull. Together they've done some of the finest work on him that's been done including J. R. R. Tolkien: Artist and Illustrator, The Lord of the Rings: A Reader's Companion, The Adventures of Tom Bombadil and Other Verses from the Red Book and The J. R. R. Tolkien Companion and Guide.
Born February 11, 1982 — Natalie Dormer, 37. Best known as being in Game of Thrones as Margaery Tyrell as I'm more in the fact that she was in Elementary over three seasons as both Jamie Moriarty and Irene Adler. Anyone here watch this series? I've not but this sounds fascinating!
(8) COMICS SECTION.
The colleagues of a suspicious-looking trooper wonder what he's been up to at Brewster Rockit.
(9) TO INFINITY AND BEYOND. Where do you keep the Infinity Stones between Marvel movies? Apparently Cate Blanchett owns them—or at least knows who to borrow them from (BuzzFeed: "Cate Blanchett Basically Wore An Infinity Stones Necklace To The BAFTAs And People Made Jokes").
(10) BOVINE DATING. BBC finds a "Tinder-style app for cows tries to help the meat market".
So you think the dating scene is like a meat market? Well, wait till you hear about the latest matchmaking app.

Following the example of Tinder, UK farming start-up Hectare has launched its own equivalent for livestock and called it Tudder.

The app features data profiles of animals from 42,000 UK farms in an effort to help farmers find the perfect breeding partner for their cattle.

Farmers can view pictures of bulls or cows and swipe right to show interest.

Hectare Agritech, which also runs online grain marketplace Graindex, says its aim is "reinventing farm trading – and making farmers' lives easier".
(11) BUGS, MR RICO! But not as many as before: "Global insect decline may see 'plague of pests'".
A scientific review of insect numbers suggests that 40% of species are undergoing "dramatic rates of decline" around the world.

The study says that bees, ants and beetles are disappearing eight times faster than mammals, birds or reptiles.

But researchers say that some species, such as houseflies and cockroaches, are likely to boom.

The general insect decline is being caused by intensive agriculture, pesticides and climate change.
(12) ASK AGAIN, LATER. The new Spock spoke to SlashFilm (which they stylize as /Film): "Zachary Quinto Still Hopeful 'Star Trek 4' Will Happen Eventually".
Here's what Zachary Quinto had to say about the Star Trek 4 delay:

"I mean, it's been a broad conversation that we've been having for a while in terms of what's the future of the franchise. It's in process so I don't know exactly what to say other than there's no plans for a movie happening at this moment."

[…] "I would love to. I feel like it's been an anchor of my creative life for the last over 10 years now so if I can go back to it, I'll always be happy to. I love my Star Trek family so we'll see how it goes."
(13) WHAT'S OUT THERE. Looking for reviews to help make your reading decisions? Patricia Abbott's blog has links to a week's worth in the "Friday's Forgotten Books, February 8, 2019" post.
Mark Baker. MURDER ON LENOX HILL, Victoria Thompson
Elgin Bleecker, CRIMES IN SOUTHERN INDIANA, Frank Bill 
Brian Busby, THE LISTENING WALLS, Margaret Millar
Kate Jackson/Cross/examining/crime, THE LETHAL SEX, John D. MacDonald 
Martin Edwards, THE PATON STREET CASE, John Bingham
Aubrey Nye Hamilton, BLACKSHIRT PASSES, Roderic Jeffries
Rich Horton, ANDROID AVENGER, by Ted White/THE ALTAR ON ASCONEL, by John Brunner
Jerry House, THE CITY by James Herbert; illustrated by Ian Miller; PRIDE OF BAGHDAD by Brian K. Vaughan, illustrated by Niko Henrichon  
George Kelley, GO, LOVELY ROSE and THE EVIL WISH, Jean Potts 
Margot Kinberg, ARAB JAZZ, Karim Miske
Rob Kitchin, MOSKVA, Jack Grimwood
Kate Laity: PLOTTING AND WRITING SUSPENSE FICTION, Patricia Highsmith
B.V. Lawson, MURDER AMONG FRIENDS, Elizabeth Ferrars
Evan Lewis, CONAN OF VENARIUM, Harry Turtledove 
Steve Lewis, "When We Went to See the End of the World", Robert Silverberg
Todd Mason, more of Wilma Shore's short fiction: in THE NEW YORKER, FANTASY & SCIENCE FICTION, STORY magazine, COSMOPOLITAN, GALAXY and others; Carol Emshwiller, Rest in Glory
J.F. Norris, DEATH ON THE OUTER SHOAL, Anne Fuller and Marcus Allen
Mike Lind/OnlyDetect, CLOUDS OF WITNESSES, Dorothy L Sayers
Matt Paust, ANATOMY OF A MURDER, Robert Traver
James Reasoner, LUST TYCOON, "J X Williams"
Richard Robinson, INTERSTELLAR PATROL, "Christopher Anvil" (Harry Crosby)
Gerard Saylor, CURSE OF THE BANE, Joseph Delany
Kevin Tipple, ZERO COOL, "John Lange" (Michael Crichton)
TomCat, SOMETHING WRONG AT CHILLERY, R. Francis Foster
TracyK, THE MIRROR CRACK'D, Agatha Christie
(14) WHO CAN REPLACE A ROBIN? Everybody's a critic. BBC reports: "Disney fans mock Will Smith's Genie in Aladdin".
Disney granted everyone's wish on Sunday when they finally gave a first look at Will Smith's blue Genie in the new live action version of Aladdin.

Unfortunately many fans were not impressed with what they saw and were quick to say so on social media.

"It turns out that Will Smith's Aladdin Genie will haunt my nightmares," tweeted one user.
Another added: "I'll never sleep again and it's all Will Smith's fault."
Vice is even less kind: "Our Three Wishes Are All for Will Smith's Genie in 'Aladdin' to Go Away".
Disney dropped a new trailer for the live-action Aladdin movie on Sunday, finally giving us our first look at Will Smith's Genie in action. For the love of all that is holy, please put him back in the lamp.

They saved the big Genie reveal for right at the very end of the minute-long clip like some cruel trick, presumably to lull us into a false sense of security with a few nice shots of Jafar and Jasmine and the Prince Ali parade or whatever.
(15) IMAGINARY FOOD ON THE MENU. Digital brand Epicurious serves up a video of kids eating foods from famous children's books… starting of course with a Seussian special (YouTube: "Kids Try Famous Foods From Children's Books").
Watch as kids try and react to some of the most famous foods from children's books, including Green Eggs and Ham, Cloudy With a Chance of Meatballs, The Very Hungry Caterpillar, Dragons Love Tacos, Winnie-the-Pooh, Curious George Goes to a Chocolate Factory, The Giant Jam Sandwich, The Gruffalo and The Monster Who Ate My Peas.
[Thanks to Joe Monson, JJ, Cat Eldridge, Martin Morse Wooster, Chip Hitchcock, Mike Kennedy, John King Tarpinian, Carl Slaughter, Jason, Todd Mason, and Andrew Porter for some of these stories. Title credit goes to File 770 contributing editor of the day Tom Becker.]