(1) SPRNG THAW. Book borrowers cheer as Publishers Weekly reports "Macmillan Abandons Library E-book Embargo".
In a surprise announcement today, Macmillan abandoned its controversial embargo on new release e-books in libraries, effective this week.

"There are times in life when differences should be put aside," reads a brief memo from Macmillan CEO John Sargent addressed to librarians, authors, illustrators, and agents. "Effective on Friday (or whenever thereafter our wholesalers can effect the change), Macmillan will return to the library e-book pricing model that was in effect on October 31st, 2019. In addition, we will be lowering some e-book prices on a short term basis to help expand libraries collections in these difficult times. Stay safe."

A Macmillan spokesperson confirmed that the removal of the embargo covers all titles, including new release Tor titles (which were technically still under a "test" embargo on October 31, 2019).

The news comes as libraries across the nation are (or soon will be) closing down their physical locations in an attempt to slow the outbreak of Covid-19….
(2) MORE NON-CORONA NEWS. The South China Morning Post has the story: "Xiao Zhan scandal – why millions of Chinese shoppers boycotted Piaget, Cartier and Estée Lauder because of homoerotic idol fan fiction".
Things escalated quickly after A03's takedown. Enraged by Xiao fans' censorship plot, millions of free speech activists began boycotting the dozens of brands Xiao campaigns for, including Estée Lauder, Piaget and Qeelin. But they've gone further than the usual boycott by promoting competitors of Xiao-promoted brands, crashing Xiao-sponsored brands' customer service lines, and pressuring those brands to end their collaborations with Xiao. So far, the Chinese Weibo hashtag #BoycottXiaoZhan has exceeded 3,450,000 posts and 260 million views.

.. But the idol economy has a sinister side. In the Chinese model of idol adoration, fans are the ones in control of the idol's reputation and commercial worth – not the idol. And since fan communities are so actively involved in their idol's brand sponsorships, it also falls on them to attack brands that they perceive to be opposing their idol's interests.
(3) FUN STORY. A wonderful spin on a beleaguered classic: Cora Buhlert's "The Cold Crowdfunding Campaign" begins –
Save the Girl and Save Me From Having to Toss Her Out of the Airlock

Organised by Captain C. Barton

Started on August 4, 2178, 08:48 Category: Accidents and emergencies

My name is Barton and I'm the pilot of an EDS (Emergency Dispatch Ship) currently en route to the frontier world of Woden to deliver some desperately needed medical supplies.

I have a problem, because I just discovered a stowaway aboard my ship, an eighteen-year-old girl named Marilyn Lee Cross. Upon questioning, Marilyn explained that her brother Gerry works on Woden as part of the government survey crew. She wants to visit him and since there is no regular passenger traffic to Woden because of the current medical crisis, she snuck aboard my ship…..
(4) WINDY CITY PULP CON POSTPONED. Chicago's Windy City Pulp and Paper Convention, originally set for next month, has been rescheduled to September 11-13.
On March 16, 2020, Illinois Governor J.B. Pritzker mandated that social gatherings of 50 or more people be cancelled for the next eight weeks. Given other recent developments in the Covid-19 crisis, we anticipated that some sort of ban might be imposed that would make it impossible to hold our convention at its scheduled time in April, 2020. Out of concern for the health of our extended family of attendees, dealers and staff, for the past week we had been working with our hotel — the Westin Lombard Yorktown Center in Lombard, Illinois — to attempt to reschedule our convention.

We can now announce that we've just reached an agreement to postpone the convention to September 11-13, 2020. The location of the convention remains the same, and we thank the fine folks at the Westin Lombard for working with us to make this change….
More information about memberships and hotel reservations at the link.
(5) EDGAR AWARDS. Mystery Writers of America have cancelled the Edgar Awards event planned for April 30: "Edgar Week Events – Update". How the awards will be announced is under discussion.
It is with heavy heart that we have to let you know we are cancelling both the Edgar Awards banquet and the symposium.

All bars and restaurants have been closed in New York City due to the pandemic (other than for delivery and pick-up), and The Centers for Disease Control and Prevention released a statement on Sunday urging people to cancel or postpone all events bringing together 50 or more people for the next eight weeks, including weddings. "Large events and mass gatherings can contribute to the spread of COVID-19 in the United States via travelers who attend these events and introduce the virus to new communities," the CDC said on their website. "Examples of large events and mass gatherings include conferences, festivals, parades, concerts, sporting events, weddings, and other types of assemblies.

This year is the 75th anniversary of MWA; our Edgar week festivities were to be a celebration of that anniversary.

But the health, safety, and well-being of our nominees, guests, members and the hotel staff have to be paramount, and it is not in anyone's best interest that we go forward with the festivities.
(6) LEPRECON LOSES GOH. At the moment LepreCon 46 is still scheduled for April 10-12 in Chandler, Arizona, however, one of their guests of honor has stepped down. A decision about the con's future is coming this week.
LepreCon has had some participant cancellations, most notably our Author Guest of Honor, Robert McCammon, who lives in Alabama. He stated: "I've gone back and forth on this, and back and forth again, and unfortunately I feel the need to cancel my appearance at LepreCon. I hate to do this because I'd been looking forward to the con and also because never before in my life have I said I would be somewhere and not shown up… but in all honesty I just don't feel confident in traveling right now and am uncertain of what another month may bring."

We are restricted in our decision to postpone or cancel Leprecon 46 by our contract with the hotel. We must work in conjunction with them to come up with a solution, since Governor Ducey & ADHS haven't yet prohibited all public gatherings. We will speak with them Monday to begin the process of determining whether the convention can be postponed or canceled. A decision will be announced by the end of the week.
(7) NO LAST DANCE IN LOUISVILLE. It was going to be the last con in a series that started a decade ago, but now ConGlomeration won't be taking place. The Louisville, Kentucky fan event was planned for April 10-12.
All good things, as they say, must come to an end. And so it comes to ConGlomeration.

In accordance with current COVID-19 safety recommendations, as well as local, state, and federal mandates, and to ensure the health and well-being of our membership, the Convention Committee has elected to cancel our final ConGlomeration.

For those asking why we are cancelling, rather than merely postponing, we simply have no idea if or when a suitable replacement date and venue would become available. We cannot hold our guests, staff, or resources in limbo for an indeterminate amount of time. And, as this was our final convention, we have no "next year" to simply "roll over" this year's plans and people into.

So, rather than "see you later," we must instead say "goodbye."
(8) COMIC RELIEF. Courtesy of George Takei.
(9) BACK TO THE BAD NEWS. Mark George R.R. Martin's Jean Cocteau Cinema closed, too. The Santa Fe, NM theater posted this "Important Announcement".
To our Jean Cocteau & Beastly Books Supporters:

We like to keep our community as informed as we can. We regret to say that we have decided to close the Jean Cocteau Cinema for a month starting 03/17 and hope to reopen on 04/15. TBD. The Jean Cocteau Cinema is fortunate enough to continue to pay our employees for the interim….
(10) LIBRARIANS' DAY RECALENDARED. Horror Writers of America have moved HWA Librarians' Day to November 12, 2020. The Naperville, IL event is another casualty of coronavirus restrictions.
(11) WHITMAN OBIT. [Item by Mike Kennedy.] Actor Stuart Whitman has died at the age of 92. Whitman was probably best known for his work in action, war, and western films, but did have some genre roles, the first being an uncredited appearance in When Worlds Collide (1951).
Perhaps most notable were 10 episodes as Jonathan Kent scattered across 4 seasons of the 80s/90s TV series Superboy Other genre and adjacent TV work included seven episodes of Fantasy Island (as different characters), plus episodes on more than a half-dozen other shows including Night Gallery and Tales from the Dark Side.
He appeared in sf and horror movies such as Omega Cop, Deadly Intruder, Vultures, Invaders of the Lost Gold, The Monster Club, Demonoid, The Cat Creature, and City Beneath the Sea.
(12) TODAY'S BIRTHDAYS.
[Compiled by Cat Eldridge.]
Born March 17, 1846 — Kate Greenaway. Victorian artist and writer, largely known today for her children's book illustrations. So popular was she and her work that the very popular Kate Greenaway Almanacks appeared every year from 1883 to 1895. Among her best-known works was her edition of Robert Browning's The Pied Piper of Hamelin, Rosa Mulholland's Puck and Blossom and Bret Harte's Pirate Isle. She's readily available at the usual digital suspects. (Died 1901.)
Born March 17, 1906 — Brigitte Helm. German actress, Metropolis. Her first role as an actress, she played two roles, Maria and her double, the Maschinenmensch, plus several uncredited roles as well.  She's got some other genre credits including L'Atlantide (The Mistress of Atlantis) and Alraune (Unholy Love). Her later films would be strictly in keeping with the policies of the Nazis with all films being fiercely anti-capitalist and in particular attacking Jewish financial speculators. (Died 1996.)
Born March 17, 1945 — Tania Lemani, 75. She played Kara in the Trek episode "Wolf in the Fold". She first met Shatner when she was offered her a role in the pilot for Alexander the Great which starred him in the title role (although the pilot failed to be picked up as a series). She had parts in The Man from U.N.C.L.E., The Bionic Woman and she shows up in the fanfic video Star Trek: Of Gods and Men. I assume as Kara, though IMDb lists her as herself. 
Born March 17, 1947 — James K. Morrow, 73. I'm very fond of the Godhead trilogy in which God is Dead and very, very present. Shambling Towards Hiroshima is a lot of satisfying satirical fun as is The Madonna and the Starship which is also is a wonderful homage to pulp writers.
Born March 17, 1948 — William Gibson, 72. I've read the Sprawl trilogy more times than I can remember and likewise the Bridge trilogy and The Difference Engine. The works I struggled with are Pattern Recognition, Spook Country and Zero History. I've tried all of them, none were appealing. Eh? 
Born March 17, 1949 — Patrick Duffy, 71. Surely you've seen him on Man from Atlantis? No?  Oh, you missed a strange, short-lived show. His other genre credits are a delightfully mixed bag of such things as voicing a Goat on Alice in Wonderland, appearing on The Secret Adventures of Jules Verne as Duke Angelo Rimini  in the "Rockets of the Dead" episode and voicing  Steve Trevor in the incredibly excellent "The Savage Time" three-parter on Justice League. 
Born March 17, 1951 — Kurt Russell, 69. I know I saw Escape from New York on a rainy summer night in a now century-old Art Deco theatre which wasn't the one I later saw Blade Runner in. I think it's much better than Escape from L.A. was. Of course, there's Big Trouble in Little China, my favorite film with him in it. And let's not forget Tombstone. Not genre, you say. Maybe not, but it's damn good and he's fantastic in it. 
(13) COMICS SECTION.
About today's Wallace the Brave Rich Horton commented, "I'm just surprised he didn't wear a propeller beanie!"
(14) BEYOND 404. Bleeding Cool tells about a new comedy that's on the way — "'Upload': Your Afterlife Depends on Your Wi-Fi Strength in Greg Daniels' Upcoming Amazon Prime Comedy Series".
If we're reading things correctly, Greg Daniels' (The Office, Space Force) new comedy series Upload for Amazon Prime Video makes the case that the future of your afterlife may depend on how strong your Wi-Fi signal is. At least that's the premise vibe were getting from the 10-episode series, which includes an ensemble cast fronted by The Flash alum Robbie Amell and Andy Allo (Pitch Perfect 3, The Hero) and a debut date of May 1 for the streaming service….
(15) SPACE COLLECTIBLE. [Item by Mike Kennedy.] Kickstarter: "DeskSpace: Lunar Surface". Inspired by the Apollo 11 lunar landing, this Kickstarter project is selling a detailed replica landscape of part of the Moon's surface.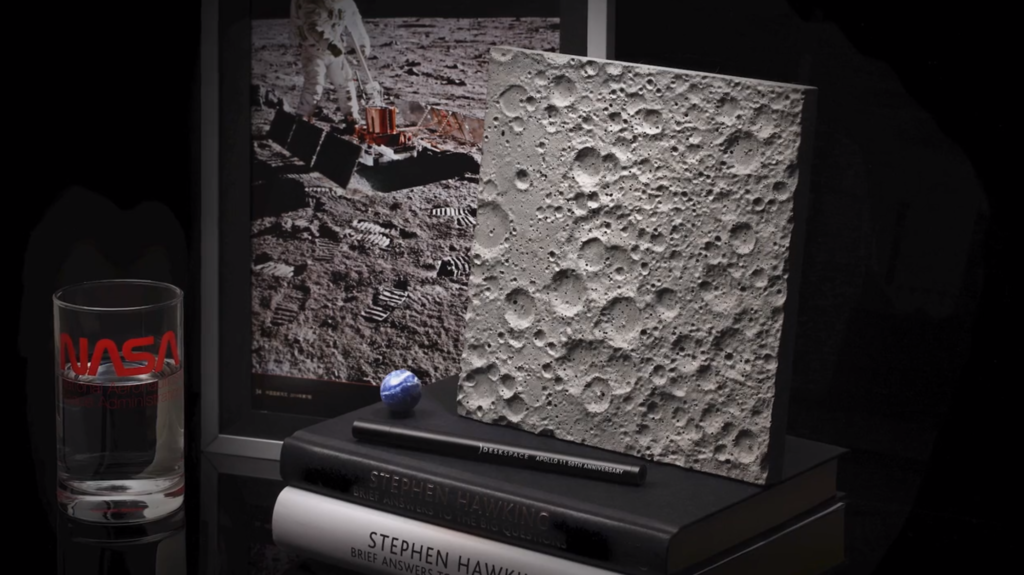 Made from "jewelry grade concrete," they plan to make it available in two sizes — roughly 7" (180 mm) square & roughly 4" (100 mm) square. Introductory pledge levels – which are about to run out – are about 75 & 99 US dollars respectively. (Actual pledges appear to be in HK$.)
For a bit more, they'll sell you the entire solar system.
(16) POMP AND MINECRAFT CIRCUMSTANCES. [Item by Mike Kennedy.] SoraNews24: "Japanese students hold graduation ceremony in Minecraft amid school cancellation". Tagline: "As usual, kids are way ahead of adults."
Japanese schools have been closed for over two weeks now due to coronavirus quarantine, and they will remain closed until after spring vacation.

Because the Japanese school year ends in March and begins in April, for many students this closing period means that they will miss their graduation ceremonies. Whether they're leaving elementary school, middle school, or high school, it's a sad feeling for them to go out with a whimper instead of a bang.

But some creative elementary school graduates in Japan came up with a great workaround. If they couldn't have a graduation ceremony at school, then why not have one digitally in a place they all meet often anyway… in Minecraft!
(17) SUPPORT YOUR LOCAL CRITTER. At Dogpatch Press, Patch O'Furr has an animal-centric post about the plague, with a side order of furry con fraud. "Good news! Doggos won't make you vom-o — and more to know about a zoonotic pandemic."
Need something wholesome for a time like this? Investigation found no reason to fear that people might catch COVID-19 from dogs. That's good for me and my chihuahua child. No more worry about going "aww" for little sneezes!
(18) COMBAT NEWS AFFECTED DISORDER. Kristine Kathryn Rusch is running a "March Sadness Special" which includes the offer of a couple free books to people signing up for a newsletter.
The last week has been…well, a year in stress and changes and everything else. I've been blogging about it to help people through the changes. Those blogs are currently on Patreon, but will hit here, starting tomorrow night.

It's becoming increasingly clear that people worldwide are staying home. Inside. With computers and streaming and books to keep them occupied.

Last week, Allyson of WMG, Dean, and I discussed a way to provide weekly content to readers and writers. The Stay At Home And Chill Newsletter will tell you about deals and discounts...and if you sign up now, you'll get two free books to help you relax through this crisis.
[Thanks to Doug Ellis, John King Tarpinian, Andrew Porter, Cat Eldridge, JJ, Martin Morse Wooster, Mike Kennedy, Michael Toman, Camestros Felapton, Brian Z., Patch O'Furr, Dann, and Chip Hitchcock for some of these stories. Title credit goes to File 770 contributing editor of the day Brian Z.]