(1) UK EASTERCON CANCELLED. Concentric, the 2020 Eastercon, was cancelled today. The con was to have been held April 10-13 in Birmingham, UK. Thread starts here.
(2) SERLING'S BASEBALL DRAMA TO AIR. "Rod Serling's lost baseball show to make return" – the Fifties show has been re-created by students and Anne Serling will narrate.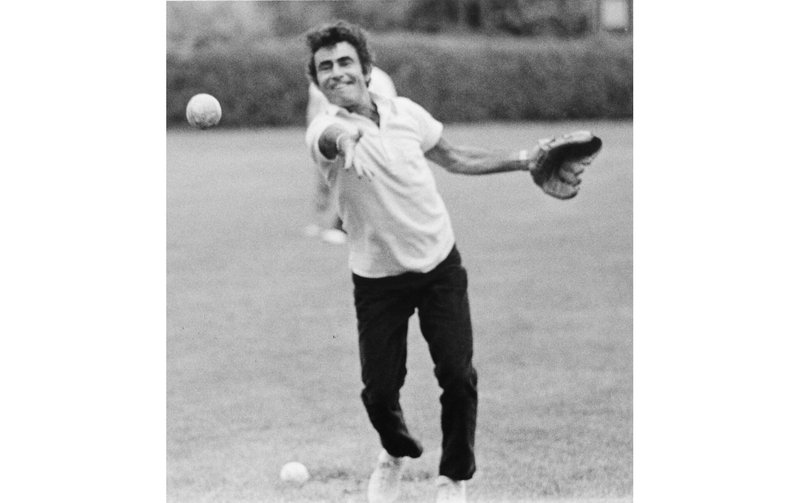 If there's one thing we could all use right now, it's baseball — in any form. Well, how about a baseball story written by none other than "The Twilight Zone" creator Rod Serling?

On March 25, when we would otherwise be preparing for Opening Day, Cincinnati's WVXU-FM will be streaming Serling's radio drama, "O'Toole From Moscow."

Written in 1955 — four years before "The Twilight Zone" debuted — the show is set during the Cold War and follows a Soviet Embassy worker who loves the Brooklyn Dodgers and skips town with a "comrade who suddenly becomes the greatest slugger ever for the Cincinnati Reds" — no word on if this slugger also ripped off his sleeves the way Ted Kluszewski did.

… The drama, which featured an appearance from Hall of Fame manager Leo Durocher, only aired once on NBC, and no recordings were ever made. Fortunately, Cincinnati journalist John Kiesewetter managed to hunt down the original script, and then edit it into a radio drama. With help from actors at University of Cincinnati College-Conservatory of Music, and Anne Serling — Rod's daughter — to provide the narration, the show was recorded in November and now awaits its debut.
(3) FILLING THE VACANCY. K. Tempest Bradford and Lou Antonelli have been exchanging barbs over his write-in candidacy to become a SFWA director-at-large. Bradford's thread starts here.
Antonelli's comments include —
(4) BOOKSTORE GOFUNDME. Nancy Hanger's Star Cats Books in Vermont hopes to raise $7,500: "Save Star Cat Books in the time of Covid-19".
Don't let Covid-19 kill this bookstore!

Most Vermonters have already decided to shelter at home, and even at mid-day roads are close to empty. Fixed costs continue. The owner of Star Cat Books has a compromised immune system, but fears she must stay open for the few people who are looking for books for their kids or themselves. "Just closing" for two months, which is the shortest period the experts project this to last, guarantees the store will close forever. Even if two months is enough to end the risk, business will not return to normal at once.
(5) ORDER UP. Meanwhile, Jeff VanderMeer is lending a hand to his local Tallahassee bookstore Midtown Reader with sales of signed copies of his books, plus this special offer to receive a unique autographed item —
(6) TIME AGAIN TO POP THE LID. Alasdair Stuart's The Full Lid barrels onward – here a link to the issue for 20th March 2020.
This week, there's a look at how Netflix often write genre fiction kids very well, focusing on Lost in Space, Locke & Key and October Faction. We've also got a look at Marieke Nijkamp, Manuel Preitano, Jordie Bellaire and Clayton Cowles' excellent Barbara Gordon YA graphic novel The Oracle Code. An interview with Marieke is planned for a future issue too (Although it did sneak into the Contents page here. Barbara Gordon folks, best hacker in the business).

We're also ramping up Signal Boost as multiple creatives and creative industries struggle under the growing changes to the fabric of modern life. If you have a project you'd like over 500 extra sets of eyes on, do get in touch.
(7) FREE PUBLISHERS WEEKLY. Forthcoming issues and a lot of digital archives can be accessed free announced PW's President, George Slowik.
We will make the digital magazine available to everyone regardless of whether you subscribe starting with the current issue (March 16, 2020).

Everyone can now access the digital edition of PW from www.digitalpw.com or from the PW app on iOS and Android.

Additionally, articles, past bestsellers lists and the reviews database, which includes a search feature and the reviews listed by genre, will be made available to all.

And last, I am very pleased to share access to our recently launched archive database. The archive includes 7,597 past issues, 676,133 pages, 400,000 book reviews, 5,000 author profiles and interviews and, beginning in 1895, bestseller lists.
(8) TODAY IN HISTORY.
March 21, 1989 — Gor II, also known as Outlaw of Gor, premiered. It is a sequel to Gor and is directed this time by John Cardos. It is based on the Gor series by John Norman, but varies quite a bit from the original Outlaw of Gor novel. It starred Urbano Barberini, Rebecca Ferratti, Donna Denton, Russell Savadier and, yes, Jack Palance. You can see it here as lovingly critiqued on Mystery Science Theatre 3000.
(9) TODAY'S BIRTHDAYS.
[Compiled by Cat Eldridge.]
Born March 21, 1915 — Ian Stuart Black. British screenplay writer best known for scripting two First Doctor stories, "The Savages" and "The War Machines" (with Kit Pedler and Pat Dunlop) and a Third Doctor story, "The Macra Terror". He wrote thirteen episodes of The Invisible Man as well as episodes of One Step Beyond, The Saint, Star Maidens and Danger Man. (Died 1997.)
Born March 21, 1931 — Al Williamson. Cartoonist who was best known for his work for EC Comics in the '50s, including titles like Weird Science and Weird Fantasy, and for his work on Flash Gordon in the Sixties. He won eight Harvey Awards, and an Eisner Hall of Fame Award. (Died 2010.)
Born March 21, 1944 — Lorene Yarnell. She was actually part of Shields and Yarnell, a well-known mime team, but you will know her as Dot Matrix on Spaceballs. She had a few previous genre appearances including being a villain named Forimicida on Wonder Women, and Sonia on The Wild Wild West Revisted. (Died 2010.)
Born March 21, 1944 — Hilary Minster. He appeared twice on Doctor Who, one in a Third Doctor story, "Planet of the Daleks" and before that in a Second Doctor story, "Genesis of the Daleks." He also was in "Achilles Heel", an episode of The Tomorrow People, and he had a minor role in The Girl in a Swing film based on the Richard Adams novel. Finally, he was Fritz, a German soldier, in Timeslip, a children's SF series. (Died 1999.)
Born March 21, 1946 — Timothy Dalton, 74. He is best known for portraying James Bond in The Living Daylights and License to Kill but is currently in The Doom Patrol as Niles Caulder, The Chief. As I've said before, go watch it now!  He also was Damian Drake in Looney Tunes: Back in Action, Sir Malcolm on the Penny Dreadful series and Lord President of the Time Lords (Rassilon) during the time of Tenth and Eleventh Doctors. He went to theatre to play Lord Asriel in the stage version of His Dark Materials.
Born March 21, 1946 — Terry Dowling, 74. I was trying to remember exactly what it was by him that I read and it turned out to be Amberjack: Tales of Fear and Wonder, an offering from Subterranean Press a decade ago. Oh, it was tasty! If it's at all representative of his other short stories, he's a master at them. And I see he's got just one novel, Clowns at Minnight which I've not read. He's not at all deeply stocked at the usual digital suspects but Kindle has this plus several story collections. 
Born March 21, 1947 — Don Markstein. He was the creator and sole maintainer of Don Markstein's Toonpedia which is subtitled A Vast Repository of Toonological Knowledge. It is an encyclopedia of print cartoons, comic strips and animation started in  2001. He said, "The basic idea is to cover the entire spectrum of American cartoonery." (Died 2012.)
Born March 21, 1956 — Teresa Nielsen Hayden, 64. She is a consulting editor for Tor Books and is well known for her and husband, Patrick Nielsen Hayden, Making Light superb weblog, Back in the Eighties, they published the Izzard fanzine. And she has three pieces in The Essential Bordertown, edited by Delia Sherman and Terri Windling. 
Born March 21, 1985 — Sonequa Martin-Green, 35. She currently plays Michael Burnham on Discovery which is now I believe in its third series. She had a brief recurring role as Tamara in Once Upon a Time, and a much longer recurring role on The Walking Dead as Sasha Williams but I've never seen her there as zombies hold no interest to me. Well Solomon Grundy does…  And she was in the Shockwave, Darkside film.
(10) COMICS SECTION.
(11) COMIC BOOK EVENT POSTPONED. Free Comic Book Day is also a casualty of the coronavirus outbreak — "Free Comic Book Day 2020 Postponed".
As the impact and spread of the Coronavirus (COVID-19) continues to evolve, Diamond Comic Distributors is aware that Free Comic Book Day (FCBD) will be impacted to varying degrees throughout the world. With that in mind, Diamond Comic Distributors has made the difficult decision to postpone the event to a date later in the Summer.
"The severity and timing of the impact of the COVID-19 virus can't be predicted with any certainty, but the safety of our retailer partners and comic book fans is too important to risk. As always, we appreciate your enthusiasm for and support of the comic industry's best event and look forward to celebrating with you later in the Summer," said Diamond Founder and CEO, Steve Geppi.

Free Comic Book Day 2020 offers a selection of 47 titles available absolutely free at participating local comic shops across the United States and around the world….
(12) TOO LATE THE PHYSICIAN. AP reports: "China exonerates doctor reprimanded for warning of virus".
China has exonerated a doctor who was officially reprimanded for warning about the coronavirus outbreak and later died of the disease, a startling admission of error by the ruling Communist Party that generally bodes no challenges to its authority.

The party's top disciplinary body said the police force in Wuhan had revoked its admonishment of Dr. Li Wenliang that had included a threat of arrest.

It also said a "solemn apology" had been issued to Li's family and that two police officers, identified only by their surnames, had been issued "disciplinary punishments" for the original handling of the matter.
(13) ESCAPE. Atlas Obscura illustrates "How Soviet Science Magazines Fantasized About Life in Outer Space".
A tall stele rises from a deeply cratered surface, casting a long, ominous shadow past a row of smaller towers. Straight lines connect the structures to each other, like streets on a map or the projected moves in a game of cosmic chess. The Earth floats serenely in the dark sky, next to the logo that reads Tekhnika—molodezhi, Russian for Technology for the Youth, a Soviet popular science magazine that launched in 1933. The magazine cover, from 1969, illustrated an article highlighting photographs from Luna 9, the Soviet unmanned spacecraft that was the first to survive a landing on the Moon a few years earlier.

This imagined moonscape is one of more than 250 otherworldly images from the upcoming, visually delightful book, Soviet Space Graphics: Cosmic Visions from the USSR, by Alexandra Sankova, director and founder of the Moscow Design Museum, which collaborated on the book with her.
(14) SEEN YOU SOMEWHERE BEFORE. ScreenRant matches up "10 Pairs of Famous Movies That Used The Same Set".
5 Blazing Saddles & John Carter – Vasquez Rocks

Key examples of both include Blazing Saddles, which used the rocks to portray the harsh terrain of the Western desert, and John Carter, which used them to convey the harsh terrain of Mars.

Speaking of Star Trek, one of the first uses of this location was in the original series, when Kirk had to go down to an alien planet and battle a lizard-human to death. The episode made the locale a common go-to for Westerns and science fiction films looking to create foreign landscapes.
(15) LAURENTIANS, REASSEMBLE! BBC reports "Diamond samples in Canada reveal size of lost continent".
Canadian scientists have discovered a fragment of an ancient continent, suggesting that it was 10% larger than previously thought.

They were studying diamond samples from Baffin Island, a glacier-covered land mass near Greenland, when they noticed a remnant of North Atlantic Craton.

Cratons are ancient, stable parts of the Earth's continental crust.

The North American Craton stretched from present-day Scotland to North America and broke apart 150m years ago.

Scientists chanced on the latest evidence as they examined exploration samples of kimberlite, a rock that often contains diamonds, from Baffin Island.
(16) YIELD OF THOUGHT EXPERIMENTS. The outbreak inspired France24's English-language service to look at the ways genre creators have already thought about the problem in "Dystopia vs reality: Sci-fi movies are helping us gain a critical outlook on society."
As COVID-19 spreads throughout the world, we take at a look at certain sci-fi movies and dystopian novels that had perhaps predicted certain consequences of such an outbreak. In this edition, we also explore the influence and the critical outlook that TV series can have on science and innovation but also politics and society at large.
(17) NO STATUE OF LIMITATIONS? I don't feel too broken up about the predicament as stated in the NBC Sports headline, but they did get me to click and find out about the "curse" – maybe you will too. "Coronavirus could prevent Hanshin Tigers from breaking the Curse of the Colonel".
…The finger-lickin' curse was placed on the team following their triumph in the 1985 Japan Series over the Seibu Lions. Revelers took to the streets of Osaka in celebration of their favorite team's first championship, and many of them gathered on Ebisu Bridge for a familiar ritual.

Japanese baseball fans are like soccer fans. They don't stoically sit in the grandstand and only make noise when prompted to by organ players or jumbotrons. They have chants and songs for all sorts of occasions and for every player, with brass instrumental accompaniments. Japanese baseball, you see, actually encourages fun.

So there upon the bridge, they sang the songs for each of the victorious players and selected a member of the crowd who most looked like each of the players, and gave them the honor of jumping down into the canal below. This was all well and good until they got to Randy Bass, who had just won the series MVP award for the Tigers. There weren't any Caucasian guys in the crowd, so the revelers purloined a statue of Colonel Sanders from outside of a nearby KFC and tossed it into the canal.

This has since been regarded as a karmically poor decision, as the Tigers proceeded to finish under .500 for the next 18 years.

The idea that the team had been cursed by making the Colonel sleep with the fishes quickly spread. Numerous attempts were made to recover the statue to no avail, and the proprietor of the KFC outlet was apologized to, but nothing could seem to cure the team's misfortune….
[Thank to Chris Barkley, Daniel Dern, Chip Hitchcock, Cat Eldridge, Martin Morse Wooster, Mike Kenned, JJ, John King Tarpinian, Michael Toman, Rich Lynch, Alan Baumler, Mlex, Alasdair Stuart, and Andrew Porter for some of these stories. Title credit goes to File 770 contributing editor of the day Daniel Dern.]