(1) SXSW. Here is a report about a conversation between N.K. Jemisin and Stacey Abrams at the South by Southwest festival. It's more about Abrams than Jemisin, since Abrams was the keynote speaker and Jemisin the interviewer: "How Writing Romance Novels Informed Stacey Abrams' Approach to Politics" at The Mary Sue.
… Abrams, though widely known for her work in politics in Georgia, has a background as a romance novelist—something a lot of people didn't know until fairly recently. She started writing and publishing romance novels while she was a student at Yale Law School (as if that doesn't take up enough time and energy on its own), and her books, written under the pen name Selena Montgomery, have been huge hits.

Sourced from a question from a SXSW attendee, Jemisin asked her, "How did romance writing help you enter politics?"

"I wouldn't say it helped me enter politics but it has always informed how I do my job, all of them," Abrams answered. "I'm a writer because I love words. I think like you, storytelling is innate."…
(2) GENESIS STORY. JSTOR Daily explores "How Octavia E. Butler Became a Legend".
…She began trying to sell her science fiction writing when she was thirteen. "I didn't know what good writing was frankly, and I didn't have any particular talent for writing so I copied a lot of the old pulp writers in the way I told a story," Butler told Callaloo. "Gradually I learned that that wasn't the way I wanted to write."

Of course, the world of science fiction was (and still is) dominated by white, male authors. Instead, "Butler approached [science fiction] askance, choosing to write self-consciously as an African American woman marked by a particular history," write literary scholars De Witt Douglas Kilgore and Ranu Samantrai.

In 1969, she was discovered by well-known science fiction writer Harlan Ellison at a screenwriting workshop in Los Angeles. "Harlan [wrote] that she wasn't a very good screenwriter, which doesn't surprise me much," recalled friend and fellow sci-fi writer Vonda McIntyre. "Her subjects and ideas and expressions were deep and complex. Screenplays have strengths, but 'deep' and 'complex' aren't high on that list." Nevertheless, Ellison recommended Butler for the Clarion Science Fiction Writers Workshop….
(3) ALL THAT JAZZ. The new issue of Mlex's Zapf.Punkt #9 includes three articles of fannish interest:
Ted White's Rogue Magazine articles, (Riot at Newport, & Balladeers and Billy Clubs,) in which Ted White wrote about the "Beatnik Riot" of Washington Square that took place April 9, 1961.
Antonio Caronia's The Cyborg (1985), and Italian cyberpunk.
Preserving Worlds, archiving online gaming and virtual reality experiences.
(4) WILD CARDS PLAYED FOR CHARITY. Wild Cards Wondercon Weekend is just a couple days away.
Legion M is proud to partner with George R. R. Martin and The Stagecoach Foundation in support of their online auction during Wondercon 2021. In doing so we are bringing the exciting world of Wild Cards to life with an RPG experience nearly more than 40 years in the making. Please join us for a special broadcast featuring a new campaign and AMA with the esteemed authors of the Wild Cards series on Twitch!

Wild Cards is a sci-fi novel series set in an alternate-history post-WWII New York City, after an alien contagion completely disrupts modern life. The virus gives some individuals superhuman abilities ("Aces") — others, it mutates ("Jokers"). Edited by George R. R. Martin and co-edited by Melinda M. Snodgrass, this series has a wide range of contributing authors (including our players Walter Jon Williams, Carrie Vaughn, Caroline Spector, and Max Gladstone). Before it was a novel series, Wild Cards started as an RPG called "Superworld" and many of the characters and narratives were born from this theater of the mind. And now you'll get to witness a brand-new edition to the saga unfold right before your very eyes!
March 26 & 27 on LEGIONM.TV
FRIDAY 3/26 on LegionM.tv
9:30 am-12:30 pm: Legion D&D Playback
1 pm-5 pm PT – FIRST SHOWING OF WILD CARDS GAME
5 pm-6 pm PT – LIVE AMA with the Authors of Wild Cards
SATURDAY 3/27 on LegionM.tv
10 am-2 pm PT – SECOND SHOWING OF WILD CARDS GAME
2 pm-3 pm PT – Stagecoach LIVE Auction Pre-show with Bernie Bregman
(Simultaneously at 2 pm-3 pm PT – Discord AMA with Wild Cards Players
3 pm-4 pm PT – Stagecoach LIVE Auction with Bernie Bregman
(5) ESSENCE OF WONDER. Essence of Wonder with Gadi Evron brings fans "The Biohacking Show" on Saturday, March 27 at 3 p.m. Eastern time. Register at the link.
Najla Lindsay and Nina Alli from the DEFCON Biohacking Village will join Gadi and Karen along with Meredith Patterson, for a conversation on the state of biohacking today. Where are we going with Biohacking? What should we be on the lookout for? How has the pandemic impacted our perspective of it?
(6) PGA AWARDS. Only one of the genre works up for the Producers Guild Awards 2021 took home the hardware —
Pixar's "Soul" won the award for animated feature, further cementing its frontrunner status. Producer Dana Murray took a cue from the Jodie Foster playbook, giving her acceptance speech in her pajamas, with her two children jumping into the shot.
(7) TODAY'S DAY
March 25, 3019 – The One Ring is Destroyed (See March 25 at Fandom.)
Thus —
March 25 – Tolkien Reading Day
Apropos of the day, a publisher has announced "New 'Lord of the Rings' edition to include Tolkien artwork",
An upcoming edition of J.R.R. Tolkien's "The Lord of the Rings" trilogy will include paintings, drawings and other illustrations by the British author for the first time since it was published in the mid-1950s.

Houghton Mifflin Harcourt Books & Media announced Thursday that the new version will come out Oct. 19. Deb Brody, Houghton Mifflin Harcourt's vice president and publisher, noted that Tolkien was already known for his illustrations which appeared in "The Hobbit" and that his artwork for "The Lord of the Rings" had been exhibited in 2018 in New York, Paris and in Oxford, England.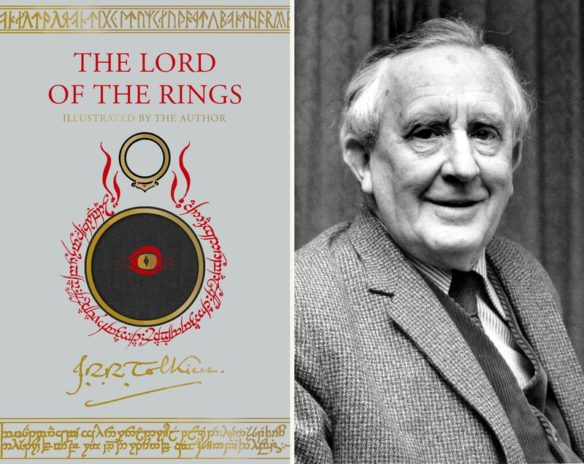 (8) MEDIA BIRTHDAY.
March 25, 1956 — Indestructible Man premiered. Based on a screenplay written by Vy Russell and Sue Dwiggins, it was produced and directed by Jack Pollexfen, and starred Lon Chaney, Jr., Ross Elliott and Robert Shayne. In some areas of the States, it was a double bill with Invasion of the Body Snatchers. It wasn't at all liked by critics at the time, and the audience over at Rotten Tomatoes currently gives it an eight percent rating. You can see it here, and you can also see it with the Mystery Science Theater 3000 commentary thisaway.
(9) TODAY'S BIRTHDAYS.
[Compiled by Cat Eldridge and John Hertz.]
Born March 25, 1716 – Yüan Mei.  (Personal name last, Chinese style.)  For us, five stories in Stories About Not Being Afraid of Ghosts, five in Chinese Fairy Tales and Fantasies.  Famous for a cookery book, in English Recipes from the Garden of Contentment (S. Chen tr. 2018) also published as The Way of Eating, some of it here, a New Yorker note here.  In general, get Arthur Waley, Yüan Mei (1956; Stanford Univ. reprint 1986).  Here is a Spring painting.  YM liked Ch'an (known to many of us via Japanese, Zen) Buddhism; here is a short poem.  (Died 1798) [JH]
Born March 25, 1916 — Jean Rogers. She played Dale Arden in 1936's Flash Gordon serial and again in 1938's Flash Gordon Goes To Mars serial . She'd be replaced by Carol Hughes for the third, Flash Gordon Conquers the Universe, when she said she wasn't interested in doing it. She would go on to co-star with Boris Karloff in the horror film Night Key. (Died 1991.) (CE)
Born March 25, 1927 — Sylvia Anderson. Film producer, writer, voice actress and costume designer, best known for her collaborations with husband Gerry Anderson on such Supermarionation series as Thunderbirds, Supercar, Fireball XL5 and Stingray. (Died 2016.) (CE) 
Born March 25, 1930 — Patrick Troughton. The Second Doctor of course. Troughton had a long genre resume starting with Hamlet and Treasure Island early on before proceeding to such works as Scars of Dracula and Frankenstein and the Monster from Hell later on. Telly-wise, I see him on R.U.R. Radius playing a robot, on a Fifties Robin Hood show being that character, and on The Feathered Serpent. This is childrens series set in pre-Columbian Mexico and starring Patrick Troughton as the scheming High Priest Nasca. H'h (Died 1987.) (CE) 
Born March 25, 1939 — D. C. Fontana. Script writer and story editor, best remembered for her work on the original Trek franchise. She also worked on Genesis II, Logan's Run, The Six Million Dollar Man and Buck Rogers in the 25th Century. Her final work was writing an episode for the fanfic known as Star Trek: New Voyages. (Died 2019.) (CE) 
Born March 25, 1942 – Jacqueline Lichtenberg, age 79.  A score of novels, as many shorter stories.  Known for the Sime~Gen universe.  In the N3F (Nat'l Fantasy Fan Fed'n), given both the Franson and the Kaymar, 2008 Fan of the Year, Life Membership. Founded the Star Trek Welcommittee.  Guest of Honor at Earthcon I, II, 3, VI (I can't help how people number these things). Practices tarot and astrology.  [JH]
Born March 25, 1950 — Robert O'Reilly, 70. Best known I'd say for his appearance in the Trek franchise for a decade in his recurring role on Next Gen and  DS9 as Chancellor Gowron, the leader of the Klingon Empire. He made one further appearance in the Trek verse as  Kago-Darr in the Enterprise  "Bounty" episode. Other genre series he appeared in include Fantasy Island, Knight Rider, Incredible Hulk, MacGyver, Max Headroom and the first version of The Flash. I'll let y'all tell me what your favorite films with him are. (CE) 
Born March 25, 1958 — Amy Pascal, 63. She gets Birthday honors for being responsible for bringing Spider-Man: Into The Spider-Verse to the screen. She also produced Spider-Man: Homecoming and Spider-Man: Far from Home. She is producing the yet untitled Spider-Man: Into the Spider-Verse sequel and the forthcoming live Spider-Man: No Way Home film as well. (CE)
Born March 25, 1959 – Christine Taylor-Butler, age 62.  Two novels, one shorter story for us; five dozen books all told.  Nebraska Lib'y Ass'n Best Book of the Year, Missouri Writers Guild's Williams Major Book Award.  She says, "while more books are being published that depict children of color, most show us mired in stereotypes, or are tailored to what publishers 'think' we want to read, or 'think' we are, so the voices don't ring true"; also "art and math are not mutually exclusive".  [JH]
Born March 25, 1960 – Linda Sue Park, age 61.  Four novels for us, a chapter in Click! (ten authors), one shorter story; a dozen books all told; poetry; frequent focus on Korean history and culture, e.g. A Single Shard (celadon pottery; Newbery Medal).  Loves baseball, knitting, snorkeling.  Website.  [JH]
Born March 25, 1964 – Kate DiCamillo, age 57.  Four novels, one shorter story for us; a score of books, half a dozen shorter stories all told.  Two Newbery Medals, which only six people have achieved.  Regina Medal.  "I am short.  And loud.  I hate to cook and love to eat…. I get to tell stories for a living."  [JH]
Born March 25, 1972 – Kami Garcia, age 49.  Nine novels, half a dozen shorter stories.  Graphic novels for DC.  Beautiful Creatures (with Margaret Stohl) a NY Times Best-Seller.  Has read One Flew Over the Cuckoo's Nest, On the Road, Lolita, six Shakespeare plays, three of Baum's Oz books, six books of Arthur Rackham illustrations, Cummings' 95 Poems, Dover Pubs. ed'ns of Blake and Dryden.  [JH]
(10) COMICS SECTION.
B.C. has a prehistoric take on a familiar Warner Bros. cartoon gag.
Bizarro shows how the Bat signal could get someone's signals, well, crossed isn't quite the word…
(11) TODAY'S THING TO WORRY ABOUT. [Item by Olav Rokne.] Over at The Nerdist, Rosie Knight tackles some of the absolutely bonkers questions about remuneration that are raised in the first episode of "Falcon & Winter Soldier." Honestly, if the Avengers aren't getting paid fairly, maybe they need to organize a labour union. "The Falcon And The Winter Soldier Bank Scene Broke My Brain".
So what you're telling me is that none of the Avengers were ever paid? How did they eat? Who paid their rent? Did they just turn up at Tony Stark's house and hope he'd buy them shawarma? Because that seems incredibly unsustainable.
(12) FIVE-OH. The Verge says the Turing fifty-pound note is finally on the way. "The UK's new £50 note celebrates Alan Turing with lots of geeky Easter eggs".
The Bank of England has revealed the design for the UK's new £50 note featuring computer scientist and codebreaker Alan Turing. Turing was selected to appear on the note in July 2019 in recognition of his groundbreaking work in mathematics and computer science, as well as his role in cracking the Enigma code used by Germany in World War II.

The polymer note will enter circulation from June 23 this year, and incorporates a number of designs linked to Turing's life and legacy. These include technical drawings for the bombe, a decryption device used during WWII; a string of ticker tape with Turing's birthday rendered in binary (23 June 1912); a green and gold security foil resembling a microchip; and a table and mathematical formulae taken from one of Turing's most famous papers.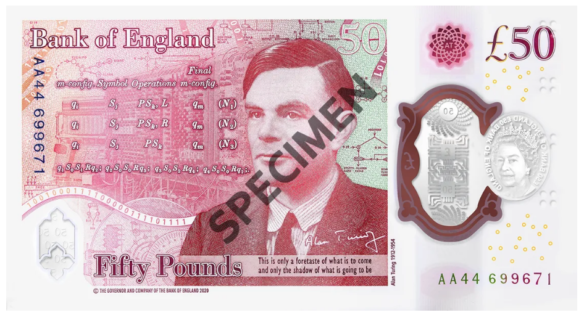 (13) LIQUID PEEPS. Wear a hazmat suit when you pull the ring on this: "Pepsi And Peeps Are Releasing A Limited-Edition Marshmallow Soda".
Have you ever enjoyed Peeps marshmallows so much that you wish you could drink them? Same. And that's now possible thanks to a collaboration between the iconic brand and Pepsi. The pair just dropped a beverage that combines the refreshing taste of Pepsi with the sweet, cloud-like flavor of Peeps marshmallows.

Available for a limited time, the marshmallow-flavored drink comes in a three-pack of mini 7.5-ounce Pepsi cans that boast a Peeps-inspired design. The cans feature little chicks and come in yellow, pink, and blue, aka they're super cute and you won't want to toss them when your beverage is all gone….
(14) TODAY'S DOSE OF SHAT. In "William Shatner and Leonard Nimoy For Western Airlines 1985" on YouTube, Shat and Leonard Nimoy are on holiday because they're wearing Hawaiian shirts. But watch out for the surprise brought by the flight attendants!
[Thanks to Cora Buhlert, Michael Toman, John King Tarpinian, JJ, Mlex, Andrew Porter, Michael J. Walsh, Martin Morse Wooster, John Hertz, Alan Baumler, Cat Eldridge, and Mike Kennedy for some of these stories. Title credit goes to File 770 contributing editor of the day C.A. Collins.]