(1) EAVESDROPPING. "17 things the Arthur C. Clarke Award judges said when they thought no one was listening" – here are the first four…
Quotes from behind the scenes at the 30th Arthur C. Clarke Award judging meeting:

"You would have to like science fiction to like this book, but if you like a certain kind of science fiction, you'll love this."

"I don't think this book is science fiction, but that doesn't mean it's not science fiction."

"So basically this book is a bit like Game of Thrones, only without Tyrion?"

"The other good thing about this book is it's short."
(2) CLARKE AWARD LIVESTREAM. As reported in yesterday's Scroll, the Arthur C. Clarke Award announcement will be livestreamed via Periscope on April 27 — https://www.periscope.tv/clarkeaward. I asked the Award Director what time:
It'll be between 6.30 & 8pm UK time, but hard to confirm more precisely until the day as it's not our show, we're just featuring in it.

I will be tweeting updates on the day.
(3) KEEP YOUR HANKIE HANDY. "The 13 Most Devastating Deaths in Science Fiction" at Outer Places. You want to know how much weepage is in store for you? Here's a hint. The regeneration of the Tenth Doctor Who only ranks #11 on the list!
On the other hand, Will R. demands to know why Tasha Yar isn't on it at all…
(4) MIKEROCOSMOS. Mike Resnick will be Guest of Honor at the Burroughs Bibliophiles' Dum Dum 2016 in Chicago, from August 4-6. He told his Facebook readers:
To coincide with my being Guest of Honor at this year's Dum-Dum (the annual Edgar Rice Burroughs convention), they are publishing a book that collects almost all of my writings from ERB fanzines (mostly from the 1960s), plus some of my more recent fiction (the story where Lucifer Jones meets Tarzan, the Hugo-nominated "A Princess of Earth", etc. Here's the current state of the cover; the stuff in the circle will of course be replaced. I didn't choose the title, but I have to admit I -like- MIKEROCOSMOS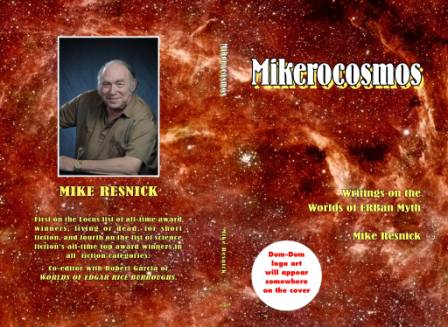 (5) DO-IT-YOURSELF DEMOGRAPHICS. Fynbospress studies "Reader Demographics via Emotional Beats" at Mad Genius Club.
Well, now you get to do some research on your particular book. Go to your biggest market (probably Amazon), and start pulling up the first books in your also-boughts for one of your books. (Skip the other ones by you. That just proves that the readers like you, and buy more after one try.) Now, you're going to break out for each of these some basic dissection.

1. Is your protagonist Male or female? How old are they?

2. Is there romance or romantic subplot in the book? What rough percentage of the book is dedicated to the romance?

2a. Are there explicit sex scenes? (female audience!)

3. On the action to introspection scale, what rough percentage of the book is action, and what percentage internal monologue and introspection?

3a. Is the protagonist whiny? (female audience!)

4. Is there a sidekick? Are they humorous? (kids and male audience!)

5. Is your antagonist nature itself, some faceless group entity / race / corporation, or a villain?

5b. If your antagonist is a villain, What is their age, sex, and occupation?

5c. Is it the cartoon standard of rich old white man or corporate man for evil corporation?

6. Is your scifi hard, cyberpunk, military, space opera, or steampunk? Is your fantasy urban fantasy?

6b. Does your urban fantasy have sexy monsters or ugly monsters that get killed?
(6) BIG BOOK OF SCIENCE FICTION. Black Gate's post "Ann and Jeff VanderMeer's The Big Book of Science Fiction Will be One of the Largest Anthologies the Genre Has Seen" includes the volume's extensive Table of Contents.
(7) TODAY'S BIRTHDAY BOY
Born April 24, 1914 — William Schloss a.k.a. WILLIAM CASTLE was born. Castle directed B-movie classics such as House on Haunted Hill, The Tingler, 13 Ghosts, Strait-Jacket and more.
(8) PORTO'S. How I long for the good old days when I worked in a building across the street from Porto's Bakery in Glendale, with a window view of the place! The Los Angeles Times recently profiled the business: "How long lines keep Porto's Bakery affordable – and growing".
"It gets more complicated from one generation to the next," Ude said. "It's not always like Porto's, where the kids see how hard their parents work and choose to work just as hard."

"It's a hell of a brand with scrappy customer service," he added. "Clearly they're all on the same page."

The rise of national chains like Panera Bread, Corner Bakery Cafe and Au Bon Pain doesn't faze Betty Porto. Those brands serve a niche, she said, but they don't come close to having the tradition that Porto's commands with the families that have braved the lines for years.

"You come to Porto's, I can make a cake for your child's first birthday, her communion, her baptism and her quinceanera," she said. "I can marry her off and then the next generation starts."
Porto's is where John King Tarpinian used to order the specially-decorated cakes for Ray Bradbury's birthday celebrations at Mystery & Imagination Bookshop.
(9) PAY THE DOCTORS. National Health Service doctors recently dramatized their contract demands — "28 Docs Later: Secret Cinema Hosts Hugo Junior Doctors Protest".
More than 200 Junior Doctors join actors from Secret Cinema's 28 Days Later production to stage imaginative protest against Jeremy Hunt – hitting back at the negative impact that the new junior doctors contracts will have on patient safety and the NHS

…The protest was part of Secret Cinema's ongoing drive to promote social causes. Secret Cinema is currently staging of Danny Boyle's cult classic 28 Days Later, and recently laid on a free screening for hundreds of junior doctors and NHS staff.

The company is supporting the Justice for Health campaign, which this week forced the current Health Secretary Jeremy Hunt to give an emergency statement to Parliament regarding the Government's ongoing negotiations with Junior Doctors.
(10) AS SEEN ON THE INTERNET.
I see File 770 has turned its jaundiced eye on me, thereby proving my point about the internet and stupidity

— Ian Sales (@ian_sales) April 24, 2016
(11) MEANWHILE, DAMIEN WALTER WEIGHS IN.
Also includes a list of the REAL reasons people vote for awards, which while cynical, I accept as accurate.

— Damien Walter (@damiengwalter) April 24, 2016
"Fandom" now is basically comprised of writers, editors, agents, small press folks etc, and a few "super fans" whose influence…

— Damien Walter (@damiengwalter) April 24, 2016
My assumption is that the 4000+ votes this year is the full academy. Every pro + ex-pro motivated to vote by last year's drama.

— Damien Walter (@damiengwalter) April 24, 2016
Ironically, the full academy will likely vote a more conservative shortlist than the Sad Puppies could have achieved themselves.

— Damien Walter (@damiengwalter) April 24, 2016
(12) HELP OVERCOME AWARDS SADNESS. Ian Sales is already at work on his own solution — "The inaugural Sputnik Award".
A few days ago, Lavie Tidhar tweeted a sarcastic comment, as he is wont to do, about libertarians having a science fiction award, the Prometheus, but there being no corresponding award for socialists. And while he likely didn't mean it seriously, it did occur to me that perhaps there should be an antidote to science fiction's notorious right-wingness (and by that I'm referring to the texts, not the authors). Where are the science fiction works which posit socialist, or communist, futures? Where are the sf books which celebrate left-wing political thought? And isn't it about time we showed those right-wingers that: no, they don't speak for all of us. In fact, they probably only speak for a minority.

Back in 2009, Mark Boulds and China Miéville published a  book of essays on "Marxism and Science Fiction" titled Red Planets. And Miéville has proffered a reading list of left-wing genre works. But this should be something which is ongoing, which grows each year, which is in conversation with both itself and the wider genre (yes, including its more fascistic elements).

So, somewhat tongue-in-cheek, I thought it might be a good idea to, well, take Lavie's idea and punt it out into public for discussion. And I decided to call this imaginary socialist sf award the Sputnik Award because it was the most obvious name for it – celebrating both the first artificial satellite to orbit the Earth (you can't get MOAR SPACE than that), the Russian for "fellow traveller" (used as code for "communist"), and named for a thing rather than a person (who might later prove divisive or contentious).

However… awards need shortlists. From which they can choose a winner. Who will then receive a trophy or something. But, well, socialist science fiction… Such a thing exists, it must exist, but where is it? Can anyone suggest any science fiction novel, novella, short story or graphic novel, published in 2015, which is both science fiction and socialist? There's Kim Stanley Robinson's Aurora, although that posits a form of Athenian democracy (a political system much beloved in sf) rather than outright socialism; Carolyn Ives Gilman's Dark Orbit certainly embodies the spirit of socialism, although the only political systems mentioned are anything but; and there's Carter Scholz's 'The United States of Impunity' which is only just sf and only just fiction and more of a critique of the current economic and politic climate in the US than anything else…

There must be examples out there. Any suggestions? Or is sf just too right-wing? Are we going to have to accept that science fiction exists only as a right wing genre? That even its left-wing writers end up writing right-wing stories? I hope not.

Because that would be really sad.
(13) DELANY. Colin Hinz asked fans to identify the eminence gris Samuel R. Delany mentions (but not by name) in his famous 1998 essay "Racism and Science Fiction". Winning two awards at the 1968 Nebula Banquet did not begin to take away the sting of the words Delany listened to that night.
It's an odd experience, I must tell you, to accept an award from a hall full of people in tuxedos and evening gowns and then, from the same podium at which you accepted it, hear a half-hour jeremiad from an eminence gris declaring that award to be worthless and the people who voted it to you duped fools. It's not paranoia: By count I caught more than a dozen sets of eyes sweeping between me and the speaker going on about the triviality of work such as mine and the foolishness of the hundred-plus writers who had voted for it.
According to the Third Annual Nebula Awards Banquet program, the guest speakers at the 1968 event in New York (there was also one in Berkeley) were Frederik Pohl (then editor of Galaxy and If), Lawrence P. Ashmead (a Doubleday editor), and Gahan Wilson (artist and cartoonist).
If you think you've guessed who (I don't know the answer), let me make it a little harder. During the previous two years, Pohl had published a novella and short story by Delany in his magazines. And Doubleday was already scheduled to bring out Nova in the summer of 1968.
(14) POV. Ann Leckie has quite a bit to say about point of view in "More Omniscient". Here's one brief example:
Let me be clear, there's nothing wrong with 3rd person limited POV. But it's not the only way to go.

Now, is it true that editors won't buy it, or that readers won't read it? I suspect there's not as much published in omni, but is that because editors won't buy it, or because writers don't write in it, or when they do they handle it badly because they're thinking of it as multi-limited 3rd with unrestrained headhopping?

And as for readers–you learn to read particular sorts of things by reading those sorts of things. If no one is writing omni, readers won't be used to it. If you want readers to appreciate works in omniscient, well, you have to give them well-written examples of it to read. Editors are readers. It's possible some younger editors may well have limited experience reading work in omniscient. I'm guessing about that, I don't know for certain.

You can throw up your hands and say that the only thing to do is to write thing things editors are used to and likely to buy. You know, if you want. You do you, I'm not here to tell you how to manage your career. But I don't think that's the best course to take, I think if you give editors and other readers a really well-done example of something they're not used to, they'll be interested and intrigued. I don't think we're helpless in the face of What The Reader Expects.
(15) ONE OF THE BEST. Get Bruce Gillespie's Science Fiction Commentary #91 as a free download from eFanzines.com.
In this issue Bruce Gillespie, Jennifer Bryce, and Elaine Cochrane write about their Favourites of 2014 and 2015, and Colin Steele covers The Field—reviews of many recent SF, fantasy, and horror books. Front cover by Steve Stiles, and back cover from Murray Moore. 70,000 words.
(16) THE FAN WHO RAN 26.2. Jim Mowatt ran the London Marathon today in 5.15.02 to raise money to Save the Rhino. You can still donate at Jim's fundraising page. When I checked this afternoon, he had raised £2,317.40 of his £2,500 target.
Here are photos taken while he was on the course, and at the finish.
(17) THE LIGHTS ARE ON. Zack Weinersmith's Saturday Morning Breakfast Cereal strip looks into a future where humans have developed brain implants that electrically alter emotional states.
[Thanks to Petréa Mitchell, Will R., and John King Tarpinian for some of these stories. Title credit goes to File 770 contributing editor of the day Will R.]