(1) MCFARLAND ANNIVERSARY SALE. The late Fred Patten's Furry Tales (finished in summer 2018) is available for preorder from McFarland Books.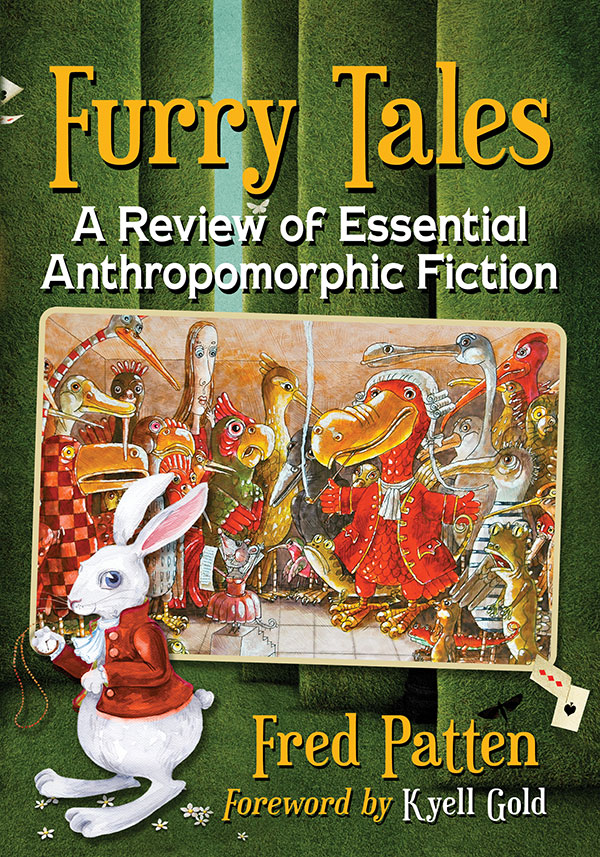 Fans will also be interested to discover that McFarland Books is celebrating their 40th anniversary by offering all their books at a 25% discount through June 30. Use the code —
We're turning 40, and we're celebrating with a special fortieth anniversary sale! Through June 30, get a 25% discount on ALL books when you use the code ANN2019. Thank you for supporting our first 40 years—we look forward to celebrating many more birthdays with you.
(2) SCOFFERS. The Guardian rejects the implicit coolness of this idea: "Spielberg After Dark: will a horror show that can only be watched at night be scarier?"
Right, now I get it. A horror series that you can only watch in total darkness. Well, not total darkness, because electric lights exist now, remember.

So it is a horror series that you can watch in the brightest surroundings imaginable? Yes, but only if the sun has set outside.

I still don't see the point. I don't expect you to. This is cutting edge. Spielberg After Dark has untapped a brand-new way of watching TV. This might only be the start.

How so? Well, if the technology exists to prevent you from watching something until a certain time of day, think of the potential. Maybe the next big show after Spielberg After Dark will be Spielberg First Thing in the Morning.

Or Spielberg on a Thursday Lunchtime. Why not go even further? Why not have a show that can't be watched until you're at a specific location? Spielberg in Gloucestershire, maybe.
(3) THAT MIGHTY BRAIN THING. Eneasz Brodski ponders whether "Consciousness required for Culture?" at Death Is Bad.
…And considering how expensive it is, it must be a massive benefit just to survive. And yet, not only has it survived, it's taken over the planet. And still we cannot discern any survival advantage that consciousness gives us. It seems to cost a ton with literally no benefit.

(aside: this is the reason we regularly see Science Fiction with advanced non-conscious aliens. It seems intuitively obvious that a non-conscious species would have a huge advantage over a conscious one, and contact with one would lead to our quick extinction. This is also how the Harrises fell into the "the answer must be that consciousness is a fundamental property of physics" trap.)

By coincidence, at about this same time Scott Alexander posted his review of "The Secret of Our Success". A truly fantastic book which argues, in short, that our species survives and thrives due not to our individual intellect and reasoning ability (which isn't even up to the job of keeping us from starving to death in a friendly environment overflowing with natural resources and food), but due to the creation and transmission of cultural knowledge. Read Scott's review at the very least, and pick up the book if you can, you won't regret it.

Wherein it occurred to me – perhaps consciousness it necessary for culture….
(4) MARVEL AT DISNEYLAND. The LA Times follows the paperwork and discovers "With Star Wars expansion open, Disney gets permits to launch Marvel land".
The Disneyland Resort has moved full steam ahead on building next year's planned expansion, a land at California Adventure Park themed for the superheroes of Marvel comics and movies.

The city of Anaheim has approved a handful of building permits for projects such as a bathroom overhaul, a retail outlet, a microbrewery, a character meet-and-greet area, plus improvements to behind-the-scenes buildings

The construction permits assess the value of the work so far at more than $14 million.

One of the permits, approved Wednesday, allows for a 2,071-square-foot merchandise outlet, with three attached canopies. In comparison, the average home in the Western U.S. is 1,800 square feet, according to census data.
(5) INTERNATIONAL DUBLIN LITERARY AWARD. US author Emily Ruskovich has won the 2019 International DUBLIN Literary Award for her novel, Idaho. The non-genre work topped a 10-title shortlist that included George Saunders' Lincoln in the Bardo, and Moshin Hamid's Exit West.
(6) REFROZEN. Check out the official trailer for Frozen 2, and see the film in theaters November 22.
Why was Elsa born with magical powers? The answer is calling her and threatening her kingdom. Together with Anna, Kristoff, Olaf and Sven, she'll set out on a dangerous but remarkable journey. In "Frozen," Elsa feared her powers were too much for the world. In "Frozen 2," she must hope they are enough.
(7) REVENGE. James Davis Nicoll has something to say about another dish best served cold: "SFF Stories Of Revenge and Forbearance (But Mostly Revenge)" at Tor.com.
On the whole, society works better if people choose forbearance. But revenge gives ever so much more opportunity for drama. Guess which option science fiction and fantasy authors seem to prefer?
(8) TIMELESS TALES. At CrimeReads, Sandra Ireland tries to work out an answer to her question "Are Crime Thrillers Our New Folklore?"
…In The Lore of Scotland: A Guide to Scottish Legends (Arrow Books, 2011), Sophie Kingshill describes folk tales as a way of personifying the forces of nature, a way of helping people understand the world and giving them some control over their surroundings and circumstances.

Are crime thrillers our new folklore?

It's my belief that today's readers want the same things from a story as their ancestors did, long before the invention of the written word. Huddled around a fire in a dark cave, our forebears must have thrilled to tales of light and dark, of good and evil, of life and death. Such things lie beyond the safe circle of the firelight. Who knows what dwells out there, in the dark? Humans are capricious. We enjoy being afraid when the threat is only in our imaginations…
(9) BRADBURY IN '85. Tom Zimberoff remembers "Photographing Ray Bradbury" as Captan Ahab. (Terrific photo at the link.)
…Ray Bradbury wanted to be portrayed as his all-time favorite character from the canon of American literature: Captain Ahab from Herman Melville's Moby Dick. By the way, Bradbury wrote the screenplay for John Huston's adaptation of Melville's novel on the silver screen, featuring Gregory Peck cast as Ahab. Ray thought he could do a better job.

If the harpoon doesn't look exactly true to form, it's because my stylist, Shari Geffen, and I had less than a day to come up with all of the props we would need to make Ray up like Ahab. But Shari was a genius. She made a reasonable facsimile of a harpoon out of found material and got the rest of the props and costume from, I think, Western Costume, a rental company catering to the movie and television industries in Hollywood. Lisa-Ann Pedrianna, our makeup artist, painted a collodion scar wickedly down the side of Ray's face and attached the beard.

Being part whale himself, with his prothesis fashioned from the jaw of another sperm whale, to replace the leg that Moby Dick chomped off, and mythically sanctified by fire when a lightning bolt struck his face (rumored to run down the length of his body), Ahab was nuts.

…The whalebone peg leg required Ray to endure having his ankle cinched up behind his back and tied with a rope around his waist. No Photoshop in those days. He stood that way for several hours! Then, to show off to his wife, he hopped into a cab?—?literally, of course?—?and rode home that way. The cabbie returned the costume and the peg leg the next day.
(10) HOLLYWOOD GOSSIP. Nerdrotic says these are the questions that match its answers: "Star Trek Discovery's Kurtzman Out? Picard Testing Poorly?"
Rumors keep coming in from behind the scenes at CBS' Star Trek Discovery and Star Trek Picard. We have heard Netflix rejected Picard and now we hear the test screenings are being received poorly. Star Trek Discovery season 3 may be in question and on top of all of this my insider tells me CBS is done with Alex Kurtzman.
(11) TODAY IN HISTORY.
June 12, 1987 — Predator was released on this day.
June 12, 2012 — Ray Bradbury's Kaleidoscope was released
(12) TODAY'S BIRTHDAYS.
[Compiled by Cat Eldridge.]
Born June 12, 1924 — Frank Kelly. All of his short fiction was written in the Thirties for Astounding Science Fiction and Wonder Stories. The stories remained uncollected until they were published as Starship Invincible: Science Fiction Stories of the 30s. He continues to be remembered in Fandom and was inducted into the First Fandom Hall of Fame in 1996. Starship Invincible is not available in digital form. (Died 2010.)
Born June 12, 1930 — Jim Nabors. Fum on The Lost Saucer, a mid-Sixties series that lasted sixteen episodes about two friendly time-travelling androids from the year 2369 named Fi (Ruth Buzzi) and Fum (Jim Nabors) who land their UFO on Earth. (Died 2017.)
Born June 12, 1940 — Mary Turzillo, 79. Best known for her short stories of which she has written over forty. She won the Nebula Award for Best Novelette for her story "Mars is No Place for Children".  She has written several books of criticism under the name Mary T. Brizzi including the  Reader's Guide to Philip José Farmer and the Reader's Guide to Anne McCaffrey. There's an Analog interview with her here.
Born June 12, 1948 — Len Wein. Writer and editor best known for co-creating (with Bernie Wrightson) Swamp Thing and co-creating Wolverine (with Roy Thomas and John Romita Sr.) and for helping revive the the X-Men. He edited Watchmen which must have been interesting. He's a member of the Will Eisner Award Hall of Fame. (Died 2017.)
Born June 12, 1953 — Tess Gerritsen, 66. ISFDB lists her as genre so I'll include her even though I'm ambivalent on her being so.  They've got one novel from the Jane Rizzoli series, The Mephisto Club, and three stand-alone novels (Gravity, Playing with Fire and The Bone Garden). All save Gravity couldbe considered conventional thrillers devoid of genre elements.
Born June 12, 1964 — Dave Stone, 55. Writer of media tie-ins including quite a few in the Doctor Who universe which contains the Professor Bernice Summerfield stories, and Judge Dredd as well. He has only the Pandora Delbane series ongoing, plus the Golgotha Run novel, and a handful of short fiction.
Born June 12, 1968 — Marcel Theroux, 51. Author of The Confessions of Mycroft Holmes: A Paper Chase, and his Strange Bodies novel won a John W. Campbell Memorial Award. His Far North is a sf novel set in the Siberian taiga. Yes, that's a novel I want to read. 
Born June 12, 1970 — Claudia Gray, 49. She's best known for her Evernight series, but has several more series as well, including the Spellcaster series and the Constellation Trilogy. In addition, she's written a number of Star Wars novels —  Star Wars: Lost Stars, Star Wars: Bloodline, Leia, Princess of Alderaan and Star Wars: Master and Aprentice.
(13) COMICS SECTION.
(14) (DONUT) HOLE IN SPACE. Popsugar says "Disney's New Star Wars Doughnuts Are So Cool, They'd Make Kylo Ren Crack a Smile".
The release of these X-Wing and R2D2-inspired snacks is perfectly timed with the opening of Star Wars: Galaxy's Edge in Disneyland. The Force is far-reaching with these! Get an intergalatic sugar rush before you set out for the day or satisfy your sweet tooth as you're heading home. Do or doughnut, there is no try.
(15) THE COW JUMPED. This is nothing like one of Van Vogt's "wheels within wheels" stories, although it does involve a wheel that went to orbit, as Gastro Obscura reminds readers in "SpaceX Space Cheese".
…In 2010, the rocket venture formally known as Space Exploration Technologies Corp. announced a "secret payload" aboard the maiden flight of their Dragon spacecraft. Fearing the secret cheese would distract press from the actual point of the mission, Musk refrained from revealing anything about it until the project was completed. 

The Dragon's mission marked the first time a space capsule developed by a private company was launched into orbit and successfully returned to Earth. In a feat previously accomplished by only six government space agencies, the cone-shaped capsule reentered the atmosphere and emerged from its Pacific Ocean splashdown intact. Only then did Musk reveal that a wheel of Le Brouère had hitched a ride, circling Earth twice on its journey. 
Chris Rose says, "I wish I could find somewhere to buy it, but if someone's near Hawthorne CA I'd love to get a report. Maybe Scott Edelman can eat the sciffy?"
(16) DEADLY CREDENTIALS. Assassin's Kittens – the fluffy hazard of the Assassin's Creed! (From 2014.)
(17) KEEP THOSE HUGO REVIEWS COMING.
(18) AND RETROS, TOO. Steve J. Wright has completed his Retro Hugo Short Story Finalist reviews.
Short Story
Evelyn Leeper also delivers reviews of the Retro-Hugo short story finalists, but precedes them with remarks about the burden on dedicated Hugo voters:
Before I start, though, I have some general comments. There are too many categories and/or too many finalists in each category. And having a Retro Hugo ballot in a given year makes this totally ludicrous.

The Hugo voting method works best (or perhaps works only at all) when the voter ranks every finalist in a given category. Currently this means that a voter needs to read six novels, six novellas, six novelettes, and six short stories to vote on just the fiction categories. Oh, wait, there are also six series. Actually, that category alone is impossible for most voters–certainly impossible in the time between when the finalists are announced and when the ballots are due.
(19) MOON SHOT. "Chandrayaan-2: India unveils spacecraft for second Moon mission" –BBC has the story.
India's space agency has unveiled its spacecraft that it hopes to land on the Moon by September.

If successful, India will be the fourth country to achieve a soft landing on the Moon, following the US, the former Soviet Union and China.

…This mission will focus on the lunar's surface and gather data on water, minerals and rock formations.

The new spacecraft will have a lander, an orbiter and rover.

…If all goes according to plan, the lander and rover will touch down near the lunar south pole in September. If successful, it would be the first ever spacecraft to land in that region.
(20) TRUNK MANUSCRIPT. Architectural Digest considers the possibility that "Parks of the Future May Include Elevated Walkways Through Trees". (From 2017.)
…The firm's plan for Parkorman, a space located six miles north of Istanbul's bustling city center, is a series of several different zones that come together in creating an experience that would otherwise not be possible in traditional, densely packed spaces. First, at the park's entrance, is the Plaza. Here, visitors can easily gather, sit, or lie down on the lawn, much like a traditional park. From there the environment opens to a segment dubbed 'The Loop,' where visitors can enjoy a series of swings and hammocks situated above the park floor. 'The Chords,' another area on the grounds, invites people to wander through a footpath that twists around tree trunks, giving the park a signature look unique from any other public park in the world. "The initial idea with 'The Chords' was to make it possible to experience nature in ways we don't typically have," says Dror Benshetrit, head of the firm that bears his name. "The elevated pathway creates a new interaction with trees at different latitudes."
(21) KRYPTIC IDEA. Ethan Alter, in the Yahoo! Entertainment story "Brendan Fraser remembers the time he auditioned to play Superman: 'You feel kind of invincible'", says that Fraser recalled testing for Superman: Flyby around a 2004, a J.J. Abrams project that ultimately morphed into Superman Returns. He chats about putting on the super-suit and how much he enjoyed doing it even though the film was never greenlit.
Fraser also remembers really loving Abrams's script, which imagined a world in which Krypton didn't explode. Instead, young Kal-El is sent to Earth by his father, Jor-El, to avoid a raging civil war on his homeworld. Once he grows up into Superman, his adopted planet is then visited by a group of war-mongering Kryptonians — led by his cousin Ty-Zor — who kills the would-be champion. But the Man of Steel bounces back to life and plans take the fight to Krypton in a potential sequel. Given the radical changes in store, Warner Bros. tried to keep Flyby details from leaking to the public. "The script was printed on crimson paper with black ink so it couldn't be photocopied," Fraser remembers. "I was allowed to sit in an office and read it for an hour. It was like a covert operation."
(22) HADESTOWN. ScienceFiction.com tells why fans should give this musical a listen: "The Myth-Based Newcomer 'Hadestown' Won Eight Tony Awards; Watch The Rousing Performance Here".
Singer-songwriter Anaïs Mitchell based the musical on her own concept album of the same name, which reinterprets the Greek myth of Orpheus and Eurydice, about the son of Apollo, who falls in love with Eurydice and must journey to the underworld to save her.  Mitchell wrote the music, lyrics and book herself, reimagining the ancient Greek tale, set in the US during the Great Depression.
(23) BACK TO THE FUTURE. ScienceFiction.com also previews the forthcoming Back to the Future musical: "Listen To The First Original Song From 'Back To The Future: The Musical', 'Put Your Mind To It'".
'Back to the Future: The Musical' will open at the Manchester Opera House on February 20, 2020, and will run for 12 weeks, before transferring to London's West End.  Provided it goes well, presumably it will then be brought to the US.  Tickets to the Manchester shows are already on sale.
The YouTube video introduces the number in these words:
GREAT SCOTT! Turn your flux capacitor on and get ready for 1.21 gigawatts of excitement… Back To The Future – Musical is gonna change musical history at the Manchester Opera House for 12 weeks only from 20 February 2020.  From Back To the Future's original creators Robert Zemeckis and Bob Gale, and the combined eight-time Grammy Award-winning pairing of Alan Silvestri and Glen Ballard will send you on an electrifying ride through time with an all-new score alongside the movie's iconic hits, including The Power of Love, Johnny B Goode, Earth Angel and Back in Time!
[Thanks to Chris Rose, Mike Kennedy, Martin Morse Wooster, JJ, John King Tarpinian, Cat Eldridge, Chip Hitchcock, Carl Slaughter, Daniel Dern, Michael Toman, Brian Z, and Andrew Porter for some of these stories. Title credit goes to File 770 contributing editor of the day Ingvar.]