Four news items, a tweet and a trailer in this collection of clippings for today.
A.V. Club
"Grant Morrison is the new editor-in-chief of Heavy Metal magazine"  – July 6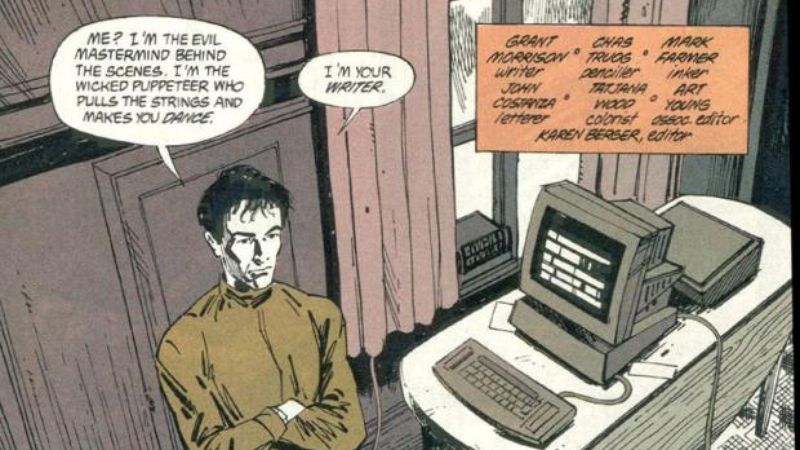 Much like an obscure background character in an old comic book who very few people remember and even fewer care about, Grant Morrison has suddenly shown up to reveal that he's actually very important and everyone needs to listen to him if they want to have any idea what's going on. Also, the obscure background character is actually Morrison himself, and all of this takes place in a miniature pocket universe that Morrison created, and also all of us are actually Grant Morrison. Anyway, the important news that Morrison wanted to pass on—which comes to us from Entertainment Weekly and not, for once, Morrison inserting a fictionalized version of himself into this Newswire—is that Grant Morrison has been named the new editor-in-chief of famed sci-fi/fantasy/boobs magazine Heavy Metal.
Lawrence Watt-Evans
"Projects" – Updated July 6
Ever wonder why I gripe when I come up with a new story idea? Here's why — I already have all these and haven't had time to write them.

These are things I've started, but am not currently seriously working on. I do hope to get back to them all eventually. I'm not listing short stories because there are simply too many of them; only longer works. Except for the Bound Lands, I'm also generally not listing more than one volume per new series; I'm not going to write a sequel to, say, The Dragon's Price before I finish The Dragon's Price.

(I'm making an exception for the Bound Lands, and to a lesser extent for Ethshar, because stories in those settings don't need to be read in order.)

I posted the first-draft openings of several of these on my blog, and I'm linking to those where they exist.
Newsarama
Len Wein informed his Facebook followers, "Well, the secret is out. I'm gonna be doing Swamp Thing again, after the terrific response the character had in Convergence. I'm also gonna be doing Metal Men finally, one of my all-time favorite books. 2016 is gonna be a fun year."
"DC Reveals 8 New Limited Series – Metal Men, Sugar & Spike, Metamorpho, More" – July 6
In 2016, DC will launch Swamp Thing, Metal Men, Raven, Firestorm, Katana: Cult of the Kobra, Metamorpho and Sugar & Spike. Some of the series will be written by the characters' original creators. The list of titles and writers are:

Swamp Thing by writer Len Wein
Metal Men by writer Len Wein
Raven by writer Marv Wolfman
Firestorm by writer Gerry Conway
Katana: Cult of the Kobra by writer Mike W. Barr
Poison Ivy: Cycle of Life & Death by writer Amy Chu
Metamorpho by writer Aaron Lopresti
Sugar & Spike by writer Keith Giffen

"We want the best writers working on our characters, and these are the best writers for these characters," said [Dan] DiDio.

Of Raven, Marv Wolfman says it's a way to to tap into the renewed popularity of the character from the Teen Titans Go! animated series.

"When I go to comic conventions it thrills me to see all the young fans cosplaying as Raven from the Teen Titans GO! cartoon show," said the long-time Teen Titans writer. "Because so many comic fans are boys, it's wonderful that there's something about her that connects with both girls and boys."
George R.R. Martin on Not A Blog
"Buy Tor Now" – July 7
In one of the more recent developments, the Rabid Puppies and some of their allies and fellow travellers have declared a boycott of Tor Books. I say "Rabid" here because Beale is backing the boycott, while Larry Correia says the Sad Puppies are not boycotting anyone… though Correia and some of the other Sads certainly seem deeply sympathetic to the boycott. I am not, needless to say. Neither is most of fandom. Which makes this a perfect time to BUY SOME TOR BOOKS!!

…And, hey, you can even buy some AUTOGRAPHED Tor books by me. My Wild Cards series is published by Tor, as it happens, and we have signed copies of INSIDE STRAIGHT, BUSTED FLUSH, SUICIDE KINGS, FORT FREAK, and LOWBALL available through the Jean Cocteau… along with hardcovers of our award-winning anthology, DANGEROUS WOMEN, also published by Tor. You can find them all at the cinema bookshop, here: http://www.jeancocteaubooks.com/
[How'd that get in here?]
A rare photography of The Puppyslug Nebula from the Hubble Telescope.#deepdream pic.twitter.com/YjslsSlYAo

— Devine Lu Linvega (@neauoire) July 2, 2015
[Didn't you people get the memo either?]
Mr. Holmes – in US theatres on July 17
[This trailer was released in May. I just saw it at a movie theatre last week.]
[Thanks for these stories goes out to Rob Thornton, Hampus Eckerman and Will Reichard.]