(1) FANTASY MAGAZINE R.I.P. Fantasy Magazine editors Christie Yant and Arley Sorg announced today their October 2023 issue will be the last.
This is the editorial we've been dreading having to write. We've been trying not to think about it too much, but we can't put it off any longer.

We relaunched Fantasy Magazine in November of 2020–what a weird thing to do at an exceptionally weird time!–and we did it with high hopes, but realistic expectations based on our many years of experience in this field.

It is with real sadness that we have to announce that October 2023 will be our last issue. People will want to know why, of course, and the answer is the expected one: Unfortunately Fantasy never reached a point of paying for itself, and with the Kindle Periodicals mess it's just not sustainable. We've actually carried on a little longer than we originally anticipated, because ending on our third anniversary made sense….
(2) VINTAGE COVERS RECREATED. Boing Boing shows us how "Author Michael Chabon recreates the Science Fiction section from the bookstore of his youth"
Acclaimed bestselling and Pulitzer Prize-winning author Michael Chabon spent his Covid quarantine lovingly and meticulously creating a digital tribute to / replica of the Science Fiction and Fantasy section in the bookstore of his youth. And it is glorious.
(3) CLARION WEST GETS BIG DONATION. Author David D. Levine, a Clarion West '00 grad, has made a $10,000 donation toward 2024 Workshop housing.
…Clarion West hopes to be in person in 2024 and has a tentative hold on accessible housing on the beautiful University of Washington campus! More information will be forthcoming as the organization works toward ensuring the workshop continues to be affordable and can sustain the higher costs of the in-person workshop.

"This support will help us focus on securing the new location for 2024," says Marnee Chua, Clarion West Executive Director. "As the board focuses on meeting our budget goals for this year and raising the funds necessary to support the 2024 workshop, donations like this one help meet our goals for an in-person workshop!"

We extend our deepest gratitude to David for his contribution, which will undoubtedly make a significant impact on the workshop's presence in Seattle.

To learn more about our search for housing and the challenges ahead, visit our November blog post on the topic, Clarion West Needs a New Home.
(4) THE END GAME. Publishers Weekly reports that the "Judgment Phase of Internet Archive Copyright Case Appears Imminent". The Internet Archive lost the case; now comes a decision about damages and other relief.
…In their last request for an extension the parties reported they were "very close" to "finalizing the terms of a consent judgment, subject to appeal" and said they expected to be able to submit the proposal "in a week or so."

In his emphatic March 24 opinion, Koeltl found the Internet Archive infringed the copyrights of four plaintiff publishers by scanning and lending their books under a legally contested practice known as CDL (controlled digital lending). "At bottom, IA's fair use defense rests on the notion that lawfully acquiring a copyrighted print book entitles the recipient to make an unauthorized copy and distribute it in place of the print book, so long as it does not simultaneously lend the print book," Koeltl held in his decision. "But no case or legal principle supports that notion. Every authority points the other direction."

In court filings, the publishers have asked for damages and injunctive relief, including the destruction of potentially infringing scans. Lawyers for the Internet Archive have argued that statutory damages should be remitted per section 504 of the Copyright Act, which offers some relief where the infringer is a "nonprofit educational institution, library, or archives," and the infringers "believed and had reasonable grounds for believing" that its use of the work was fair use….
(5) "RIGHTING" RUSSIAN HISTORY WITH TIME TRAVEL. The new episode of BBC's The Documentary is "Invading the past: Russia and science fiction".
Science fiction flourished from the earliest days of the Soviet Union. A rare space to explore other realms and utopian dreams of progress. But with the Soviet Union's collapse different narratives bubbled up.

Many of them reactionary, imperial, violent with one sub genre flourishing above all – Popadantsy: accidental time travel where protagonists return to World War Two or the Imperial past to set the path of Russian history on the 'right' course, perhaps with the aid of Stalin or even Hitler. The enemies are frequently the US, Britain and the West.

Historian Catherine Merridale explores how the once visionary world of Russian science fiction shifted in the time of Vladimir Putin to become a reactionary playground. Did the real invasion of Ukraine actually began amid the pages of such dark fictions?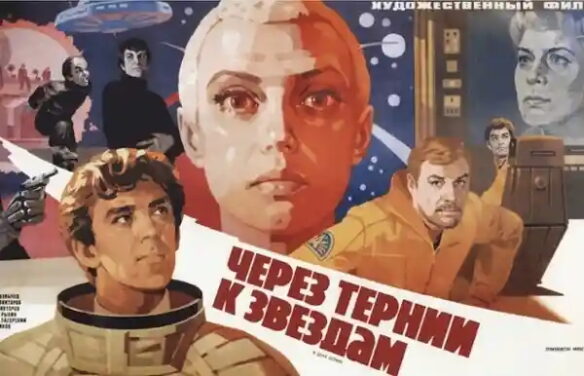 (6) TOODLES, TWITTER. [Item by SF Concatenation's Jonathan Cowie.] SF² Concatenation has just ceased using Twitter alerts for new content.
Their Twitter followers amounted to less than 1% of the site's typical monthly unique visitors (which are invariably in five figures). What prompted this was Twitter insisting they strengthen their password (presumably with the addition on upper and lower cases, an irrational number and a Klingon hieroglyph). This by itself would not be a problem but the e-mail address associated with the Twitter account is their old, deprecated one from over a decade ago, and they feel that there is no reason for Elon Musk to have their current address on his X server.
There is, though, an RSS Feed for those that like them, but SF² Concatenation's seasonal posting times remain regular.
(7) JULEEN A. BRANTINGHAM (1942-2023). Author Juleen A. Brantingam died on July 22. She started as a writer of children's stories and finished her career writing science fiction, appearing in Amazing Stories, Asimov's, and Omni with a career spanning from 1979-99. The family obituary is here.
Her story "The Ventriloquist's Daughter", originally published in Whispers 19–20 (1983), was selected by editor Karl Edward Wagner for The Year's Best Horror Stories: Series XII (1984).
(8) BETTY ANN BRUNO (1931-2023) One of the few surviving actors who played Munchkins in The Wizard of Oz (1939), Betty Ann Bruno died July 30 at the age of 91 reports Deadline.
Betty Ann Bruno, who as a child played a munchkin in the 1939 classic The Wizard Of Oz and went on to become a TV producer and longtime reporter in the San Francisco Bay area, died Sunday in Sonoma, CA, her family said. She was 91. No cause of death was given.

Born Betty Ann Ka'ihilani on October 1, 1931, in Wahiawa, Hawai'i, Bruno grew up in Hollywood and had an uncredited bit role in John Ford's 1937 film The Hurricane. She was 7 when she was cast with about a dozen other children of average height as Munchkins opposite the 100-plus adult little people who played the denizens of Munchkinland. Victor Fleming's beloved film starring Judy Garland was nominated for five Oscars including Best Picture and won for Best Song ("Over the Rainbow") and Best Score.

Among only a handful of surviving Munchkin actors, Bruno in 2020 published a book called The Munchkin Diary: My Personal Yellow Brick Road, which was written during the Covid lockdown….

… Bruno graduated from Stanford University and had a long and successful career in local television, first as a political talk show producer, then as an on-air host and later a reporter for KTVU in the Bay Area. Starting in 1971, she spent more than 20 years with the station, becoming a familiar face to its viewers. Among the major stories she covered was the horrible 1991 Oakland Hills firestorm that killed 25 people and destroyed more than 3,200 homes — including hers….
(9) TODAY'S BIRTHDAYS.
[Compiled by Cat Eldridge.]
Born August 1, 1862 — M.R. James. Writer of some of the best ghost stories ever done. A Pleasing Terror: The Complete Supernatural Writings, released in 2001 from Ash-Tree Press has forty stories which includes the thirty stories from Collected Ghost Stories plus the 3 tales published after that, and the seven from The Fenstanton Witch and Others. It's apparently the most complete collection of his stories to date. Or so I though until I checked online. The Complete Ghost Stories of M.R. James, over seven hundred pages, is available from the usual suspects for a mere buck ninety-nine! (Died 1936.)
Born August 1, 1910 — Raymond A. Palmer. Editor of Amazing Stories from 1938 through 1949. He's credited, along with Walter Dennis, with editing the first fanzine, The Comet, in May 1930. The secret identity of DC character the Atom as created by genre writer Gardner Fox is named after Palmer. Very little of his fiction is available from the usual suspects. Member, First Fandom Hall of Fame. He was nominated five times for a Retro Hugo for Best Editor, Short Form, and once as Best Professional Editor, Short Form. (Died 1977.)
Born August 1, 1923 — Alan Yates. Though better known under the Carter Brown name where he wrote some one hundred and fifty mystery novels, I'm noting him here for Booty for a Babe, a Fifties mystery novel published under that name as it's was set at a SF Convention. (Available from the Kindle store.) And as Paul Valdez, he wrote a baker's dozen genre stories. (Died 1985.)
Born August 1, 1945 — Yvonne Rousseau. Australian author, editor and critic. She edited the Australian Science Fiction Review in the late Eighties. She wrote one work of non-fiction, Minmers Marooned and Planet of the Marsupials: The Science Fiction Novels of Cherry Wilder, and has a handful of stories to her name. She got nominated for three Ditmar Awards for her fan writing. (Died 2021.)
Born August 1, 1948 — David Gemmell. Best remembered for his first novel, Legend, the first book in his long-running Drenai series. He would go on to write some thirty novels. The David Gemmell Awards for Fantasy were presented from 2009 to 2018, with a stated goal to "restore fantasy to its proper place in the literary pantheon". (Died 2006.)
Born August 1, 1954 — James Gleick, 69. Author of, among many other books, Genius: The Life and Science of Richard Feynman and What Just Happened: A Chronicle from the Electronic Frontier, and he is one of us, which is that he writes genre reviews — collected in Time Travel: A History. Among the works he's reviewed are Le Guin's "Another Story or A Fisherman of the Inland Sea" and Heinlein's "By His Bootstraps".
Born August 1, 1993 — Tomi Adeyemi, 30. Nigerian born author. She won a Lodestar Award at Dublin 2019 for her Children of Blood and Bone novel which also won her an Andre Norton Award. That novel was nominated for a BFA, a Kitchie and a Nommo. Her latest in that series is Children of Virtue and Vengeance.
(10) COMICS SECTION.
(11) HPL FILM FEST. The H. P. Lovecraft Film Festival is returning once more to Providence, R.I. from August 18-20 at the Columbus Theater.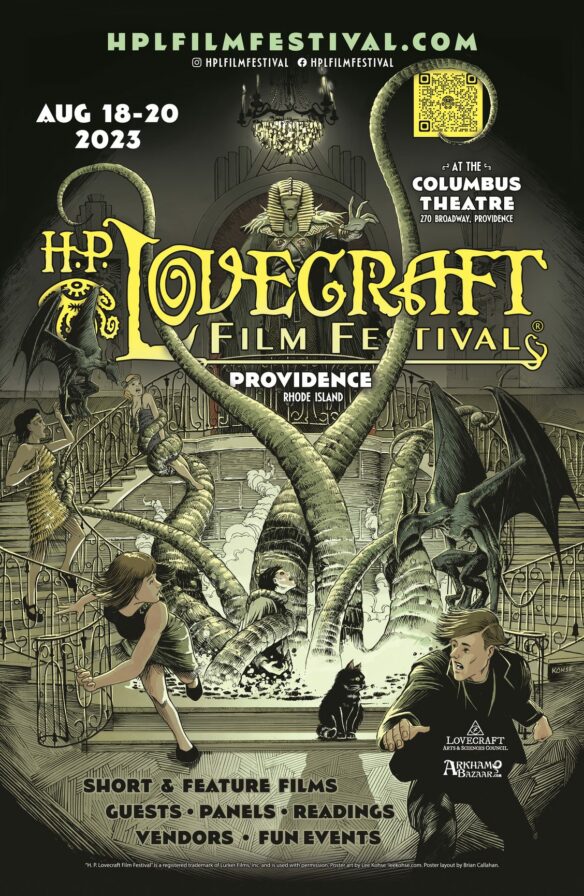 (12) MOON WILL RECEIVE ART DEPOSIT. "Lunar Codex: digitised works of 30,000 artists to be archived on moon" – the Guardian has the story.
A portrait assembled from Lego bricks, woodcuts printed in Ukrainian soil and a collection of poetry from every continent are among thousands of works to be archived on the moon as a lasting record of human creativity.

The collection, known as the Lunar Codex, is being digitised and stored on memory cards or laser-etched on NanoFiche – a 21st-century update on film-based microfiche – in preparation for the missions that will ferry the material to the lunar surface.

Samuel Peralta, a semi-retired physicist and art collector from Canada who is leading the effort, describes the off-world archive as a message in a bottle to future generations to remind them that war, pandemics and economic crises did not stop people creating works of beauty.

Gathered from 30,000 artists, writers, film-makers and musicians from 157 countries, the images, objects, magazines, books, podcasts, movies and music are being divided into four capsules….
(13) WRITTEN ON THE INTERNET WALL. Cat Eldridge offers this valedictory with "apologies to Simon & Garfunkel".
Hello Filers, my old friends
I've come to talk with you again
Because a Scroll softly came to be
With the work of Our Gracious Host
(14) STAY TUNED. "NASA loses contact with Voyager 2 spacecraft, operating almost 12.4 billion miles from Earth" according to CBS News.
NASA lost contact with its Voyager 2 spacecraft and it's possible that communications won't resume until mid-October, the space agency said Friday.

Voyager 2, located nearly 12.4 billion miles from Earth, is currently unable to send data back to Earth or receive commands. Contact was disrupted when a series of planned commands on July 21 accidentally caused the antenna to point 2 degrees away from Earth.

A scheduled orientation reset is programmed for Oct. 15. NASA said it believes the orientation reset, which is designed to keep Voyager 2's antenna pointed at Earth, should allow communication to resume. NASA believes the spacecraft will stay on its planned trajectory from now until Oct. 15.

Voyager 2 and Voyager 1 were launched in 1977. Voyager 1, which continues to operate normally, is located almost 15 billion miles from Earth. The spacecraft were designed to find and study the edge of our solar system….
(15) SETTLEMENT REACHED. "Family of Henrietta Lacks settles lawsuit against Thermo Fisher, a biotech company that used her cells without consent" reports the AP.
More than 70 years after doctors at Johns Hopkins Hospital took Henrietta Lacks' cervical cells without her knowledge, a lawyer for her descendants said they have reached a settlement with a biotechnology company that they accused of reaping billions of dollars from a racist medical system.

Tissue taken from the Black woman's tumor before she died of cervical cancer became the first human cells to continuously grow and reproduce in lab dishes. HeLa cells went on to become a cornerstone of modern medicine, enabling countless scientific and medical innovations, including the development of the polio vaccine, genetic mapping and even COVID-19 vaccines.

Despite that incalculable impact, the Lacks family had never been compensated….
(16) VIDEO OF THE DAY. From It's History, "Weekly Tales of American Urban Decay as presented by your host Ryan Socash" – "Chicago's Forgotten Moving Sidewalk over Lake Michigan". Daniel Dern wonders, "Did this (help) inspire Heinlein's 'The Roads Must Roll'?"
Today we delve into the fascinating history of Chicago's Lost Moving Walkway from the World's Fair. Join us as we uncover the remnants of this forgotten marvel of engineering that once mesmerized visitors during the 1893 Chicago World's Fair. Discover the incredible technological advancements of the time and the grandeur of this forgotten transportation system
[Thanks to Michael Toman, Cat Eldridge, SF Concatenation's Jonathan Cowie, Daniel Dern, Steven French, Eric Franklin, Steven H Silver, Kathy Sullivan, Mike Kennedy, Andrew Porter, John King Tarpinian, and Chris Barkley for some of these stories. Title credit belongs to File 770 contributing editor of the day Soon Lee.]