(1) GUIDING LIGHTS. "Personal Canons: Young Wizards" is Erin Maier's guest post in a series at Sarah Gailey's blog.
…Here Young Wizards says: it's never too late to change. Diane Duane comes back to this idea again and again throughout the series. Wizardry is always about choosing to change or not, in one way or another. Of course, change is never without a price: wizardry gives only so much as it is given. But if you are willing, if you choose, you can change more than you ever dreamed.

"This is a business for saints, not children!" Nita's father exclaims to Tom and Carl in High Wizardry, upon learning Nita's younger sister Dairine has also become a wizard. "Even saints have to start somewhere," they tell him. The youngest wizards have the most power, because they aren't yet so confined by the idea of "possible."
(2) EATING THE FANTASTIC. Scott Edelman says "Uh-oh! It's Spider-Man SpaghettiOs with comics writer/editor/historian Danny Fingeroth" in Episode 128 of his Eating the Fantastic podcast.
I've known that guest, Danny Fingeroth, for more than 40 years. A Marvelous Life: The Amazing Story of Stan Lee, his biography of "The Man," has just been released in paperback. That's but the latest of his many accomplishments since he started in comics back in the '70s as an assistant at Marvel to previous guest Larry Lieber.

Danny went on to become group editor for all the Spider-Man titles, and writer of the Deadly Foes of Spider-Man and Lethal Foes of Spider-Man mini-series, plus long runs on Dazzler and Darkhawk. His other books in addition to that Stan Lee bio include Superman On The Couch: What Superheroes Really Tell Us About Ourselves and Society and Disguised as Clark Kent: Jews, Comics, and the Creation of the Superhero.

As for dinner … our multi-course meal was made up of nothing but Marvel-branded food — which clearly should be ingested for their novelty value only — about which you'll hear us kibitz during our conversation.

We discussed his start (like mine) in the Marvel British reprint department, what was wrong with the early letters he wrote to comics as a kid, his admittedly over-generalized theory that there were only two kinds of people on staff at Marvel, our differing reactions to the same first comic book convention in 1970, our somewhat similar regrets about the old-timers we worked beside during our early days in comics, the reason working in comics was wonderful and heartbreaking at the same time, why he wanted to be not only Stan Lee, but both Stan and Jack Kirby, how he was able to interview "The Man" and get him to say things he'd never said before, why comics was the perfect medium for Stan Lee, and much more.
(3) IT'S NO SECRET. Mythaxis casts their "Editor Spotlight on Ellen Datlow".
DSW: What's your secret to being so successful as an editor of anthologies?

ED: It depends on what one means by success. I've been lucky to continue to propose anthologies that are of interest to enough publishers and readers that they sell OK (usually, but not always).

But basically I only edit anthologies on themes that are broad enough that I can get the writers I solicit stories from to push the envelope of that theme. I'll be living with the "theme" for at least two years from conception to publication so I have to love it.

I'd very much like to edit more non-themed anthologies but they're a very hard sell.
(4) THE BOMB PICTURE BOOM OF 1947. Leonard Maltin rolls out his list of "New And Notable Film Books September 2020".
THE BEGINNING OR THE END: HOW HOLLYWOOD—AND AMERICA—LEARNED TO STOP WORRYING AND LOVE THE BOMB by Greg Mitchell (The New Press)

A letter to Donna Reed from a former schoolteacher led to MGM making the first film about the development of the atomic bomb. That's the first nugget in this scrupulously researched tale of The Beginning or the End (1947), a film that tried to keep everyone from J. Robert Oppenheimer and President Harry S. Truman happy and wound up pleasing almost no one. Author Greg Mitchell appears shocked—shocked!—that Washington exerted such power over a movie studio, but threads his story with documentation that is beyond dispute. An experienced author and researcher (whose earlier book The Campaign of the Century: Upton Sinclair's Race for Governor of California and the Birth of Media Politics is a longtime favorite of mine) he reveals his ignorance of old movies when he badly summarizes the career of Brian Donlevy—who was chosen to play General Leslie Groves in this film—but stays on solid ground when he details the endless negotiations that won the government's approval of the finished picture. It's an interesting saga that has particular relevance as we reevaluate the consequences of the bombs that dropped on Japan 75 years ago.
(5) HOSTS OF GHOSTS. Amy Shearn analyzes "How Literary Ghosts Can Help Us All Be a Little More Human" at LitHub.
…Or, okay, at the very least, we can all agree that hauntings are a very useful metaphor. "Whether or not ghosts are real," writes Erica Wright, "their stories give us inspiration, a way to live more alert to possibilities." A ghost in a story can deliver information living characters lack access to, so it's no wonder spirits have apparated throughout Western literature, from Hamlet's truth-telling father to the psychological spirits of Henry James's The Turn of the Screw. A literary ghost can also be a neat way to link a story's present with the past, a seductive trick for the expansively-minded novelist. The contemporary American ghost tends to be a little more complicated, however, than a Dickensian Ghost of Christmas Past rattling around in a nightgown. As Parul Sehgal writes in the New York Times, "The ghost story shape-shifts because ghosts themselves are so protean—they emanate from specific cultural fears and fantasies… They are social critiques camouflaged with cobwebs; the past clamoring for redress." She notes that America is a haunted country, despite, or maybe because of, our "energetic amnesia."
(6) MEDIA ANNIVERSARY.
Twenty-five years ago, Greg Bear's Moving Mars, the third novel in his Quantum Logic series, won the Nebula Award beating out works by Octavia E. Butler, Jonathan Lethem, James K. Morrow, Rachel Pollack, Kim Stanley Robinson and Roger Zelazny. It would also be nominated for the Hugo, Locus, and John W. Campbell Memorial Awards. It would lose in the Hugo race for Best Novel at ConAdian to Kim Stanley Robinson's Green Mars. (CE)
(7) TODAY'S BIRTHDAYS.
[Compiled by Cat Eldridge and John Hertz.]
Born September 25, 1919 – Betty Ballantine. With husband Ian (1916-1995) established Bantam Books, then Ballantine Books which they led to a fine SF publishing history: Blish, Bradbury, Clarke, Kornbluth, Leiber, Niven, Pohl, Tolkien; a hundred covers by Richard Powers, a distinctive genius. SFWA (Science Fiction & Fantasy Writers of America) President's Award; Special Committee Award from the 64th Worldcon; World Fantasy Award for life achievement; SF Hall of Fame (Betty & Ian jointly). (Died 2019) [JH]
Born September 25, 1930 – Shel Silverstein. Cartoonist, journalist, poet, songster. Introduced to most by the Ballantines. Here is one of his collections. Here is another. Is he jolly, or melancholy? Have you sung "The Boa Constrictor", by golly? (Died 1999) [JH]
Born September 25, 1932 — J. Carol Holly. Her various book dedications showed she had a strong love of cats. I've not encountered her novels but she wrote a fair number of them including ten genre novel plus The Assassination Affair, a novel in The Man from U.N.C.L.E. franchise. Only The Flying Eyes novel by her is available from the usual digital suspects. (Died 1982.) (CE)
Born September 25, 1946 – John D. Owen, 74. Fanziner noted particularly for Crystal Ship, which you can see here, and Shipyard Blues, which you can see here (both in archived copies). [JH]
Born September 25, 1951 — Mark Hamill, 69. I'll confess that my favorite role of his is that he voices The Joker in the DC Universe. He started doing this way back on Batman: The Animated Series and has even been doing on other such series as well. Pure comic evilness! Oh, and did you know he voices Chucky in the new Child's Play film? Now that's creepy. (CE)
Born September 25, 1957 – Christine Morton-Shaw, 63. Two novels for us; a half dozen picture books for young children which have been found fun. You may already know her teen fantasy The Riddles of Epsilon. [JH]
Born September 25, 1960 – Kristin Hannah, 60. Lawyer and fictionist. Two novels for us; a score of others (historical fiction The Nightingale sold 2 million copies). "The mall? I live on an island." Website. [JH]
Born September 25, 1961 — Heather Locklear, 59. Her first genre role was Victoria 'Vicky' Tomlinson McGee in Stephen King's Firestarter followed by being Abby Arcane in The Return of Swamp Thing. She was also Dusty Tails in Looney Tunes: Back in Action. She's had one-offs in Tales of the Unexpected, Fantasy Island, Muppets Tonight and she voiced Lisa Clark "Prophecy of Doom" on Batman: The Animated Series. (CE)
Born September 25, 1962 — Beth Toussaint, 58. She was Ishara Yar in the "Legacy" episode of Next Gen and she's been in a lot of genre series and films including Berserker, Babylon 5, the Monsters anthology series, the very short-lived Nightmare Cafe, Mann & Machine, Project Shadowchaser II, Legend and Fortress 2: Re-Entry. (CE)
Born September 25, 1964 — Maria Doyle Kennedy, 56. She was Siobhán Sadler in Orphan Black, and currently is Jocasta Cameron in Outlander. She's been cast as Illa in the soon to be filmed The Wheel of Time series. (CE)
Born September 25, 1969 — Catherine Zeta-Jones, 51. Her first role ever was as Scheherazade in the French short 1001 Nights. The Daily Telegraph noted it's remembered only for its "enjoyable nude scenes". Her next role was Sala in The Phantom. Does Zorro count as genre? If go, she appeared as Eléna Montero in The Mask of Zorro and Eléna De La Vega in The Legend of Zorro. She was Theodorain The Haunting, a riff off of The Haunting of Hill House. And finally she was in The Young Indiana Jones Chronicles as Maya in "Palestine, October 1917". (CE)
Born September 25, 1989 – Élodie Serrano, 31. Two novels, collection The Die Is Cast, twenty more stories (e.g. "Muse for Sale, Accepts Souls", "The Word Thief", "At the Heart of Plants"), in French. [JH]
(8) COMICS SECTION.
(9) TAKING FLIGHT. Lyles Movie Files reports "Aldis Hodge joins Black Adam cast to play Hawkman".
If you've been reading my comic book reviews, you know Hawkman is one of my favorite comics out right now. Robert Venditti has written an excellent take on the character and he's reached new heights (sorry) of what's possible with him.

It was kind of fitting then that I saw the news about Aldis Hodge (The Invisible Man) being cast as Hawkman in the Black Adam movie from Venditti's Twitter feed….

Hodge joins Dwayne Johnson, who plays the title character Black Adam, and Noah Centineo (To All the Boys I've Loved Before) who will be Atom Smasher. The Black Adam version of the JSA is small with only Doctor Fate and Cyclone revealed although their casting have yet to be announced.
(10) LEARN WHILE YOU BURN. James Davis Nicoll pulled from the shelf "Five Fantasy Novels Starring Self-Taught Protagonists" at Tor.com. One of them is –
A Wizard's Guide to Defensive Baking by T. Kingfisher (2020)

Riverbraid prides itself on its toleration of magickers, even minor ones like Mona, whose talents are limited to baked goods. Because Mona is poor and her magic has no obvious military applications, she's left to work in her aunt's bakery. It's not a bad life, really. Everything changes the morning that Mona finds a corpse sprawled on the floor of the bakery.

The victim is a another magicker. It soon becomes apparent that someone is hunting down the magically talented. Mona's attempts to unravel the mystery involve her in a desperate resistance against high-level scheming and barbarian invasion. Only a baker can save the day.
(11) ROAMING CHARGES. LitHub reports "$3.2 million worth of rare stolen books have been found under a house in rural Romania."
When a group of thieves stole $3.2 million worth of rare books from a London warehouse in 2017, including seminal scientific texts by Isaac Newton and Galileo, they shocked the antiquarian book world and inspired a number of theories about what had happened. Who would target such rare titles—including a 1566 edition of On the Revolutions of the Heavenly Spheres by Nicolaus Copernicus, worth $268,000—that they would be essentially impossible to sell on the black market?

An anonymous source told The Guardian that the heist "must be for some one specialist. There must be a collector behind it." One source, in Smithsonian, said that "a wealthy collector known as 'The Astronomer' may have hired the thieves to steal the books for him." Other texts in the collection included those by Leonardo da Vinci and a copy of Dante's Divine Comedy from 1569.

Now, British, Romanian, and Italian investigators working together have found them: they were "in a concealed space under a house in rural Romania," the Associated Press reports. The main suspects are members of a Romanian organized crime group, and police have already arrested 13 people in connection with this heist and a string of other high-profile burglaries.
(12) RUSSIAN VACCINE DATA SUSPICIOUS SAY RESEARCHERS. [Item by Jonathan Cowie.] Putin is rushing out a vaccine – Sputnik V – against SARS-CoV-2 / CoVID-9 but it has not had mass testing, though it has had a small trial on 76 volunteers. The immune response of this small trial has been reported in The Lancet.

This rushed approval (by Russia only – as the approval does not meet international standards) has previously been criticised.  However, now, the Russian paper in The Lancet reporting the trial has also been criticised in an open letter by 40 biomedical research scientists.

The Lancet paper does not include in the on-line version the underlying data. Conversely, the Oxford University and Astra Zeneca vaccine paper previously published in The Lancet had the underlying data included.  Without it, it is impossible to check the headline data in the paper.

Further, in the headline data that was included in the Sputnik V vaccine paper in The Lancet, there were seeming repetitions. While these repetitions could be purely coincidence, they are unlikely.

The journal Nature became intrigued and their news team investigated. The Russian researchers  are standing by their paper and have not responded to Nature's news team's queries.  Nor has The Lancet commented why it failed to insist that the underlying data be included in the Sputnik V vaccine paper as it was for the British vaccine.

The news article in Nature is open access and can be found here: "Researchers Question Russian Covid Vaccination Trial Reults".

(13) ANTARCTICA IS CLOSE TO THE POINT WHERE FURTHER WARMING WILL SEE A COMMITMENT TO ICE SHEET COLLAPSE. [Item by Jonathan Cowie.] Researchers have looked at how the Antarctic has responded in the past and compared this with an ice sheet model that includes a number of feedbacks.  For example, with ice surface melt, the surface becomes less reflective and so absorbs more sunlight. So enhancing future warming. Also with surface melt, the melted ice drains away lowering the surface and low altitude surfaces are warmer.  There are other feedbacks, both positive and negative.

We have already warmed the planet by 1.25°C above pre-industrial era temperatures. The researchers have found that up to 2°C above pre-industrial  there is some stability in both the West and East Antarctic ice sheets.  However, above 2°C warming (which we are currently on track to reach before the mid-21st century) the West Antarctic ice sheet becomes committed to partial collapse. Also, above 2°C warming sea level rise from Antarctic melt almost doubles to 2.4 metres per degree of warming.  Above 6°C, melt soars to 10 metres per degree of warming up to 9°C above pre-industrial.

Worse, once each threshold level is reached, it is harder to reverse.  That is to say cooling to temperatures back to the threshold point will not reverse matters: still further cooling is required.

The paper's abstract is here. (The full paper is behind a pay wall.)

(14) SHIP AHOY. Gizmodo effuses that "The Mandalorian's Razor Crest Is Hasbro's Next Magnificent Crowdfunding Toy".
With a handful of successfully funded projects under its belt, including a towering X-Men Sentinel robot, Hasbro's HasLab crowdfunding platform is returning to its Star Wars roots with another Vintage Collection spaceship: an incredibly detailed, 30-inch long replica of the Razor Crest from The Mandalorian. Now this is the way.

Designed to be perfectly scaled to Hasbro's 3.75-inch action figures, the Star Wars: The Vintage Collection Razor Crest also measures in at an impressive 20-inches wide and 10.5-inches tall when perched on its functional retractable landing gear….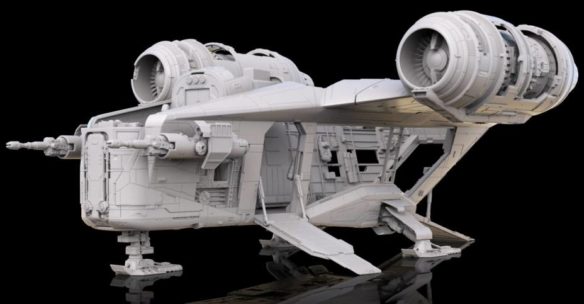 (15) OVER THE RIVER. A comedy mini-series earns raves from The Guardian: "Zomboat! A surprisingly clever and refreshingly upbeat zombie apocalypse".
If you're craving a zombie series that ditches the cynicism and has some good old-fashioned fun with the idea, then allow me to introduce you to Zomboat!, a short, six-episode British comedy with a silly title but a surprisingly clever premise.

The series follows sisters Kat and Jo (Leah Brotherhead and Crazyhead's Cara Theobold) after they wake up one Sunday to find Birmingham under attack by zombies. As a gamer nerd who knows her zombie lore, Kat already has a plan for this scenario – steal a canal boat and escape to Eel Pie Island in London, because zombies can't swim. And, as Kat puts it, "The Walking Dead would have been over in one season if Rick Grimes had gone to the Everglades."

After stealing said canal boat, the sisters find two stowaways in the bathroom: misanthropic Sunny (Hamza Jeetooa) and his sensitive gym bro buddy Amar (Ryan McKen), who are stranded in the city after a stag weekend. Though they clash at first, the group decides to team up for survival, leading to plenty of bickering, bonding and snogs. As a result, the series avoids falling into the same style-over-substance trap that spoiled other recent zombie comedies (like Netflix's Daybreak); instead, it benefits from the kind of found-family warmth that made Zombieland so charming.
(16) COMPOUND INTEREST. "A Student Just Proved Paradox-Free Time Travel Is Possible" – but why am I learning about this from Yahoo! Finance?
…In a new peer-reviewed paper, a senior honors undergraduate says he has mathematically proven the physical feasibility of a specific kind of time travel. The paper appears in Classical and Quantum Gravity….

The math itself is complex, but it boils down to something fairly simple. Time travel discussion focuses on closed time-like curves (CTCs), something Albert Einstein first posited. And Tobar and Costa say that as long as just two pieces of an entire scenario within a CTC are still in "causal order" when you leave, the rest is subject to local free will.

"Our results show that CTCs are not only compatible with determinism and with the local 'free choice' of operations, but also with a rich and diverse range of scenarios and dynamical processes," their paper concludes….
(17) ATTENTION ELEANOR CAMERON FANS. Lehman College Multimedia Music Theater and Dance department presents Wonderful Flight To The Mushroom Planet. A musical composed by Penny Prince.
[Thanks to SF Concatenation's Jonathan Cowie, John King Tarpinian, JJ, Cat Eldridge, Michal Toman, Martin Morse Wooster, John Hertz, Rich Horton, Andrew Porter, and Mike Kennedy for some of these stories. Title credit belongs to File 770 contributing editor of the day Jon Meltzer.]