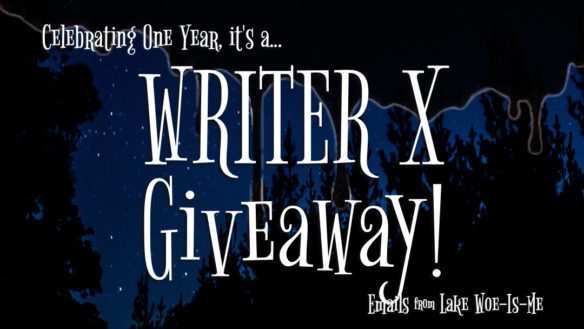 (1) WRITER X GIFT BOX. [By Melanie Stormm.] We're celebrating a year of Writer X with a giveaway! For three weeks from August 29th to September 12th, simply leave a comment on upcoming Writer X fits for your chance to win an exclusive Writer X gift box at no cost to you. Supplies are limited so don't wait. One gift box per household, please.
*Note: if you have left a comment, be sure to check back for instructions on where to send your mailing address. Your secrets are safe and not given away.
(2) 2024 WORLDCON. Glasgow 2024 is now a seated Worldcon. The site selection results were announced today. The committee's Progress Report Zero with guest of honor bios, membership rates, and other information, can be downloaded at the link.
(3) CHICON 8 COVID TRACING. Chicon 8 has sent an email to attending members listing the voluntarily provided information about people at the con who reported being positive for Covid. There were eight cases listed in the email.
(4) KORSHAK COLLECTION. The prospectus for the Korshak Collection, on display this weekend at Chicon 8, shows many of the images and promotes its availability for display at museums and other institutions.
The Korshak Collection consists of approx. 100 paintings, drawings, and etchings of published illustration including works from the classical stories Tarzan, Alice in Wonderland, Faust, The Tempest, The Pit and the Pendulum, and Don Quixote, among others. The Collection also includes artwork originally featured in some of the most notable contemporary fiction stories such as John Carter/ The Princess of Mars and the Lord of the Rings.

The show is offered fully curated and may be altered, redacted, or supplemented to fit the curriculum of the hosting institution. Versions of this exhibition have been featured at the American Society of Illustrators, the Stanford Museum, the University of Maryland at Baltimore's Kuhn Library, the Chazen Museum, and the South Bend Museum of Art, among others. Artwork from the collection has been exhibited at the Norman Rockwell Museum, the MUVIM (Spain), and toured Japan.
Original copies of the novels, magazines, and printed materials where the illustrations were first published are provided for display and programming opportunities. Programming for this exhibit has included screening of associated films, children's stories/read-a-longs, costuming, collector's participation including collection tours, and artist/author discussion panels. There are certainly more opportunities than limitations with programming given the breadth and familiarity of the major exhibition themes
(5) CHICON 8 BUSINESS MEETING. Tune in to what happened at the Sunday session via Alex Acks' liveblog: "WSFS Business Meeting – Sunday Liveblog".
Kevin Standlee also has uploaded the video of the meeting to YouTube.
Kevin sends a postscript:
You'll see after Site Selection and before we get to constitutional amendments where Kate Secor attempted to introduce a motion to censure Chengdu. As you'll see, there was nowhere near the 2/3 necessary to get it debated. Had it gotten the 2/3, it would have been discussed first thing on Monday.
(6) MEMORY LANE.
1995 – [By Cat Eldridge.] Twenty-seven years ago in syndication by MCA TV (which did it for the first two years of this followed by Universal Television Enterprises doing so for a year and Studios USA Television Distribution doing so for the rest of the run), Xena: Warrior Princess first aired. Before it ended its six years run, there would be one hundred and thirty-four roughly forty-eight minute episodes.
Created by John Schulian and Robert Tapert, the former only did some writing for Tremors genre wise. Tapert of course the same year created Hercules: The Legendary Journeys along with Christian Williams. Busy year for New Zealand series production, eh? 
It developed by R.J. Stewart Sam Raimi. The former other than co-creating Xena, just created Cleopatra 2525; Raimi of course has a long list including directing the Tobey Maguire Spider-Man trilogy  and the Evil Dead franchise. 
The real reason watching was, and is now if you catch it on the streaming services now, Xena as performed in that amazing leather outfit by Lucy Lawless and companion Gabrielle as played by Renee O'Connor. Their adventures episode in and episode out out were always worth watching.
A number of fascinating secondary cast were here as well. Fair warning: I never liked Ted Raimi. Not one bit. Now Bruce Campbell, Karl Urban, Kevin Smith, Alexandra Tydings — all these performers were fun.
NBC announced a reboot but the Gods were merciful and it got cancelled.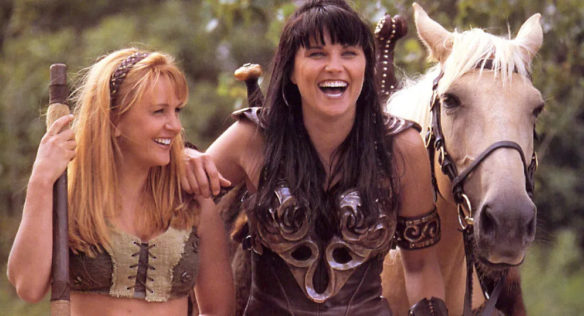 (7) TODAY'S BIRTHDAYS.
[Compiled by Cat Eldridge.]
Born September 4, 1905 — Mary Renault. Her superb Theseus novels, The King Must Die and The Bull from the Sea, are definitely genre. I also recommend, though very much non-genre, Funeral Games which deals with Alexander's successors. It is a messy tale indeed. (Died 1983.)
Born September 4, 1926 — Robert A. W. Lowndes. He was known best as the editor of Future Science Fiction, Science Fiction, and Science Fiction Quarterly (mostly published late Thirties and early Forties) for Columbia Publications. He was a principal member of the Futurians. A horror writer with a bent towards all things Lovecraftian ever since he was a young fan, he received two letters of encouragement from H. P. Lovecraft. And yes, he's a member of the First Fandom Hall of Fame. (Died 1998.)
Born September 4, 1924 — Joan Aiken MBE. I'd unreservedly say her Wolves Chronicles were her best works. Of the many, many in that series, The Wolves of Willoughby Chase featuring the characters of Bonnie Green, Sylvia Green and Simon is I think the essential work to read; even though The Whispering Mountain is supposed to a prequel to the series, I don't think it's essential reading. The Wolves of Willoughby Chase is certainly the one in the series I used to see stocked in my local bookstores before the Pandemic. No Hugos, but she won an Edgar Allan Poe Award for Night Fall. (Died 2004.)
Born September 4, 1924 — Ray Russell. His most famous story is considered by most to be "Sardonicus" which was published first in Playboy magazine, and was then adapted by him into a screenplay for William Castle's Mr. Sardonicus. In 1991 Russell received the World Fantasy Award and the Stoker Award for Lifetime Achievement. His Tartarus Press also received a World Fantasy Award for Special Achievement. (Died 1999.)
Born September 4, 1928 — Dick York. He is best remembered as the first Darrin Stephens on Bewitched before he became seriously ill. He was a teen in Them!, an early SF film which is considered the very first giant bug film. He showed up in myriad Alfred Hitchcock Presents, several episodes of The Twilight Zone and has a one-off on Fantasy Island. He voiced his character Darrin Stephens in the "Samantha" episode of The Flintstones. (Died 1992.)
Born September 4, 1957 — Patricia Tallman, 65. Best known as telepath Lyta Alexander on Babylon 5, a series I hold that was magnificent but ended somewhat annoyingly. (I know some of you don't hold that opinion.) She was in two episodes of Next Generation, three of Deep Space Nine and two of Voyager. She did uncredited stunt work on further episodes of the latter as she did on Voyager. H'h to the latter. Oh, and she shows up in Army of Darkness as a possessed witch. Does Ayn Rand count as genre? If so, she was in Atlas Shrugged II: The Strike as Holly.
Born September 4, 1975 — Kai Owen, 45. Best known for portrayal of Rhys Williams in Torchwood, the Doctor Who spin-off I stopped watching after the first two series. He reprised his characters in the Big Audio auidiodramas. And he was on Da Vinci's Demons as Otranto Citizen in "The Sins of Daedalus" episode. Yes, they turned Da Vinci into a fantasy character!
Born September 4, 1999 — Ellie Darcey-Alden, 23. She's best known for playing young Lily Potter in Harry Potter and the Deathly Hallows – Part 2. She's also celebrated here for being Francesca "Franny" Latimer in the Doctor Who Christmas special "The Snowmen", an Eleventh Doctor story. She was also in the Robin Hood series as Mary in the "Total Eclipse" episode. (I think we need a concordance to the various Robin Hood series at this point. Really. I'm serious.)
(8) COMICS SECTION.
(9) MATCH WITS. Jennifer Hawthorne says Filers might enjoy Book Riot's "Quiz: Can You Match the Fantasy Novel To Its Opening Lines?" She got 22 out of 40 right. I got 16, which is a questionable achievement because I have only read four of the books in the quiz.
Do you think you have what it takes to succeed? Are you the chosen one? Can you pull the proverbial sword from the stone? Will you be able to answer the quiz that tests: how many of these fantasy book opening lines can you identify?

Your task today is potentially simple or incredibly difficult depending on your familiarity with the fantasy books in question and their opening lines. However, I will let you know now that quite a few fantasy novels open with a four-to-five-word sentence that is vague enough to trip up experts in the field. Given the difficulty of the task, I decided an equally epic reward should await you for completing the quiz. Whether you turn out to be a Page, a Squire, or a Knight, know you gave it your best shot.
[Thanks to Andrew Porter, Chris Barkley, Michael Toman, Melanie Stormm, Daniel Dern, Jennifer Hawthorne, Cat Eldridge, Mike Kennedy, Martin Morse Wooster, JJ, and John King Tarpinian for some of these stories. Title credit belongs to File 770 contributing editor of the day Paul Weimer.]